---
Crew
Director – Brett Leonard, Screenplay – Neal Jimenez & Andrew Kevin Walker, Based on the Novel by Dean R. Koontz, Producers – Jerry A. Baerwitz, Gimel Everett & Agatha Hanczakowski, Photography – Gale Tattersall, Music – Trevor Jones, Visual Effects – Sony Pictures Imageworks (Supervisor – Tim McGovern), Special Effects Supervisor – Mike Vezina, Makeup Effects Supervisor – Tibor Farkas, Production Design – Michael Bolton. Production Company – TriStar Pictures/S-Q Productions.
Cast
Jeff Goldblum (Hatch Harrison), Jeremy Sisto (Jeremy Nyebern/Vassago), Christine Lahti (Lindsey Harrison), Alicia Silverstone (Regina Harrison), Alfred Molina (Dr Jonas Nyebern), Rae Dawn Chong (Rose Oweto)
---
Plot
Antique dealer Hatch Harrison skids on the highway and goes over an embankment. Dying, he is drawn up into the afterlife but is brought back to life on the operating table by the advanced surgical techniques of Dr Jonas Nyebern after his wife drags him from the wreckage. Afterwards, Hatch finds that he is now able to see out through the eyes of a teenage serial killer Vassago, who slaughtered his family and committed suicide at exactly the same time that Hatch was clinically dead. However, as Vassago becomes aware of the psychic link, he comes after Hatch's family.
---
Hideaway was the second film of director Brett Leonard. Brett Leonard's previous film was The Lawnmower Man (1992). Both here and with The Lawnmower Man and his later feature-film Virtuosity (1995), Leonard proved himself adept with the then new and cutting edge marvels of CGI – but little else. In both The Lawnmower Man and Hideaway, Brett Leonard uses the works of best-selling horror authors – Stephen King and Dean R. Koontz – as vehicles for his CGI displays. Most tellingly, in both cases said horror authors sued to have their names taken off the credits of the finished films.
Certainly, Hideaway was the first time since Watchers (1988) that a film adaptation of one of Dean R. Koontz's books – in this case his 1992 best-seller – obtained a full theatrical as opposed to video release. However, the finished film hardly warrants it. Brett Leonard's weakness is cliched storytelling. The film's theme of the person who develops a psychic link with a killer has been done to death in other films – Eyes of Laura Mars (1978), Fear (1990) and In Dreams (1999), and become the stuff of routine tv movies such as Baffled! (1972) and Visions (1972), The Eyes of Charles Sand (1972). (For a more detailed overview see Films About Clairvoyance and Precognition). Brett Leonard – despite having a script from Andrew Kevin Walker who next wrote the great Se7en (1995) – has nothing new to say about the overly familiar subject.
The plot of Hideaway is numbingly predictable. It takes Jeff Goldblum's character at least an hour to work out what the audience already knows – that he has a psychic link with the killer. The script seems to take the most predictably possible route to where it is going. Just about everything is signposted from the moment it is introduced – we know the film is going to climax with Jeff Goldblum defending his family as Vassago attempts to do things to Alicia Silverstone; we know that Alfred Molina is involved more than he appears to be at face value.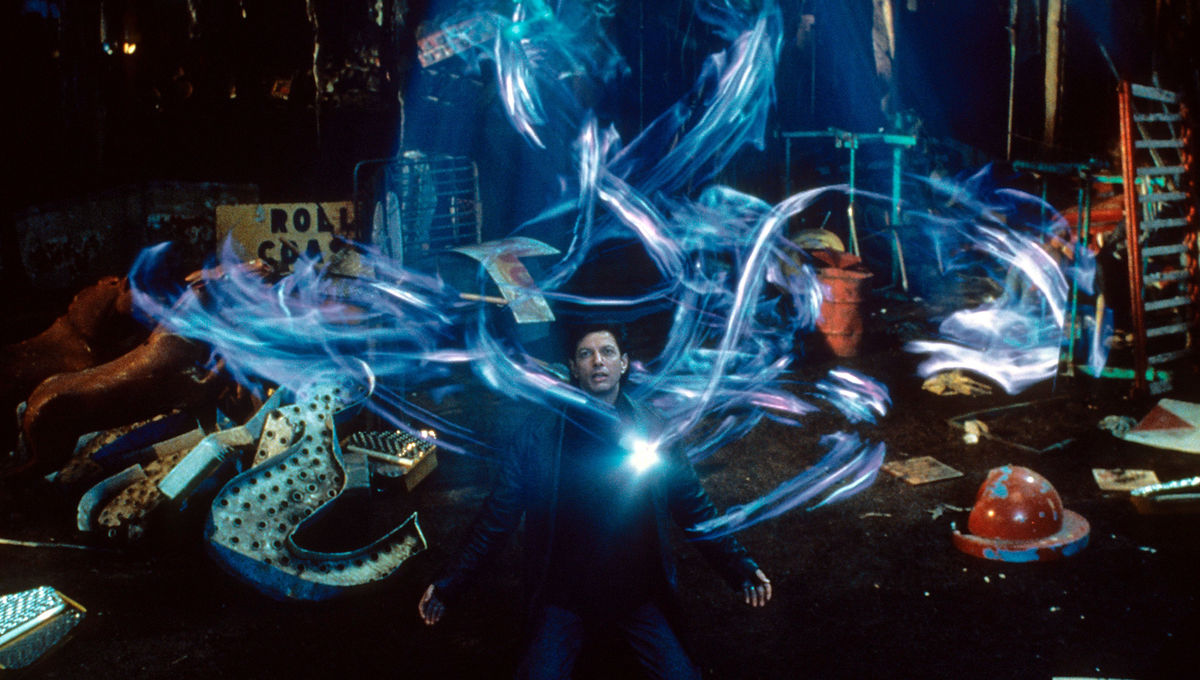 The film's best moments tend to be when Jeremy Sisto is on screen, impressive all in black and shades. There is a distinct sense of danger present when he is attempting to seduce Alicia Silverstone. However, outside of his image, Sisto appears to have little acting ability and is unable to make the climax anything more than routine. The script typically never offers any motivation for what it is that he is doing.
Jeff Goldblum gives it his best, although in truth he has been given a bland role that could have been filled by anybody. Certainly, the one area that Brett Leonard expectedly excels is with the computer animation and the sequences with Jeff Goldblum going out of the body and travelling to Heaven and Hell are impressive. Unfortunately, as with the rest of the film, it is technical flourish far in excess of the substance of the story.
Brett Leonard first appeared as director of the  mad scientist/zombie film The Dead Pit (1989). Following Virtuosity, Leonard vanished from cinema screens for a decade, making IMAX shorts, before returning with the Marvel Comics adaptation Man-Thing (2005), the excellent psycho film Feed (2005) about obesity fetishism and Highlander: The Source (2007).
Other Dean R. Koontz adaptations are:– Demon Seed (1977), Watchers (1988), The Face of Fear (1990), Whispers (1990), Servants of Twilight (1991), Phantoms (1998), Intensity (tv mini-series, 1997), Mr. Murder (tv mini-series, 1998), Sole Survivor (tv mini-series, 2000), Black River (tv movie, 2001), Frankenstein (mini-series, 2004) and Odd Thomas (2013).
---
---