---
Crew
Director – Paul Hyett, Screenplay – Mark Huckerby & Nick Ostler, Producers – Martin Gentles & Ed King, Photography – Adam Biddle, Music – Paul E. Francis, Visual Effects Supervisor – Timo Nahri & Gustav Tornoth, Visual Effects – Filmgate, Special Effects Supervisor – Matthew Strange, Production Design – Ricky Eyres. Production Company – Starchild Pictures/Filmgate Films.
Cast
Ed Speleers (Joe Griffin), Holly Weston (Ellen), Elliot Cowan (Adrian), Shauna MacDonald (Kate), Rosie Day (Nina), Duncan Preston (Ged), Ania Marson (Jenny), Malcolm Trussler (Malcolm), Sam Gittins (Billy), Calvin Dean (Paul), Amit Shah (Matthew), Brett Goldstein (David), Sean Pertwee (Driver)
---
Plot
Joe Griffin is a conductor on Britain's Alpha Trax railway system. He is asked to work an extra shift on the red eye express and takes it because Ellen, a hostess he fancies, is also working. The journey goes well until the train abruptly stops in the middle of nowhere. Puzzled over the stoppage, Joe finds the driver has disappeared and later discovers his eviscerated body. As they huddle inside, the train is then attacked by ferocious creatures and various of the passengers are slaughtered. As they try to defend themselves, they realise they are dealing with werewolves.
---
Howl was the second directorial outing for British makeup effects artist Paul Hyett. Hyett first made the people trafficking horror film The Seasoning House (2012), which did attain some good reviews – although I can't admit to having liked it much. (Rosie Day, the young lead from The Seasoning House, can be seen as a self-absorbed teen passenger here). In between his directorial outings, Paul Hyett has plied his trade creating makeup and creature effects on numerous films going all the way back to the 1990s. Subsequent to this, Hyett went on to direct the horror films The Convent (2018) and Peripheral (2018).
Paul Hyett's directorial work in The Seasoning House seemed amateurish but he has improved considerably since then. This is something that is evident from the early scene with Ed Speelers wandering down the train taking tickets, dealing with the bored and frustrated responses of each of the passengers, a scene that in its casualness presages much of the conflicts that will ensue.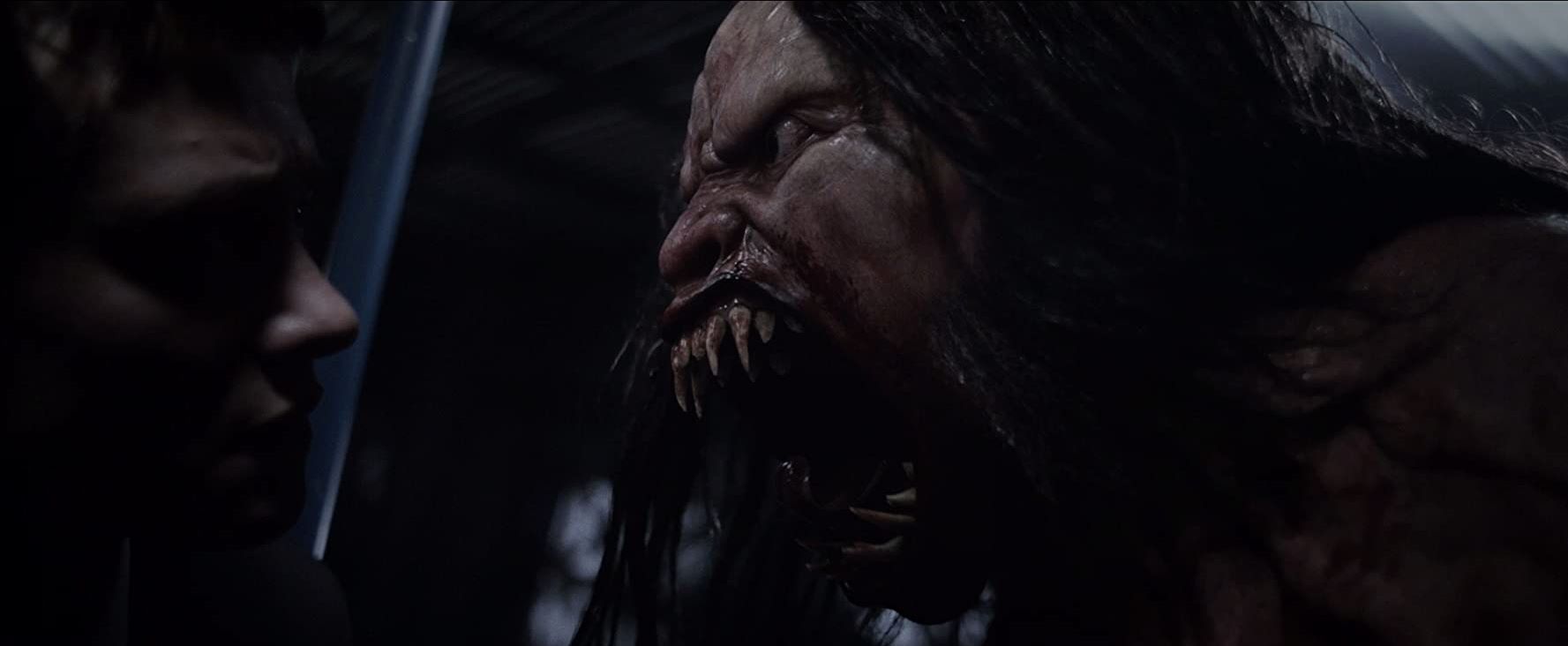 Once he gets into the meat of the action and has the characters at siege in a carriage, Hyett delivers tight tension and a series of undeniably effective jumps, building to a more than reasonable climax. The werewolf effects are good. The slightly weakness might be the exteriors of where the train has been stranded, which come with an artificial CGI quality that makes it look like a work of dark fantasy digital art.
The film also answers the question of "whatever happened to Ed Speleers?" Speleers was the youth lead in the fantasy film Eragon (2006) in a performance that was widely ridiculed for its woodenness. The IMDB shows that he has still been working in nearly the decade since then, most notably appearing in a number of episodes of Downton Abbey (2010-5). Howl shows that he has also emerged as a reasonable actor. Here he delivers just what the part requires as an unassuming, likeable average guy. The other name of considerable worth is that of the underrated Elliot Cowan who does a fine job as the ruthlessly self-interested businessman.
---
Trailer here
---