---
USA. 1997.
Crew
Director/Screenplay – Michael Cooney, Story – Michael Cooney & Jeremy Paige, Producers – Jeremy Paige & Vicki Slotnick, Photography – Dean Lent, Music – Chris Anderson & Carl Schurtz, Snowman/Makeup Effects Supervisor – Mike Deak, Makeup Effects – SMG Inc, Snowman Created by Total Fabrication (Supervisor – Kenneth D. Hall), Production Design – Deborah Raymond & Dorian Vernacchio. Production Company – Storyteller Films/Frost Bite Films.
Cast
Chris Allport (Sheriff Sam Tiler), Scott MacDonald (Jack Frost), Stephen Mandel (Agent Manners), F. William Parker (Paul Davrow), Eileen Seeley (Anne Tiler), Rob La Belle (Stone), Marsha Clark (Marla), Zack Eginton (Brian Tiler), Shannon Elizabeth Fadal (Jill Metzner), Jack Lindine (Jake Metzner), Kelly Jean Peters (Sally Metzner), Darren Campbell (Tommy)
---
Plot
The mass murderer Jack Frost is being taken away to be executed but the prison van collides with another vehicle on the snowy highway. Frost makes an escape only to slip and fall into the spill of chemicals that the other crashed vehicle was carrying. However, the chemicals are experimental genetic engineering material and cause Frost to melt down and fuse with the snow to emerge as a snowman. Back in the small town of Snomonton, Sheriff Sam Tiler, the one who originally apprehended Frost, becomes concerned when a host of bizarre snow and Christmas-related killings begin to occur around the town. He realizes that Frost has returned as a snowman and is seeking revenge.
---
Sometimes films emerge in peculiar tandem – sometimes it is coincidence, mostly it is a case of films exploiting each other's success. Quite what it is in the case of Jack Frost here and Jack Frost (1998), which both came out within a year of each other, is anybody's guess. Both have remarkably similar plots – a man is reincarnated in the body of a snowman and causes merry mischief around a small town.
Of course, Jack Frost 1997 is a slasher film of sorts and Jack Frost 1998 sits at totally opposing extremes and is a family film. The situation is almost akin to when Steven Spielberg made E.T. – The Extra-Terrestrial (1982) and Joe Dante followed it up with Gremlins (1984), another cute creature film that dug with a scabrous regard into the family values that E.T. upheld. The situation might be analogous but for the fact that Jack Frost 1997 preceded Jack Frost 1998.
Jack Frost has been made on a low budget. The film has been conceived as variant on A Nightmare on Elm Street (1984) or Child's Play (1988) and their various sequels with the snowman as a badass villain who despatches victims while delivering campy one-liners. Or maybe an Elm Street/Child's Play sequel combined with Silent Night, Deadly Night (1984) and its parade of Christmas-themed novelty deaths. Thus we get one victim strangled with Christmas tree lights, another's head bashed into a box of Christmas tree ornaments, the snowman firing icicles as bullets and so on.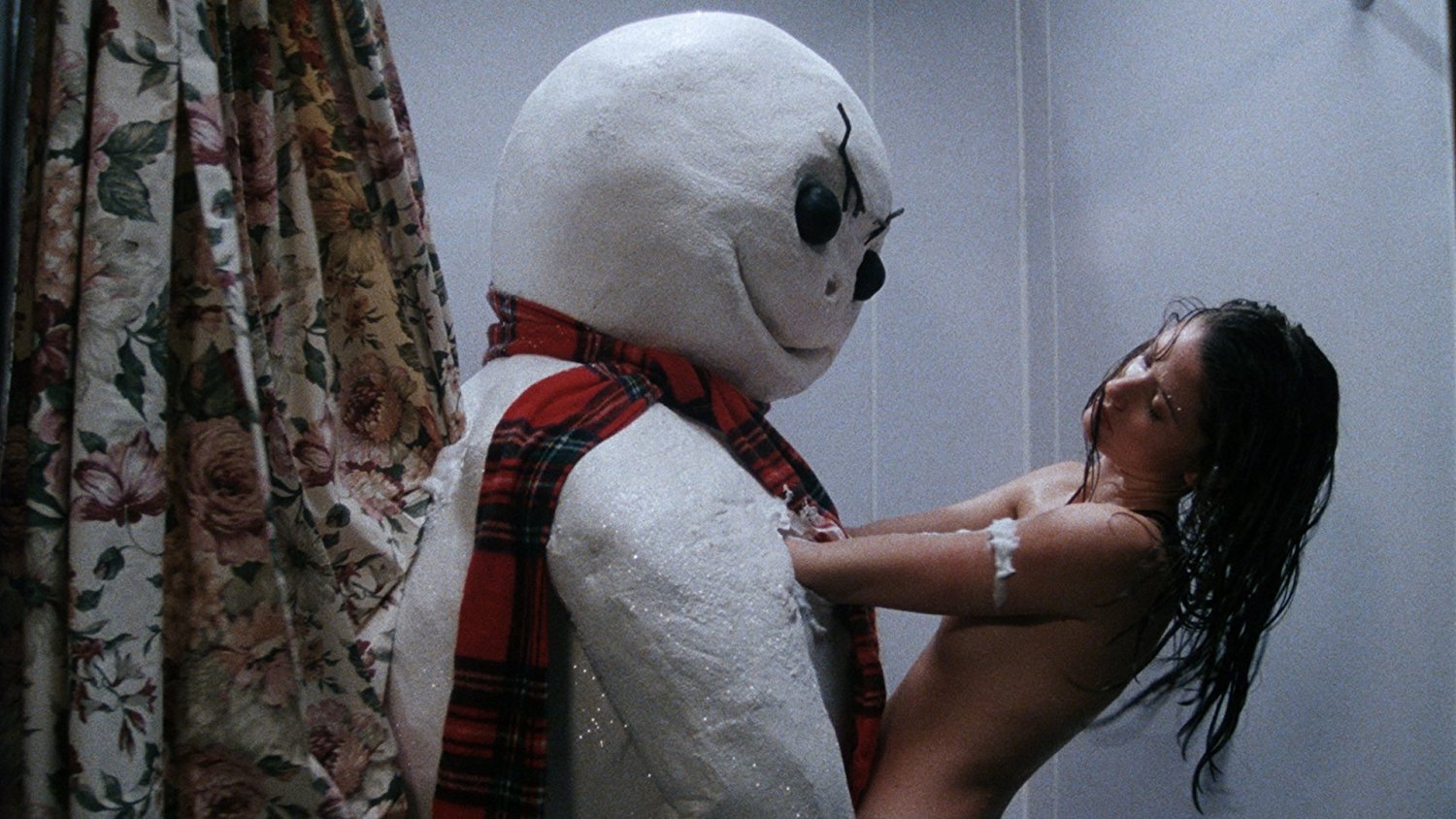 It becomes entertainingly absurd. About the point that we get the wonderfully nonsensical image of the snowman driving away in a cop car, we realise that the film is not taking itself too seriously. It becomes increasingly more tongue-in-cheek – the snowman emerges out of the water as a female victim takes a bath and ends up humping her against the wall; after being hacked apart, the snowman recombines with limbs askew and announces: "I'm a Picasso." This is blended in with a number of amusingly grotesque effects sequences – one victim projectile vomits the snowman out of his mouth, or the snowman running around with its head half-melted by anti-freeze to reveal a pulsating brain. On the minus side, everything is crude directorially. The low budget does show through and director Michael Cooney fails to display much in the way of style.
The end credits feature what look like quotes from various crewmembers interspersed throughout and even has a credit for the person that told the worst joke. One cool part about Jack Frost is the hologram video box-cover where the face of the snowman gets nastier depending on which angle one looks at it from.
Director Michael Cooney made a sequel Jack Frost 2: Revenge of the Mutant Killer Snowman (2000). Michael Cooney has not directed any other films to date but he did go on to write the mainstream slasher/psycho-thriller Identity (2003), the time-travel reality bender I Inside (2003) and the split personality/soul transference thriller Shelter/6 Souls (2010).
---
Trailer here
---