---
Crew
Director – Robert Kurtzman, Screenplay – Peter Atkins, Producers – Pierre David, Clark Peterson & Noel A. Zanitsch, Photography – Jacques Haitkin, Music – Harry Manfredini, Visual Effects Supervisor – Thomas C. Rainone, Digital Visual Effects – Area 51 (Supervisor – Tim McHugh), The Computer Café Inc (Supervisor – Tom Williamson), Digital Magic Co (Supervisor – Ralph Maiers) & 2G Effects (Supervisor – Joseph Grossberg), Mechanical Effects – Ultimate Effects (Supervisor – David Wayne), Makeup Effects – Kurtzman, Nicotero & Berger EFX Group Inc (Supervisors – Howard Berger & Greg Nicotero), Additional Makeup Effects – Image Animation (Supervisor – Gary J. Tunnicliffe), Production Design – Deborah Raymond & Dorian Vernacchio. Production Company – Live Entertainment.
Cast
Tammy Lauren (Alexandra Amberson), Andrew Divoff (Djinn/Nathaniel Demerest), Robert Englund (Professor Raymond Beaumont), Wendy Benson (Shannon Amberson), Chris Lemmon (Nick Merritt), Tony Crane (Josh Aickman), Buck Flower (Homeless Man), Gretchen Palmer (Ariella), Jenny O'Hara (Professor Wendy Derleth), Ricco Ross (Lieutenant Nathanson), Tony Todd (Johnny Valentine), Kane Hodder (Merritt's Guard), Reggie Bannister (Pharmacist), Josef Pilato (Mickey Torelli)
---
Plot
By accident, jewellery appraiser Alexandra Amberson succeeds in releasing an evil djinn from a stone that is brought in to her to evaluate. Taking a human body, the djinn wanders the city granting wishes to the people it encounters. However, each wish always come back to cruelly haunt or kill the wisher due to the djinn's literal interpretation of the wording. In so doing, the djinn collects their souls. The last thing the djinn needs to do is to return and force Alexandra to wish her three wishes, which will allow all the other djinn to emerge and overrun the Earth.
---
Wishmaster was the second film from Robert Kurtzman as director. Kurtzman is generally better known as a makeup effects man than he is a director. He is the K in the KNB E.F.X. Group (also known as the Kurtzman, Nictotero and Berger EFX Group), responsible for the effects on films like Army of Darkness (1992), Lord of Illusions (1995), In the Mouth of Madness (1995), Spawn (1997) and many others. Kurtzman branched out with the screenplay for From Dusk Till Dawn (1996) (which he was also to have directed before his writer-for-hire Quentin Tarantino became famous and it was taken over as a Tarantino project). That same year, Kurtzman debuted as director with the cheap and laughable black leather robobabe sf film The Demolitionist (1996), which would usually be enough to condemn any director's future career. Happily for Kurtzman, he was granted a second chance and a substantially larger budget and a cinematic release with Wishmaster. Wishmaster even comes presented by Wes Craven.
While Robert Kurtzman is unlikely to ever emerge as a director of any sophistication or artistic vision, Wishmaster at least proves entertaining. It is like a better budgeted and more seriously made version of Leprechaun (1993). Although, the true source of inspiration for both is the A Nightmare on Elm Street films – Wishmaster is not much more than another variant on the Freddy Krueger badass villain who dispatches victims with gory novelty deaths. Wishmaster is fairly much a one-note idea – evil djinn offers victims a wish then kills them or someone else in a bizarre way that involves literalistic wording of the wish. The entire film is like a conveyor line that provides one of these novelty deaths every 15 minutes or so.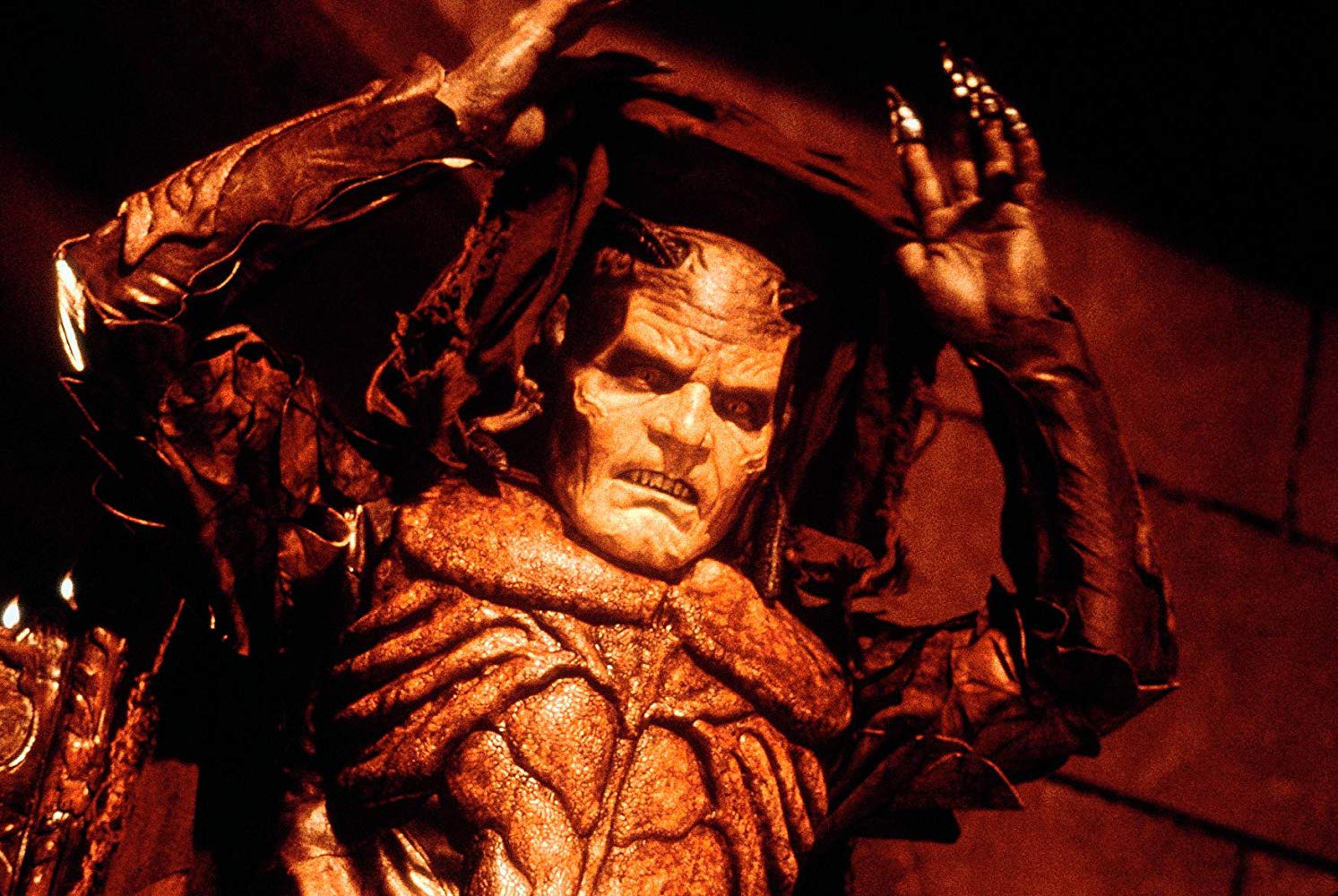 That said, the effects employed in these novelty deaths are amazing. We get characters blowing their own heads off; a person transformed into glass and then shattered; the Wishmaster rebirthing Hellraiser (1987)-style and then slicing the face off a corpse and dissolving it onto his own; Robert Englund vomiting up an insect/worm figure – an effect borrowed from Poltergeist II: The Other Side (1986); heads ripped off with animated piano wires; and a climax with stones statues of samurai and centurions come to life.
The first five minutes or so of the film contain a showstopping effects extravaganza with jaws being ripped off, people flung against and then dissolving into a brick wall, people with tree heads and snake bodies and an amazing sequence where a skeleton tears its way out of its owner's body. This is the highlight of the film and nothing else in the film matches it.
Wishmaster also becomes the film film to have been directed by a makeup effects artist, with the exception of Stan Winston's Pumpkinhead (1988), that goes all out for it in terms of makeup effects. Other directorial outings from makeup artists have proven surprisingly disappointing in regard to highlighting the very effects said artists specialised in – efforts like Chris Walas's The Fly II (1989) and The Vagrant (1992), Tom Burman's Life on the Edge/Meet the Hollowheads (1989), Tom Savini's Night of the Living Dead (1990), Screaming Mad George's The Guyver (1991), Bob Keen's Proteus (1995) and Gary J. Tunnicliffe's Within the Rock (1996).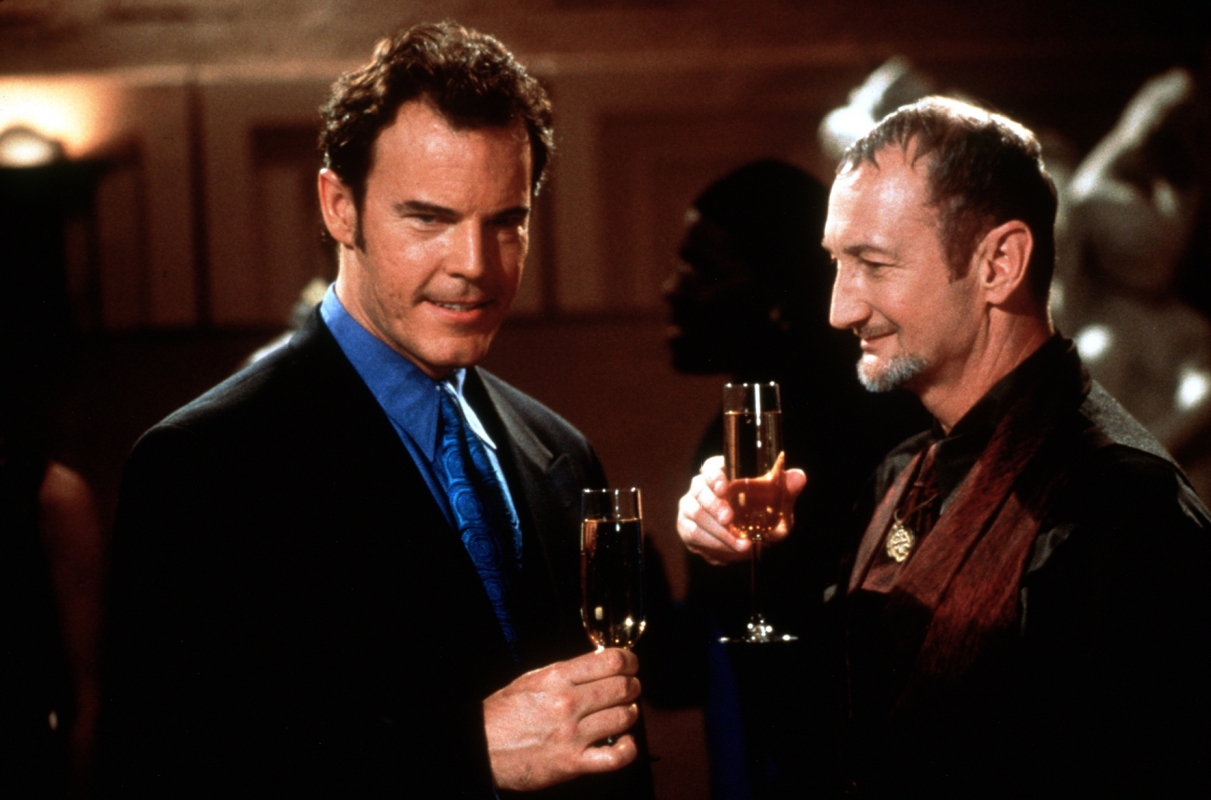 Robert Kurtzman also shows himself to be a genre fan. The opening credits read like a checklist of genre names – 'Wes Craven Presents', a script from Hellraiser series author Peter Atkins, a score from Friday the 13th series man Harry Manfredini, producer Pierre David from the Scanners sequels and numerous psycho-thrillers. There are also a large number of genre cameos – Robert Englund, stuntman Kane Hodder who played Jason Voorhees several times, Phantasm series stars Reggie Bannister and Angus Scrimm, Candyman series star Tony Todd, Ted Raimi, Day of the Dead (1985) star Josef Pilato, not to mention characters named after various horror authors – (August) Derleth, (Charles) Beaumont, (Dennis) Etchison, (Robert) Aickman and (Abraham) Merritt.
There were three sequels:– Wishmaster 2: Evil Never Dies (1999), Wishmaster 3: Beyond the Gates of Hell/Wishmaster III: Devilstone (2001) and Wishmaster: The Prophecy Fulfilled (2002). Andrew Divoff reprised the title role in the first of these but was replaced by John Novak in the subsequent two entries.
Subsequently, Robert Kurtzman returned to the horror genre with Buried Alive (2007), The Rage (2007) and Deadly Impact (2010), and as producer of The Dead Matter (2008), Axe Giant: The Wrath of Paul Bunyan (2013), ClownTown (2017) and Secret Santa (2018).
(Winner for Best Makeup Effects at this site's Best of 1997 Awards).
---
---