---
Crew
Director – Nick Laughland, Teleplay – Shaun McKenna, Producer – Jeremy Gwilt, Photography – Dominic Clemence, Music – John Lunn, Production Design – Dave Arrowsmith. Production Company – Ecosse Films.
Cast
Jemma Redgrave (Deidre 'Dee' Stanton), Robson Green (Dominic Milne), Somerset Prew (Jamie Stanton), Francesca Fowler (Bethan Milne), Phil Davis (Paul Barker), Florence Bell (Abigail 'Abi' Taylor), Tara Fitzgerald (DI Harkness), Georgia Moffett (Morag Tait), Pippa Haywood (Mrs Sutton), James Barriscale (PC Barriscale), Kenneth Colley (Rawsthorne)
---
Plot
Dee Stanton announces to her fifteen year-old son Jamie that she is seeing his English teacher Dominic Milne. When Dominic proposes to her, Dee is forced to tell him her big secret – that she was married to Paul Barker who, unknown to her, led a secret life as a serial killer and was convicted for having strangled several women. She has told Jamie that his father was a pilot who died in an accident. However, Jamie is eavesdropping on them talking and hears everything. Dominic tells this to his teenage daughter Bethan and she lets it slip to her best friend and the story rapidly gets around the school. Jamie demands to go and see his father in jail and Dee reluctantly agrees to this. Barker immediately begins weaving a seductive spell on Jamie's mind. Meanwhile, Jamie has been following schoolgirl Morag Tait to the extent that she has had to complain about him. Morag is then found strangled in the woods. Police suspect Jamie who cannot account for what he was doing at the time, until Dee stands up to lie and create an alibi for him. The police then suspect Dominic. Morag was seen in Dominic's arms just before she disappeared and wrote in her now missing diary and told several friends that she was having an affair with him. Now Dee cannot be sure whether her son has started following in his father's footsteps or whether the man who has proposed to her is a murderer too.
---
Like Father Like Son – no relation to the Dudley Moore-Kirk Cameron bodyswap comedy Like Father, Like Son (1987) – is a tv mini-series in the estimable tradition of the British crime thriller. Director Nick Laughland has done a good deal of work in British television, notably with other crime series such as The Bill, The Last Detective, New Tricks, Silent Witness and Wire in the Blood, as well as Amnesia (2004), another fine mini-series thriller also starring Jemma Redgrave.
The mini-series begins with a deceptive domestic ordinariness. Nick Laughland follows solo mother Jemma Redgrave as she gets a new job offer, announces that she is having a relationship with her son's teacher Robson Green and the son (Somerset Prew)'s difficulties adjusting to this. There seems an amiable lightness to this but nothing that we have not seen in any of a million other shows. That is until a sudden spin is thrown on things where Jemma Redgrave confesses to Robson Green that she was previously married and that her husband is a convicted serial killer, which suddenly throws the amiably placid domestic scenario into an arena where we are not sure where things are heading.
For a relatively novice screenwriter, Shaun McKenna does an excellent job. The script sets up an interesting divide as to whether the killer is Jemma Redgrave's son Somerset Prew who may have been seduced and corrupted by his serial killer father or whether it is Jemma's fiancee Robson Green. There is a nice sense of mirroring throughout the script – how Jemma Redgrave's husband was a killer who secretly strangled women, and how her husband-to-be Robson Green has a secret about his wife being strangled; how both of the prospective suspects had an obsession with Morag; how Jemma suddenly realises that she has gone from one husband who was secretly a killer to discovering that her prospective husband might also secretly be a killer too. These various aspects weave together and apart, circling around differing suspicions with considerable cleverness. It is an extremely adept script. Shaun McKenna even writes a scene that quite takes one aback, which offers up an interpretation of the strangling of Desdemona in Shakespeare's Othello (c1603) in terms of sexual jealousy.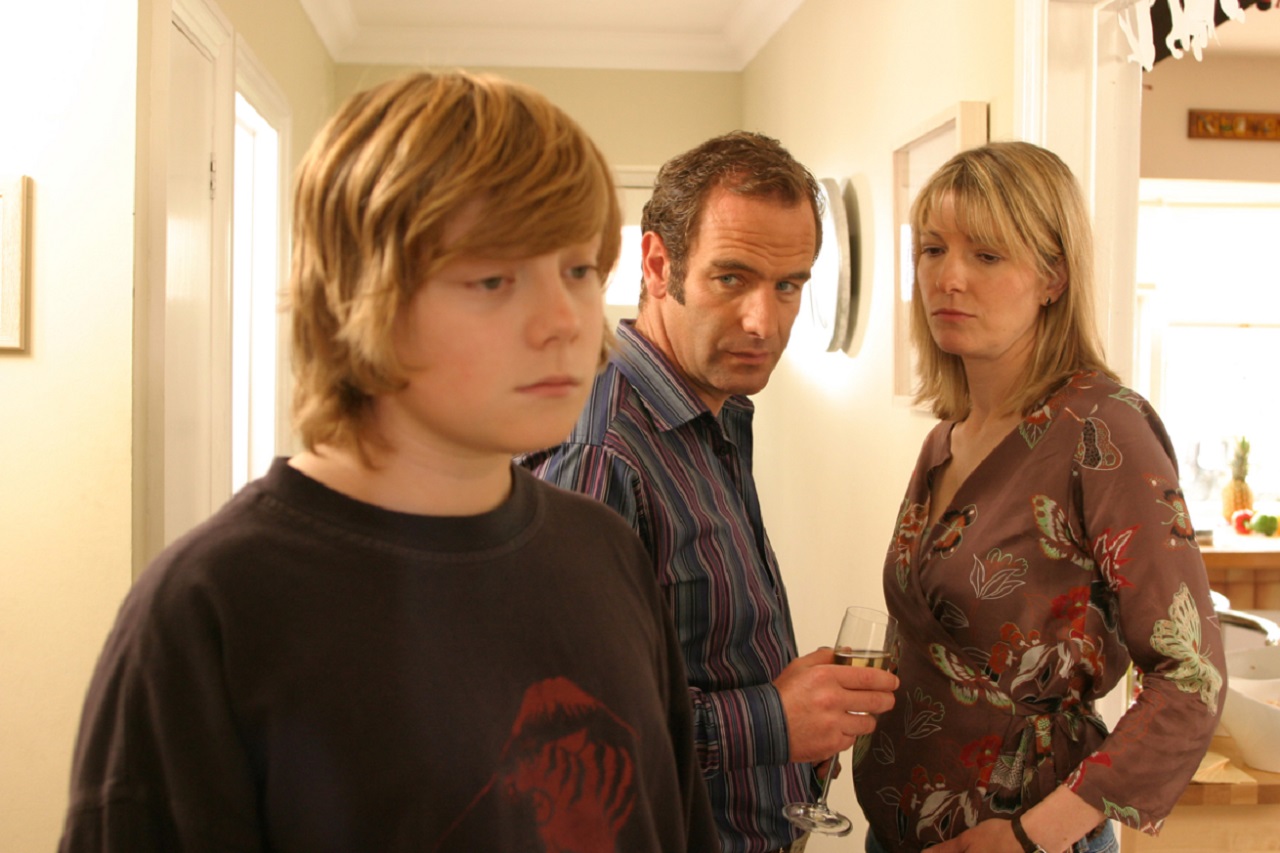 Nick Laughland creates some genuinely creepy scenes where young Somerset Prew goes to see his father in jail and we can see the father starting to psychologically play with his mind and draw him into his web. Phil Davis, the actor playing the father, gives a thuggishly nasty performance. He has been made up to look almost albinoid. (Although the credibility gap here is that Davis is made to seem so uncouth and cruel and as we never get to see any of his charm, we wonder what could possibly attract a nice girl like Jemma Redgrave to him). There is a nicely written scene where Jemma Redgrave goes to see him and pleads for him to leave their son alone, only to be rebuffed with the nasty suggestion that he is entitled to conjugal visits.
The only point that Like Father Like Son disappoints is at the denouement and the revelation of who the killer is. [PLOT SPOILERS]. After setting the whole mini-series to hang on the choice between whether the killer is Robson Green or Somerset Prew, the script then reveals that it was neither of them, where instead it was Robson's daughter Bethan (Francesca Fowler)'s best friend Abi (Florence Bell) who was acting out of an unrequited lesbian infatuation with Bethan. The flashback scenes where we learn what happened have some silly acting and the entire revelation comes out as unconvincing psychology. Aside from letting down on the fine tightrope of suspicion that the mini-series hangs on, this is also a cheat on the title. In fact the title Like Father Like Son, which is clearly intended to play upon fears about the serial killer father influencing the son, proves to be of no relevance to the story whatsoever.
Jemma Redgrave, the daughter of Corin Redgrave and niece of Vanessa and Lynn, has built a quiet but impressive resume doing these sorts of roles in British television. Jemma has an ability at once to suggest well-bred beauty and class and the vulnerability of an ordinary working mother. In the last few years, Robson Green has has built a reputation as a sex symbol with the over-40s in tv series like Soldier Soldier (1991-7), Touching Evil (1997) and sequels, the forensic profiler series Wire in the Blood (2002-8) and Rocket Man (2005-6). Here he initially comes across as overly nerdy but this develops out into a solid performance once he falls under suspicion.
One of the best performances comes from fifteen-year old Somerset Prew who has never acted again in anything outside of this show. Prew manages to be strong and convincing in a character that is required to travel some extraordinary distances and convey considerable nuances during the course of the show. There is also a surprisingly tough and intelligent performance from Tara Fitzgerald, who a few years ago seemed to be on the verge of becoming the new darling of British period dramas.
---
---