USA. 2013.
Crew
Director – Park Chan-wook, Screenplay – Wentworth Miller, Producers – Michael Costigan, Ridley Scott & Tony Scott, Photography – Chung-hoon Chung, Music – Clint Mansell, Visual Effects Supervisor – Lee Jeon Hyeong, Visual Effects – The Creative Party, Special Effects Supervisor – Everett Byrom III, Makeup Effects – Meredith Johns, Production Design – Therese DuPrez. Production Company – Scott Free Productions/Indian Paintbrush.
Cast
Mia Wasikowska (India Stoker), Matthew Goode (Charles Stoker), Nicole Kidman (Evelyn Stoker), Alden Ehrenreich (Whip), Jacki Weaver (Gwendolyn Stoker), Phyllis Somerville (Mrs McGarrick), Lucas Till (Pitts), Ralph Brown (Sheriff), Dermot Mulroney (Richard Stoker)
---
Plot
Teenager India Stoker is distraught at the news that her father Richard has been killed in a car accident. At the funeral, India meets her uncle Charles, her father's younger brother who has been travelling around the world for most of his life. Charles moves into the house and soon appears to charm India's mother Evelyn. India remains suspicious, especially when it appears that Charles may have been responsible for the disappearance of the housekeeper and an aunt who comes to visit.
---
Park Chan-wook is one of the top directors to emerge from South Korea in recent years. Park attained acclaim with Joint Security Area (2000) but it was with the extraordinary acclaim that surrounded the ultra-violent Oldboy (2003) that his name came to international prominence. Park has remained at the forefront since, turning out a number of genre films, including an episode of the Asian horror anthology Three … Extremes (2004), the gonzo romantic comedy I'm a Cyborg, But That's OK (2006) and the vampire film Thirst (2009), as well as co-writing the light angelic fantasy Boy Goes to Heaven (2006) and producing the science-fiction film Snowpiercer (2013). Stoker is Park Chan-wook's much anticipated first English language film. It comes co-produced by the Scott Free production company of Ridley and Tony Scott – indeed, was the last film produced by Tony before his suicide.
I was not sure what to expect from Stoker. The title sets up suggestion of association with Bram Stoker, the author of Dracula (1897) – and indeed, screenwriter Wentworth Miller, better known as an actor in tv's Prison Break (2005-9, 2017), the mini-series Dinotopia (2002) and subsequently as Captain Cold in The Flash (2014– ), says that he took inspiration from Francis Ford Coppola's Bram Stoker's Dracula (1992). With this in mind, you keep expecting Stoker to break out into being a supernatural horror film – of Matthew Goode to reveal he is a vampire or some such – but it never does. Instead, Stoker becomes a film that is constantly playing against all the expectations you go into it with. For one, there is director Park Chan-wook who has a history of films that are steeped in sadism and buckets of gore. You keep waiting through Stoker for Park to dig in and start butchering bodies – but he never does. While the film has its share of violence and blood splattered, Stoker could easily screen on public access tv without the need for cutting.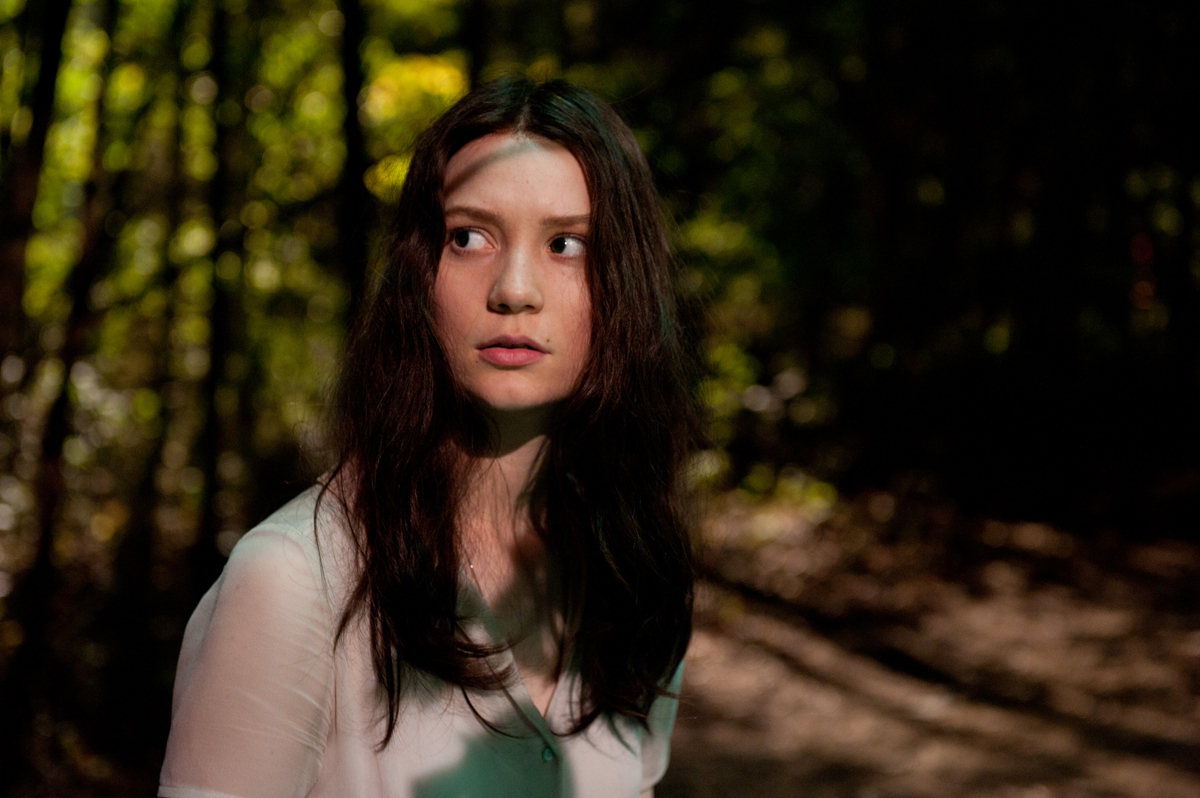 While the Stoker title kept leading me to expecting some type of vampire film, this soon proves not to be the case. What one was reminded of far more was The Kiss (1988), a ridiculous film in which Meredith Salenger plays a teenager who has a dislike of the new aunt who moves into her home and seduces her father, targets her and kills her friends. The Kiss and Stoker exist at opposite ends of the spectrum in terms of quality but the story is very similar in either – excepting of course any supernatural explanation in this film. Of course, you could go even further back than that to Alfred Hitchcock's Shadow of a Doubt (1943) wherein teenager Teresa Wright believes that her uncle Joseph Cotten was a serial killer, which is a film that very much informs Stoker (indeed, the sinister uncle is named Charlie in both films).
The thing that strikes you most about Stoker is just what a controlled film it is. Even more so when you consider just how much Park Chan-wook must have been holding back. The film comes with a manneredness of tone more like an upper-class period arthouse film than the horror film it is being sold as. Out of this, Park Chan-wook does a fine job of building a sense of dis-ease lurking beneath the surface. The early sections of the film consists of much smouldering tension between the characters – Matthew Goode's assured handsomeness and casual sophistication up against Mia Wasikowska's alienated silences and disaffection, all of which seems conveyed with very few words.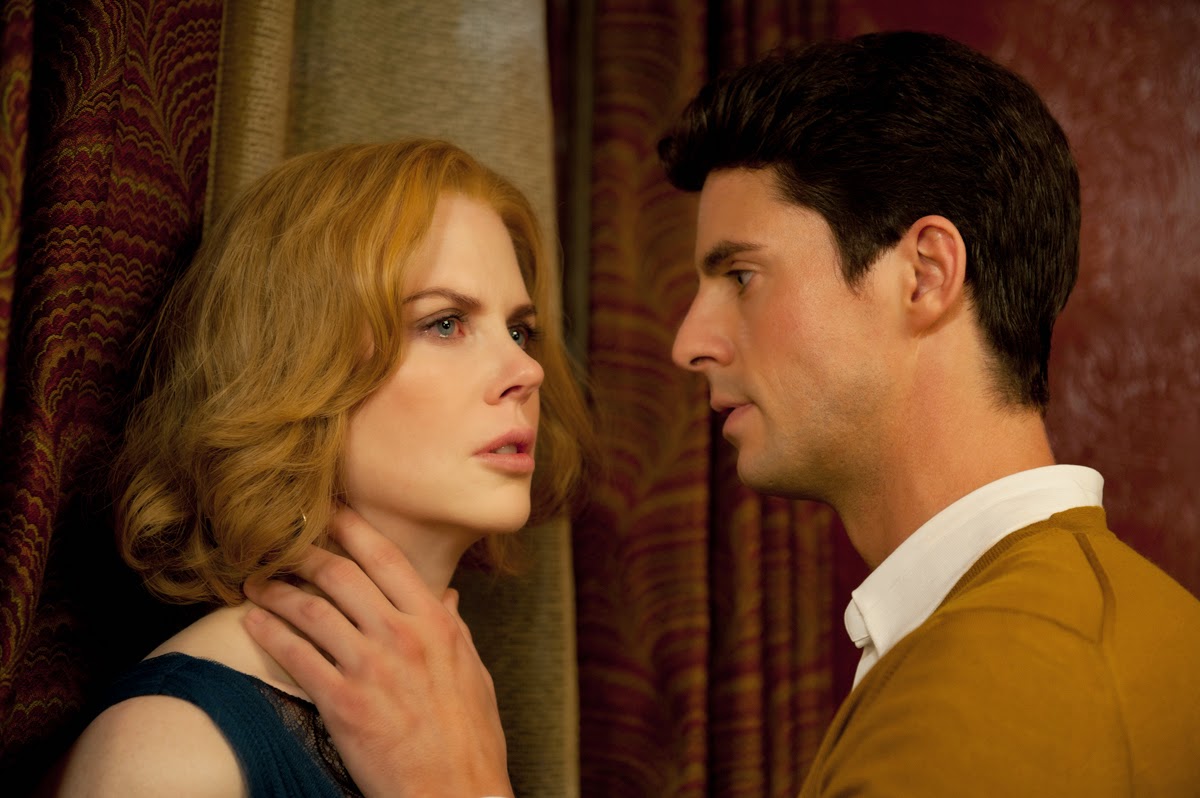 Park Chan-wook loves his compositions and editing schemes. This makes Stoker into very much of a cinematographer's film. Park is constantly making visually audacious and undeniably showoffy fades and cuts – between the combing of Nicole Kidman's hair and the grass in a field, through a circle of shoes on Mia Wasikowska's bed, editing a scene with her getting into the shower out of order. It is as though he has decided that in what might be his one shot at the Hollywood mainstream, he may as well visually show off as much as he can. In one scene, he even edits two versions of Matthew Goode's attack on Alden Ehrenreich – one that takes place in Mia Wasikowska's imagination, which could be seen as the repressed version of events, and another that might be termed her gradual coming to terms with the shock of what happened. One was reminded of the recent We Need to Talk About Kevin (2011), a similar thriller that elevated the B plot material to the level of an arthouse release and engaged in similar audacious editing schemes – although Stoker is not quite as out there as the impressionistic canvas of visual suggestion that Lynne Ramsey turned that film into.
Despite being the most well-known name in the film, Nicole Kidman spends most of the film in a supporting role and is given surprisingly little to do. She does eventually get the opportunity to flex her acting muscle when it comes to the climactic confrontation with Matthew Goode. Most of the show belongs to the lesser known Mia Wasikowska and Matthew Goode. I never quite warmed to Wasikowska in Tim Burton's forgettable Alice in Wonderland (2010), however since then she has been shipped around increasingly in a series of roles for arts audiences such as Albert Nobbs (2011) and literary adaptations like Jane Eyre (2011) and Madame Bovary (2013), all of which seem to speak of a serious young actress with much potential heaped upon her shoulders. Here she was initially unrecognisable from her usual blonde looks but manages to impress with her performance of detached aloofness and intelligence. The show however is won over by Matthew Goode, a rising name on the periphery in the last few years, putting aside an emergence to attention in the abysmal Brideshead Revisited (2008) to go onto parts as Ozymandias in Watchmen (2009) and a handful of other films. Goode emerges here with just the right sense of casually assured playboy handsomeness and charm, not far beneath which lies a cold calculatingness.
(Nominee for Best Director (Park Chan-wook), Best Actress (Mia Wasikowska), Best Supporting Actor (Matthew Goode), Best Supporting Actress (Nicole Kidman) and Best Cinematography at this site's Best of 2013 Awards).
---
Trailer here
---