---
Crew
Director – Michael Barrett, Screenplay – Simon Barrett, Story – Neal Edelstein, Shinya Egawa & Mike Macari, Producers – Eric Bassett, Shinya Egawa, Neal Edelstein & Mike Macari, Photography – Cory Geryak, Music – Edmund Butt, Visual Effects Supervisor – Koichi Noguchi, Visual Effects/Animation – Toei Animation (Supervisor – Masaaki Kamada), Makeup Effects – Etsuko Egawa, Production Design – Hiroyasu Koizumi & Kiyona Ono. Production Company – Genre Project Incorporated/Koji Productions/Crow Island Films/Toei Animation Incorporated/Sisung Film Finance.
Cast
Logan Huffman (Christopher), Natalia Warner (Kate Thomas), Brandon Tyler Sklenar (James), Naoto Takenaka (Professor Ryo), Asahi Uchida (Kazunori Ittoku), Yamato Tazawa (Seita), Sawa Masaki (Antique Shop Owner), Kanji Furutachi (Man in Bar), Sayo Takumi (Woman Sweeping), Baiken Jyukkanji (Old Man in Village)
---
Plot
A professor is brought in to a Tokyo hospital to question an American tourist who has been hideously disfigured, the sole survivor of a group that visited the Murahi Shrine in the Tochigi Prefecture. As they determine, five days earlier, Christopher and his best friend Kate Thomas arrived in Japan, joining Kate's boyfriend James, so that she could conduct a tour of local temples as part of her postgraduate research. In an antique store, Christopher found an old book of folk tales but the owner refused to sell it. Christopher later returned and was sold the book by a young boy. It told the legend of the Murahi Shrine where a fox spirit lives and children were reputed to have been sacrificed by monks. Christopher was warned to stay away by a man in a bar but the three travelled on to the shrine. The boy turned up to guide them but warned them not to stay after dark. However, when Christopher fell and twisted his ankle, they had no choice but to stay and face the spirits that haunted the area as night fell.
---
Simon Barrett has reasonable reputation as a genre screenwriter. Barrett has written Dead Birds (2004), Frankenfish (2004) and Red Sands (2009) and then went onto become a regular screenwriter for Adam Wingard with A Horrible Way to Die (2010), Autoerotic (2011), What Fun We're Having (2011), You're Next (2011), The Guest (2014), Blair Witch (2016) and Wingard's segments of The ABCs of Death (2012) and the V/H/S films. He also directed the Tape 49 segment of V/H/S/2 (2013) and The Empty Wake segment of V/H/S/94 (2021) and the full-length Seance (2021).
Director Michael Barrett has worked as a cinematographer since the mid-1990s on films such as Kiss Kiss Bang Bang (2005), Ted (2012), plus several Adam Sandler films and various of the CSI series. Michael Barrett makes his directorial debut here. The two Barretts are unrelated – I asked Simon about this and he says that he has never even met Michael and that the film was based on a script he wrote several years earlier. He has written a more detailed blog article about his involvement here Temple, or, why I don't know what that project is any more than you do.
The Japanese ghost story has a long tradition that goes back to the 19th Century and there are numerous examples of it on screen from Ugetsu Monogatari (1953), Ghost Story of Yotsuya (1959), Oni Baba (1964) and Illusion of Blood (1965) through to more recent international hits such as Ring (1998) and Ju-on: The Grudge (2003). The Western-made Japanese ghost story is another whole kettle of fish. There were a host of English-language remakes of the 00s Japanese films with The Ring (2002) and The Grudge (2004), which soon devolved into less-than-stellar examples such as Pulse (2006), One Missed Call (2008) and Death Note (2017). There have been very sporadic attempts to make original English-language ghost stories set in Japan with the likes of The House Where Evil Dwells (1982) and The Forest (2016), although neither of these are very well regarded.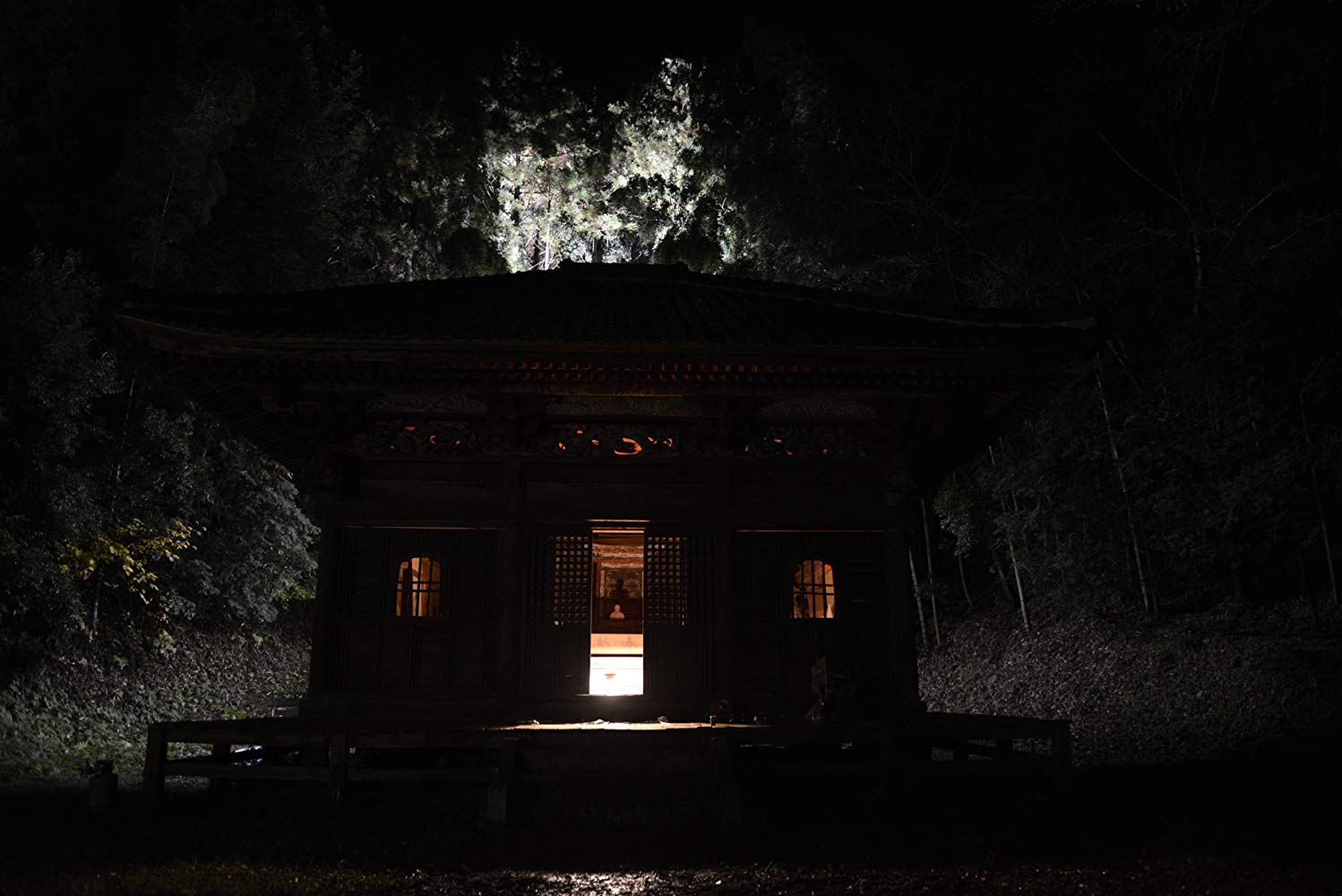 Temple is another of these original Western-made ghost stories set in Japan (albeit co-produced by several Japanese production companies). With the bad experience of The Forest in recent memory, I must admit to approaching it with trepidation. Michael Barrett certainly seems to be making an effort. The film plays on the outsider's view of Japanese culture and Michael evinces a certain sense of dread as the trio are given ominous warnings about going to the temple.
The main problem is that the film is slow and not much happens for a very long time. The script falls into the trap of making the journey there into the bulk of the film while keeping the actual ghost story elements until near the end. It is not at least until nearly the one-hour point before anything supernatural starts to happen, for instance. There are a few manifestations towards the end – hands reaching up from the floorboards of the temple to drag people down, the ghostly boys, shadows of things with clawed hands popping into the foreground – but no real payoff.
Least of all, there is no explanation of what is going on. The film reaches a frustrating resolution where [PLOT SPOILERS] the character who has been hidden in the tented wheelchair and disfigured has their identity revealed (a surprise that only really came down to choosing which of the three otherwise anonymous characters it was), the boy waiting outside is found not to exist, and for no clear reason the disfigured survivor stabs the interpreter and flees the hospital. It reaches an overall shrug of indifference.
---
---