---
USA. 1978.
Crew
Director/Producer – William Girdler, Screenplay – William Girdler, Jon Cedar & Thomas Pope, Based on the Novel by Graham Masterson, Photography – Michael Hugo, Music – Lalo Schifrin, Special Effects – Gene Griggs & Tim Smith, Makeup Effects – Tom Burman, Production Design – Walter Scott Herndon. Production Company – Manitou Productions.
Cast
Tony Curtis (Harry Erskine), Michael Ansara (John Singing Rock), Susan Strasberg (Karen Tandy), Jon Cedar (Dr Jack Hughes), Stella Stevens (Amelia Crusoe), Burgess Meredith (Dr Ernest Snow), Hugh Corcoran (MacArthur), Laurene Tuttle (Mrs Kurz), Ann Sothern (Mrs Karmann), Jeanette Nolan (Mrs Wiscosis)
---
Plot
Karen Tandy is admitted into hospital for a routine examination of what is thought to be a tumour growing on the back of her neck. Incredibly, the X-rays reveal the tumour to be a foetus. When an attempt is made to surgically remove the foetus, the instruments are turned back on the surgeons. Karen's friend, the fake medium Harry Erskine, discovers that the foetus is a manitou, a powerful Indian medicine man, Misquamacus, who is about to reincarnate. Harry brings in another Indian medicine man, John Singing Rock, and they try to stop the manitou manifesting. However, they are too late and Misquamacus is born but horribly mutated by the x-rays. Misquamacus immediately transports the whole hospital into another dimension where it tries to call up the Great Old One, the Indian equivalent of the Devil.
---
The Manitou was the finest moment from William Girdler. William Girdler was a director who remained squarely down the B-budget end of the exploitation genre throughout the 1970s, churning out the cheap and usually grotty likes of Three on a Meathook (1972), Asylum of Satan (1972), Abby (1974), Grizzly (1976) and Day of the Animals (1977). With The Manitou, Girdler adapted a 1975 novel from horror writer Graham Masterson and the results were one occasion upon which he surpassed himself. Alas, such a moment of glory would be Girdler's epitaph as he was killed in a helicopter crash even before The Manitou was released while scouting locations for his planned next film, the UFO epic The Overlords.
Certainly, while one praises The Manitou, one must also be aware that there is a good degree of schlocky ridiculousness that surrounds more than a few parts of the film. There is one completely ridiculous scene where a hunched-over Lurene Tuttle starts making frog-like croaks while hovering six inches above the ground, while Tony Curtis runs about smiling bemusedly as if this were no more than one of his Doris Day soap opera comedies of the 1960s. Girdler's shocks are often down around the level of crude circus showmanship – doctors plunging scalpels into their wrist, heads emerging from a table during a seance and several other scenes that inspire more laughter than anything else.
Yet on the other hand, The Manitou contains a particularly strong building atmosphere of eldritch eeriness. The film could almost be an H.P. Lovecraft story – indeed, Graham Masterson makes the indebtitude overt with reference to the climactic awakening of a Great Old One, which was the most powerful god in Lovecraft's Cthulhu Mythos.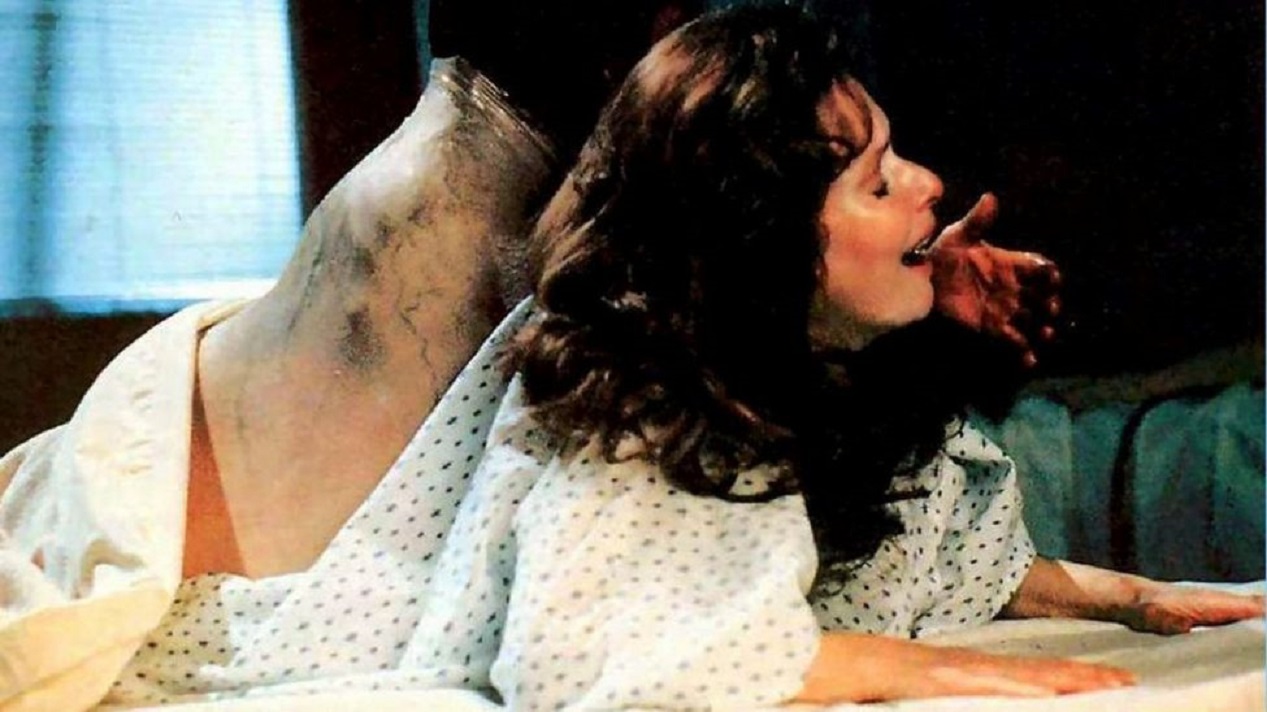 What adds considerable originality to The Manitou is the importing of Native American mythology. The conceptual stew of ideas that Graham Masterson plays with here has a creativity way above any of the standard clones of The Exorcist (1973) that were being made around the same era. The middle scenes play the Indian mysticism with such an engrossing conviction that suspension of disbelief triumphs entirely over William Girdler's rather crude shocks. The incredibly eerie scenes with medicine man Michael Ansara trying to build protective circles around the manitou's bed, or moments where the manitou speaks through Susan Strasberg's mouth, its emerging from the tumour, and bringing a dead orderly back to life, all work at a level of otherworldly spookiness that is very hard to shake when the film is over.
Only the climax lets it down where Girdler takes a leaf from Star Wars (1977) with a bare-chested Susan Strasberg sitting up in bed, floating amid a very poorly matted starscape and meteor storm, blasting lightning bolts from her fingers at a poor sub-2001: A Space Odyssey (1968) psychedelic light show that supposedly represents the Great Old One.
Tony Curtis is badly miscast and does not appear to be taking the show terribly seriously. His contribution to the film never rises above a slightly amused smile. Debatably even worse than Tony Curtis is Stella Stevens as a fellow medium. The one good performance in the film comes from the great and always reliable Burgess Meredith in a small part as an expert on Indian mythology.
---
---