aka Revenant
---
Crew
Director – Richard Elfman, Screenplay – Matthew Bright, Producers – Chris Hanley & Brad Wyman, Photography – Robin Brown, Music – Michael Wandmacher, Title Theme – Danny Elfman, Music Supervisor – George Gorshman, Special Effects Supervisor – Bruno Stemple, Makeup Effects – SOTA F/X (Supervisors – Roy Knyrim, Jerry Macaluso & Roger Naff), Production Design – Robyn Costa. Production Company – Charosis Pictures/MUSE/Wyman/Revenant Productions/Storm Entertainment.
Cast
Casper Van Dien (Dallas), Natasha Gregson Wagner (Nico), Rod Steiger (Dr Frederick Van Helsing), Gabriel Casseus (Time Bomb), Kim Cattrall (Ulrike), Craig Ferguson (Richard), Robert Pastorelli (Count Dracula), Natasha Lyonne (Rachel), Natasha Andreichenko (Panthia), Victor Togunde (Soda Pop), Cedrick Terrell (L'il Monster), Flex (Trigger), Conchata Ferrell (Rachel's Mom), Brent Briscoe (Rachel's Stepfather)
---
Plot
The vampire Dallas returns to L.A. where he is barely tolerated by Count Dracula who runs a vampire nightclub and insists that no vampires are created without his permission. Dracula is trying to stop a rogue vampire who has been nicknamed The Hollywood Stalker. The Stalker is actually a street waif Nico who selects victims by posing as a streetwalker. Dallas finds and harbours Nico, not telling her that he was the one who created her. However, his protection of Nico comes much to the displeasure of his friends and incurs the wrath of Dracula who wants her dead. Meanwhile, Dr Van Helsing comes after Dallas, determined to kill him for having infected his son with vampirism. In needs of assistance, Van Helsing recruit the members of a Black street gang to his cause.
---
Modern Vampires comes from director Richard Elfman. Elfman was previously a member of the rock group Oingo Boingo and is brother of the more well-known Danny Elfman, the composer who has worked with Tim Burton on the scores for Batman (1989) and The Nightmare Before Christmas (1993), as well as created the theme tune for tv's The Simpsons (1989– ), among many others. Richard Elfman made his directorial debut with the gonzo science-fictional musical Forbidden Zone (1982), which has become a cult film, and continued with Shrunken Heads (1994), one of the more wacky films to emerge from Full Moon. Modern Vampires comes with a script from Matthew Bright, a childhood friend of the Elfmans and the writer/director of the cultish modern fairytale deconstruction Freeway (1996), its stunning sequel Freeway II: Confessions of a Trickbaby (1999) and the startling true-life serial killer film Ted Bundy (2002).
Matthew Bright sets up an appealingly slick scenario – an elite of chic vampires who live in Hollywood and run vampire nightclubs. The script is full of quirky touches – vampires seen filing their teeth; a vampire woman who has been pregnant for fifteen years; and some funny scenes with Van Helsing having to recruit L.A. gangbangers as his team of vampire hunters. There are all manner of wittily acerbic one-liners – Kim Cattrall meets a producer at a party: "Did you ever do any hardcore porn?" "I'm a tv producer," he replies indignantly. "I can see that – you're short."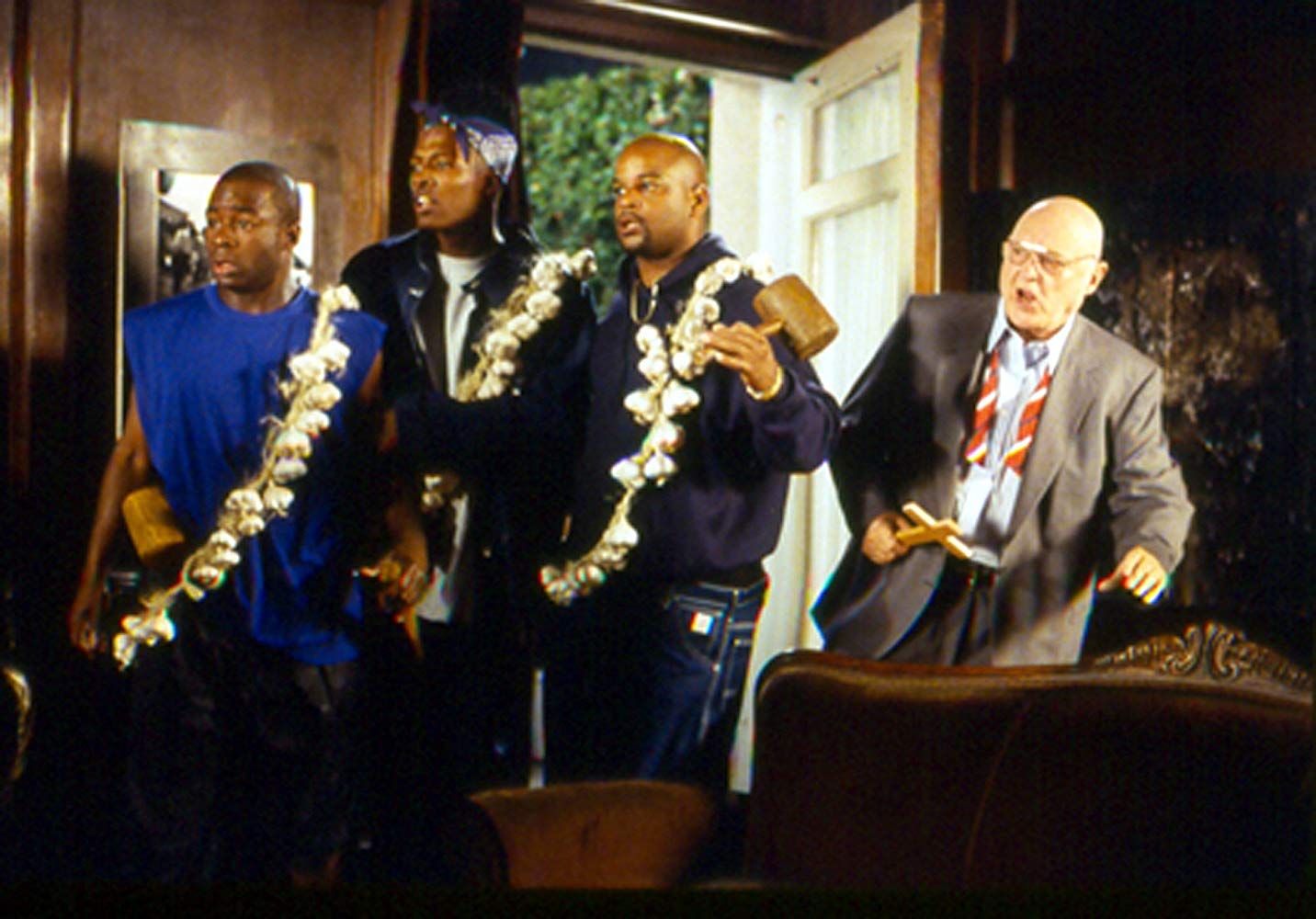 Unfortunately, Modern Vampires falls flat. Matthew Bright seems to want to create a smart, savvy modern vampire film; Richard Elfman's approach is light and cartoonish. Every time a vampire bites someone, for instance, Elfman throws in ridiculous fast-forward montages of lightning bolts, flowers and graveyards. This is one occasion where a style-heavy director full of flashy poses and edgy attitudes – Razor Blade Smile (1998)'s Jake West would have been ideal – would have suited the film perfectly, whereas Richard Elfman's campy, unsubtle approach ruins a good script.
Bright may well have intended the vampires to utter bitchy barbs but the way they come out is campy. Almost every member of the cast – Casper Van Dien, Kim Cattrall, Udo Kier and The Drew Carey Show (1995-2004) regular Craig Ferguson – overacts atrociously. Robert Pastroelli's beefy, swarthy, lisping Dracula must surely be if not the, at least a strong contender for, the worst ever airing of the Dracula role. Amidst this, Rod Steiger, a prize over-actor, is uncustomarily restrained and not too bad as Van Helsing. The best player in the show is Natasha Gregson Wagner, whose tough, brattish street vampire is one of the few restrained performances – the scenes with her are the most convincing in the film.
---
---