---
Crew
Director/Producer – William Castle, Screenplay – Ray Russell, Based on His Novella, Photography (b&w) – Burnett Guffey, Music – Von Dexter, Makeup Supervisor – Ben Lane, Art Direction – Cary Odell. Production Company – William Castle Productions.
Cast
Ronald Lewis (Sir Robert Cargrave), Guy Rolfe (Marek Toleslawski, Baron Sardonicus), Audrey Dalton (Maude Randall Sardonicus), Oscar Homolka (Krull), Lorna Hanson (Anna), Erika Peters (Elenka Toleslawski), Vladimir Sokoloff (Henryk Toleslawski)
---
Plot
London, 1880. Sir Robert Cargrave is a highly successful surgeon. He receives a letter from his former love Maude Randall asking him to come to Gorslava on a matter of great urgency. Sir Robert travels to the castle of Maude's husband Baron Sardonicus and meets the Baron who keeps his face hidden behind a mask. Sir Robert is disturbed by things going on in the castle, including finding a maid imprisoned with leeches on her face. The Baron tells Sir Robert the story of how he was a poor peasant. His father died and he realised that he had buried a winning lottery ticket in his father's waistcoat and so he did the unspeakable and violated the grave to retrieve it. However, the shock of seeing his father's skeleton with the skull in a rictus grin caused the muscles of the Baron's face to freeze in a hideous permanent grin. He now demands that Sir Robert perform radical surgery to fix his grin – otherwise he will order his manservant to carve Maude's face into a matching smile.
---
Mr. Sardonicus is one of the films from director-producer William Castle. Castle became famous in the late 1950s for his horror films that were made with promotional gimmicks. These included stunts like taking out insurance policies in case audience members died of fright in Macabre (1958), winching a skeleton across a theatre in House on Haunted Hill (1959), wiring theatre seats up with electric shock buzzers to jolt audiences at appropriate moments in The Tingler (1959) and a Fright Break so the faint of heart could leave the theatre in Homicidal (1961).
Mr. Sardonicus would be the last of William Castle's gimmick films. By now, Castle had become so famous through his appearance in the trailers for the films that he was appearing on-screen to introduce them as well – he turns up here to present the film while walking along a fog-lit bank of the Thames in London. The gimmick in Mr. Sardonicus is that Castle reappears near the end and asks the audience to choose what fate is to be meted out to the title character – whether he should be cursed or redeemed. Audiences would hold up a series of cards with glow in the dark thumbs on them. Depending on whether the audiences held the thumbs up or down, the projectionist would select which ending to show.
In actuality, this would appear to be a choice that was already preselected and the ending where Sardonicus is doomed was always screened. Archival search has been unable to find evidence of any alternate ending where Sardonicus is saved and people involved in the production deny that any other ending was ever shot. Moreover, William Castle's narration, where he says "ugh" at the thought of niceness and relishes depicting the just dessert tortures, gives clear indication which side of the verdict he was on.
Mr. Sardonicus was also Castle's attempt to jump aboard the fad in Gothic horror that had begun a few years earlier with Hammer's The Curse of Frankenstein (1957) and Dracula/The Horror of Dracula (1958) and in particular Roger Corman's attempt to copy this with The House of Usher (1960). That said and though Mr. Sardonicus is supposedly set in 1880, the settings, characters and hairstyles are clearly 1960s USA – nobody attempts to affect a British accent, for instance. The journey into Eastern Europe seems borrowed from Dracula (1897), while the master of the house with a physical deformity and the image of the blasted heath as some extension of his tormented psyche recalls much of The House of Usher.
The central concept of the man with the frozen grin would seem to be inspired by Batman's The Joker, who had first appeared in Batman #1 (1940) – although it should be noted by the point that Mr. Sardonicus came out The Joker had yet to appear on the screen. Almost certainly, both the film's writer Ray Russell and the artists who created The Joker were inspired by the silent Conrad Veidt film The Man Who Laughs (1928).
William Castle's atmosphere was always rudimentary and perpetually focused on shock effect – he was never a particularly sophisticated director. Here however he does create a series of memorable shocks – the abrupt revelation of the leeches on Lorna Hanson's face; Ronald Lewis entering a room to find Lorna Hanson bound and strung up; Guy Rolfe in his blank-faced mask; the manservant Kroll (Oscar Homolka) with his eye sewn shut; Sardonicus keeping his wife (Audrey Dalton) imprisoned in a dungeon and threatening to create a smile for her with a knife unless Ronald Lewis cooperates; the skeleton of Sardonicus's father kept in a locked room and Ronald Lewis's climactic cure being to lock Guy Rolfe in the dark with the skeleton.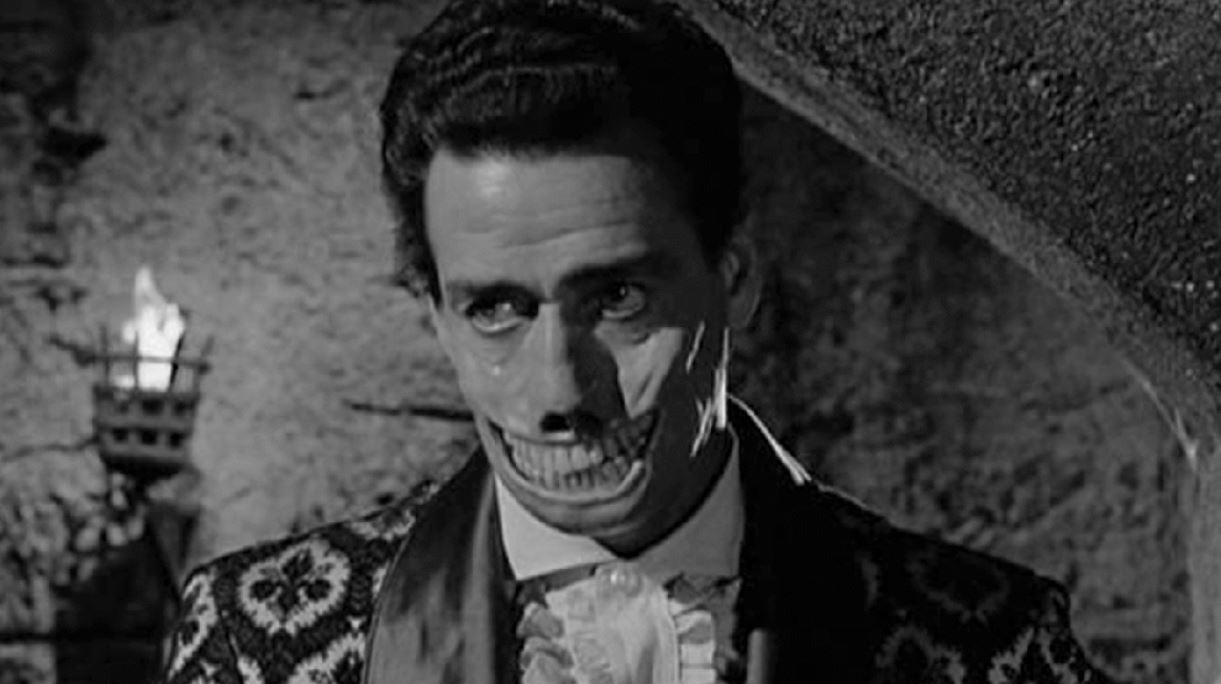 Castle even manages to get it together for one great scene during Guy Rolfe's robbing of the grave, which conjures a marvellous sense of dread before the abrupt revelation of the skeleton's face followed by the even bigger shock of seeing Rolfe with his frozen rictus grin of fright for the first time. There is also a scene earlier in the show where Guy Rolfe has several beautiful girls brought to him and selects one of them for a horrible purpose, although the reasons for this are never made clear anywhere else in the film. Guy Rolfe plays the part of Baron Sardonicus, particularly during the latter half, with great arrogance and a series of wonderfully mad lines.
The film is based on Sardonicus (1961), a short story by Ray Russell that had appeared in Playboy magazine several months earlier and was immediately snapped up by William Castle. Ray Russell (1924-1999) was a prolific genre writer. Mr. Sardonicus became Ray Russell's most famous work, although he did go on to write a number of other films, including Zotz! (1962) for William Castle about an academic who comes into possession of a coin with powers, as well as Premature Burial (1962) and X – The Man with X-Ray Eyes (1963) for Roger Corman, The Horror of It All (1964) in the UK, the theatrically released Grand Guignol tv pilot Chamber of Horrors (1966), while the demonic rapist film Incubus (1982) was also adapted from his novel.
William Castle's other films of genre note as producer-director are:– as director of Crime Doctor's Manhunt (1945), the sixth in a series of Columbia crime thrillers, of which Castle directed several, featuring a forensicologist against a split-personalitied killer; the psycho-thriller Macabre (1958); House on Haunted Hill (1959); the classic The Tingler (1959), probably Castle's best film; the haunted house film 13 Ghosts (1960); the psycho-thriller Homicidal (1961); the juvenile comedy Zotz! (1962) about a magical coin; the remake of The Old Dark House (1963) for Hammer; the Grand Guignol psycho-thriller Strait-Jacket (1964) with Joan Crawford; The Night Walker (1965), a psycho-thriller about a dream lover; the prank phonecall psycho-thriller I Saw What You Did (1965); the psycho-thriller Let's Kill Uncle (1965); the ghost comedy The Spirit is Willing (1967); the reality-bending sf film Project X (1968); as producer of the classic occult film Rosemary's Baby (1968); as producer of the anthology series Ghost Story (1972-3); Shanks (1974) with Marcel Marceau as a puppeteer who can resurrect the dead; and as producer of the firestarting insect film Bug! (1975).
---
---