---
Australia. 1972.
Crew
Director/Screenplay – Terry Bourke, Photography – Peter Hendry, Makeup – Deryck De Niese, Art Direction – Gary Hansen. Production Company – Terryrod Productions.
Cast
Carla Hoogeveen (The Girl), Norman Yemm (The Man), Briony Behets (Girl Rider)
---
Plot
A girl travelling to Sydney drives off the road after a near collision with a truck. Her car then becomes stuck on a dirt track where she is attacked and pursued by a backwoods farmer.
---
Night of Fear was one of the first cinematically released films from little-known Australian director Terry Bourke. Terry Bourke made only a handful of films, none of which are particularly well known. These have included the likes of the spy thriller Noon Sunday (1975), the sex film Plugg (1975), the acclaimed missing child film Little Boy Lost (1978) and a couple of films beyond that. The most well known of Terry Bourke's films have been his horror films, which include Night of Fear here, the historical horror Inn of the Damned (1975) and the slasher film Lady Stay Dead (1981).
Night of Fear was originally made as an episode of a proposed Australian horror anthology series entitled Fright. However, Night of Fear was banned from broadcast on grounds of indecency and was subsequently screened cinematically (despite its non-commercial 50 minute length). It does not appear that any other episodes of Fright were ever made.
I was astonished after watching Night of Fear. Nothing I had read elsewhere had done anything to get one excited about Terry Bourke's body of work. What is striking about Night of Fear is just how much it manages to prefigure The Texas Chain Saw Massacre (1974) – two years before Texas Chain Saw ever appeared on screens. The plots of both films are near identical – the bulk of either film centres around the assault on a girl after she becomes lost in the backwoods where a sub-human maniac pursues her. In both films, the maniacs of the show also live in a house of stuffed animals and decrepit debris. (There are also strong echoes of Texas Chain Saw in Terry Bourke's subsequent Inn of the Dammed).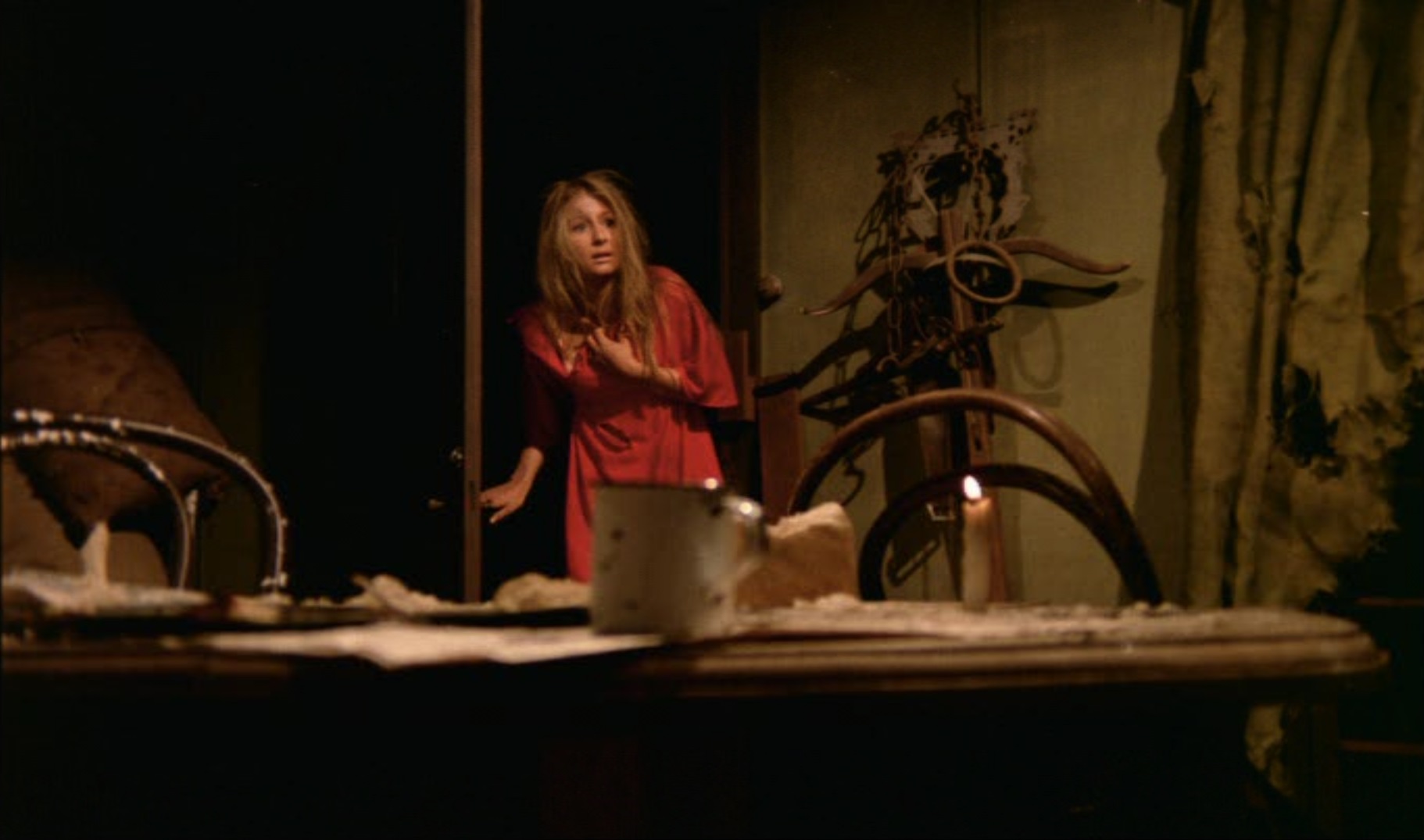 One of the most striking things about Night of Fear is how Terry Bourke shoots it as a silent movie. Or perhaps more correctly shoots the entire show without dialogue. Certainly, the soundtrack seems to compensate for this – it feels as though it has been composed by a mad electronic percussionist who is playing an alternating duet with a stoned lounge muzak player who has gone crazy on an electronic organ.
Terry Bourke's editing similarly comes full of frenetic cuts that succeed in winding the action up with an edgy pace. The initial attack on Carla Hoogeveen by Norman Yemm as she is trapped in the car has considerable effect – with the mad editing and soundtrack, as well as Yemm's brutish performance, giving the scene a raw edge. During Carla Hoogeveen's imprisonment and pursuit, Bourke's frenetic editing evinces a ragged, emotional power as it takes on her point-of-view, seemingly determined to put us in her shoes. Even the opening credits have an angry rawness with the names of the cast and crew seemingly tearing their way out of the single word 'Fright' in stark bold relief.
The film reaches an outrageous scene near the end where Norman Yemm approaches the bound Carla Hoogeveen naked with a bloodied skull held covering his crotch, in between frenetic cuts away to clippings of pornographic pictures of breasts and butts. It is here that you can clearly see the reasons why Night of Fear was banned from television broadcast. The film gets particularly nasty with the introduction of the rats, while the end arrived at is a much grimmer one than in The Texas Chain Saw Massacre.
Night of Fear is discussed in the documentary Not Quite Hollywood: The Wild, Untold Story of Ozploitation! (2008).
---
Trailer here
---