---
Crew
Directors – Chris Butler & Sam Fell, Screenplay – Chris Butler, Producers – Travis Knight & Arianne Sutner, Photography – Tristan Oliver, Music – Jon Brion, Lead Animators – Payton Curtis, Travis Knight & Jeff Riley, Visual Effects Supervisor – Brian Van't Hul, Production Design – Nelson Lowry. Production Company – Laika.
Voices
Kodi Smit-McPhee (Norman Babcock), Tucker Albrizzi (Neil), Anna Kendrick (Courtney Babcock), Casey Affleck (Mitch), Christopher Mintz-Plasse (Alvin), Jeff Garlin (Perry Babcock), Leslie Mann (Sandra Babcock), John Goodman (Uncle Prendergast), Elaine Stritch (Grandma), Alex Borstein (Margot Henscher), Jodelle Ferland (Agatha Prendergast), Bernard Hill (The Judge), Tempestt Bledsoe (Sheriff Hooper), Hannah Noyes (Salma)
---
Plot
In the town of Blithe Hollow, Norman Babcock is regarded as a weird kid by everybody and bullied because he claims to be able to talk to ghosts. The town prepares for its 300th Anniversary of the so-called Witch's Curse where a witch was burned at the stake and died cursing the town. Norman is pestered by the ghost of his recently deceased Uncle Prendergast who tells him he must find the book left in the hands of his dead body and read it in the graveyard to stop the witch from emerging. Norman finds the book but this only turns out to contain fairytales and he fails to read it before sundown. The dead then start to rise out of their graves. As zombies mob the town, causing mass panic, Norman realises that they are the resurrected bodies of the people who condemned the witch, a young girl Agatha Prendergast, back in the 18th Century. To prevent all hell breaking loose in the town, he must find the resting place of Agatha and set her tormented soul at peace.
---
ParaNorman was the third feature film from Laika Entertainment, a US-based company that specialises in stop-motion animation. The company had previously co-produced Tim Burton's Corpse Bride (2005) and Henry Selick's Coraline (2009). The film is directed by Sam Fell, who began directing episodes of tv series at England's Aardman Animation, graduated to handdrawn animation film as co-director of Aardman's Flushed Away (2006) and then went onto The Tale of Despereaux (2008). ParaNorman is the conception of Fell's co-director Chris Butler who makes his debut as a director here after rising through the ranks of Laika as a storyboard artist on their aforementioned films and before that at Disney.
ParaNorman is a genteel and sweet film. It is not quite up there with the work of Henry Selick – The Nightmare Before Christmas (1993), James and the Giant Peach (1996) and Coraline. It is more child oriented in its pitch, more anthropomorphic and less filled with the quirky, sometimes threatening characters that Selick likes. That said, the film certainly falls far more into the horror genre and is willing to scare and be sinister than most children's films do, even if in the end the zombies and witch prove to not be as threatening as they are initially made to seem. It is also a good deal cuter and cuddlier a show than the universe of Henry Selick's films – or even that of Corpse Bride – chiefly it seems because the intended age audience is several more digits down.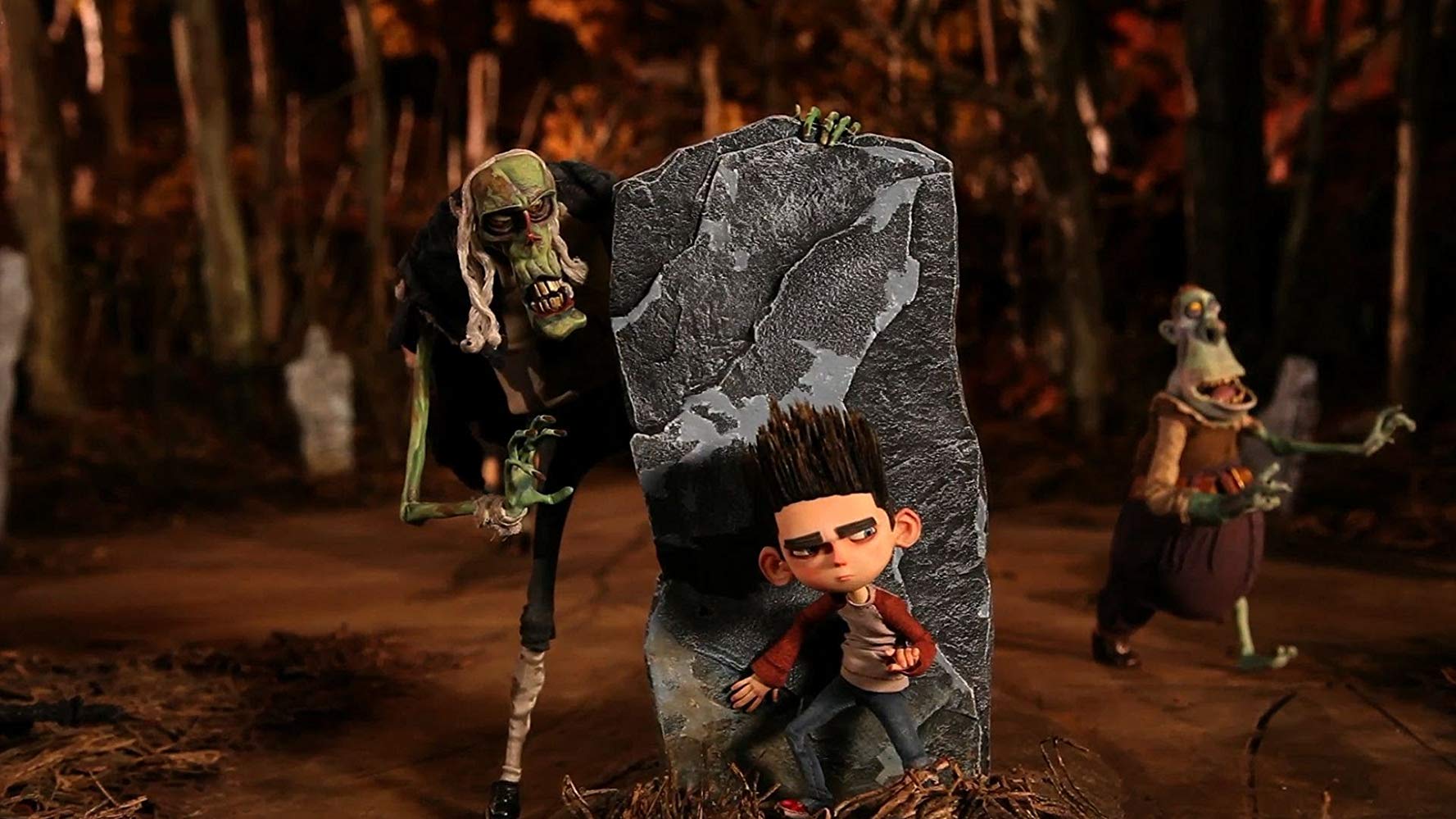 In terms of story basics, ParaNorman has taken a few dashes from other films – the psychic who can see dead people trying to prevent all Hell breaking loose from Peter Jackson's The Frighteners (1996), the resurrected witch and the race to stop her influence from destroying the town from Hocus Pocus (1993) – indeed, the resurrected witch and her curse was a staple of continental horror film of the 1960s after the success of Black Sunday (1960). Butler and Fell welcomely choose not to spend time making jokes and in-references to other horror films – something that Hotel Transylvania (2012) coming out just over a month later was guilty of – apart from a cute scene where Norman's cellphone plays the theme tune from Halloween (1978).
ParaNorman works nicely. It gets in a few relatively safe scares, has some nicely rounded characters, even a few laughs aimed at the adult audience. Where the film moves out of the zone of being amiable but nothing outstanding is in its reversals of expectation. I thought it found itself from about the two-thirds point where it started to reveal that all the aspects of a traditional horror film were not the case at all. The zombies are revealed to not be mindless flesh-eating undead but simply lost and haunted souls suffering because of their fear and judgements. (There is an ever-so-priceless scene between Norman, Courtney and the judge zombie in the backseat of the car that turns into a bickering children routine). Similarly, the witch is not something evil and scary but just a frightened girl – the scene where Norman confronts her and shows her a different way contains some lovely and tender writing.
Most of all, the real threat is seen to be the fear, prejudice and mob rule mentality of the townspeople themselves – both back in the Puritan era and in the present-day townspeople's attempts to deal with the zombies, where these are couched in such broad terms that the film feels like it is making pointed comments about any of several dozen hot button issues that divide the USA. There is even a rather cute throwaway end gag that shoots down what seems to be a budding romantic attraction between Courtney and Mitch by slyly and bravely playing against expectation.
Laika next went onto make The BoxTrolls (2014), Kubo and the Two Strings (2016) and Missing Link (2019).
---
---