---
Crew
Director/Based on an Idea by Matthias Hoene, Screenplay – James Moran & Lucas Roche, Producers – James Harris, Matthias Hoene & Mark Lane, Photography – Daniel Bronks, Music – Jody Jenkins, Visual Effects Supervisor – Paul Norris, Additional Visual Effects – Atomo VFX (Supervisors – Sergio Ayrosa & Caio Montanari) & Matthew Shires, Special Effects Supervisor – Scott McIntyre, Makeup Effects Design – Paul Hyett, Production Design – Mathew Button. Production Company – The Tea Shop and Film Company/Filmlight/Molinaire/Studio Canal/Kintop Pictures.
Cast
Harry Treadaway (Andy Maguire), Rasmus Hardiker (Terry Maguire), Michelle Ryan (Katy), Alan Ford (Ray Maguire), Ashley Thomas (Mental Mickey), Georgia King (Emma), Jack Doolan (Davey Tuppance), Tony Gardner (Clive), Richard Briers (Hamish), Honor Blackman (Peggy), Tony Selby (Darryl Cooper), Dudley Sutton (Eric), Georgina Hale (Doreen), Natalie Walker (Bank Manager), Josh Cole (Davvers), Gary Beadle (Greg)
---
Plot
In London's East End, the excavation of a site for a redevelopment project uncovers a crypt dating from the 17th Century. Workmen venture in but are attacked by zombies. Meanwhile, brothers Andy and Terry Maguire have organised a bank robbery to get enough money to prevent their grandfather Ray's retirement home from being demolished by developers. They organise an inept crew made up of their sexy lockbreaker cousin Katy, the bumbling Davey Tuppance and the crazed violence prone Mental Mickey who is invited because he has guns. The bank robbery proceeds to go wrong and they are surrounded by armed police. After taking hostages, they exit to find the police have been slaughtered by zombies and the city is being overrun by the dead. They try to make it out of area and to the old age home where their grandfather and the other residents are trying to fend off the zombie hordes.
---
The zombie film has become legion during the 00s following the success of hits like 28 Days Later (2002) and the remake of Dawn of the Dead (2004). It was however the British spoof Shaun of the Dead (2004) that led the way to a more comic take on the zombie film. A great many imitators have followed in Shaun of the Dead's vein and offered up gonzo takes and/or spoof conceptual collusions with the likes of Zombie Beach Party (2003), Hood of the Living Dead (2005), Dorm of the Dead (2006), Fido (2006), Poultrygeist: Night of the Chicken Dead (2006), Zombie Cheerleader Camp (2007), Zombie Strippers! (2008), Attack of the Vegan Zombies! (2009), George's Intervention (2009), Zombies of Mass Destruction (2009), Romeo and Juliet vs the Living Dead (2009), Stag Night of the Dead (2009), Big Tits Zombie (2010), Santa Claus vs. the Zombies (2010), Bong of the Dead (2011), Abraham Lincoln vs. Zombies (2012), Zombeavers (2014), MILFs vs Zombies (2015), Scouts Guide to the Zombie Apocalypse (2015), Attack of the Lederhosen Zombies (2016), Pride and Prejudice and Zombies (2016) and Fat Ass Zombies (2020), among others.
Cockneys vs Zombies is another of these wacky collusions – although when it gets down to it, the title is the most outré aspect of the film and for the most part it is a surprisingly straightforward venture through the modern 00s zombie comedy. It is clearly trying to be another Shaun of the Dead, which becomes obvious from its British take on things, its two comically aimless best friend heroes and the array of likeably inept eccentrics that it manages to pack into the supporting cast. With this assemblage, Cockneys vs Zombies pads out its time engagingly, especially amusing being the scenes of a bank robbery that goes comically wrong at every opportunity and the subsequent hostage situation.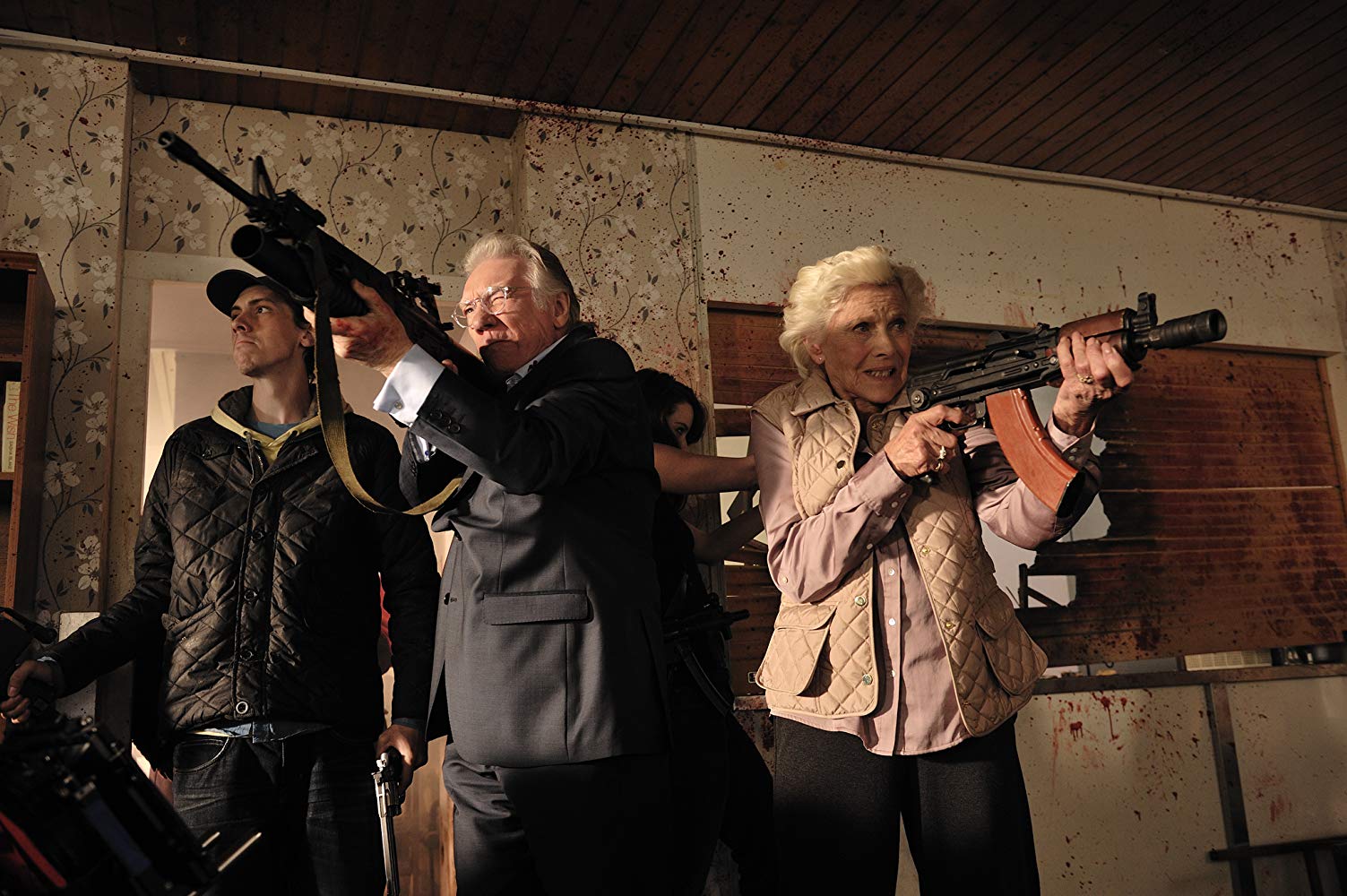 The film has a good deal of fun playing off the cliches associated with Cockneys – the people of London's East End who speak with their own accent and have a dialect made up of a peculiar rhyming slang. (If you're not familiar, think of the way the gangsters that inhabit the typical Guy Ritchie film speak).
This has some rather hilarious results – with Tony Selby having fun as a former gangster stuck in a retirement home and Dudley Sutton being particularly amusing as a Cockney who keeps getting his rhyming slang wrong. There is an hilarious monologue where Sutton explains the chain of connections that allows 'Trafalgar' to become 'zombie' according to rhyming slang. (The idea of Guy Ritchie-type Cockney gangsters up against zombies also played out in Gangsters, Guns and Zombies (2012) the same year as this).
The film gets off some amusing gags – like a parody of the shuffling zombies where Richard Briers on a walking frame managing to 'outrun' a horde of zombies trying to catch him, or the images of a group of pensioners on walking frames and in wheelchairs wielding heavy-duty artillery against the zombie hordes. As a zombie film, Cockneys vs Zombies remains engagingly likeable and constantly funny without necessarily ever reinventing the genre. Amiable fun.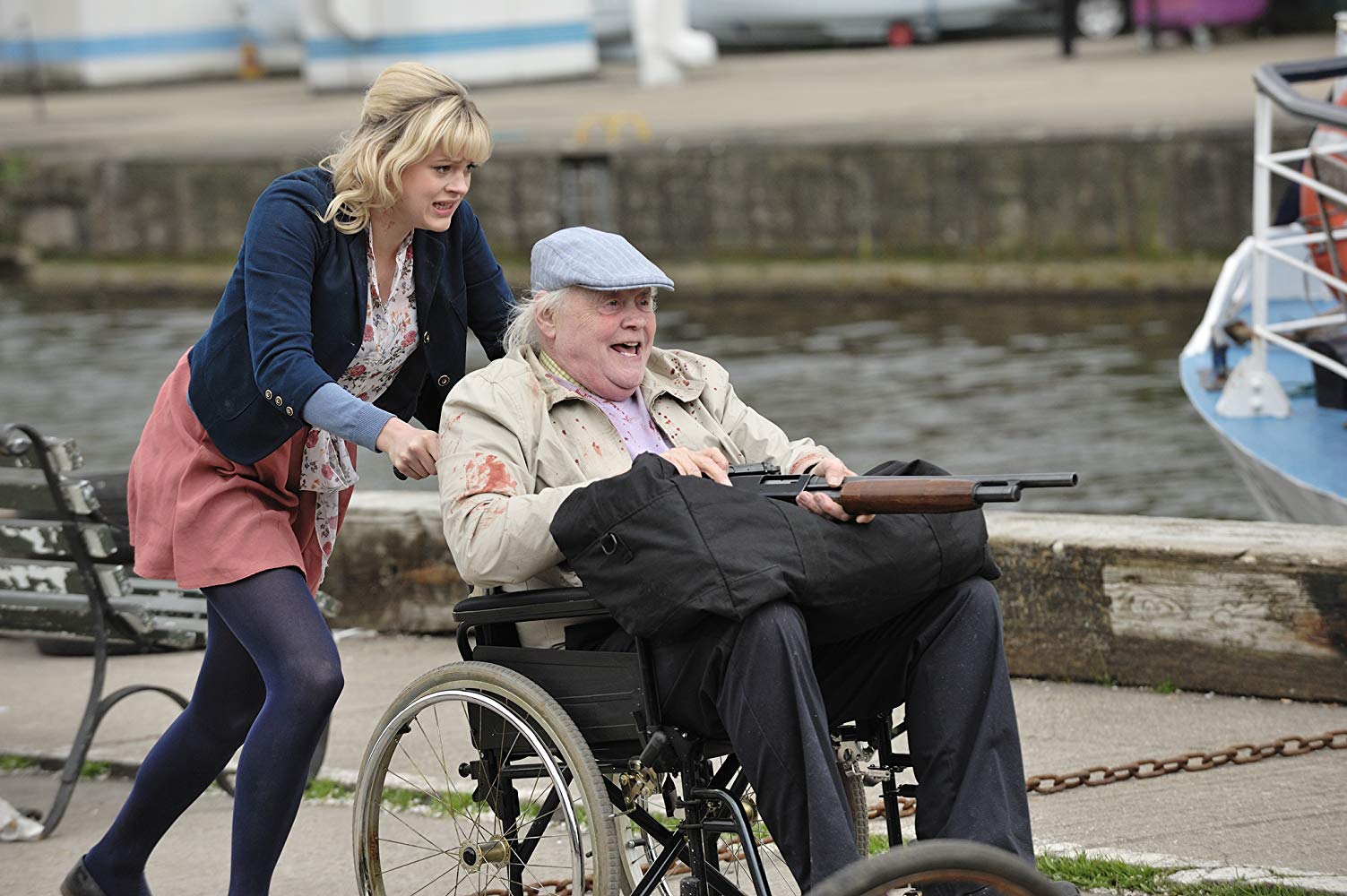 Among the cast, the show is owned by Michelle Ryan, the former Bionic Woman (2007), who turns in a wonderfully sexily assured and kickass turn. As Mental Mickey, Ashley Thomas lets all stops go and gives a demented performance that steals much of the show. Alan Ford also dominates all of the scenes he appears in as though determined to bludgeon his way there with his accent.
German director Matthias Hoene first appeared with the online-released horror serial Beyond the Rave (2008), which marked the revival of Hammer Films. He subsequently went on to make the Luc Besson written/produced The Warriors Gate (2016) in which a videogame nerd is transported back to Ancient China and the horror film Little Bone Lodge (2023).
---
---