---
USA. 1978.
Crew
Director/Screenplay – Michael Crichton, Based on the Novel by Robin Cook, Producer – Martin Erlichmann, Photography – Victor J. Kemper, Jefferson Institute Sequences Photography – Gerald Hirschfeld, Music – Jerry Goldsmith, Special Effects – Joe Day & Ernie Smith, Cadavers – Robert Shourt, Production Design – Albert Brenner. Production Company – MGM.
Cast
Genevieve Bujold (Dr Susan Wheeler), Michael Douglas (Dr Mark Bellows), Richard Widmark (Dr Harris), Rip Torn (Dr George), Elizabeth Ashley (Mrs Emerson), Hari Rhodes (Dr Richard Morelind), Lance Le Gault (Vince), Lois Chiles (Nancy Greenly)
---
Plot
Susan Wheeler is a surgical resident at Boston General Hospital. When her best friend undergoes a routine abortion but emerges brain-dead, Susan begins to investigate the circumstances of her death. In doing so, she uncovers a unnatural number of similar surgical 'accidents'. Her investigation leads to the mysterious Jefferson Institute where the coma patients are being taken. She soon discovers that the patients have been deliberately killed on the operating table with carbon monoxide fed in via the anaesthetic and that the Jefferson Institute is selling their organs on an international blackmarket. As her investigation threatens their scheme, the doctors at the hospital behind the scheme try to silence her.
---
Coma (1976) was the second novel by Robin Cook and was a modest best-seller. Robin Cook was a doctor who studied at Columbia Medical University and Harvard, and Coma and the thirty novels he has published since all draw on his medical background. Indeed, Robin Cook has cornered a market niche on medical conspiracy thrillers. The film rights to Coma were taken up by another famous doctor-turned-bestselling-author, Michael Crichton, who had written the books that were adapted into The Andromeda Strain (1971) and The Terminal Man (1974) and then made his directorial debut with the highly successful Westworld (1973). Many years later of course Michael Crichton wrote a small book that eventually became Jurassic Park (1993). Coma was Michael Crichton's second film as director.
Almost all of Robin Cook's books concern themselves with a young intern (almost invariably female) who discovers a scientific conspiracy within a hospital and must challenge the medical establishment so that the truth may be known. All of Michael Crichton's books and films tend to be overrun by scientific detail where Crichton's recurrent message is that science is soulless and prone to human error.
Both authors' preoccupations coincide here in interesting ways. As always, Coma echoes with Michael Crichton's familiar message of science having gone out of control and occluded humanity. The most eerily fascinating scenes in the film are those set at the Jefferson Institute, which are designed with a gleamingly cool detachment – images of naked bodies hanging on wires from the ceiling like marionettes. Here Crichton invokes an eerie futuristic fascination. (Wisely, Crichton lets these images stand on their own and avoids too much about how the whole operation is set up, as Richard Widmark's rambling explanation with reference to the advancement of science and a new medical elitism is so bizarre as to make no sense at all).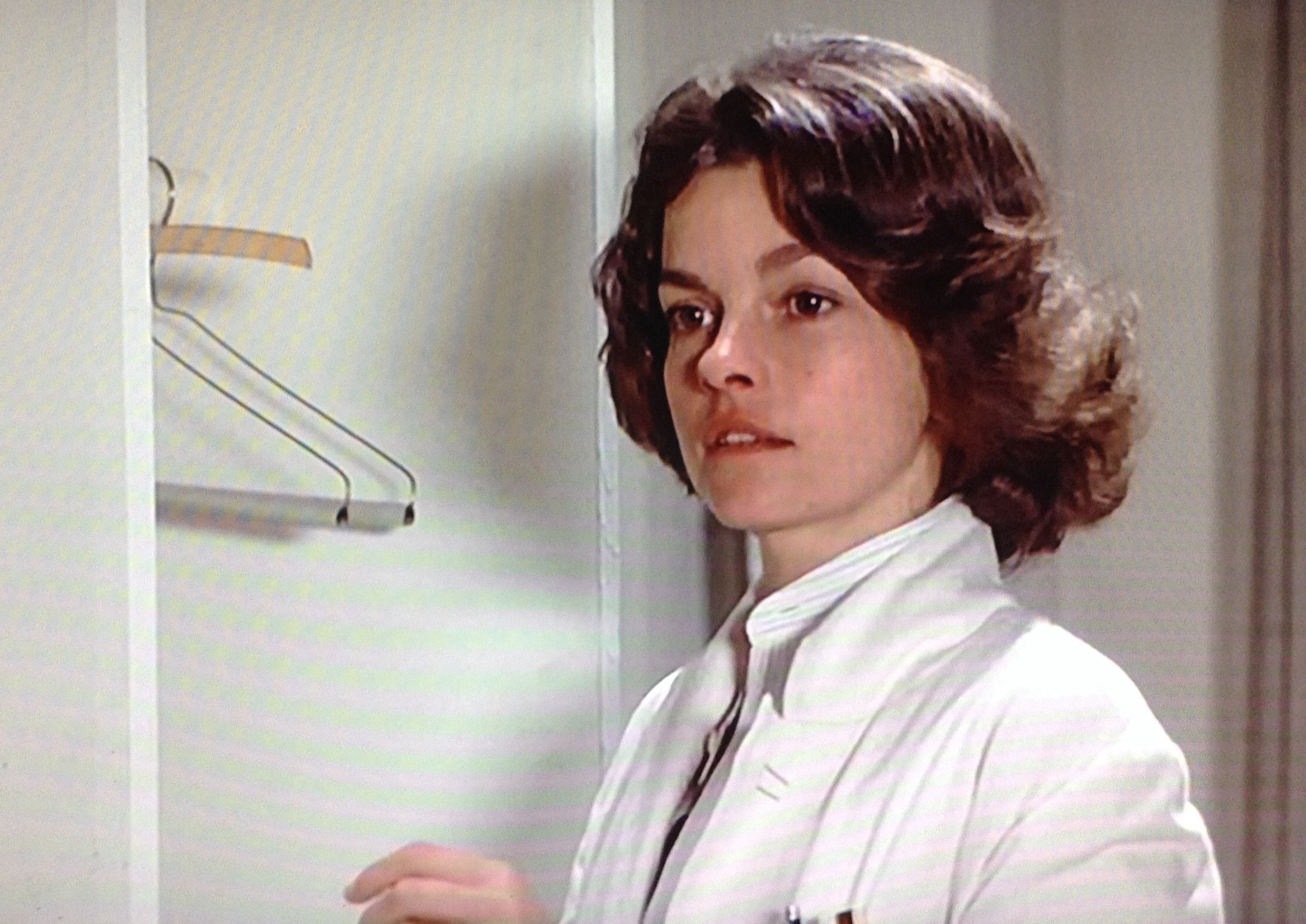 In many ways, Coma is a Gothic horror film at heart. It is really a Burke and Hare story in modern scientific drag – in another film, Genevieve Bujold's heroine would be prowling the darkened hospital with candelabra and a low-cut night-gown. Michael Crichton's books come with an enormous degree of research placed into the particular subject he is writing about – they frequently come with diagrams and graphs – and here Crichton frequently lectures about what is going, which has a tendency to leave one feeling like they have just been hit by twenty volumes of medical encyclopedias.
The detective story is okay but it is only when Crichton starts into full suspense mode that he and the film come into their own. A number of sequences like Genevieve Bujold's venture up into the pipe ducts of the hospital, the chase through the Jefferson Institute and a fine climax that plumbs at every person's fear of being helpless on a doctor's table keeps one gripped.
The one good thing about Coma is that it has Genevieve Bujold at the centre of it. Bujold has such an elfin quality that she can still manage to convincingly play a twenty year-old med student at the age of 36. Michael Crichton received much acclaim at the time for making Bujold a liberated heroine, although one would have had greater sympathy were Crichton not so willing to cast Michael Douglas as a chauvinist when it suits the moral point and then push such aside when he needs him to be the story's shining knight. Crichton also succeeds in improving on the book somewhat – he adds the Nancy Greenly character as Genevieve Bujold's friend, which gives her character far better motivation in her quest (in the book, Susan became involved only after the death of a patient she tended).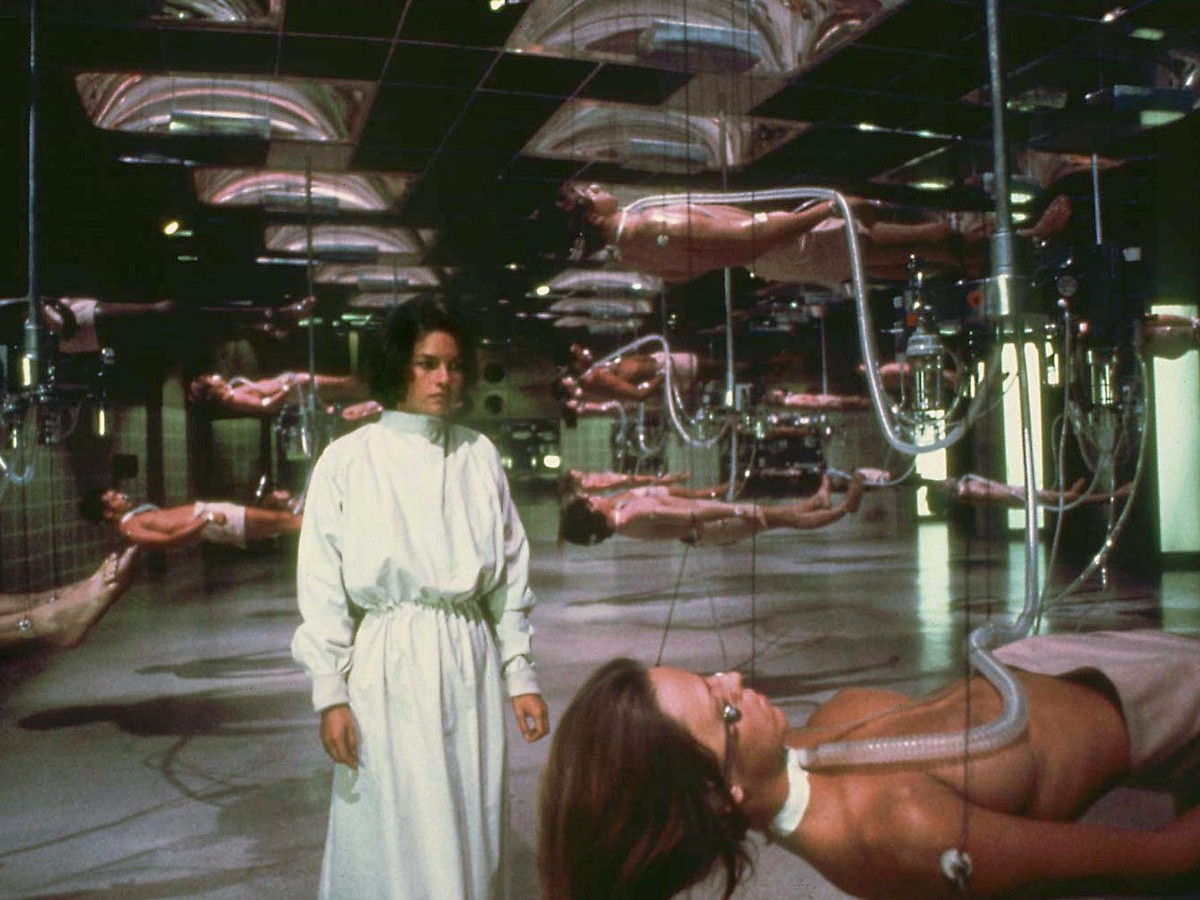 The film was later disappointingly remade as the tv mini-series Coma (2012) with Lauren Ambrose in the role of Susan.
Michael Crichton's other works as director include:– Westworld (1973) about an android amusement park that goes amok; The Great Train Robbery (1979) about a Victorian train heist; Looker (1981) about virtual models; Runaway (1984) about a police force to stop amok robots; and the courtroom thriller Physical Evidence (1989). Films adapted from Crichton's books include the extra-terrestrial virus film The Andromeda Strain (1971); the neurosurgical Frankenstein film The Terminal Man (1974); Jurassic Park (1993); Rising Sun (1993), a superior adaptation of Crichton's blatantly racist book about Japanese business practice; Barry Levinson's adaptation of Disclosure (1994), Crichton's novel about sexual harassment, which contains some sf elements; the lost world film Congo (1995); The Lost World: Jurassic Park (1997); Levinson's underrated Sphere (1998) about the investigation of a crashed UFO; John McTiernan's The 13th Warrior (1999), an historical epic about the meeting between Vikings and Neanderthals; Richard Donner's dull adaptation of Crichton's Timeline (2003) about time travel to Mediaeval France; the tv mini-series remake of The Andromeda Strain (2008); and the tv series remake of Westworld (2016-22). Crichton also created the hit hospital drama ER (1996-2009) and wrote the original screenplay for Twister (1996) about tornado chasers.
Other films adapted from Robin Cook's works have been the tv movies Harmful Intent (1993), Mortal Fear (1994), Virus (1995), Terminal (1996), Invasion (mini-series, 1997) and Acceptable Risk (2001). The only other cinematically released Robin Cook adaptation has been Sphinx (1981) from one of Cook's rare non-medical books, which is a thriller about Egyptology.
---
---