---
Thailand/USA/India. 2014.
Crew
Director/Story – James Cullen Bressack, Screenplay – James Cullen Bressack & Taryn Hillin, Producers – Daemon Hillin, Kulthep Narula & Rachvin Narula, Photography – Seo Mutarevic, Music – Steven R. Bernstein, Special Effects/Makeup Effects – Jerami Cruise & Anthony Julio, Production Design – Peter Cordova. Production Company – Benetone Hillin Entertainment/Shayamal Pictures/Milestone Films/Radioactivegiant.
Cast
Ciara Hanna (Alex), Emily O'Brien (Julia), Jackie Moore (Rachel), Wallop Terathong (Sang), Prinya Ruenprapan (Male Nurse), Russell Geoffrey Banks (Colin), Jared Cohn (Shane), Byron Gibson (Byron), Sohanne Bengana (Vlad), Irada Hoyos (Vanida)
---
Plot
Three American friends, Julia and the two sisters Alex and Rachel, arrive in Thailand to work as part of an English-teaching program. Arriving at their lodgings, they are puzzled to find the statue of a child painted in gold in the house. The girls go out on the town and hook up with three guys and bring them back, only for the guys to slip them roofies. Each of the girls wakes in the morning having had a dream of torturing and killing the guys. The guys and the statue are nowhere to be found. Worried about being charged for the statue, they try to find what has happened to it. They are led led to a local witch who tells them that it is a kumari, a child that has been ritually murdered and covered in gold. The girls now find themselves haunted by the kumari at every turn.
---
Pernicious was the seventh film for James Cullen Bressack. Bressack has made several indie horror films with the likes of My Pure Joy (2011), Hate Crime (2012), To Jennifer (2013), Bethany (2017), Deadly Reunion (2017), Blood Craft (2019) and Alone (2020). He joining The Asylum for 13/13/13 (2013), Blood Lake: Attack of the Killer Lampreys (2014) and the animated CarGo (2017), and has produced and written a number of other films.
The financing for Pernicious came principally from Thailand and Bressack shot the entire film there in English using a set of unknown American actresses in the central roles. By its very choice of title, Pernicious gives the impression of being another in the line of copycat films that take their lead from Insidious (2010) in their use of a sinister sounding adjective as title. See also the likes of Sinister (2012), Demonic (2015), The Diabolical (2015), Luciferous (2015), Ominous (2015), Satanic (2016) and Malicious (2018).
Pernicious is a film that you end up hating within its opening moments. The self-absorption of the central characters, their blithe indifference to local culture and insulting treatment of the locals – talking down to them slowly and simply like you would to a child at one point – switches you off in a big way. At least the film reaches an ending where such attitudes would seem to be intentional but it also serves to create zero empathy for the girls when the film starts putting them on the receiving end of spooky phenomena.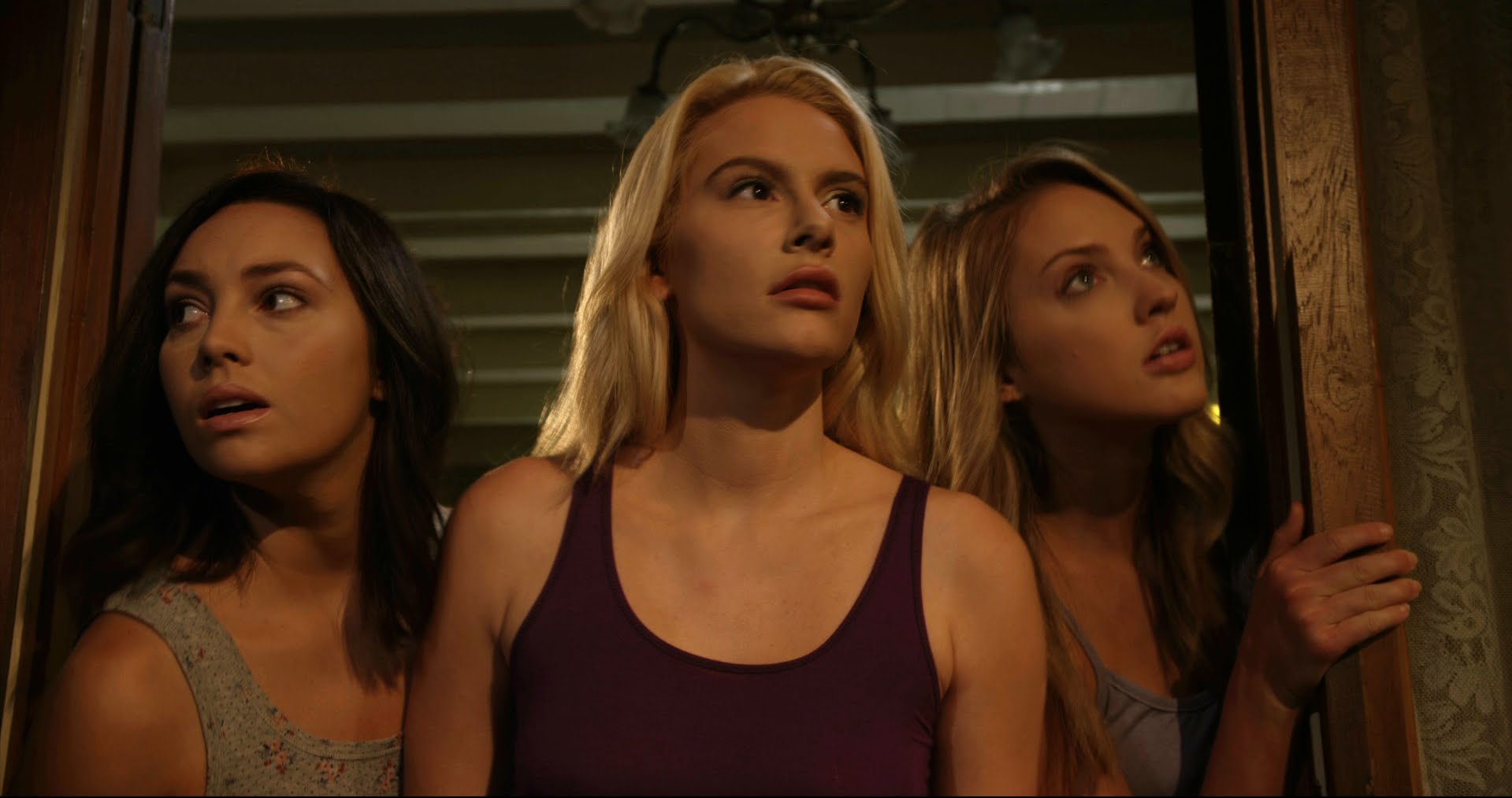 More so than that, Pernicious is a badly made film. James Cullen Bressack demonstrates little affinity for the spooky scenes and the film looks as though it has been quickly shot on video. The appearance of the kumari looks like a low-rent version of Sadako from the Ring films. It is represented by some tatty CGI effects that at various points cause you to laugh more than be spooked – in particular, one image of it appearing out of the tap in a bath.
The early scenes leave you wondering what is going on – the girls encounter three guys at a bar (led by Russell Geoffrey Banks with an incredibly fake British accent) and take them home only for the guys to spike their drinks. Without warning, James Cullen Bressack abruptly switches into Torture Porn territory with each of the girls killing one of the guys. We get scenes of the girls gouging out the guys' eyeballs, cutting out tongues and chipping their teeth out with a machete, all shown in graphic detail. What makes such a scene ludicrous is the fact that all the girls are dressed in fashionable lingerie and underwear as they torture the guys. The film then switches back to normal happenings – the girls seem more concerned about what happened to the statue than the disappearance of the guys, leaving you wondering WTF just happened. It is a scene that belongs more in a film like Hostel (2005) and feels especially out of place when the rest of Pernicious plays itself out more along the lines of an Asian ghost story, which is built on spooky atmosphere rather than sadistic extremes.
---
---