---
USA/Japan/South Africa. 2009.
Crew
Director – Fruit Chan, Screenplay – Brian Cox, Based on the Film Joyu-rei Written by Hiroshi Takahashi From a Story by Hideo Nakata, Producers – Yoko Asakura, Brian Cox & Anant Singh, Photography – Poon Hang Sang, Music – Tony Humecke, Visual Effects Design – Kevin Kutchaver, Visual Effects – Himani Productions, Additional Visual Effects – Mediapro Magic (Supervisor – Tony Willis), Special Effects Supervisor – Rudy R. Perez, Makeup Effects – Creature Effects (Supervisor – Lennie MacDonald), Production Design – Marc Greville. Production Company – Distant Horizon/Action 5/Hakuhodo DY Media Partners/Videovision Entertainment/Javelin Pictures.
Cast
Reshad Strik (Marcus Reed), Henry Thomas (Josh Petri), Carmen Chaplin (Romy Bardoc), Kevin Corrigan (Davis), Brian Henderson (Peter), Lothaire Bluteau (Grigore), Rachael Murphy (Lila Kis), Alyssa Sutherland (Claire), David Dayan Fisher (Wadim), Eli Roth (Bela Olt), Daniela Sea (Tami), Shiloh Fernandez (Garrett), Zelda Williams (Matya)
---
Plot
In 1928, Hungarian director Bela Ort attempted to make a film based on the Romanian legend of the mulli, which concerns a girl Matya who was born with a birth defect and was then killed by villagers who believed that her mother had made a deal with the Devil. Her death brought a curse down on the village. Bela Ort mysteriously vanished, leaving his film uncompleted. In the present day, Marcus Reed, an acclaimed film director who believes that he makes his films according to psychic visions, travels to the Transylvania Plateau in Romania to find the old studio where Ort made his film. He is planning to conduct a remake of Ort's unfinished film about the mulli, even though only a single frame of the original exists any longer. However, as the production gets underway, the set is plagued by a series of mysterious deaths. Though the idea is ridiculed by his producer, Marcus comes to believe that the spirit of Matya is trying to be reborn.
---
Don't Look Up was an unknown when I sat down to watch it. It soon transpires that it is another entry in the spate of English-language remakes of Japanese horror films that began with The Ring (2002) and has so far included the likes of The Grudge (2004), Dark Water (2005), Pulse (2006), The Echo (2008), The Eye (2008), Mirrors (2008), One Missed Call (2008), Shutter (2008), Possession (2009), The Uninvited (2009), Apartment 1303 3D (2012), 13 Sins (2014) and Death Note (2017). Interest in these has been such that properties from other Asian countries such as as South Korea and Thailand have been snapped up, although by 2010 it looked like the fad was finally on the wane. I was not aware that Don't Look Up was a remake of an earlier Japanese horror film Don't Look Up/Ghost Actress (1996) until the name of Hideo Nakata, the director of Ring (1998), popped up on the end credits. The original Don't Look Up was one of Hideo Nakata's earlier films, made before he went onto Ring which started off the modern Asian horror fad.
Certainly, Don't Look Up is making a blatant play for the same territory as Ring and The Grudge. I have not seen the original Don't Look Up but you can see the embryo of Ring in what ends up on screen here – no doubt the reason that the producers of the remake latched onto it as a property – the sinister figure of the girl with the hair across her eyes, flies manifesting from out of paused video screens. In the remake, the location has been moved from Japan to Romania – somehow the story makes more sense when it is considered as a Japanese story about filmmakers determining to resurrect a lost film made during World War II than it does when translated into the cliched territory of the Hollywood imagined version of Transylvania.
The producers of Don't Look Up have also sought the services of an Asian director – in this case, Hong Kong director Fruit Chan. Fruit Chan had previously made the non-genre likes of Made in Hong Kong (1997), The Longest Summer (1998), Little Cheung (1999) and Durian Durian (2000). What no doubt drew Fruit Chan to the attention of the film's producers was his venture into horror territory with the Dumplings segment of Three … Extremes (2004), which Chan also released in tandem as a full-length film Dumplings (2004).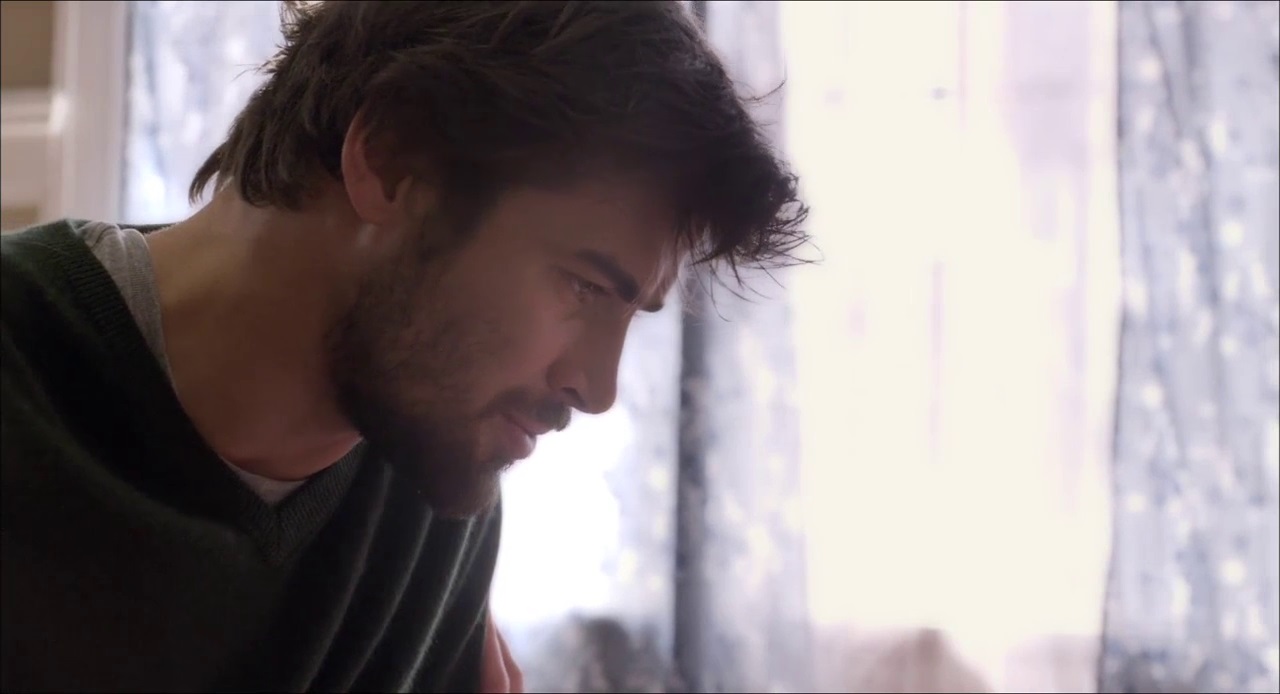 Fruit Chan's Dumplings films have a genuine creepiness and some excellent acting, however his handling of Don't Look Up is shabby hackwork. The film often feels that is has been designed around no more than the gore and shock set-pieces. Some of these become ridiculous – notably a birthing scene that ends up with the baby being projectile ejected and skidding across the floor covered in afterbirth. These are served up one after the other – a head split open after a light falls on it; David Dayan Fisher being attacked by a swarm of flies emerged out of a video screen; Reshad Strik cutting a giant boil off an old man's shoulder. The denouement does not make a huge amount of sense – something about the murdered Gypsy girl (who manifests with hair covering her eyes and enveloped in a swarm of flies) wanting Reshad Strik to impregnate Carmen Chaplin with the devil's child in order to lift the curse on her. The film ends with a lame Sixth Sense (1999)-styled twist ending that only makes one groan at its pointlessness.
There is the odd amusing moment like the fanboy scene where Lothaire Bluteau's Romanian local is referred to as "Frankenstein's assistant" by Kevin Corrigan, only for him to reply that Frankenstein's assistant was Igor and in the first two films was originally called Fritz, and moreover that Frankenstein was Swiss not Transylvanian. Don't Look Up was shot on the Universal backlot, which fails to convincingly look like rural Romania – in the prologue, which features no less than Eli Roth, director of Hostel (2005), as the Romanian director, the date is supposedly 1928 but he is anachronistically using modern portable movie cameras. Most of the cast perform anonymously, especially hero Reshad Strik. Henry Thomas, once the kid in E.T. – The Extra-Terrestrial (1982) and now all growed up, has an amusing role as the mercenary-minded producer of the film.
Fruit Chan subsequently returned to Hong Kong for the cryptic Last People on Earth film The Midnight After (2014) and the horror anthology Coffin Homes (2021).
---
Trailer here
---