---
Crew
Director – Tom Harper, Screenplay – Joe Croker & Susan Hill, Story – Susan Hill, Producers – Tobin Armbrust, Ben Holden, Richard Jackson & Simon Oakes, Photography – George Steel, Music – Marco Beltrami & Brandon Roberts, Visual Effects – Bluebolt (Supervisor – Henry Badgett), Special Effects Supervisor – Nick Rideout, Makeup Design – Cate Hall, Production Design – Jacqueline Abrahams. Production Company – Talisman Productions/Hammer Films.
Cast
Phoebe Fox (Eve Parkins), Jeremy Irvine (Harry Burnstow), Helen McCrory (Jean Hogg), Oaklee Pendergast (Edward Lee), Adrian Rawlins (Dr Rhodes), Jude Wright (Tom), Amelia Pidgeon (Joyce), Leilah de Meza (Ruby), Ned Dennehy (Old Hermit Jacob)
---
Plot
London, 1941. Eve Parkins accompanies a group of children away from the Blitz to stay at Eel Marsh House. As soon as they arrive, Eve starts to believe that there are sinister and supernatural things in the house but this is dismissed by her superior Mrs Hogg. However, the force in the house then starts killing the children one by one. Eve is determined to connect with Edward, a boy whose parents were killed by the bombing and has not spoken since. She comes to believe that the Woman in Black wants to claim Edward and turn him against her.
---
The Woman in Black (2012) was the most financially successful effort to emerge from the revived Hammer Films. A traditional type of ghost story, it drew on a book The Woman in Black (1983) by Susan Hill that was transformed into a play in 1987. This had previously been filmed as the tv movie The Woman in Black (1989).
The Woman in Black: Angel of Death is a sequel to the Hammer film – while the original Hammer produced a great may sequels to their Dracula and Frankenstein films, this is the first film of the modern Hammer revival to generate a sequel. The first film's director James Watkins has bowed out and his replacement is Tom Harper, a director from British tv whose only prior genre work was episodes of the tv series Demons (2009), although he did subsequently go on to direct the BBC tv mini-series version of War and Peace (2016) and the films Wild Rose (2018), The Aeronauts (2019) and Heart of Stone (2023).
Although The Woman in Black received a reasonable degree of praise from both genre press and general audiences, I must admit to not being a huge fan. It seemed to substitute haunted atmosphere for a conveyor belt of modern jump shocks. The Woman in Black: Angel of Death moves the setting up about forty years to the midst of World War II. Daniel Radcliffe's young lawyer has been replaced by Phoebe Fox's schoolmistress in charge of a group of children that are refugees from the Blitz. Otherwise Angel of Death is fairly much the same assemblage of elements as before. It also comes in the same style as the previous film where Tom Harper does nothing to refine James Watkins' tiresome jumps and red herrings.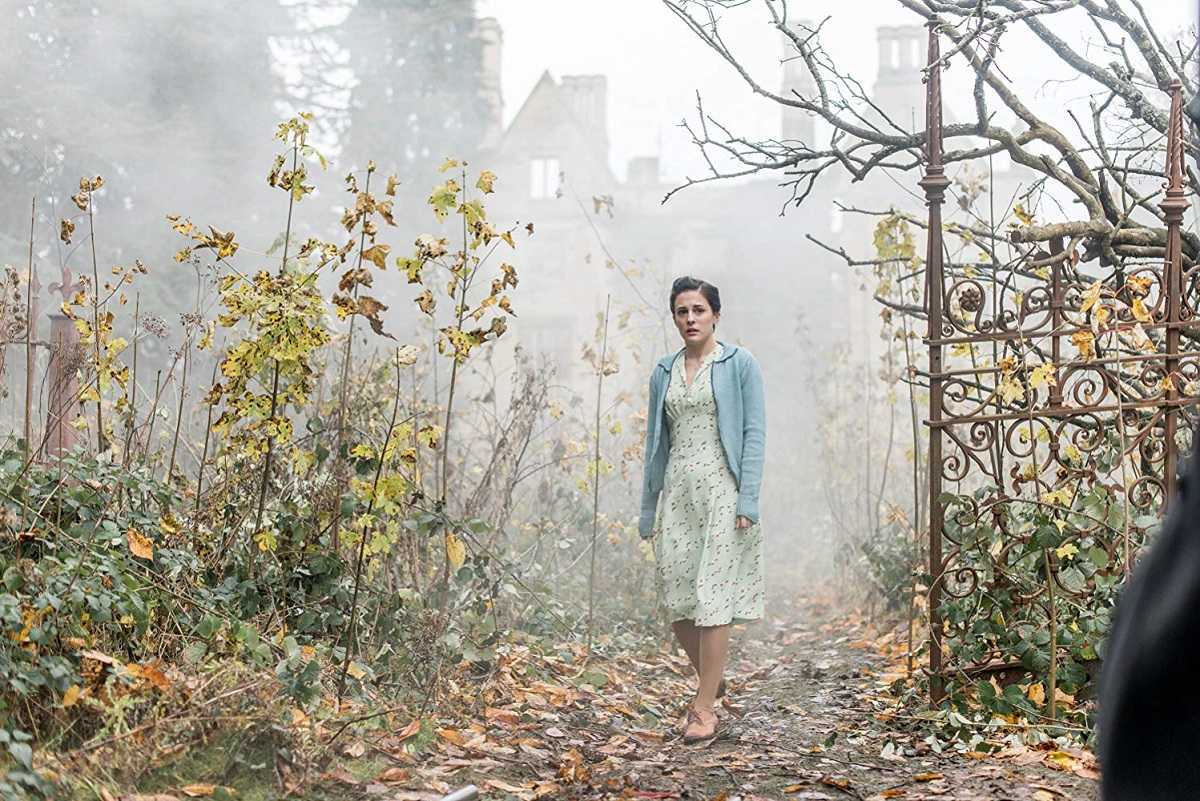 I sat through most of The Woman in Black: Angel of Death asking why does this film exist? Why, other than making more money from those who enjoyed the first one, does anybody imagine it should be seen by audiences? The first film offered a self-contained story where the central character died at the end so the only continuing facet the sequel offers is the house. As a sequel, it adds nothing to the original in terms of backstory or expanding the themes out. Indeed, as the haunted house/ghost story genre goes, there is not a single thing here that feels like you have not seen in a dozen other ghost stories.
Tom Harper does nothing except regurgitate tired jumps as though he had never seen another ghost story before and was of the impression that nobody in his audience had either. These come with a tiresome and predictable regularity – cliched devices like the addition of dream sequences to add additional scares; constant red herring jumps with kids running out and grabbing others; or where birds slamming into windows come accompanied by loud amplified noises on the soundtrack. None of the film generates any atmosphere, just tedious pop-up scares.
There is a mechanical feel to the script as well. Initially, you feel like it has set up some interesting characters with backstories – the teacher who had her child taken from her, the pilot suffering from post-traumatic stress, the boy who has become electively mute – and yet it does nothing to dramatically play these off. The only one we do get is the hoary cliche of the elective mute suddenly regaining his ability to speak at a crucial climactic moment.
---
---