---
Crew
Director – Marc Evans, Screenplay/Based on the Novel by Eoin McNamee, Producer – Andrew Eaton, Photography – Pierre Aïm, Music – Gary Burns, David Holmes & Keith Tenniswood, Special Effects – Emergency House, Production Design – Mark Tildesley. Production Company – Revolution Films.
Cast
Stuart Townsend (Victor Kelly), James Nesbitt (Ryan), Sean McGinley (Sammy McClure), Brenda Fricker (Dorcas Kelly), Geraldine O'Rawe (Heather Graham), John Hannah (Darkie Larche), Zara Turner (Dr Elizabeth Ryan), George Shane (James Kelly), Derek Thompson (Herbie Ferguson), James Ellis (Ivor Coppinger), B.J. Hogg (Hacksaw McGrath), Gerard McCartney (Big Ivan Crommie), Michael Liebmann (Willie Lambe)
---
Plot
Belfast, Northern Ireland, 1976. Victor Kelly leads a gang of violent thugs who randomly abduct people from off the streets and then torture and kill them. Nicknamed the Resurrection Men by the press, the group become the fear of the city. However, to many other locals, they are regarded as heroes and people remains close-lipped during police investigation. Ryan, a local journalist, becomes fascinated with the activities of the gang.
---
Resurrection Man is a film that has been set against the turmoil of Northern Ireland between the 1960s and 1990s (The Troubles), where random violence and murders were being conducted against innocent members of the public by roving street gangs in the name of sectarian activity. There are fascinating portraits of this period to be found in Neil Jordan's first film Angel (1982) and the documentary Elephant (1989). The film is loosely based on the activities of the Shankhill Butchers, a gang led by the charismatic Lenny Murphy who roamed Belfast between 1975 and 1982, abducting and killing random Catholics. Although the killings continued after, Murphy and the principals were arrested in 1979 and sentenced to 42 life sentences for a total of nineteen murders.
This is an interesting Irish-made psycho film. Director Marc Evans depicts the violence with strong impact. He also does a compelling job of portraying the social milieu in which the killings are taking place. It is quite startling to see the violence taking place up against the backdrop of central Belfast – of the utter ordinariness of the pubs and ordinary council flats where the story is taking place, of Stuart Townsend and gang beating people up in front of onlookers in pubs with people dancing in the background. The result makes one wonder what on Earth the world that one has walked into is.
Unfortunately. the great mistake the film makes, after establishing such a milieu, is of failing to explore it in anyway. We keep wondering what is going on in Belfast that the locals are so protective of this gang of murderers. You want some insight into the sense of justice that Stuart Townsend and the others seem to be trying to exact. However, the film here seems to exist in a vacuum where you keep asking what is going on but nothing is ever provided.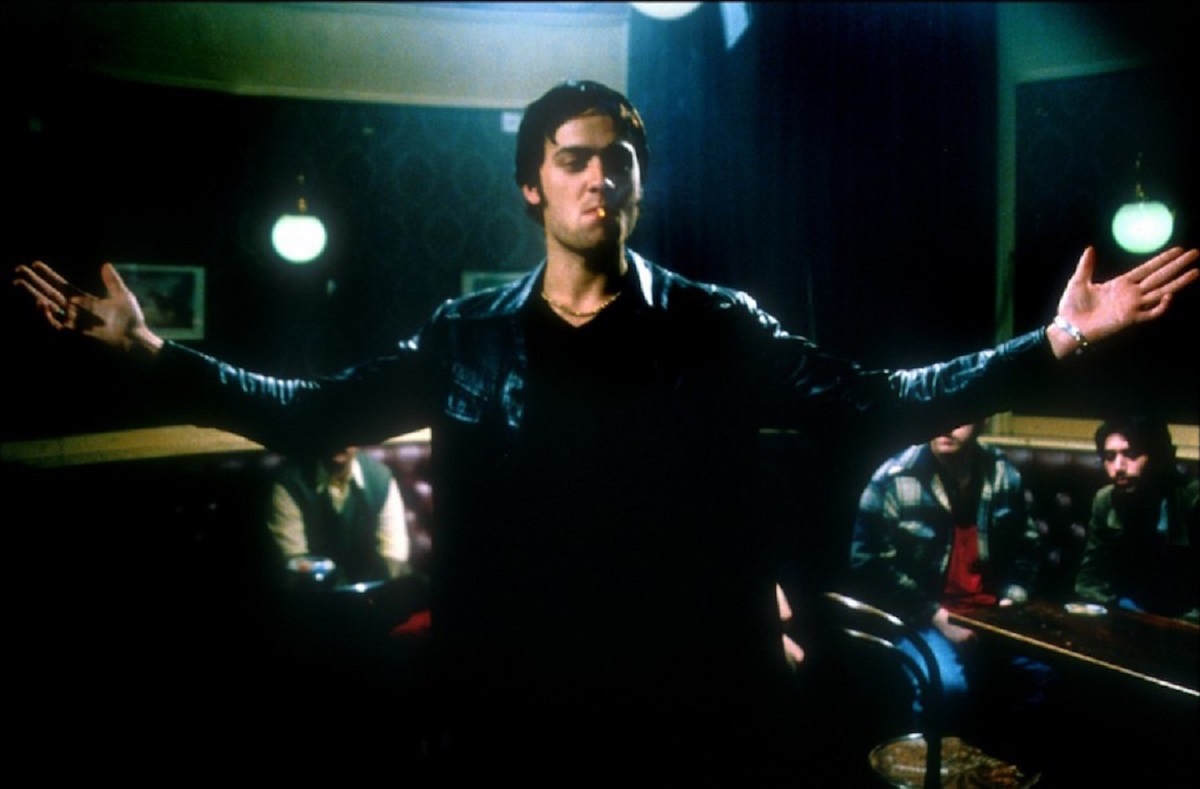 Resurrection Man makes interesting contrast to the satiric The Boondock Saints (1999), which had two Irish brothers in Boston becoming celebrated by the public when they go on a vigilante killing spree. What we have here could almost be an Irish version of Oliver Stone's Natural Born Killers (1994) in some ways – a similar story of mass murderers who become regarded as folk heroes.
The film stars Stuart Townsend who since went on to become a rising international star in films like Queen of the Damned (2002) and The League of Extraordinary Gentlemen (2003) and assorted US tv work. Whereas both Queen of the Damned and The League of Extraordinary Gentlemen have tended to cast Townsend as a foppish, impossibly handsome pretty boy of ambiguous sexuality, Resurrection Man instead plays into a surly, dangerous sex appeal. With his native Irish accent to the fore, walking with a pouty swagger, his eyes dangerously lidded, even a vampiric black coat, Townsend projects a dangerous presence that pierces right off the screen. It is a part where he gets to engage in far more real acting than any of his Hollywood mainstream roles have ever allowed him to do. There is also an excellent performance from the always reliable Brenda Fricker as Townsend's mother.
The film is made by Marc Evans, a director from Wales. Evans worked in British tv for some years, making the clairvoyance mini-series The Gift (1990) and appeared on cinema screens with the little seen Arthur's Departure (1994) about time travellers attempting to snatch King Arthur; before finding acclaim with the sleeper reality tv horror My Little Eye (2002) and the ghost story Trauma (2004). He has made various other non-genre films including Snow Cake (2006), Patagonia (2010) and Hunky Dory (2011), plus assorted works for tv.
(Nominee for Best Actor (Stuart Townsend) at this site's Best of 1998 Awards).
---
Trailer here
Film online in several parts beginning here:-
---