---
Crew
Director/Screenplay – J.P. Schaefer, Based on the Book Let Me Take You Down by Jack Jones, Producers – Naomi Despres, Alexandra Milchan & Robert Salerno, Photography – Tom Richmond, Music – Anthony Marinelli, Music Supervisor – Tracy McKnight, Production Design – Kalina Ivanov. Production Company – Peace Arch Entertainment/Artina Films.
Cast
Jared Leto (Mark David Chapman), Lindsay Lohan (Jude), Judah Friedlander (Paul), Brian O'Neill (Patrick), Jeane Fournier (Prostitute), Jaime Tirelli (Jose), Mark Lindsay Chapman (John Lennon)
---
Plot
On December 6th, 1980, Mark David Chapman arrives in New York City. He joins a line of fans outside John Lennon's apartment at the Dakota Building, hoping to get a copy of Lennon's album 'Double Fantasy' signed. However, Chapman is of decaying mental health and has frequent thoughts of suicide. He has become obsessed with the book 'The Catcher in the Rye', believing that the book's disaffected protagonist Holden Caulfield, who became angry with the phoniness of life, is his own story. Increasingly, Chapman comes to realise that the wealth Lennon has accumulated has made him into a phoney and that he must shoot him.
---
Chapter 27 is another amid the range of true-crime films that we have seen over the last few years – see also the likes of Ed Gein (2000), Dahmer (2002), Nightstalker (2002), Ted Bundy (2002), Gacy (2003), Monster (2003), Wonderland (2003), The Assassination of Richard Nixon (2004), Evilenko (2004), The Hillside Strangler (2004), Starkweather (2004), The Zodiac (2005), Karla (2006), Out of the Blue (2006), Ed Gein: The Butcher of Plainfield (2007), Zodiac (2007) and B.T.K. (2008). (For a mor detailed overview see True Crime Films).
Chapter 27 is based on the shooting of former Beatle John Lennon in December 8th, 1980 by Mark David Chapman. Chapman grew up in a military family and was clearly of mental instability, hearing voices and obsessing with thoughts of suicide as he passed through school and various jobs. One of the greatest influences on Chapman was J.D. Salinger's novel The Catcher in the Rye (1951), a classic work of teenage alienation that is taught in American literature classes. It features a protagonist who is thrown out of high school and tries to make his way in New York City. Chapman saw that much of the story applied to him, particularly Salinger's use of the phrase 'phonies' to refer to many that had become seduced by social status and materialism.
Chapman went to New York City and, like Holden Caulfield in The Catcher in the Rye, checked into a fleapit motel. He joined a queue of fans outside John Lennon's apartment, had a record signed and then returned later that evening and shot Lennon five times. Chapman had a copy of The Catcher in the Rye on him when he was arrested, which was inscribed with the notation that everything he needed to explain his actions could be found by reading the book. In 1981, Chapman was sentenced to life imprisonment and still remains in Attica as of this writing.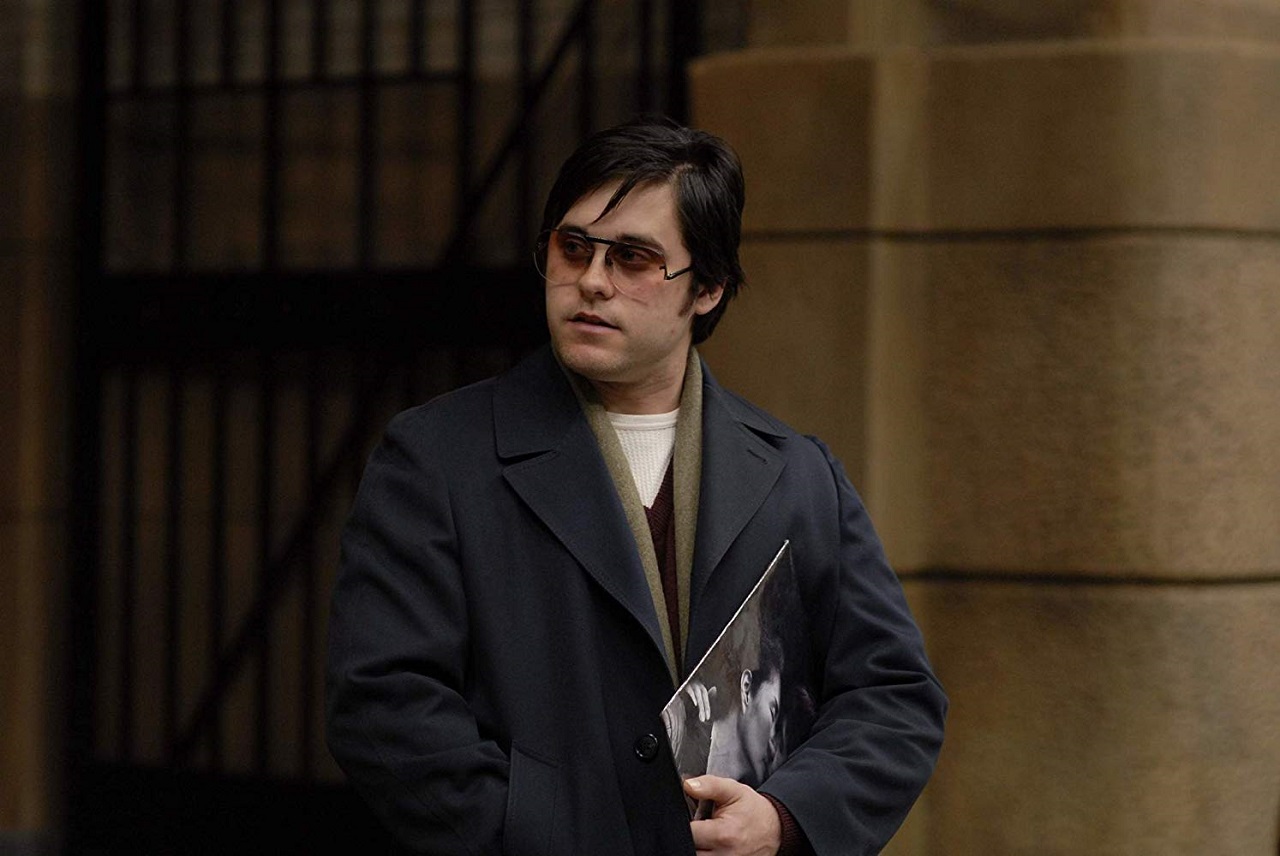 Chapter 27 comes from debuting director Jarrett or J.P. Schaefer – the only film he has ever made and he appears to have since vanished. The film is based on the book Let Me Take You Down (1992) by journalist Jack Jones, which offers a non-fiction account of the murder. The title Chapter 27, which is never explained in the film, is an oblique reference to The Catcher in the Rye, which has only 26 chapters where Chapman believed that in shooting John Lennon he would provide the book's 27th chapter.
Chapter 27 received negative reviews from a number of sectors when it came out, but contrarily I liked it. It is a film where not much happens – most of the film consists of Jared Leto's Chapman standing around waiting outside the apartment, while most of the plot development comes via internal monologue. In order to give the film some external drama, Schafer has to embellish various scenes involving Lindsay Lohan's fan, Judah Friedlander's paparazzi and the various doormen.
Nevertheless, the voiceovers have an effect and without any melodrama, the film draws you inside a lonely, disturbed headspace. There have been a few minor cheats made in the chronology of events – like the film suggesting that it was a magazine article about Lennon that Chapman brought in a store while in New York City that made him think that Lennon was a phoney, whereas this had happened some time before – but mostly the film is exceedingly accurate to the events.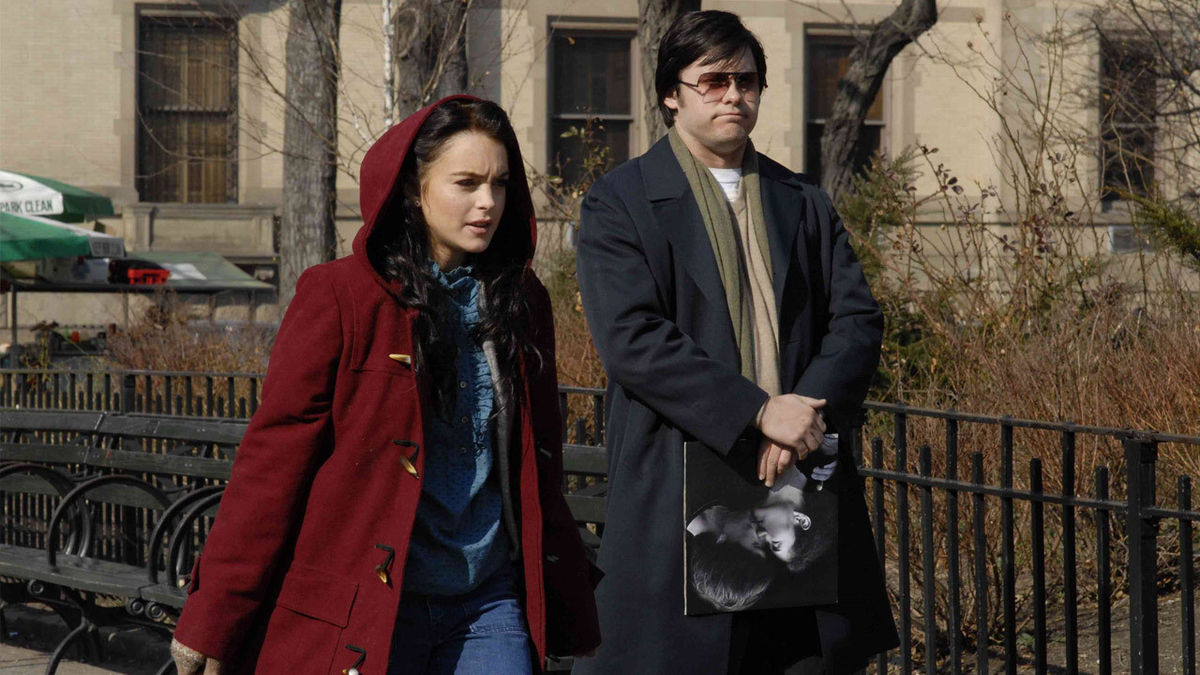 One of the strongest jolts you get in watching Chapter 27 is seeing Jared Leto bulked up with something like 62 pounds (at least according to the publicity machine, although only 40 if you listen to Leto on the dvd extras). Jared Leto is an actor who disdains teenage heartthrob roles and has shown himself as a rising young character actor of promise in films like American Psycho (2000), Requiem for a Dream (2000), Panic Room (2002), Alexander (2004), Lord of War (2005) and another true crime serial killer story Lonely Hearts (2006). The amount of effort that Leto has made for the role is clear from the scene in his hotel room where we see the flabby, suicidal Chapman walking about in his underwear and realise that the weight gain is not padding. The affected voice gets you for a time but Leto soon absorbs you in Chapman's silky quietness and gives a strong performance.
Part of the problem that may have resulted with the public perception of Chapter 27 is the co-starring role from the celebrity disaster area Lindsay Lohan. This was the period where Lohan was trying to counter considerable negative reputation and take on serious adult roles in the likes of A Prairie Home Companion (2005), Bobby (2006) and the widely ridiculed I Know Who Killed Me (2007). In truth, Lohan gives not too bad a performance here.
Although the most freakish piece of casting is the actor who plays John Lennon – Mark Lindsay Chapman. Mark Lindsay Chapman is an actor with a minor number of credits of no particular distinction in films – his most well known role was as the villain Arcane in the tv series Swamp Thing (1990-3). It is almost certain that Chapman was cast as Lennon for the similarity of his name to Lennon's killer Mark David Chapman. While Chapter 27 makes a scrupulous effort to seem non-exploitative – not say the way The Fan (1981) was in exploiting Lennon's killing – this is a piece of casting that seems in dubious taste. In fact, if you search out a photo of Mark Lindsay Chapman, there is little about him that resembles John Lennon in any way and you cannot help but think that the sole reason he was cast was for the bizarre novelty of his name.
(Nominee for Best Actor (Jared Leto) at this site's Best of 2007 Awards).
---
---