---
Crew
Director – Jonas Åkerlund, Screenplay – David Callaham, Producers – Michael Bay, Andrew Form & Brad Fuller, Photography – Eric Broms, Music – Jan A.P. Kaczmarek, Visual Effects – Company 3 (Supervisor – Des Carey), Additional Visual Effects – E3 Media, Special Effects Supervisor – Laird Murray, Makeup Effects – K.N.B. EFX Group, Inc (Supervisors – Howard Berger & Greg Nicotero), Production Design – Sandy Cochrane. Production Company – Mandate Pictures/Platinum Dunes/Radar Pictures/Horsemen Productions, LLC.
Cast
Dennis Quaid (Detective Aidan Breslin), Lou Taylor Pucci (Alex Breslin), Zhang Ziyi (Kristen Spitz), Clifton Collins, Jr (Detective Stingray), Barry Shabaka Henley (Tuck), Patrick Fugit (Corey Kurth), Eric Balfour (Taylor Kurth), Liam James (Sean Breslin), Chelcie Ross (Police Chief Krupa), Paul Dooley (Father Whitefeather), Peter Stormare (David Spitz), Stephen Eric McIntyre (Banksy)
---
Plot
Aidan Breslin is a police detective who is raising two boys following the death of his wife. He frequently has to leave his teenage son Alex in charge as he is called away to work. Because he has written a thesis on forensic orthodontistry, he is brought in on a case where the teeth have been removed from a victim and left on a silver platter in the midst of a frozen-over lake. Written at the crime scene are the words 'Come and See'. Soon other victims are found, having been strung up in specially constructed harnesses with hooks pierced through the skin of their backs and always with the words 'Come and See' written nearby. Breslin follows a convoluted trail in which he realises that the killers are attempting to herald Biblical prophecies about the coming of the Four Horsemen of the Apocalypse.
---
Horsemen was one of the films from Platinum Dunes, the production company set up by director Michael Bay of the loud, bludgeoning and noisy likes of Armageddon (1998), Pearl Harbor (2001) and Transformers (2007) notoriety. Platinum Dunes first appeared with the remake of The Texas Chainsaw Massacre (2003) and have had a reasonable success with various other 1970s/80s remakes such as The Amityville Horror (2005), The Hitcher (2007), Friday the 13th (2009), A Nightmare on Elm Street (2010) and Teenage Mutant Ninja Turtles (2014).
In 2009, Platinum Dunes started to branch out beyond remakes into original material with Horsemen and the subsequent likes of David S. Goyer's The Unborn (2009), The Purge (2013), Ouija (2014), Project Almanac (2015), A Quiet Place (2018), Songbird (2020) and the tv series The Last Ship (2014-8). Horsemen was the least successful of Platinum Dunes' films to date where it did minimal box-office, earning only $1 million back in US release and being dumped to dvd in many territories.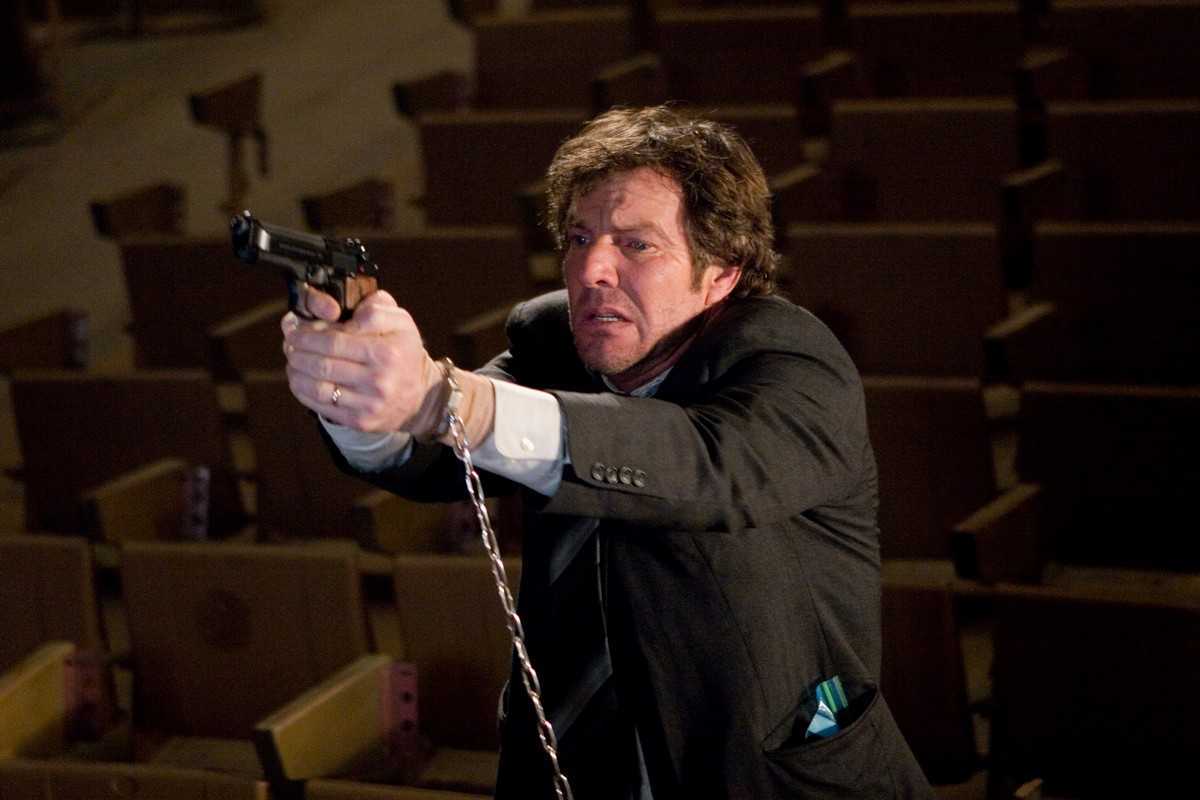 Horsemen was the second feature film outing for Swedish director Jonas Åkerlund who had previously made the drug addiction drama Spun (2002), which failed to attain wide notice, and subsequently went onto make the also little seen Small Apartments (2012) and the heavy metal film Lords of Chaos (2018). Jonas Åkerlund is more well known as a music director with work for artists such as Christina Aguilera, Lady Gaga, Madonna, Metallica, Moby, Ozzy Osbourne, Pink, Prodigy, Smashing Pumpkins, U2 and Robbie Williams, among many others. Screenwriter Dave Callaham has been involved with a number of projects of recent years, including the scripts for Doom (2005), Tell-Tale (2009), The Expendables (2010), Godzilla (2014), Zombieland: Double Tap (2019), Wonder Woman 1984/WW84 (2020), Mortal Kombat (2021) and Spider-Man: Across the Spider-Verse (2023).
Horsemen feels like it comes out over a decade too late. It immediately becomes apparent that we are in the midst of a serial killer plot where the Four Horsemen of the Apocalypse of mediaeval imagery have been turned into a metaphor. This harkens back to the point of Se7en (1995), which used the Seven Deadly Sins as a metaphor for looming social collapse and the activities of a serial killer. The success of Se7en led to Biblical imagery being fed into a number of other serial killer thrillers with the likes of tv's Millennium (1996-9) and Resurrection (1999).
Dave Callaham's script is interesting and well written at times but Horsemen feels routine and predictable overall. Callaham creates an initially intriguing puzzle and menace during the investigation. Furthermore, the B-plot about the relationship between Dennis Quaid and his two sons (Lou Taylor Pucci and Liam James) is well drawn and convincing. Callaham tries to throw in some wild left field twists – there is a jolt where Dennis Quaid takes Zhang Ziyi out for a walk to question her and she suddenly produces a baggie from out of her coat.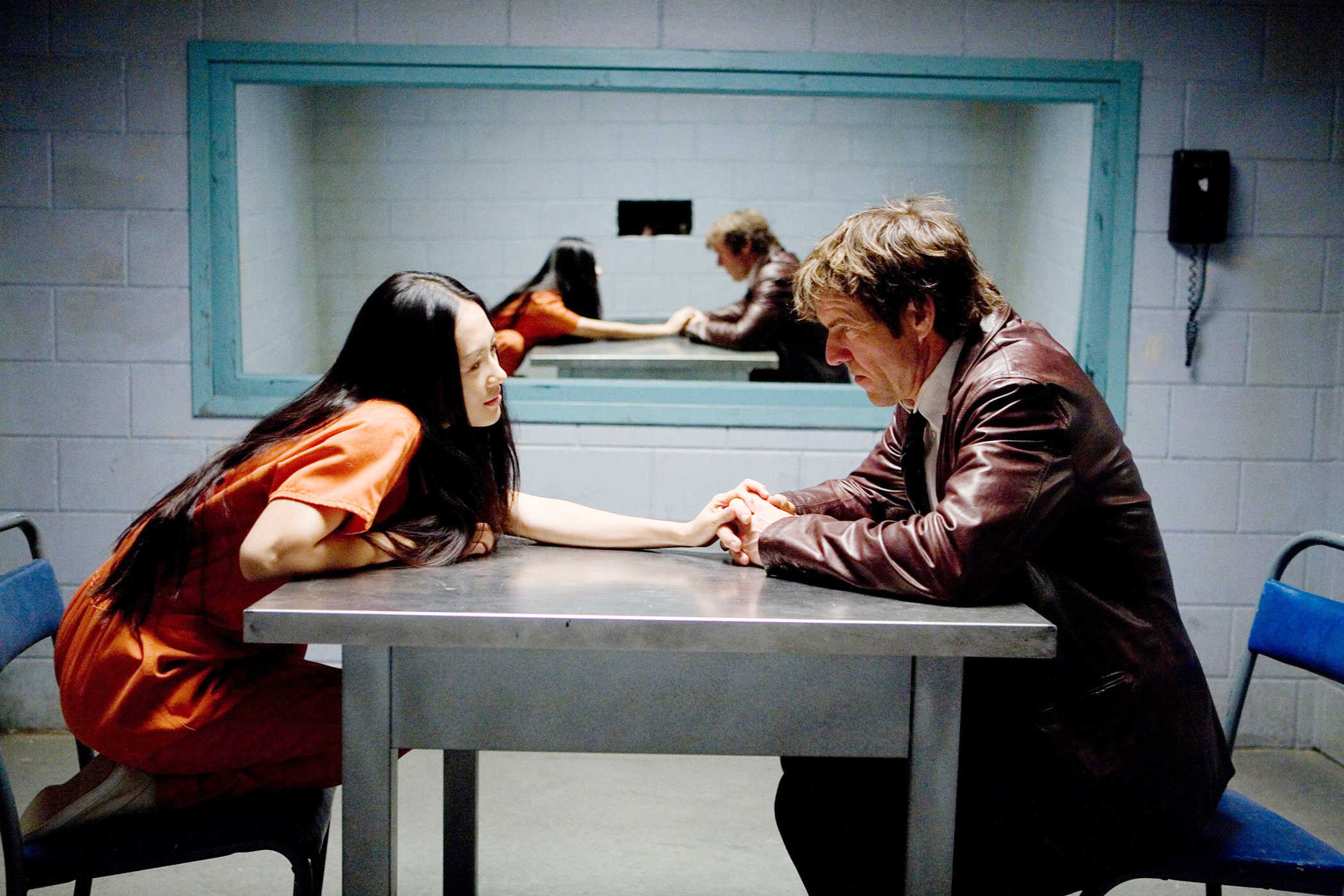 Thereafter though, Horsemen seems to go off on a tangent. You never particularly get a grasp on scenes like where Patrick Fugit confronts his brother Eric Balfour in a cafe about not accepting him because he is gay, which seem to come out of nowhere and not be related to anything else, especially in that the characters and their tensions are only introduced in that scene.
[PLOT SPOILERS] Horsemen arrives at a disappointingly contrived ending. The revelation of the identity of the White Horseman is exceedingly lame. The film sets up Biblical metaphors, an organised killing spree by a group of insanely clever individuals who are able to conduct medically impossible operations as they kill people, and with Dennis Quaid at various points even seeming to think that something supernatural is about to happen … all before revealing that is no more than the machinations of a son feeling annoyed because his father is too busy to give him time. That this makes the plot and apocalyptic Biblical metaphors ever so overwrought might be a considerable understatement.
Both Dennis Quaid and Paul Dooley are looking a good deal more worldweary and haggard that anything one last saw them in, although this is at least the type of role that suits Dennis Quaid. Zhang Ziyi, the highly talented Chinese actress who made an unforgettable impact in Crouching Tiger, Hidden Dragon (2000), has a largely superfluous role but does a fine job of seeming evil and calculating.
---
---