---
Crew
Director/Screenplay/Photography – Mark Atkins, Producer – David Michael Latt, Music – Heather Schmidt, Visual Effects Supervisor – Scott D. Wheeler, Makeup Effects – Madeleine Botha, Production Design – Sean Brebnor. Production Company – The Asylum.
Cast
Jack Armstrong (Timor), John Savage (Ian Fien), Thandi Sebe (Sion), Ashley De Lange (Willow), Leandie du Randt Bosch (Nimue), Camilla Waldman (Captain Ann Aldrin), Jonathan Pienaar (Mason Scrim), Tauriq Jenkins (Edgar), Tapiwa Musvosvi (Toby), Joe Vaz (Jasper), Sandi Schultz (Sarah)
---
Plot
It is after the ice caps have melted. The entire world is covered in water and the survivors forced to live in shantytowns floating on the surface of the shark-filled oceans. The warlord Ian Fien rules the oceans because he is able to produce fresh water. The people of the peaceful settlement of Karatoa come under threat by Ian Fien's henchmen and are told to increase their tribute. When they protest this, several of their people are taken hostage until they do so. Outraged at this, Timor sets out to affect a rescue. He is accompanied by Sion. At a nearby bar, they recruit a handful of people to mount an attack on Ian Fien's base Hawksbill Fortress. However, others in the group steal some of the supplies and blow the boat up, enraging Ian Fien who orders a retaliatory attack on Karatoa. Timor and his team set out to stop this. Meanwhile, Ian Tien has discovered that the captured Willow has an amulet that gives her the rare powers of a Shark Caller and the ability to mentally control the sharks.
---
The gonzo killer shark film has become legion through the 2000s/10s with efforts such as Shark in Venice (2008), Dinoshark (2010), Sharktopus (2010), Snow Shark: Ancient Snow Beast (2011), Swamp Shark (2011), Jersey Shore Shark Attack (2012), Jurassic Shark (2012), Sand Sharks (2012), Avalanche Sharks (2013), 90210 Shark Attack (2014), Raiders of the Lost Shark (2015), Roboshark (2015), Zombie Shark (2015), Piranha Sharks (2016), Sharkansas Women's Prison Massacre (2016), Sharkenstein (2016), House Shark (2017), Trailer Park Shark (2017), Post Apocalyptic Commando Shark (2018), Santa Jaws (2018), Ouija Shark (2020), Sky Sharks (2020), Noah's Shark (2021), Sharks of the Corn (2021), Virus Shark (2021) and Shark Side of the Moon (2022), among others.
Among the gonzo killer shark fad, the most prominent name has been the low-budget production company The Asylum. They didn't quite create but at least jump-started the genre with Mega Shark vs Giant Octopus (2009) and took it stratospheric with the cult hit of Sharknado (2013). Aside from multiple sequels to both Mega Shark and Sharknado, The Asylum have also unleashed 2-Headed Shark Attack (2012) and sequels, Shark Week (2012) and Ice Sharks (2016) into the waters of the gonzo killer shark film. They had previously made Planet of the Sharks (2016) to which Empire of the Sharks is intended as a sequel – not one that follows the same characters but is set in the same drowned world that draws much inspiration from Waterworld (1995). In other words, it has been made using the same sets in order to optimise the cost outlay of the ones that were built in South Africa.
Empire of the Sharks is modest and more enjoyable than the usual low-expectation throwaway effort you get of an Asylum movie. The effects are reasonably competent – I particularly liked the villain's shark cage, which is built like a mechanical jaw that opens to unleash hordes of sharks. The film assembles a likeable ensemble of characters, most of whom are cast with South African locals who may not be the best actors in the world but fill what is required of them.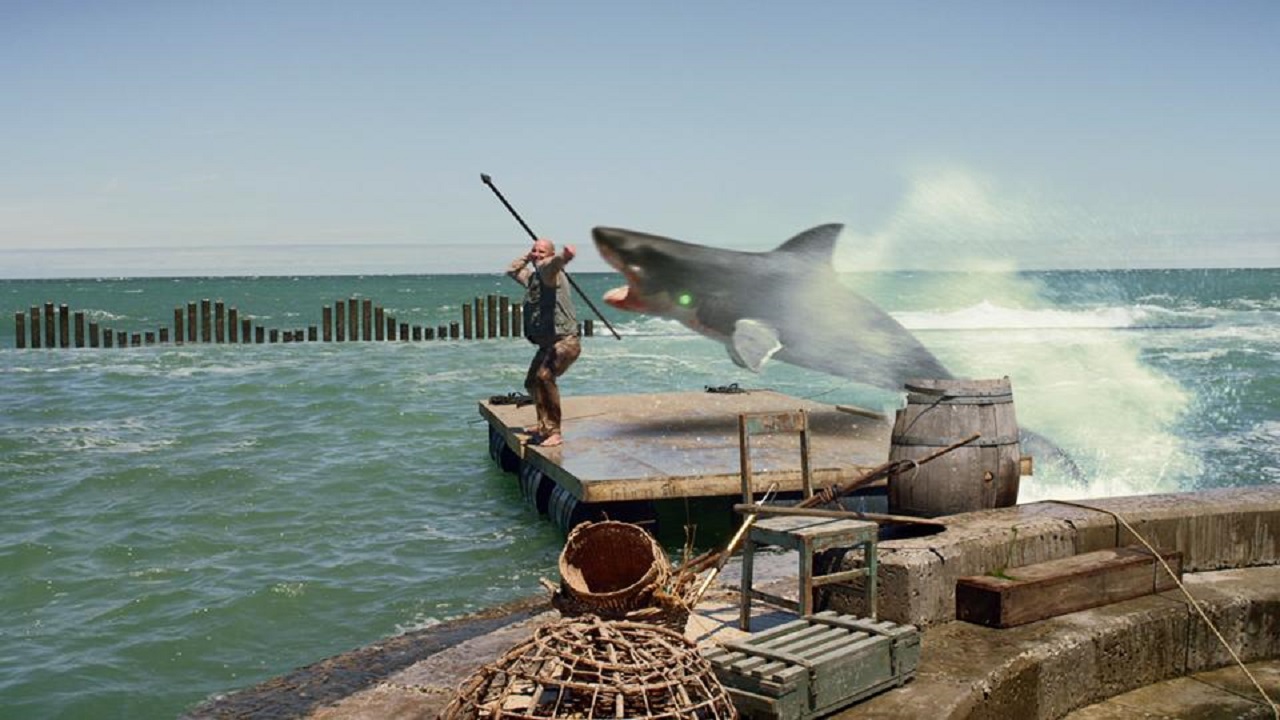 The film is a Seven Samurai (1954)/Magnificent Seven (1960) story of sorts about gathering a ragtag team of misfits to fight a warlord. Both the group's comic ineptitude – for a time the film has the Dirty Half-Dozen assembled and the entire mission being sabotaged by them all ignoring orders and doing their own thing – and eventual venture into action is handled with a fair conviviality.
John Savage is a real trooper in the B movie genre if never someone who has ever delivered much other than the same performance. He makes for a reasonable villain here. Mark Atkins, an Asylum editor and cinematographer, has been responsible for some of their dogs but Empire of the Sharks is better than average.
Director Mark Atkins is an Asylum regular was has also made Night Orchid (1997), Evil Eyes (2004), Halloween Night (2006), Allan Quatermain and the Temple of Skulls (2008), Dragonquest (2009), The Haunting of Winchester House (2009), Princess of Mars (2009), Battle of Los Angeles (2011), Alien Origin (2012), Sand Sharks (2012), Jack the Giant Killer (2013), Knight of the Dead (2013), Android Cop (2014), Dragons of Camelot (2014), P-51 Dragon Fighter (2014), A Perfect Vacation (2015), Road Wars (2015), Planet of the Sharks (2016), Jurassic School (2017), 6-Headed Shark Attack (2018) and Monster Island (2019).
---
---