---
Crew
Director – Josephine Decker, Screenplay – Sarah Gubbins, Based on the Novel Shirley: A Novel by Susan Scarf Merrell, Producers – Sarah Gubbins, David Hinojosa, Simon Horsman, Elisabeth Moss, Sue Naagle, Jeffrey Soros & Christine Vachon, Photography – Sturla Brandth Grovlen, Music – Tamar-Kali, Visual Effects – Mechanism Digital Inc. (Supervisor – Lucien Harriot), Special Effects Supervisor – Bohdan Bushell, Production Design – Sue Chan. Production Company – Los Angeles Media Fund/Killer Films.
Cast
Elisabeth Moss (Shirley Jackson), Odessa Young (Rose Nemser/Paula Welden), Michael Stuhlbarg (Professor Stanley Hyman), Logan Lerman (Fred Nemser), Victoria Pedretti (Katherine), Robert Wuhl (Randy Fisher), Paul O'Brien (Dean)
---
Plot
In the late 1940s, newlyweds Fred and Rose Nemser travel to Bennington College in Vermont to stay with Stanley Hyman, a professor in the English department. Fred is hoping that Stanley will get him a position at the university. Stanley's wife is Shirley Jackson who has some reputation as an author of macabre and horror tales. However, when they meet her, Shirley is depressed – spending most of her time in bed, never going out of the house and taking delight in taunting them at the dinner table. Stanley asks Rose to take on some household duties. In the course of doing so, Rose starts to befriend Shirley. Shirley meanwhile takes inspiration from the story of Paul Jean Welden, a girl on the campus who went missing after walking in the nearby woods, and starts to write a new book based on Paula's disappearance.
---
Shirley Jackson (1916-65) was an American author. The work she is most remembered for is the novel The Haunting of Hill House (1959), which has been thrice adapted to the screen as the films The Haunting (1963) and The Haunting (1999) and the tv mini-series The Haunting of Hill House (2018). Jackson published five other novels and 200+ short stories, mostly in the horror and mystery/thriller genres. She never received wide recognition during her lifetime but her praises have subsequently been sung by people like Stephen King. In 1940, Jackson married Stanley Hyman, a literary critic and teacher (although not a professor as the film claims) and they settled in Bennington, Vermont where he taught at the college. Jackson suffered what was probably depression and declining health issues due to being a heavy smoker, which led to her death at the age of 48.
Shirley falls into the fad for author biopics we have had over the last few years. See other works included on this site such as My Life as a Fairytale: Hans Christian Andersen (2001), Finding Neverland (2004), Fleming: The Man Who Would Be Bond (2014), Goodbye Christopher Robin (2017), Mary Shelley (2017), Professor Marston and the Wonder Women (2017) and Tolkien (2019).
The film is an adaptation of Shirley: A Novel (2014), the second novel from Susan Scarf Merrell who also graduated from Bennington College. The film is directed by Josephine Decker who had previously made the fantasy film Butter on the Latch (2013), the SF film Mosaic (2017) and the mysteries Thou Wast Mild and Lonely (2014) and Madeline's Madeline (2016). The film is produced by lead actress Elisabeth Moss and executive produced by no less than Martin Scorsese.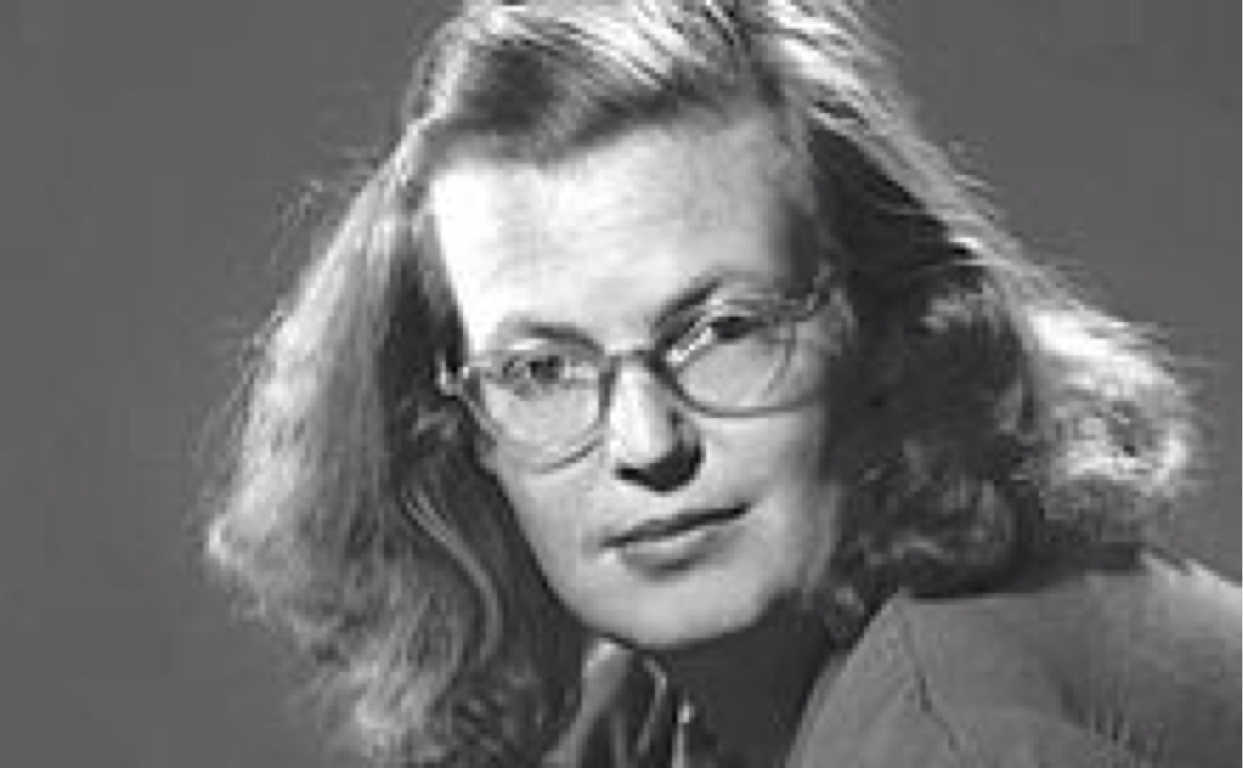 Shirley is set around the writing of Jackson's second novel Hangsaman (1951). This was a work of fiction that Jackson based on the true-life story of Paula Jean Welden, a student at the college where Stanley taught. In 1946, Paula went for a walk in the nearby woods and never returned. Her disappearance was the subject of a statewide manhunt but no body was ever found. In the book, Jackson weaves this into a story about an unusual girl caught uncertainly between family background and the life of the college, while desiring to escape to a life of the imagination.
Elisabeth Moss is an actress that has left me fairly indifferent as a person in interviews – she is after all a member of the cult of Scientology – nevertheless has in her choice of film roles proven smart and astute with an eye towards material on the edge. She absorbs into the role of Shirley Jackson here physically – taking on the glasses, outfits and what looks like having bulked up, while the camera unflinchingly highlights what has been made up to show bad skin – and goes for broke on portraying Shirley's flagging mental health.
The film gets a bite on you from about the point a few minutes in when Elisabeth Moss comes down to dinner and relishes tearing apart the wet-behind-the-eats newlyweds who have moved in, all in between scenes that hint at Stanley's infidelities and Shirley's deteriorating mental health. This interplay of marital issues, flagging mental health and defiance of social mores runs right throughout the films. There's another particularly biting scene later in the film where Michael Stuhlbarg savages Logan Lerman's dissertation to its 'terrific competence'.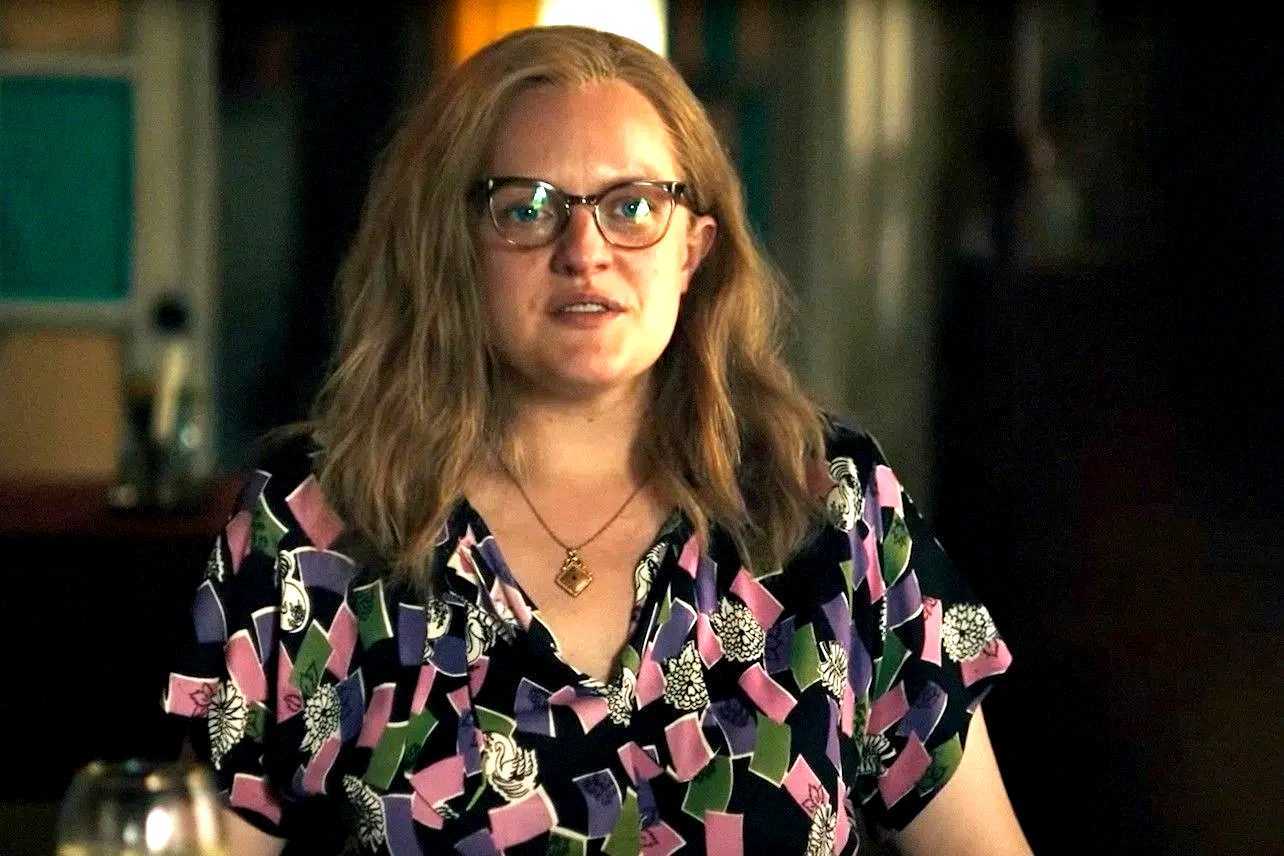 Not long after setting the characters up, the script diverts off into creating a mystery. This is by no means as interesting as the main story about the play of real-life personalities and the undercurrents of the marriage. It is somewhat frustrating following the mystery as the film never provides – or for that matter even speculations about – a solution to Paula Welden's disappearance. There is the feeling that in having Odessa Young play both the newlywed wife and the missing girl in the flashbacks that there was some symbolical/allegorical thing going on between the two parallel stories but if there was I was unable to discern the point being made.
Furthermore, the film is telling a story based on Hangsaman, one of Shirley Jackson's less known books. It is something that the public are unlikely to be aware of, nor how this was based on a real-life incident. Jackson's more famous works hardly get a look in – there is no mention of The Haunting of Hill House, which is what almost all audiences will be drawn into the film about (its writing takes place about a decade after the film's timeframe). Odessa Young is seen reading The Lottery (1948) in the opening scenes and that is it.
Josephine Decker has admitted that the film strays from biographical detail. I am always leery of that – looking at you the ridiculous acclaim that was heaped on the almost completely fictional Finding Neverland. That said, the film stays with historical details for the most part (as far as I can tell without going looking for any Jackson biographies). The most egregious change is that Jackson's children have been entirely written out of the picture when several of them should have been running around the house.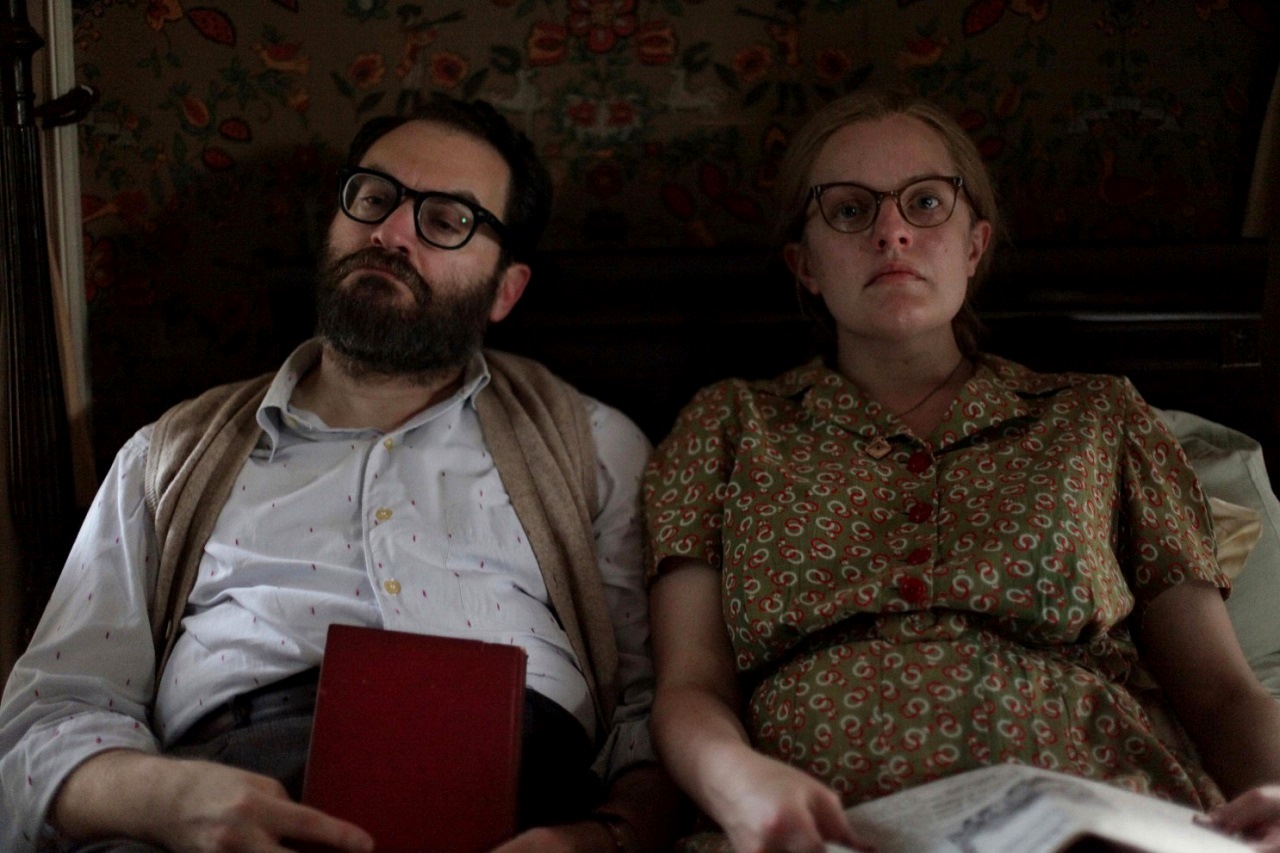 Some of the aspects of the film leave me with questions. Did Jackson have lesbian tendencies as the film suggests? Was she so strange and mentally ill that people around the town avoided her? Did she take delight in embarrassing people and flaunting social convention at faculty functions? Some of it feels like authorial creativity rather than anything that might be in the historical record but I am unable to find any information that backs up one way or another whether these claims made by the film are true.
That said, the film has fun teasing lesbian romance out of the story – the quaint image of Elisabeth Moss rocking on a swing turned into a flirtation as her stockinged legs intertwine with Odessa Young's, or of she playing games of footsie under the dinner table, moving Odessa's foot to massage Logan Lerman's crotch or sneaking her hand up Odessa's stockinged thigh.
Aside from the abovementioned adaptations of The Haunting of Hill House (1959), Shirley Jackson's works have also been adapted into the split personality film Lizzie (1957) and the Gothic mystery We Have Always Lived in the Castle (2018). The only other film adapted from her works to enter into genre territory was the tv movie The Lottery (1996) based on her classic short story set in a town where people are stoned to death after being chosen in a lottery.
(Nominee for Best Actress (Elisabeth Moss) at this site's Best of 2020 Awards).
---
---