---
USA. 1996.
Crew
Director – Adam Grossman, Screenplay – Adam Grossman & Guy Riedel, Story – Guy Riedel, Producer – Michael Meltzer, Photography – Christopher Baffa, Music – Peter Manning Robinson, Visual Effects – Vision Crew Unlimited (Supervisor – Evan Jacobs), Digital Effects Supervisor – Douglas Miller, Mechanical Effects Supervisor – Jon Warren, Makeup Effects – ME*FX (Supervisors – Earl Ellis & Bart J. Mixon), Production Design – Aaron Osborne. Production Company – Trimark Pictures.
Cast
Michael Gross (Jon Porter), Alexis Arquette (Tony Reno), Hilary Swank (Michelle Porter), Jennifer Aspen (Maria Moore), Jennifer Elise Cox (Jules Martin), W. Morgan Sheppard (Father Archer Roberts), Gabriel Dell Jr (Steve Pagel), Bojesse Christopher (Vinnie Ritacco), Molly Hagen (Officer Violet Searcey), Michael Malora (Young Jon), Leslie Danon (Lisa Porter)
---
Plot
Jon Porter and his teenage daughter Michelle return to his hometown for the funeral of his mother. Michelle meets and is charmed by the handsome Tony Reno. When he meets Tony, Jon realizes that he was one a group of teenage hoodlums who Jon as a child witnessed killing his sister as a Satanic sacrifice, before he accidentally electrocuted all of them. Jon realizes that Tony is a demonic minion and has return from the dead seeking revenge. Tony begins killing Michelle's friends and others, managing to bring one of the other hoodlums back from the dead each time he does so. Jon then realizes that they plan to claim Michelle as their next sacrifice.
---
Sometimes They Come Back (1991), adapted from a Stephen King short story, was a tv movie that received a theatrical release. This direct-to-video follow-up bills itself as a sequel, although is more of a remake.
Sometimes They Come Back … Again loosely follows the first film's story – after many years, a character again faces the teenage hoodlums that killed his sister (his brother in the original film and short story) and have now returned as vengeful spirits. The first film wimped out considerably on the story, its presumable tv movie nature lacking the wherewithal to show the ending that Stephen King had where the central character confronts his tormentors by cutting off his own finger and conducting a demonic ritual to banish them. This version goes for gutsier, more upfront horror impact and retains the ending with glee – it even heavy-handedly signposts it throughout by silly cuts away to illuminated manuscripts and ancient poems depicting people chopping off fingers to banish demons.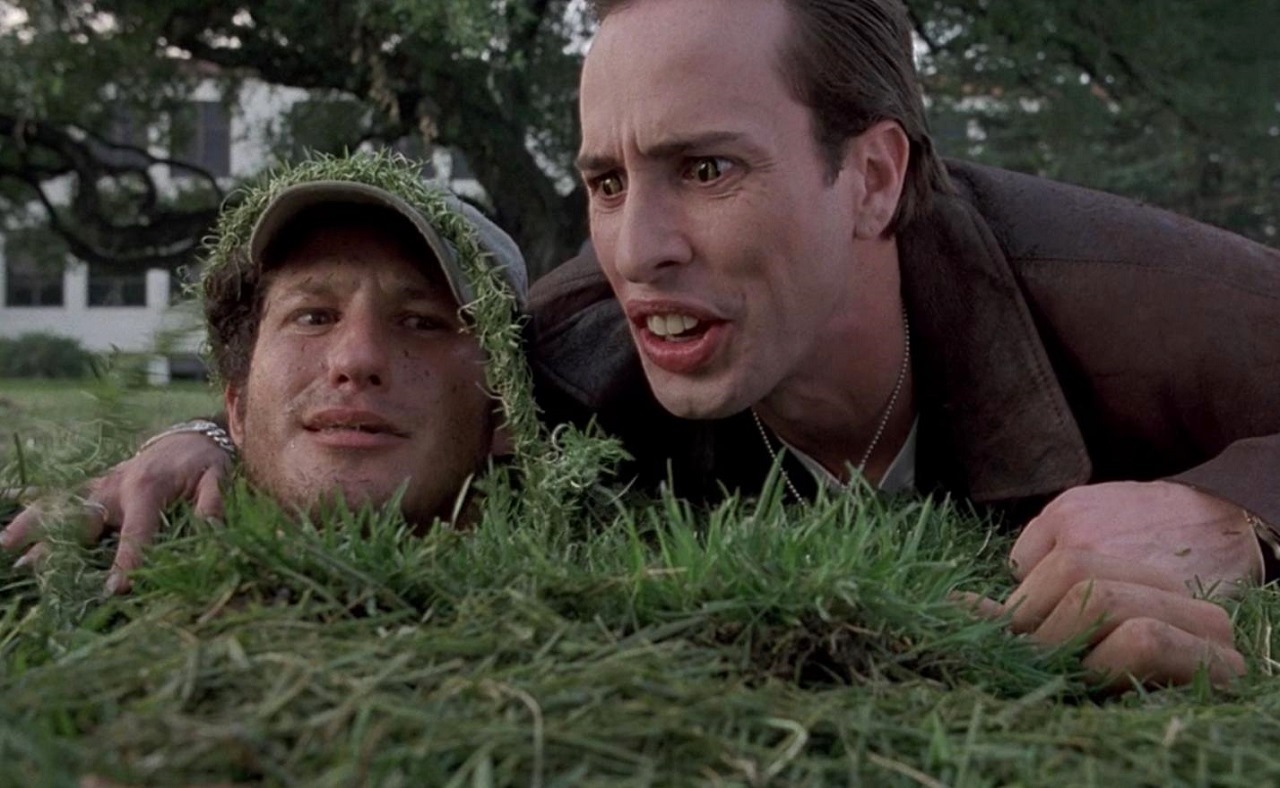 Sometimes They Come Back was not particularly great but it is far superior to this version where most of the emphasis has been placed on makeup effects-driven horror. This quickly causes Sometimes They Come Back … Again to descend, despite initial promise, into arrant silliness. Sequences with victims being dragged down by animated grass or sliced to death by tarot cards come across as incredibly daft. Furthermore, Alexis Arquette overplays the teen hoodlum part badly – delivering campy lines like "Need a hand" as he severs one victim's hand – such that the central antagonist becomes nothing more than a campy jack-in-the-box pop-up effect and the film loses any sense of threat whatsoever.
Sometimes They Come Back … Again was followed by a further sequel Sometimes They Come Back … For More (1998), which is the best of the three films, although is connected to the other films by name only.
Director Adam Grossman next went onto the disappointingly poor remake of Carnival of Souls (1998) and has done nothing since.
---
Trailer here
---