---
USA. 1995.
Crew
Director – Brian Trenchard-Smith, Screenplay – David Dubos, Producers – Jeff Geoffray, Walter Josten & Henry Seggerman, Photography – David Lewis, Music – Dennis Michael Tenney, Visual Effects – Kim Bailey, Mechanical Effects – Frank Ceglia, Makeup Effects – Atlantic West Effects (Supervisor – Gabe Bartalos), Production Design – Ken Archele. Production Company – Trimark Pictures.
Cast
Warwick Davis (The Leprechaun), John Gatins (Scott), Lee Armstrong (Tammy Larson), Caroline Williams (Loretta), John De Mita (Fazio the Great), Michael Callan (Mitch), Marcelo Tubert (Gupta), Tom Drugan (Art), Roger Hewlett (Tony)
---
Plot
The remains of the leprechaun are sold to a Las Vegas pawnbroker and then accidentally revived. A shilling from its pot of gold passes through the hands of various people in one of the casinos. The coin's ability to grant the possessor's wish is discovered by accident whereupon it immediately becomes sought by the greedy and ruthless. As the leprechaun fights to get its shilling back, it gives each wisher a sadistic death.
---
This was the second of the sequels spun out from the video hit Leprechaun (1993). For this entry, the producers imported Australian director Brian Trenchard-Smith who had had some success in the Ozploitation genre of the 1970s and 80s, before coming to Hollywood to make the ultra-campy Night of the Demons 2 (1994), which naturally had him employed her.
As with the other films in the series, Leprechaun 3 is a lame attempt to spin out another A Nightmare on Elm Street-styled horror franchise with a boogey man despatching an array of victims amid bad puns and cartoonish gore set-pieces. Typically, the showcase despatches quickly get very silly – one victim turned into a human one-arm bandit uncontrollably spilling coins out of his mouth; another by a killer android/mannequin torso that electrocutes him during sex. In the most amazingly silly effect that one has seen on screen in some time, Caroline Williams gets her wish for a perfect figure whereupon she is given a butt and set of breasts so big she is unable to turn around, before being blown up.
The other Leprechaun films are:– Leprechaun (1993), Leprechaun 2/One Wedding and Lots of Funerals (1994), Leprechaun 4: Leprechaun in Space (1996), Leprechaun in the Hood (2000), Leprechaun: Back 2 tha Hood (2003), Leprechaun: Origins (2014) and Leprechaun Returns (2018).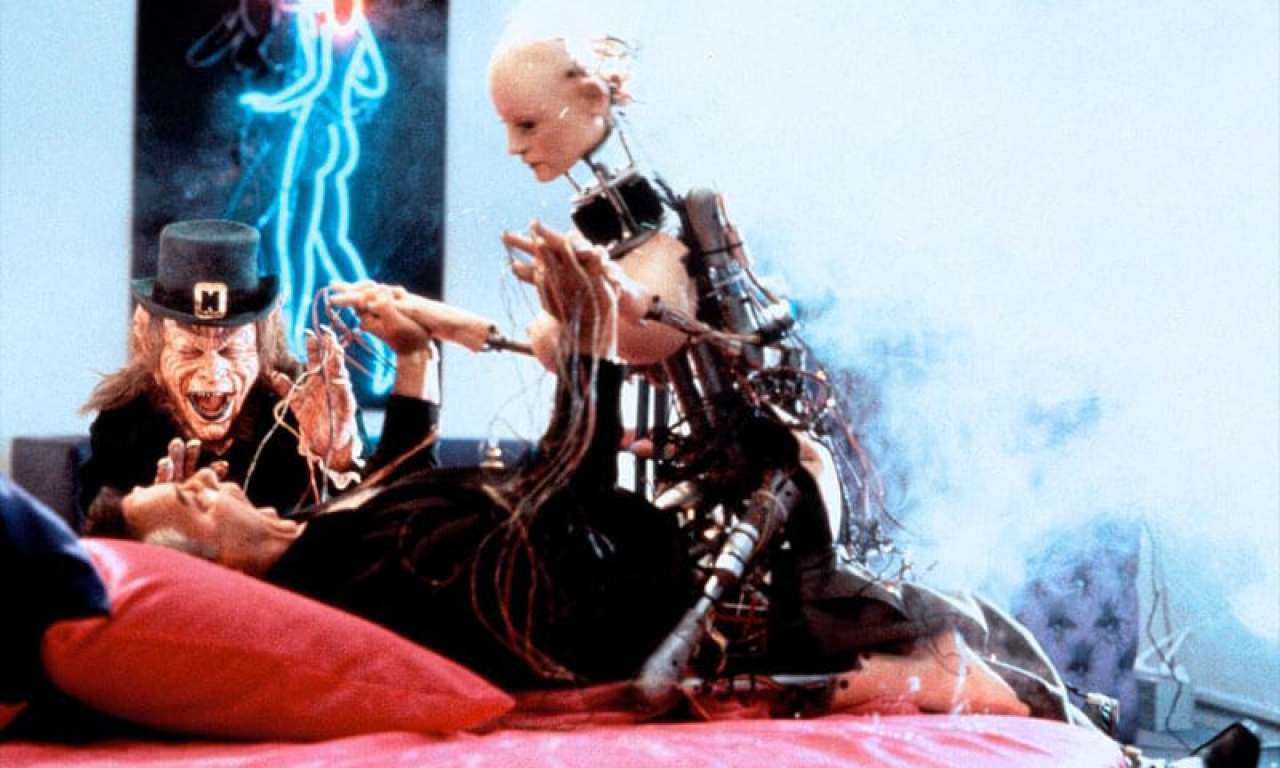 Director Brian Trenchard-Smith emerged in the 1970s as part of the Ozploitation fad with films like The Man From Hong Kong (1975). Trenchard-Smith's earliest genre effort was the dire totalitarian action film Turkey Shoot/Escape 2000 (1983). Trenchard-Smith has made a couple of quite respectable genre films – the children's film Frog Dreaming/The Quest (1986) and the witty near future satire Dead-End Drive-In (1986). Trenchard-Smith continued his brand of campy unserious horror with the amazingly silly Night of the Demons 2 (1994), Leprechaun 3 (1995) and Leprechaun 4: Leprechaun in Space (1996) and then showed that he was still capable of making bad films even when playing it straight with Megiddo (2001).
Brian Trenchard-Smith's other genre films include the astral projection horror Out of the Body (1989), the alien abduction film Official Denial (1994), the meteor collision film Doomsday Rock (1997), Atomic Dog (1998), the haunted house film Sightings: Heartland Ghost (2002), the plague film The Paradise Virus (2003), Tyrannosaurus Azteca/Aztec Rex (2007) and Arctic Blast (2010) about a new Ice Age. Trenchard-Smith has also produced the monster movie Blood Tide (1982), Demonstone (1990), Malibu Shark Attack (2009) and the remake of Turkey Shoot (2014).
---
---