---
Crew
Director – Jeff Burr, Screenplay – John Auerbach, Producers – William Burr & Darin Scott, Photography – Jacek Laskus, Additional Photography – Gerry Lively, Music – Jim Manzie in Association with Pat Regan, Makeup – Michele Burke, Production Design – Byrnadette Disanto. Production Company – Part II Productions
Cast
Terry O'Quinn (Jerry Blake/Dr Gene Clements), Meg Foster (Carol Grayson), Caroline Williams (Marty Crimmins), Jonathan Brandis (Todd Grayson), Henry Brown (Dr Joseph Danvers), Mitchell Laurance (Phil Grayson)
---
Plot
The family-slaughtering serial killer known as Jerry Blake has survived the stabbing by his stepdaughter and has been committed to a psychiatric hospital in Puget Sound. By playing on the new psychiatrist's naive desire to help, he is able to make an escape. He then creates an identity as Gene Clifford and moves into the new Palm Meadows suburb, which is being touted as the perfect family environment. There he pursues divorced realtor Carol Grayland and determines to marry her. However, when people around him are in danger of exposing his identity, he has to resort to killing again.
---
The essential critical question that arises with any sequel is – does it tread new ground and expand its characters, or does it merely echo the highlights of its predecessor? With Stepfather II, the answer is resoundingly the latter.
The original The Stepfather (1987) was one of the few innovative psycho movies of the late 80s. However, the script for Stepfather II sadly replays all the twists and turns of the original. The Stepfather does his same thing again, he is exposed by someone via the mail, goes off the rails and knocks off those in the way and so on. All the surprises that made the first film so effective are no longer there and in almost all ways Stepfather II is an ordinary B-grade psycho film. The killings are brought to the fore, with extra gore footage even having been shot by the studio.
Even worse, the film plays up all the black comedy one-liners that were requisite for any mass killer anti-hero in a sequel franchise during the late 80s, with Terry O'Quinn spouting one-liners like "It's time we cracked this bottle open" or "We're just wrapping things up" (as he rolls a dead body in a carpet). The only worthwhile thing about Stepfather II is the excellent repeat performance from Terry O'Quinn.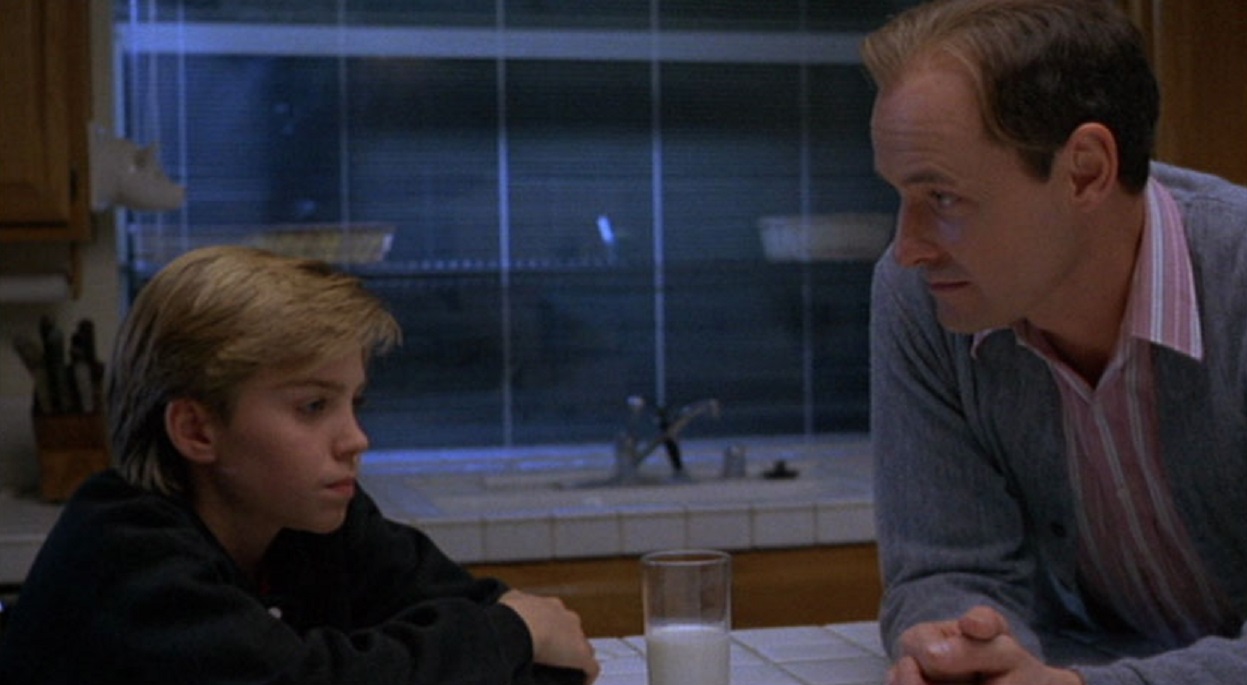 Terry O'Quinn departed from the series with the third entry Stepfather III (1992) where he was replaced by Robert Wightman under the pretext of having undergone surgery. With his departure, gone was any reason to continue watching the series. The original was later remade as The Stepfather (2009).
Stepfather II was directed by Jeff Burr who debuted with the excellent horror anthology From a Whisper to a Scream (1987) and subsequently went onto make:– Leatherface: Texas Chainsaw Massacre III (1990), Puppetmaster V: The Final Chapter (1994), Pumpkinhead II: Blood Wings (1994), Night of the Scarecrow (1995), Johnny Mysto, Boy Wizard (1997), Spoiler (1998), The Werewolf Reborn (1998), The Boy with X-Ray Eyes (1999), Phantom Town (1999), Straight Into Darkness (2005), Devil's Den (2006), Mil Mascaras vs the Aztec Mummy (2007), Resurrection (2010), Gun of the Black Sun (2011) and Alien Tornado (2012).
---
---