USA. 1995.
Crew
Director – Wesley Strick, Screenplay – Michael Auerbach, Producers – David Madden, Patrick Markey, John Morrissey & Susan Zachary, Photography – Bobby Bukowski, Music – Graeme Revell, Special Effects Supervisor – Richard Stutsman, Production Design – Marcia Hinds-Johnson. Production Company – Interscope Communications/PolyGram Filmed Entertainment.
Cast
Moira Kelly (Dana Clifton), Keith Carradine (John Netherwood), Daryl Hannah (Leann Netherwood), Vincent Spano (Russell Clifton), Julia Devin (Janie Netherwood Clifton), Jenny Gago (Maggie Hass), Cynda Williams (Lisa-Marie Chandler), Bruce A. Young (Gil Chandler)
---
Plot
John and Leann Netherwood, a white trash couple on a trail of murder, theft and torture, are cornered by police during a shootout. They get away but their young daughter Janie is captured. Janie is placed in an orphanage where she is duly adopted by childless couple Russell and Dana Clifton. The angry Netherwoods then come after the Cliftons, determined to get Janie back and killing everybody in their way.
---
The Tie That Binds was the directorial debut of Wesley Strick. Strick is a scriptwriter who has written such A-budget entries as Arachnophobia (1990), Cape Fear (1991), Final Analysis (1992), Wolf (1994), The Saint (1997), Doom (2005) and A Nightmare on Elm Street (2010). Strick would later return to the theme of malevolent adoptions with his script for The Glass House (2001).
Wesley Strick makes an impressive directorial debut. He does a fine job generating suspense – there is a well-sustained climax and one rather effective scene with Daryl Hannah threatening Cynda Williams's newborn baby. Strick also has a talent for directing soft, subtle character scenes. He chooses to place the child at the centre of the drama and some of the most striking scenes come in the emergence of the child's past contrasted against her new middle-class surroundings. There are minor logic lapses – like how the Netherwoods keep managing to find people – but this is nevertheless an impressive psycho-thriller.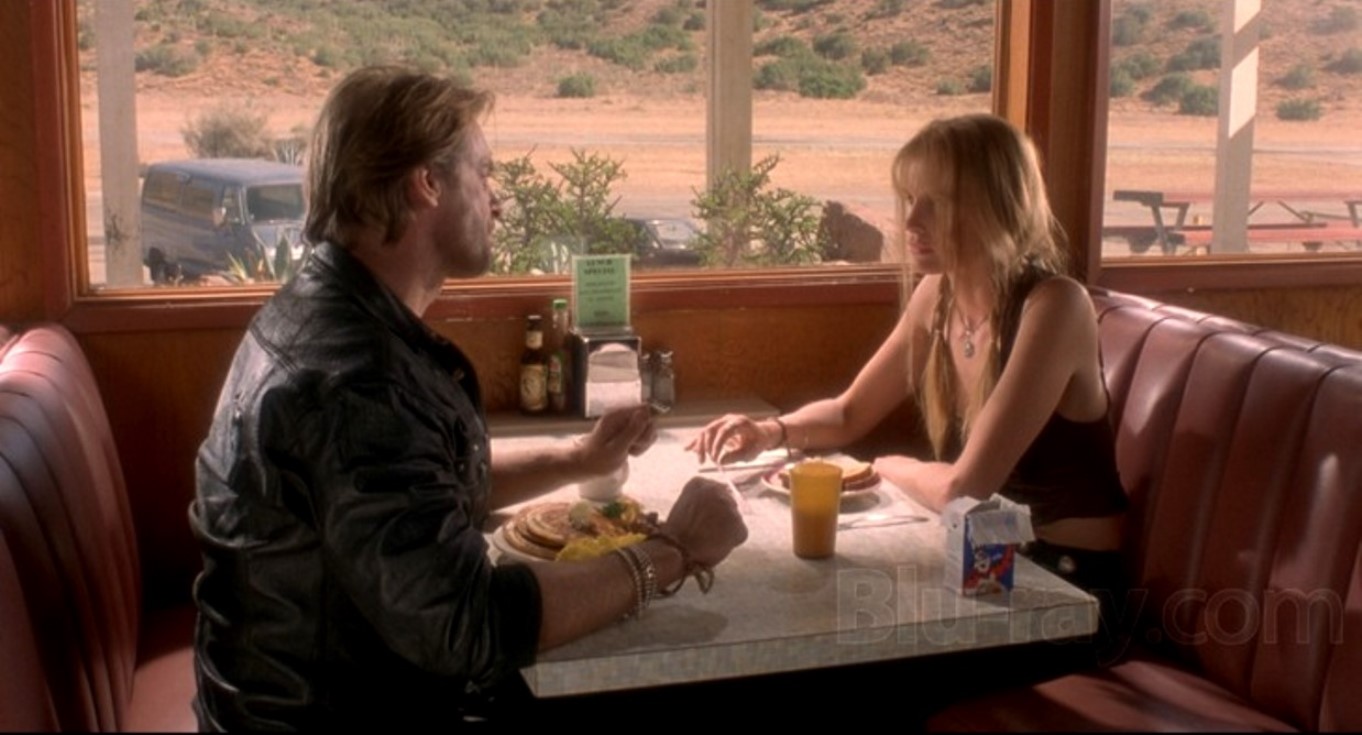 All give good performances, especially Moira Kelly as the adoptive mother. Aside from the psycho-thriller tv movie Hitched (2001), Wesley Strick has disappointingly yet to be given a further opportunity to direct.
The Tie That Binds ultimately belongs to a sub-genre of conservative Family Values psycho-thrillers that popped up after the success of Fatal Attraction (1987). It does, for example, assume that the adopted Middle Class couple are the far preferred parents to the natural White Trash birth parents and that the Netherwoods aggravation at the loss of their daughter is because they are psychopaths rather than justifiably aggrieved parents who simply had their daughter taken away from them. At least, The Tie That Binds wears its values less stridently than Fatal Attraction et al and is one of the better entries to grace this burgeoning sub-genre.
(Nominee for Best Cinematography at this site's Best of 1995 Awards).
---
---