---
USA. 2000.
Crew
Director – Joe Charbanic, Screenplay – Clay Ayers & David Elliott, Story – David Elliott & Darcy Meyers, Producers – Chris Eberts, Elliott Lewitt & Jeff Rice, Photography – Michael Chapman, Music – Marco Beltrami, Visual Effects Supervisor – Rodney Iwachina, Visual Effects – Centropolis, Special Effects Supervisor – Sam 'Mo-Mo' Barber, Production Design – Maria Caso & Brian Eastwell. Production Company – Universal/Interlight/Driven Productions.
Cast
James Spader (Joel Campbell), Keanu Reeves (David Allen Griffin), Marisa Tomei (Dr Polly Beilman), Chris Ellis (Detective Hollis Mackie), Ernie Hudson (Ibby), Robert Cicchini (Detective Mitch Casper), Rebakah Louise Smith (Ellie Buchner), Jillian Peterson (Jessie)
---
Plot
Joel Campbell is a former FBI agent who has moved to Chicago from L.A., having had a total physical and mental breakdown after a serial killer he was pursuing killed the woman with which he was having an affair. The serial killer then reappears, having followed Joel to Chicago. The killer taunts Joel, sending him the photo of each intended victim and giving Joel twelve hours to find her and stop him.
---
The Watcher is an entry in the Serial Killer Thriller. As it goes, it is not a particularly original or distinctive entry in this genre. Its sole novelty is the casting of Keanu Reeves as the killer. Keanu Reeves is a terrible actor and as soon as one heard he was going to play a serial killer, I expected the worst – "I have to like you know kill you in the most heinous way possible, dude." It is a piece of stunt casting that is The Watcher's sole drawcard. Although it is one that failed to work, with The Watcher opening to middling box-office and terrible reviews. (Keanu Reeves later claimed the only reason he appeared in the film was because a friend forged his signature on the contract).
The Watcher is not entirely as bad as most dismissed it as. There is nothing terribly original to it but director Joe Charbanic, in his debut (and so far only) feature, crafts some of the suspense sequences with a fair degree of tension, especially the citywide hunt for the first victim with scenes like James Spader and the police questioning people in a mall just as the girl they are looking for waits for an elevator only feet away from them, or Spader finally phoning her only to have Keanu Reeves answer the phone.
In the middle of the film, Charbanic forgets about suspense and sidetracks off into elaborate car chases and explosions to little effect. In the latter quarter of the film, he allow the relationship between James Spader and Keanu Reeves to emerge with intriguing reuslts. There is an effectively tense scene where the two meet up in a graveyard – it's a sequence that has an edginess to it where for a time the film seems to enter territory where one has no idea what is going to happen next. The scenes have a certain amusement – "You're right, it's loaded," says Reeves after shooting Spader's gun into the ground, and in Reeves's eager insistence they be friends and need one another, ending on the potently written moment where Spader retorts that Reeves is "just paperwork". It is here that the film gets the relationship between hunter and prey just right.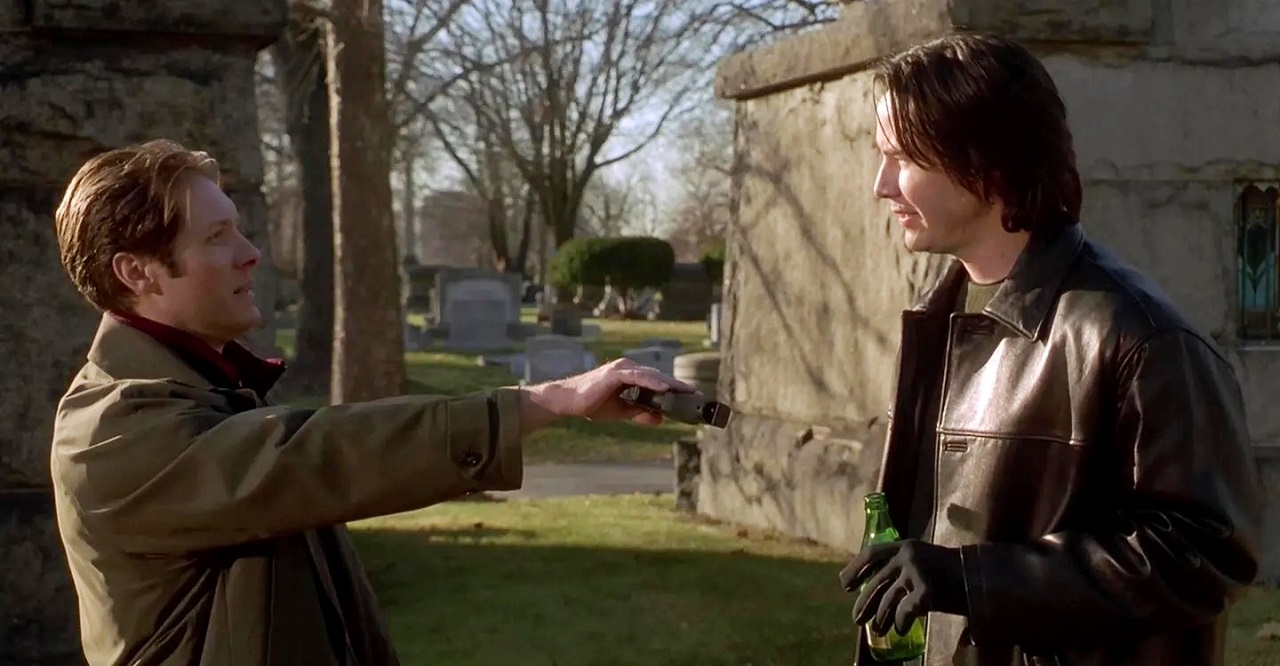 James Spader's combination of cold fish and puppy dog looks work effectively, although he seems far too clean-shaven and well pressed to be the burnout case he is described as. However, the film's biggest implausibility comes down to being Keanu Reeves. The Watcher falls into the trend around that time of friendly serial killers begun with the likes of The Minus Man (1999) and Felicia's Journey (1999) but Keanu Reeves is just too charming and friendly to seem a believable psycho. The problem is also that the character is defined only in terms of being a nemesis to James Spader's detective – we never learn what he does for a job, what is motivation for the killings initially is and so on.
In an interesting trivia note, credits watchers might see the name of Jeff Rice, author of the original novel that became the classic tv movie The Night Stalker (1972), listed as producer.
The Watcher is not related or should not to be confused with other works with the same name including Watcher (2022) in which Maika Monroe believes her neighbour is a serial killer or the Ryan Murphy suburban paranoia tv series The Watcher (2022).
---
Trailer here
---