---
USA. 2000.
Crew
Director – Mikael Salomon, Teleplay – Richard Christian Matheson, Based on the Novel by Dean R. Koontz, Producer – Hanno Proppe, Photography – Jon Jottin, Music – Mark Snow, Visual Effects – Gajdecki Visual Effects (Supervisor – Sandra Almond), Special Effects Supervisor – Tim Storvick, Production Design – Lance King. Production Company – Mandalay Television/Lionsgate Television.
Cast
Billy Zane (Joe Carpenter), John C. McGinley (Victor Yates), Gloria Reuben (Rose Tucker), Isabella Hoffman (Barbara Christman), Rachel Victoria (21-21), Jeff Gulka (89-58), Mitchell Kosterman (Becker), Christine Willes (Mercy Ealing), Glenn Morshower (Robert Donner), Wally Dalton (Jeff Ealing), Garwin Sanford (Dr Blom), Roger R. Cross (Dr Smithie), Bruno Verdoni (Dr Ramloch), Ingrid Torrance (Michelle Carpenter), Jodelle Ferland (Nina Carpenter), Rondel Reynoldson (Cindy), Bob Dawson (Steven)
---
Plot
Seattle journalist Joe Carpenter has become a burnout after the death of his wife Michelle and daughter Nina in the Nationwide 353 plane crash. While visiting their gravesite, Joe meets the mysterious Rose Tucker taking photographs there. She is then pursued and shot at by sinister government agents led by Victor Yates. Joe is stopped by the agents who are also aware of who he is. Afterwards, Joe is baffled to find that Rose was one of the passengers who is supposed to have been killed aboard Nationwide 353. He then receives a series of mysterious phone calls providing clues that lead him on a trail. He sets out to contact the other survivors and find answers but is trailed and pursued by Yates. Each of the people he talks to ends up being mysteriously killed, even being driven to kill themselves as Joe watches. Joe is then shocked to find that Nina may have been seen alive after the plane crash. The trail of clues leads him to the top-secret Quartermass Institute where scientists have been conducting experiments to create children that have psychic potential. Joe escapes the institute with a young girl who has the power to resurrect the dead. However, she is hunted by another boy at the institute who has the power to remotely possess the minds of others. He now drives people everywhere to attack Joe and the girl as they flee across country.
---
Dean R. Koontz is a prolific author whose popularity in horror fiction is second only to Stephen King. Numerous Koontz works have been adapted to the screen, including Demon Seed (1977), Watchers (1988), The Face of Fear (tv movie, 1990), Whispers (1990), Servants of Twilight (1991), Hideaway (1995), Phantoms (1998), Intensity (tv mini-series, 1997), Mr. Murder (tv mini-series, 1998), Black River (tv movie, 2001), Frankenstein (tv mini-series, 2004) and Odd Thomas (2013). From about 1997 onwards, Koontz has started taking an active producing and sometimes writing role in his screen adaptations. Sole Survivor comes from Koontz's 1997 novel of the same name.
Sole Survivor suffers from the same problem that almost all of Dean R. Koontz's books and resultingly films do – that is to say, the story works in terms of forward momentum with a series of wild ideas and some great twists, yet Koontz fails to provide a credible explanatory rationale for what is happening. This is very much the case with Sole Survivor – indeed, out of any his works, Koontz's preposterous rationales are at their most far-fetched here.
Almost the first half of the mini-series is construed as a series of wild twists that leave one's head spun at their rapidity:– grieving family man Billy Zane goes to visit the gravesite of his wife and daughter and meets Gloria Reuben who leaves him with cryptic warning that there are things that he will need to know; she is forced to flee by sinister government agents who are hunting her with guns, where Zane is spooked to find out that they also know who he is and subsequently finds that they are surveilling him everywhere he goes; he looks up the passenger list for the flight and is startled to find that Gloria Reuben is supposed to one of the dead; he visits the Delmann family who start telling him things before he abruptly finds the husband has shot himself in the upstairs bedroom, the wife has stabbed herself in the kitchen and the daughter has turned the gas stove on and is about to light a match; he arrives at a farmhouse and finds that his dead daughter was one of the two survivors who miraculously walked away from the plane crash. The mini-series certainly has a great pace and is carried along a substantial part of the way out of the bizarreness of wanting to know what such head-spinning twists can possibly mean.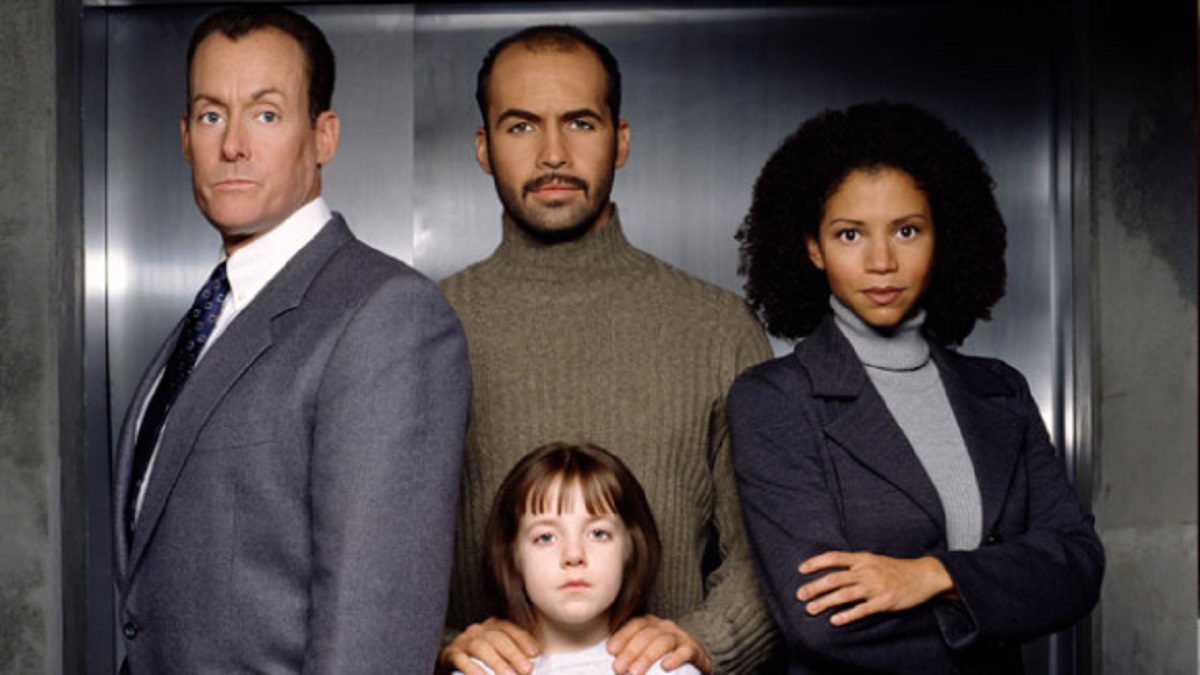 However, as is usually the case with Dean R. Koontz's plots, the story starts to collapse like a wet house of cards when it comes to the explanatory rationale behind these wild spins. [PLOT SPOILERS]. We are given the impression that Billy Zane's daughter Nina walked away from the plane crash but then in a totally improbable explanation it turns out that this was the psychic girl who had escaped from the Quartermass Institute where she had only been given a number instead of a name, how she then met Nina on the plane flight and so liked her that she started calling herself Nina. The bizarre suicides are explained away as being caused by the evil child 89-58 who is psychically possessing people's minds and forcing them to kill themselves. There is also an excessively complicated trail that Billy Zane is led on before meeting up with Gloria Reuben again – indeed, much of the mini-series seems to consist of Billy Zane following clues from one person to the next and they giving him half the information before they are killed – it is hard to understand why Gloria Reuben or her associates could not simply have given Zane an address to come to.
The mini-series eventually pans out as a disappointingly routine story about a kid with a psychic super-mind (Jeff Gulka) possessing people to attack as Billy Zane flees across the countryside with young Rachel Victoria. One of the silliest parts of the show is when Jeff Gulka starts roaring at others using a digitally amplified voice. The other ridiculous part is having the two kids become so powerful that the show simply becomes one about pop-up superpowers and possessions everywhere one turns. It is during this second half where the head-spinning turns of the first part give way to super-powered nonsense that credibility departs the show altogether.
Billy Zane makes a perfunctory hero, while the fine Gloria Reuben is largely wasted. One of the major minuses about Sole Survivor is John C. McGinley, who also appeared in Koontz's Intensity mini-series where he gave one of his best performances. Here though, McGinley is back in totally OTT mode as he has been in almost everything else one has seen him in. His madly manic performance, full of constant asides, is something that verges on camp and eventually becomes incredibly annoying.
The weird coincidence about Sole Survivor is that it premiered exactly a year and one week before the events of 9/11. With its story about grieving families and survivors walking away from a fatal plane crash, it surely proves a far more spooky precognition of events to come than anything Dean R. Koontz could have come up with fictionally.
Sole Survivor is unrelated to a number of other genre films with the same or similar names including the tv movie Sole Survivor (1970) and Sole Survivor (1983), which were both about precognition of an air crash, as well as Soul Survivors (2001) about a girl being haunted after surviving a car crash (which also borrowed the deathdream ending) and the ghost story Soul Survivors/Spectres (2004).
Danish born Mikael Salomon has worked as a cinematographer on a number of films. He premiered as a cinematic director with A Far Off Place (1993) and the disaster film Hard Rain (1998). Since then, most of Salomon's directorial work has been in television with genre tv series and movies such as Aftershock: Earthquake in New York (1999), Young Arthur (2002), 'Salem's Lot (2004), Fallen (2006), episodes of Nightmares & Dreamscapes: From the Stories of Stephen King (2006), the remake of The Andromeda Strain (2008), The Lost Future (2010), the remake of Coma (2012) and Big Driver (2014).
---