aka Zombies
---
Crew
Director – J.S. Cardone, Screenplay – Ben Nedivi, Story – Boaz Davidson , Producers – Boaz Davidson & Anton Höger, Photography – Emil Topuzov, Music – Tim Jones, Visual Effects – Worldwide FX (Supervisor – Nikolay Gachev), Special Effects Supervisor – Willie Botha, Production Design – Carlos Da Silva. Production Company – Millennium Films/Höger Services Medien & Personal GmbH.
Cast
Lori Heuring (Karen Tunny), Scout Taylor-Compton (Sarah Tunny), Chloe Moretz (Emma Tunny), Ben Cross (Aaron Hanks), Martin McDougall (William Carlton), Geoffrey Lewis (Harold Thompson), Chris Jamba (Sean), Craig Vye (Tim), Julie Rogers (Lisa), Helia Grekova (Mary), Michael McCoy (Walter)
---
Plot
In 1913, a group of children are killed in an explosion at the Carlton Mine in Addytown, Pennsylvania due to the owner's negligence. In the present day, Karen Tunny and her two daughters Sarah and Emma move to a house in Addytown. They have been left penniless and with nowhere to go after the death of Karen's husband, until they found the deed to a former miner's house among his things. However, once in the house, as night comes, they discover that the undead children have returned from the nearby mine to devour the flesh of the living.
---
I have maintained for some time now that director/writer J.S. Cardone is one of the more underrated genre talents out there. Cardone made his directorial debut with the slasher film The Slayer (1982) and followed that with the rock film Thunder Alley (1985). Cardone has since made a variety of films, almost usually all psycho-thrillers. Cardone's films as director have included the dream horrors/alternate dimension film Shadowzone (1990); the thriller A Climate for Killing (1991); Shadowhunter (1993) about an FBI agent hunting an Indian medicine man; the road movie thrillers Black Day, Blue Night (1995) and Outside Ozona (1998); the vampire film The Forsaken (2001); the murder mystery True Blue (2001); Mummy an' the Armadillo (2004), a psycho-thriller set in a roadside cafe; and the erotic thriller 8MM2 (2005), which was actually better than the original it models itself on.
Elsewhere, J.S. Cardone has also written the scripts for Crash and Burn (1990), Exit in Red (1996), Alien Hunter (2003), Renny Harlin's The Covenant (2006) and the remakes of Prom Night (2008) and The Stepfather (2009), and has produced several Sniper sequels as well as Vampires: The Turning (2005). Most of J.S. Cardone's films as a director show him as someone with an above-average genre sensibility, especially in terms of worthwhile plotting and characters. It is a shame that Cardone has never attracted a higher profile as a director than he has so far.
The title of Wicked Little Things may have been designed to play off Stephen Frears' excellent illegal immigrants drama Dirty Pretty Things (2002) or even Stephen Fry's Bright Young Things (2003) – there was also another similarly titled horror film Pretty Dead Things (2006) that came out around the same time. Whatever the case, it is clear that someone has given J.S. Cardone money with the assignment to make a zombie film in the vein of the vast army of George A. Romero inspired efforts that have been turning up ever since the success of the remake of Dawn of the Dead (2004). The film's alternate title in international release Zombies makes it clear and direct.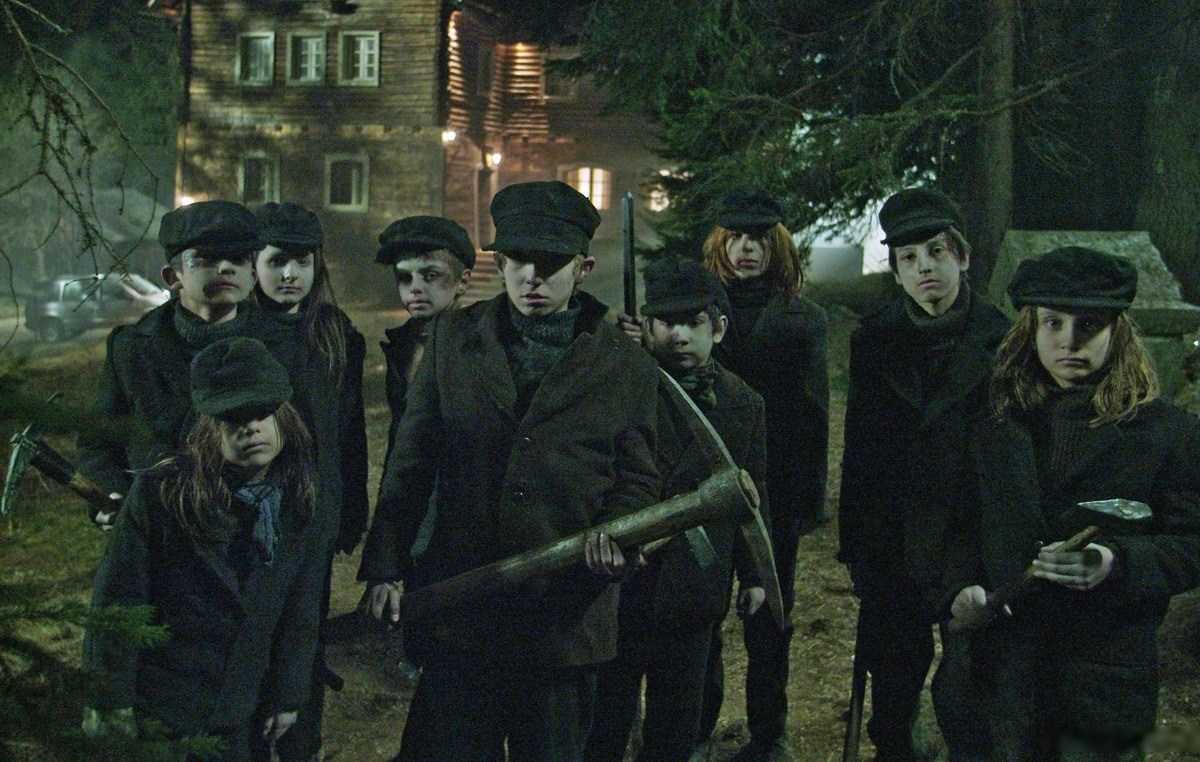 This does however leave Wicked Little Things with a conceptual problem. Despite the children being labelled zombies – even J.S. Cardone referring to them as such in the dvd extras interviews – Wicked Little Things is far more of a ghost story than it is a zombie film. The zombie film usually centres around an infection of some sort, the dead being resurrected and an apocalyptic siege as they surround and devour the living. The ghost story on the other hand usually centres around a Bad Place where some great crime has occurred in the past and the innocents killed are reaching out to the living who have moved into that place in the present and demanding exorcism/redress for their crimes.
You can clearly see which of these that Wicked Little Things belongs to and as a result what we have is a conceptually confused film where the innocents from the past are reaching out to demand redress – but also happen to emerge as hungry flesh-eating zombies. Cardone himself describes Wicked Little Things as a "dark fairytale" where he states that he was attempting to find something of the "female sensibility" of films like The Others (2001), The Ring (2002) and The Grudge (2004).
Problems in conception (which one suspects were something that was forced onto the film by producers) aside, Cardone does well with the horror elements. The film has an excellent setting with a magnificently creepy old house. The children with their pale white faces and blank, black eyes are quite threateningly spooky figures as they gather outside the house. As it plays out, there is nothing too different to Wicked Little Things from the average zombie film/ghost story but J.S. Cardone tells it with a good deal of creepy atmosphere. The film is never a great classic, nor one where Cardone attempts anything near reinventing the wheel, but it emerges with modest effect.
In the cast, there is J.S. Cardone regular Lori Heuring who does well as the mother. I was not a big fan of Scout Taylor-Compton after she went onto wreck the role of Laurie Strode in the subsequent remake of Halloween (2007) but she does well here in a role where she plays with an internal strength and vulnerability that one cannot fault in any way. A then unknown Chloe (Grace) Moretz plays the role of the youngest daughter.
---
---