(1990 – Il Guerrieri del Bronx)
---
Crew
Director – Enzo G. Castellari, Screenplay – Elisa Livia Briganti, Enzo G. Castellari & Dardano Sacchetti, Story – Dardano Sacchetti, Producer – Fabrizio De Angelis, Photography – Sergio Salvati, Music – Walter Rizzati, Production Design – Massimo Lentini. Production Company – Deaf International.
Cast
Mark Gregory (Trash), Stefania Girolami (Anne), Vic Morrow (Hammer), Christopher Connelly (Hot Dog), Fred Williamson (The Ogre), John Sinclair (Ice)
---
Plot
It is the year 1990. In The Bronx, the police have given up trying to enforce the law and it has become an anarchic wasteland where gangs have staked out their own territorial domains. The heiress to the Manhattan Corporation, the biggest arms company in the world, runs away from her inheritance and seeks refuge in The Bronx. She is rescued from marauding gangs by Trash, leader of the Riders, and becomes his lover. However, the Corporation wants her back and sends in Hammer, a hired killer, to wipe out the gangs and bring her out.
---
This Italian import was the first in a seemingly endless stream of Spaghetti ripoffs of Mad Max 2 (1981). With blatant enterprise, the film also steals the central ideas from Escape from New York (1981) – of Manhattan as a decayed near future wasteland – and Walter Hill's The Warriors (1979) – with the heroes on a journey through territory held by different gangs.
1990: The Bronx Warriors is a shabby, rather cheesy action film – although perhaps not as hysterically awful as director Enzo G. Castellari's subsequent The New Barbarians/Warriors of the Wasteland (1983). The action only moves from one fight sequence to the next. Each sequence is filled with ridiculous poses – rollerskates or motorcycles slide into place right in front of the camera, people fall into formations like a dance chorus before starting a fight. Castellari directs in a great many closeups but when it comes to the fight sequences the camera is oddly set far too far from the action to make what is happening in any way involving. There is too much repetitive plotting centred around temporary gang alliances and betrayals.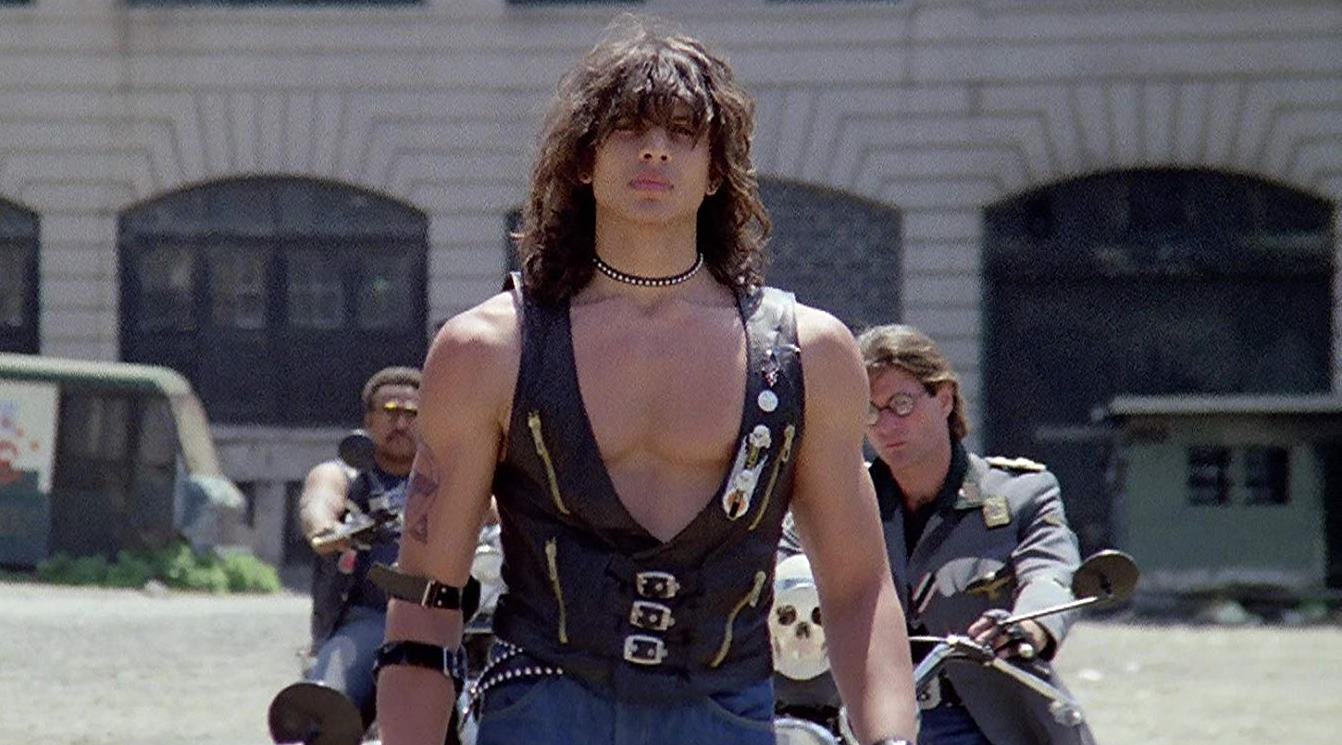 The acting tends towards the terrible, especially from Mark Gregory and Stefania Girolami as the hero and heroine. Imported for American marquee appeal are Blaxploitation star Fred Williamson and Vic Morrow, in his penultimate film just before his tragic death in the Twilight Zone – The Movie (1983) helicopter accident. The incredibly garish clothing design certainly catches the interest.
Enzo G. Castellari made a much better sequel Bronx Warriors 2 (1983).
Enzo G. Castellari has been a prolific director in Italian pulp cinema since the 1960s. His other genre contributions include the giallo psycho-thriller Cold Eyes of Fear (1971), the revenge film The House By the Edge of the Lake (1979), the blatant Spielberg ripoff Shark/The Great White (1982), the incredibly bad post-holocaust film The New Barbarians/Warriors of the Wasteland (1983), the action film Light Blast (1985) and Sinbad of the Seven Seas (1989). These days Castellari is perhaps better remembered as director of the original Inglorious Bastards (1978).
---
Trailer here
Full film available online here:-
---