---
USA. 1989.
Crew
Director – Albert Pyun, Screenplay – Kitty Chalmers, Producers – Yoram Globus & Menahem Golan, Photography – Philip Alan Walters, Music – Kevin Bassinson, Visual Effects – Fantasy II Effects (Supervisors – Ernest Farino & Gene Warren Jr), Special Effects – Joey Di Gaetano & R.J. Hohman, Makeup Effects – Thom Floutz & Greg Cannom, Production Design – Douglas Leonard. Production Company – Cannon Films.
Cast
Jean-Claude Van Damme (Gibson Rickenbacker), Deborah Richter (Nady Simmons), Vincent Klyn (Fender Tremolo), Dayle Haddon (Pearl Prophet), Haley Patterson (Haley)
---
Plot
In the ruins of post-holocaust New York, a lone martial arts fighter Gibson Rickenbacker rescues a woman Pearl Prophet from marauding gangs led by Fender Tremolo. Rickenbacker learns that she is a cyborg entrusted with getting vital medical data to plague-ravaged Atlanta and agrees to escort her across the anarchic Badlands. However, they are pursued the entire way by Fender and his gang.
---
Cyborg was the first big breakthrough of director Albert Pyun. Albert Pyun is a prolific director of B-budget genre action films. (See below for a full list of Pyun's other genre films). Cyborg set the path for Pyun's career throughout the 1990s where he has made an extraordinary number of films that that almost always centre around martial arts or kickboxing cyborgs, usually in Cyberpunk or post-holocaust settings. These have included Nemesis (1993), Knights (1993), Heatseeker (1995), Nemesis 2: Nebula (1995), Nemesis 3: Timelapse/Nemesis 3: Prey Harder (1995), Nemesis 4: Death Angel (1996), Omega Doom (1996) and Adrenalin: Fear the Rush (1996). In this case, Pyun made Cyborg for Israeli producers Menahem Golan and Yoram Globus who had made a great many action films featuring Chuck Norris and Charles Bronson throughout the 1980s.
Cyborg purportedly began life intended to be a sequel to Golan-Globus's Masters of the Universe (1987) but was changed after Masters of the Universe flopped. The original cut of the film was construed as more of a pure science-fiction film set in a dark collapsed future. This was not greeted favourably by Golan-Globus and so, purportedly at Jean-Claude Van Damme's insistence, it was recut and additional action scenes added to give it an almost pure martial arts emphasis.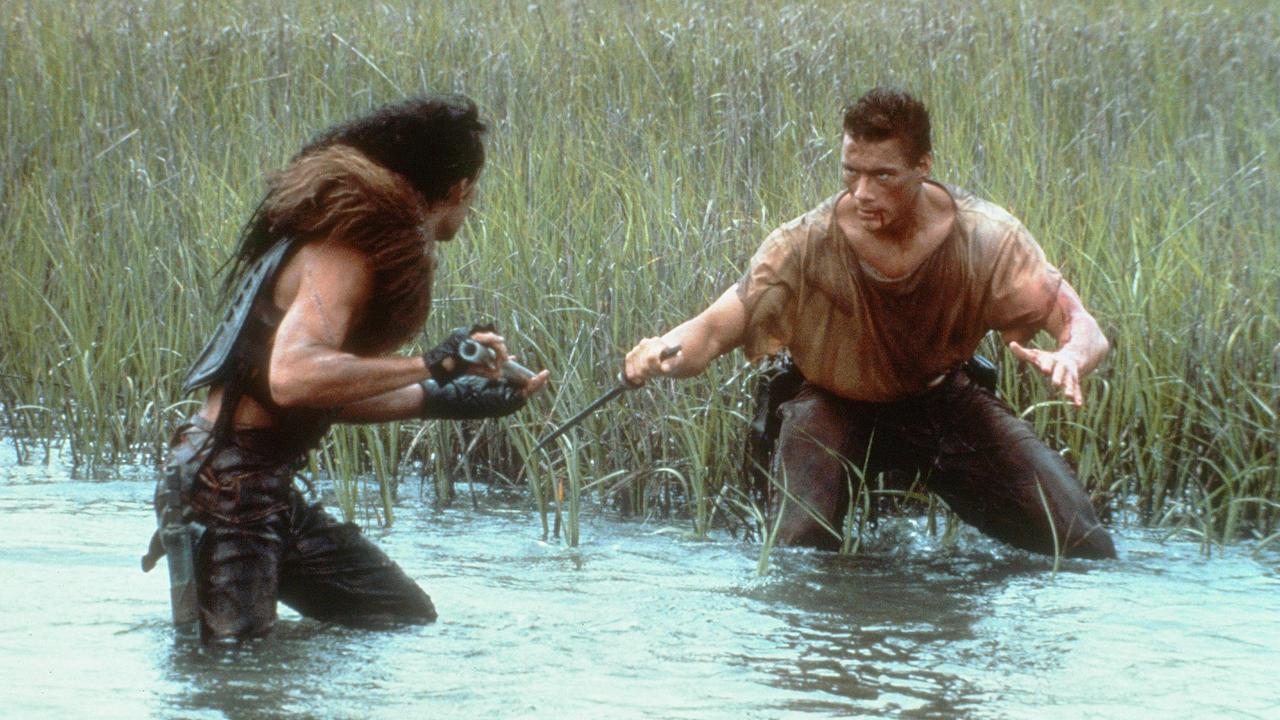 As became the formula with most of Albert Pyun's later films, Cyborg features a star recruited from the martial arts/kickboxing world taking on cyborgs/androids (which are always interchangeable terms in Pyun's films) in a post-holocaust setting. In this case, the martial artist that Pyun recruited was Jean-Claude Van Damme who was then not the superstar he became a couple of years later and was making a good deal of B-budget action fodder like this.
Pyun certainly creates wall-to-wall action without let-up. He shoots with an overuse of slow-motion while filling the soundtrack with strident washes of synthesizer sound, something that makes for interestingly stylised approach to the action. However, there is no plot to hold any of it together – the film merely stumbles from one action sequence to the next. The action scenes go so far beyond the bounds of credibility that by the end the numbing chaos of wall-to-wall gymnastics leaves nothing of interest other than the pure mechanics of the ludicrous 'hi-yaing'. As in Pyun's debut film, The Sword and the Sorceror (1982), the film contains a scene where the hero of the piece is crucified and has to tear his own nails out.
While Jean-Claude Van Damme has some nifty, lithe moves, he is so insipid and inexpressive as a character that what dialogue scenes there are are left high and stranded. Vincent Klyn looks cool in his sunglasses but the wide-eyed and seemingly inexhaustible roar he delivers his performance at the top of reduces him as a villain to nothing more than a brute monster like Jason Voorhees. Cyborg must also be the first film where the characters are named after brands of guitar.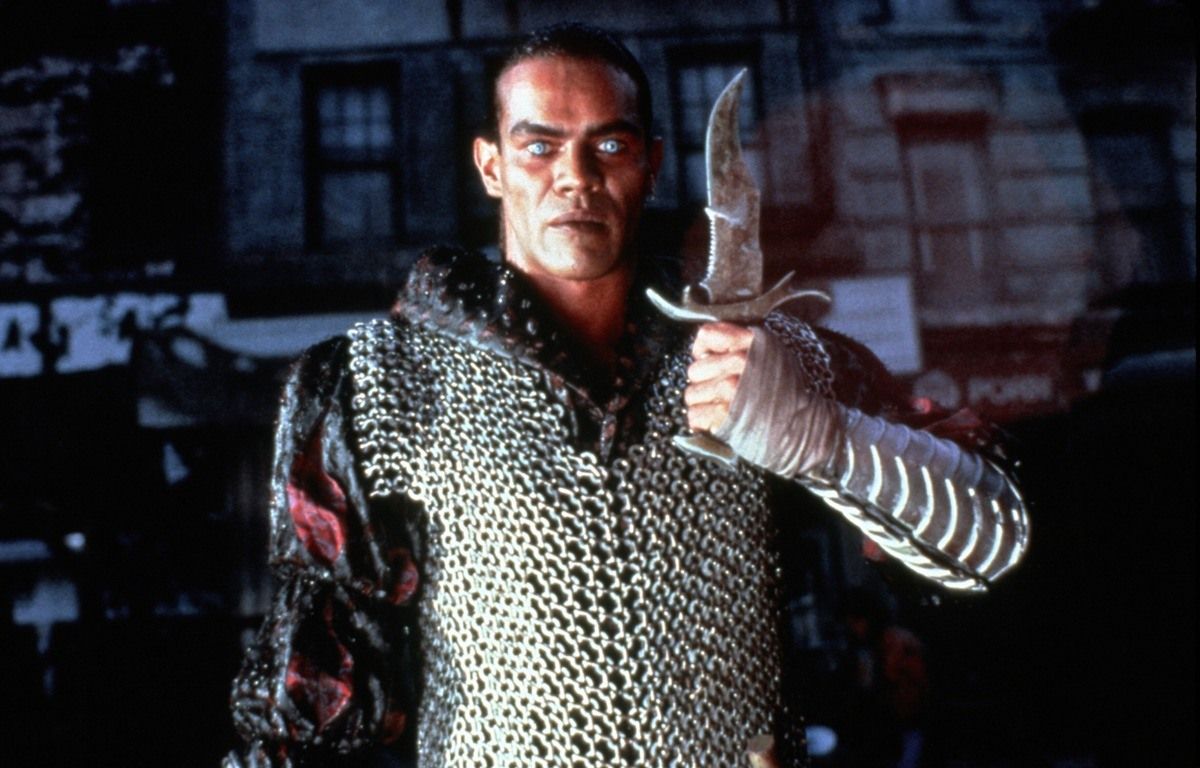 There were several sequels, which only have the slightest connection to this – Cyborg2: Glass Shadow (1993) and Cyborg3 (1994), both of which are superior to this and reasonably worthwhile films.
Albert Pyun's other films are:– The Sword and the Sorceror (1982), Radioactive Dreams (1986), Vicious Lips/Pleasure Planet (1987), Alien from L.A. (1988), the uncredited Journey to the Center of the Earth (1988), Deceit (1989), Captain America (1990), Dollman (1990), Brain Smasher: A Love Story (1993), Knights (1993), Nemesis (1993), Arcade (1994), Heatseeker (1995), Hong Kong 1997 (1994), Nemesis 2: Nebula (1995), Nemesis 3: Timelapse (1995), Adrenalin: Fear the Rush (1996), Nemesis 4: Death Angel (1996), Omega Doom (1996), Postmortem (1998), Ticker (2001), Infection (2005), Cool Air (2006), Bulletface (2007), Left for Dead (2007), Tales of an Ancient Empire (2010), The Interrogation of Cheryl Cooper (2014) and Interstellar Civil War (2017).
---
---