aka Tarzan vs IBM
(Alphaville, Un Etrange Aventure de Lemmy Caution)
---
Crew
Director/Screenplay – Jean-Luc Godard, Based on the Character Created by Peter Cheyney, Producer – Andre Michelin, Photography (b&w) – Raoul Coutard, Music – Paul Msraki. Production Company – Chaumiane/Film Studio.
Cast
Eddie Constantine (Lemmy Caution), Anna Karina (Natasha Von Braun), Akim Tamiroff (Henry Dickson), Howard Vernon (Professor Von Braun/Leonard Nosferatu), Jean-Andre Frechi (Professor Eckel), Jean-Louis Comolli (Professor Jeckel)
---
Plot
Secret agent Lemmy Caution drives to the planet Alphaville in his Ford Galaxie. He is on a mission to find Professor Von Braun, inventor of a death ray. There Caution finds that Alphaville's ruling computer Alpha 60, created by Von Braun, maintains iron-handed control, forbidding all emotion. After falling in love with Von Braun's daughter, Caution determines to stop the computer's tyranny.
---
The French Nouvelle Vague or New Wave movement of the 1960s was as much a cinematic as an intellectual revolution. Its proponents did not come from the studio system like their Hollywood contemporaries but were fed on Marxism, critical theory and watching Hollywood pulp movies of the 1940s. One of the principal cornerstones of the New Wave was director Alain Resnais and novelist Alain Robbe-Grille's Last Year in Marienbad (1961), which fairly much set the template for the films that would follow.
New Wave cinema consciously defied traditional narrative and frequently broached surrealism and all manner of disjunctive stylistic effects. In works such as Last Year in Marienbad, Resnais's Hiroshima Mon Amour (1959) and Je T'aime, Je T'aime (1968) and Chris Marker's La Jetee (1962), there is an overriding sentimental attachment to lost memory; the films have a frequent leftist political agenda; often a bafflingly dry intellectual sense of humour; and frequently collapse into pretension. One of the New Wave's leading lights was Jean-Luc Godard, who made one of the key films of the New Wave with his anarchic noir reworking of American crime realism in Breathless (1959).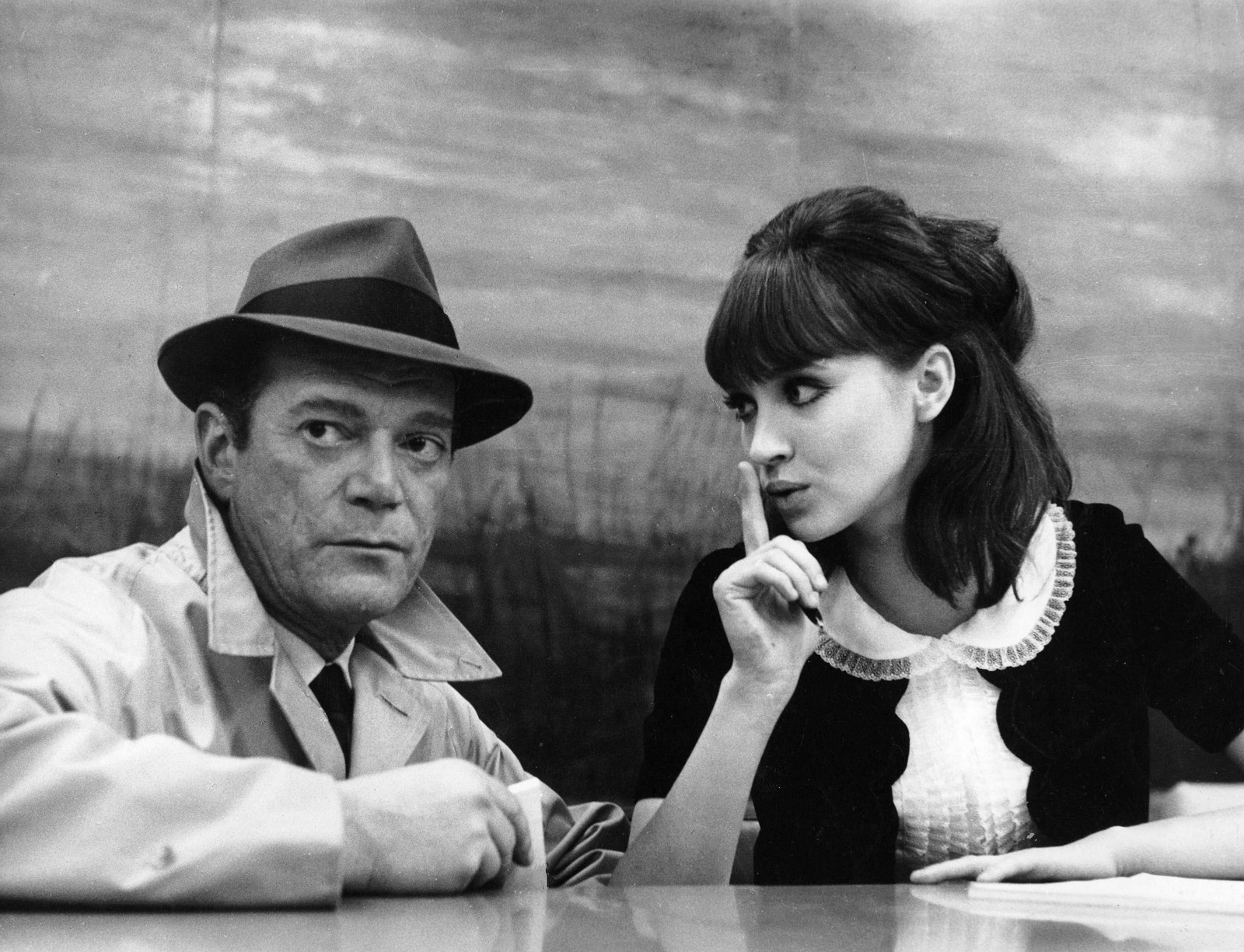 Jean-Luc Godard, like most of the French intellectual fringe of the 1960s, has a compulsive fascination with popular culture. Alphaville is one of Godard's most eccentric indulgences, a vague discourse through film noir convention – Lemmy Caution was originally a hard-boiled detective hero that Eddie Constantine played in seven French B-movies beginning with Poison Ivy (1953) – and science-fiction cliches. Eddie Constantine with leathery unsmiling mien, hunched in raincoat, becomes for Godard a cartoon caricature, played for slapstick.
Godard throws in random scenes of casual violence directed in still frames or without sound. The film is littered with nonsensical comic-book and movie references – "Did they kill Dick Tracy?" asks Caution at one point, "Yes, and Flash Gordon" is the answer; there are two scientists called Heckle and Jekyll, Von Braun renames himself Nosferatu and Constantine is attracted to Anna Karina because "her smile and little pointed teeth reminded me of the old vampire movies" – that seem to serve some obscure point that escapes this author. As does the intercutting of footage printed in negative during the climactic chase.
The anti-machine tirades seem to go on and on and on and are scarcely original territory – Godard steals the idea of the Newspeak Bible direct from George Orwell's Nineteen Eighty-Four (1949). However, there are times that the gags Godard spices the film with have a certain droll amusement – like the machine that asks Eddie Constantine to insert a coin then returns him a card that simply states "Merci."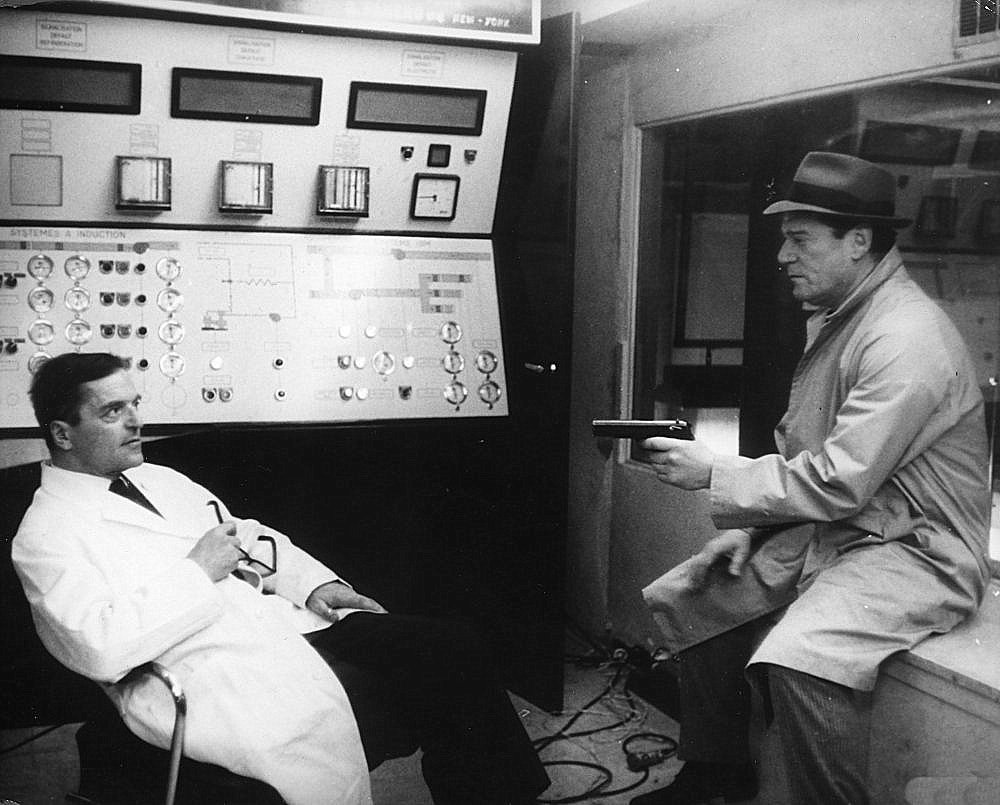 The film's great joke on science-fiction is that the so-called planet Alphaville is just contemporary [1965] Paris. The 'intersidereal space' that Eddie Constantine is said to be travelling through in his Ford Galaxie spaceship in the opening moments looks suspiciously like a car driving down a motorway. Elsewhere, Godard litters the film with amusing gags like having fluorescent lights flicker on and then the omnipresent computer voice announces that it is dawn. It's a rather droll and quite funny joke.
Jean-Luc Godard has ventured into genre territory upon a number of other occasions. Check out RoGoPaG (1962), a continental anthology film to which Godard contributed a surreal segment portraying Paris after the nuclear holocaust; Weekend (1967), a surreal vision of social collapse; the Anticipation segment of The Oldest Profession in the World (1967) about an alien visitor meeting a prostitute of the future; Hail Mary (1984), Godard's controversial modern version of the Immaculate Conception; and Oh, Woe is Me (1993) in which a god may have appeared to have sex with a woman.
---
Trailer here
Fan-made trailer here gives a somewhat better idea of the film:-
---