---
Crew
Director/Screenplay – Jordan Galland, Producers – Milan Chakraborty, Dan Farah, Jordan Galland & Carlos Velazquez, Photography – Chris Lavasseur, Music – Sean Lennon, Visual Effects – Panoptic, Production Design – Lucio Seixas. Production Company – Attic Light Films/Farah Films/Offhollywood Pictures/Cloud 9 Film Partners.
Cast
Kris Lemche (Fridge/Brendan), Brooke Nevin (Claudel), Joey Kern (C-Thru), Danny Masterson (Jimmy Fontaine), John Ventimiglia (Shrink), Christine Evangelista (Emily), Carlos Velazquez (Moon Dog)
---
Plot
The tide of public opinion has turned against superheroes and Congress is about to pass a bill cutting funding to them. Fridge, a superhero who has the power to freeze things, is called up to a motel in The Hamiltons on a covert assignment by his colleague C-Thru. Fridge is conflicted – as Fridge, he has been having an affair with Emily, the girlfriend of his day-to-day alter ego, the loser artist Brendan. He now decides to dump her for being unfaithful. While dressed as Brendan, he meets and strikes up an attraction to the motel clerk Claudel, although she regards Fridge as a jerk. Emily then shows up, causing problems for both he and Fridge as he tries to keep his two identities apart. Meanwhile, Shrink, the super-villain that C-Thru keeps imprisoned in his motel room, holds secrets about the death of Fridge's parents. However, C-Thru and their employers the Supercorps have not been truthful about the reasons for having brought Fridge there.
---
The superhero spoof became all the in-thing following the success of Pixar's The Incredibles (2004). Its success was followed by a number of films based around the comedic potential of superheroes in everyday situation – having to attend school in Sky High (2005) and Zoom: Academy for Superheroes (2006); superhero dating in My Super Ex-Girlfriend (2006); the redemption of a burned-out superhero in Hancock (2008); and a plethora of films based around superheroes who have no powers or are deluded individuals who believed they were superheroes with the likes of Special (2006), Defendor (2009), Griff the Invisible (2010), Kick-Ass (2010) and Super (2010).
In a similar vein, Alter Egos is a superhero comedy. The film derives a good deal of mileage out of the central character (Kris Lemche) and his dilemma. This takes the perpetual romantic triangle of the Superman comic-book – where Lois Lane desires Superman while his day-to-day alter ego as Clark Kent is perpetually pining after her only to be ignored – one step further. Here Kris Lemche's alter ego is a loser artist who decides to spice his sex life up by having an affair with his girlfriend (Christine Evangelista) in his superhero guise. This leads to a series of amusing complications when he decides to break up with her because she is being unfaithful to him with his alter ego, at the same time as he finds another girl (Brooke Nevin) who prefers his day-to-day alter ego but dislikes his superhero guise. The middle of the film holds some amusing comedic contortions as he is forced to slip back and forward between different guises for his date with Brooke Nevin at the same time as Christine Evangelista turns up at the motel.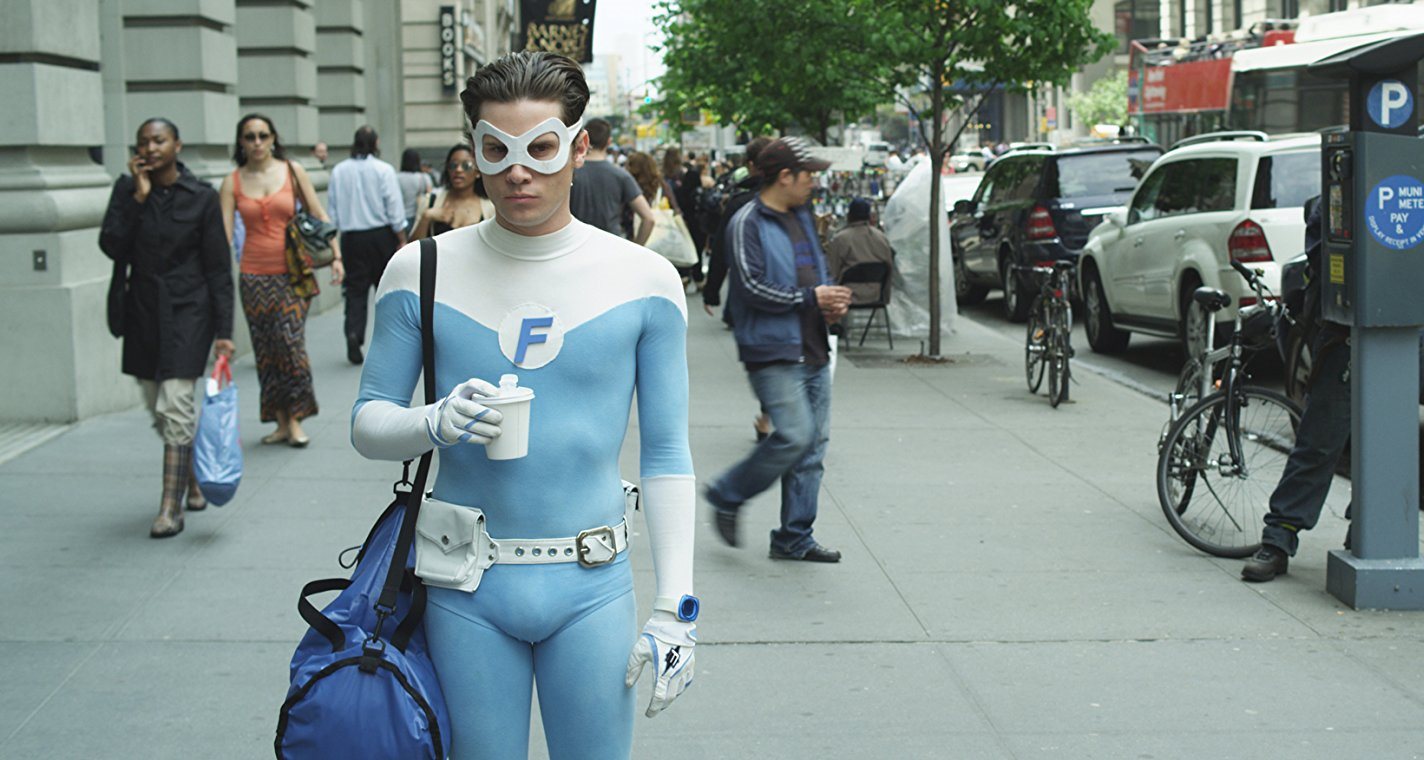 On the other hand, Alter Egos is a film that is funnier in the way it reads on the script page than any of it ever translates into laughs on the screen. The film has been made as a typical indie film where it seems the concept of something being placed together to result in a gag on screen is held in anathema. Everything takes place in an oblique deadpan played in straight face by its cast that leaves you feeling "this should have been funny, I should have laughed at that." The film conducts some energetic contortions of plot but none of it ever comes together in a way that produces anything more than a vague smile.
The film also suffers from a low-budget. This need not be a problem – except perhaps when it comes to a superhero film. What it means is that we get a film that has been shot in a mundane way and is almost entirely lacking in superheroic exploits. There is the odd effect of powers in action such as when Kris Lemche uses his freezing blast or Joey Kern looks through walls but these are only cheaply produced digital effects. You get the impression that Jordan Galland and his crew obtained the use of a motel in The Hamiltons and that the film was conceived around the use of the location.
Jordan Galland had previously directed the zombie comedy Rosencrantz and Guildenstern Are Undead (2009) and subsequently went on to make the possession comedy Ava's Possessions (2015). Galland is better known as a musician and plays guitar/is lead singer for the band Dopo Yume, while he has also composed music for several other films and tv series.
---
---