---
Canada. 2017.
Crew
Directors/Screenplay – Caroline Labreche & Steeve Leonard, Producers – Benoit Beaulieu, Anne-Marie Celinas & Jean Du Toit, Photography – Simon Villeneuve, Music – Benoit Charest, Visual Effects Supervisor – Jean-Francois "Jafaz" Ferland, Visual Effects – Alchemy 24 (Supervisor – Dimon Beaupre), Special Effects Supervisor – Ed Preston, Production Design – Maryam Decter. Production Company – EMAfilms/Peripatetic Pictures/Epic Pictures Group/Filmoption International/Title Media/Telefilm Canada/Super Channel
Cast
Diego Klattenhoff (Liam Hartwell), Charlotte Sullivan (Jane/Rose Daerwood/Lily Grayson), Brett Donahue (Sam Daerwood), Kristen Sawatzky (Female Cop)
---
Plot
A man wakes up in a crashed car with no memory of how he came to be there or even who he is. As he walks into the nearest town, people and animals anywhere near him go white eyed and collapse dead. Believing he is the cause of this, the man holes up in the shed of a farmhouse. News reports postulate a biological attack of unknown origin. A woman then comes to the farmhouse and approaches the man unharmed. The woman, who likewise has amnesia, believes he is a Liam Hartwell and that they were together at the crash. He demonstrates the killing ability to her but believes it is negated when the two of them are within a thirty foot radius of one another. Momentary flashes of memory start to come back to both of them. They go to the local hospital to try and find a solution, only for the building to be surrounded by police hunting Liam, believing he is responsible for the mass deaths around the town. As the two flee as wanted fugitives and go into hiding, they struggle to stay within the safe radius and not cause any further deaths, at the same time as their returning memories reveals the two were caught in an event of extra-terrestrial origin and disturbing truths about their own pasts.
---
Radius was the second film from the directing duo of Caroline Labreche and Steeve Leonard who hail from Montreal. The two had previously made the French-language Lost Cause (2009) about a man haunted by the ghost of his older self imploring him to change his ways.
I have always been a sucker for anomaly films. By this I mean films that act as puzzleboxes where the protagonists wake up in a world that has been drastically changed, where they have no memory of who they are or find themselves in an alien landscape with no knowledge of the rules by which things operate any more. You can cite films like Stalker (1979), Cube (1997), Open Your Eyes (1997), Dark City (1998) and Oblivion (2013).
Probably the work I was reminded of the most in watching Radius is The Quiet Earth (1985). Although the two films eventually have very different explanations for what is going on, there is the same set-up in both of a man waking up with no idea how he got there and finding everybody else around him dead or disappeared, before eventually meeting a girl who is the same as he,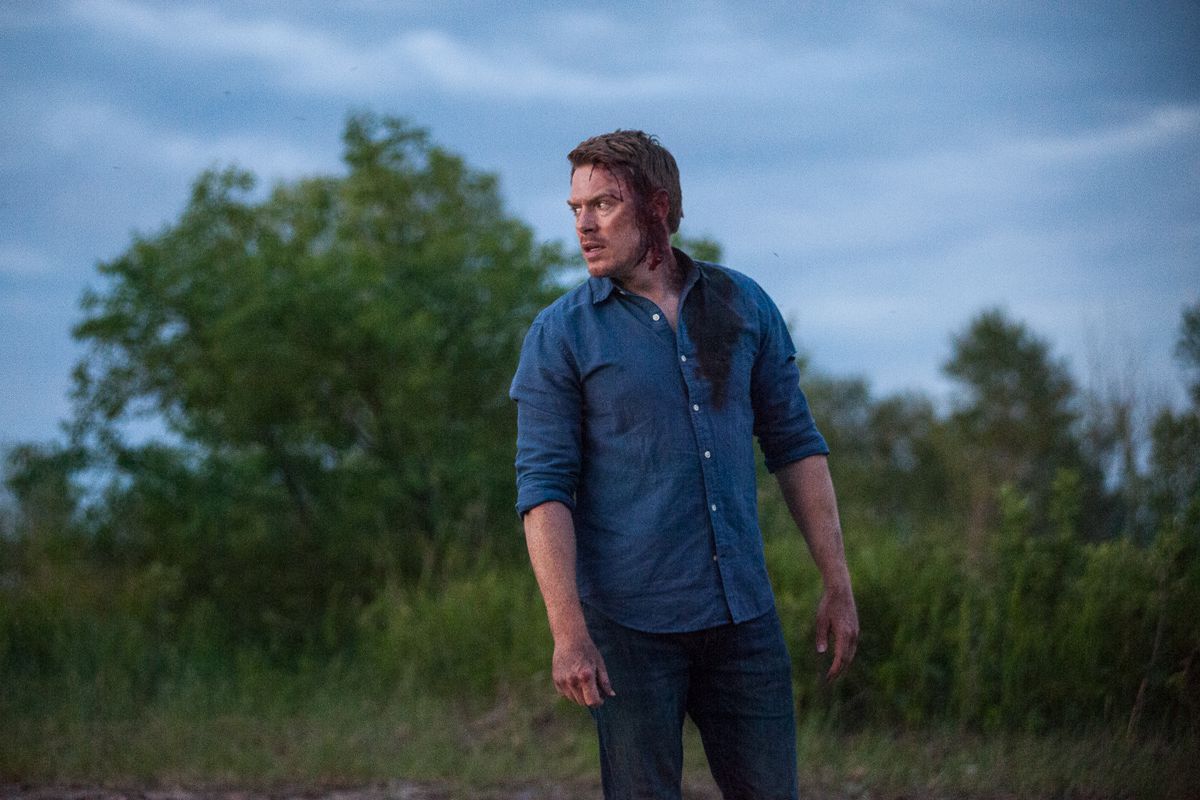 Radius holds you to it from its puzzling opening as Diego Klattenhoff wakes up on the outskirts of town as a woman in an SUV passes and then abruptly crashes off the road, before he goes to make a 911 call to help her and realises he does not even know his own name. In the town, all around him he finds people dead with their eyes turned blank white. Hiding at a farmhouse, he discovers that whenever someone approaches within a certain distance of him, they drop dead, while all across the news are reports of a mystery epidemic.
With the introduction of Charlotte Sullivan, the film becomes something more akin to the sf film Wedlock (1991), which had a couple on the run with bombs implanted in their bodies that will explode if they move too far apart. Labreche and Leonard are constantly putting twists on the situation – leaving us uncertain who Charlotte Sullivan might be with her husband giving one name and the Missing posters revealing she has a completely different name. There's a jaw dropping revelation towards the end that throws everything on its head as we find out [PLOT SPOILERS] what happened to her sister and the truth about who Diego Klattenhoff is.
This is the rare case of a film that even aside from any of its other virtues keeps an audience completely engrossed by its unusual and intriguing premise and fascinating whiplash reversals.
---
Trailer here
---