---
Crew
Director – Darren Lynn Bousman, Screenplay – Andy Demetrio, Shaun Fletcher, Sara Sometti Michaels & Clint Sears, Producers – Tara Ansley, Sara Sometti Michaels, Seth Michaels & Srdjan Stakic, Photography – Joseph White, Music – Mark Sayfritz, Makeup Effects – Toby Sells, Production Design – Molly Coffee. Production Company – St Agatha, LLC.
Cast
Sabrina Kern (Mary Addison/Agatha), Carolyn Hennesy (Mother Superior), Courtney Halverson (Catherine), Hannah Fierman (Sarah), Trin Miller (Laura), Lindsay Seim (Doris), Justin Miles (Jimmy), Jayson Warner Smith (Mary's Father), Seth Michael (Father Andrew), Shaun Fletcher (Deputy Earl), Marsha Berger (Sister Susan)
---
Plot
In 1957, Mary Addison is forced to take refuge at a Catholic convent for pregnant girls after her boyfriend Jimmy abandons her. Under the authoritarian governance of the mother superior, the girls are subject to be a harsh regime and regularly punished. When Mary decides she wants to leave, the mother superior has her locked in a coffin for days. She is not allowed to emerge until she accepts that her name is now Agatha. When another girl Sarah claims that her baby was murdered, the mother superior has her tongue cut out for spreading lies. When Jimmy returns to collect her, Mary is given the choice of telling him to go or his being shot – although even when she does tell him to go she later finds his murdered body. As Mary tries to find a means of escape, she discovers the real reasons why they are kept there.
---
Darren Lynn Bousman is the director most associated with the Saw franchise. He made the first three sequels Saw II (2005), Saw III (2006) and Saw IV (2007) during which he oversaw the series' move to an emphasis on Torture Porn. Subsequent to the Saw films, Bousman went on to make Repo: The Genetic Opera (2008), Mother's Day (2010), 11-11-11 (2011), The Barrens (2012), The Devil's Carnival (2012), Alleluia! The Devil's Carnival (2016), Abattoir (2016), Death of Me (2020) and Spiral: From the Book of Saw (2021), as well as the The Night Billy Raised Hell episode of Tales of Halloween (2015).
All of these other films demonstrate that Bousman seems lost when he has attempted anything outside of the Saw films. Without a progression of sadism and torture set-pieces as their focus and with only their dramatics left to drive them, his other horror films have felt tepid and flat. He has demonstrated no ability whatsoever to stage a musical in Repo! A Genetic Opera and The Devil's Carnival. Still, Bousman keeps churning horror films out as though by trying his hand at everything he might find something that works – but in each successive case, it feels like he is making smaller and smaller films that disappear from theatrical to direct-to-dvd and cable releases and are cast with increasingly less recognisable names.
St Agatha is Darren Lynn Bousman's attempt to make a sinister convent horror film – see also the likes of The Demons (1972), Dark Waters (1993) and Saint Ange (2004). Is there is any chance that St Agatha might be a socially conscious work that exposes the institutional cruelty of Catholic schools in the 1950s? Or a film that took a sympathetic view of the plight of unwed and abandoned pregnant mothers in the era? Of course not, all is simply grist for Bousman to make a film about the cruelties inflicted on the girls in a convent, which makes St Agatha really only a better polished nunsploitation film. It is not even a film that seems to have a basic idea about Catholicism or how convents operate – for one, it has the sisters of the order taking a Vow of Silence only to then be seen regularly chattering to one another throughout.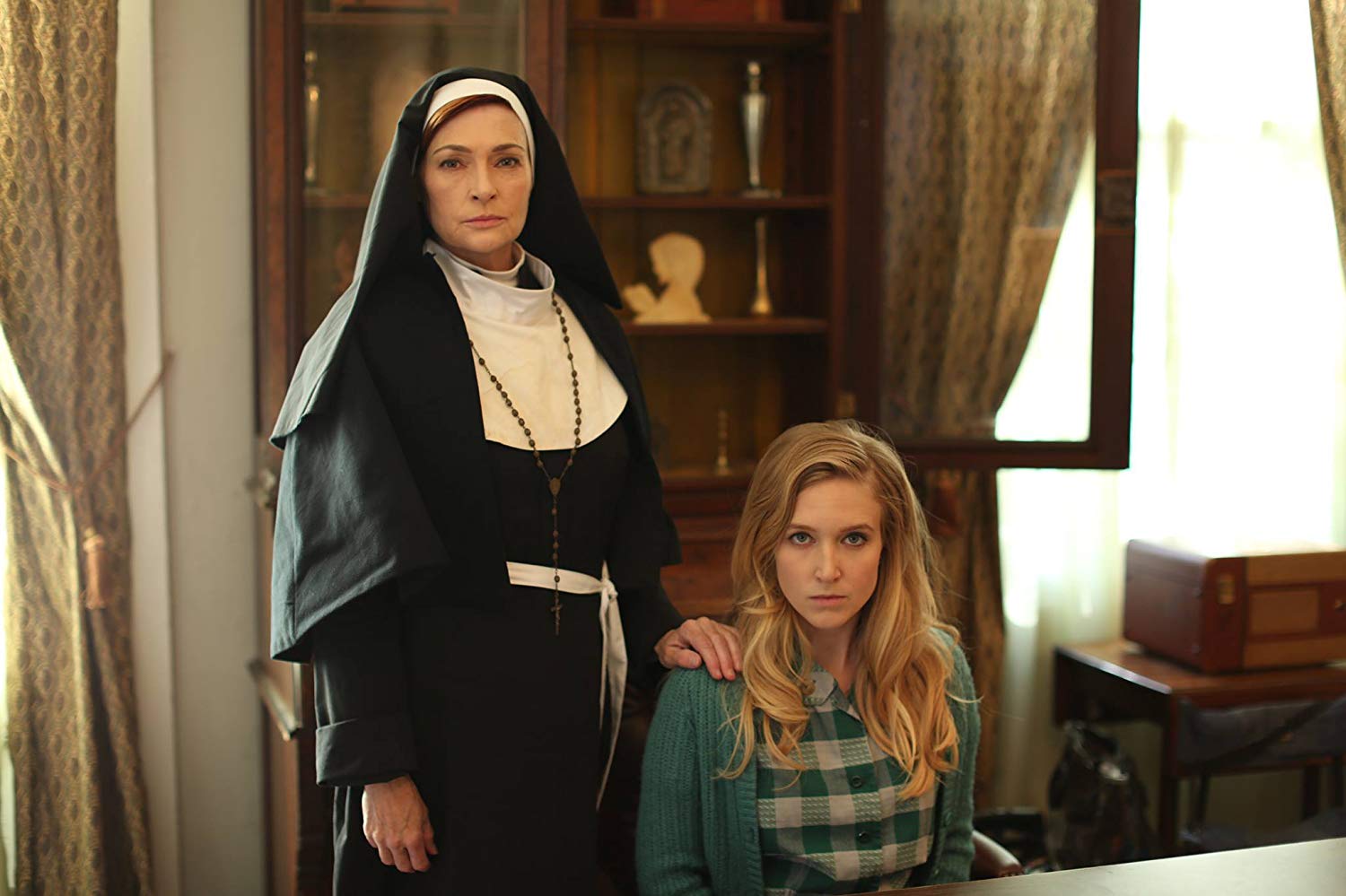 Bousman piles on the cruelties inflicted on the girls – like the Saw series, these are the only thing that drive the film. Courtney Halvorsen vomits at the dinner table with morning sickness and is told not to waste food and made to eat it up again. Sabrina Kern is locked in a coffin for several days and not released until she says her name is Agatha, during which Carolyn Hennesy decides she must be fed mother bird style and chews up food and dribbles it into her mouth. At the threat of expulsion for telling stories, Hannah Fierman cuts her tongue off with a pair of scissors – but only manages to cut it halfway off before Carolyn Hennesy grabs the scissors and finishes the job.
The plot of imprisonment, escape attempts, their foiling, followed by more punishments merely becomes tedious. Sinister effect is pumped up by pseudo-Gregorian chants that have become the cliche soundtrack for deviltry ever since The Omen (1976). By the point where the Mother Superior manages to absurdly gaslight everything that Sabrina Kern tries to tell the sheriff to make her look hysterical, the film slips off into absurd melodrama.
---
---