---
USA. 1980.
Crew
Director – John Hough, Screenplay – Brian Clemens, Rosemary Anne Sisson & Harry Spalding, Based on the Novel by Florence Engel Randall, Producers – Tom Leetch & Ron Miller, Photography – Alan Hume, Music – Stanley Myers, Visual Effects – Don Henry, Dick Kendall & David Mattingly, Additional Visual Effects – Harrison Ellenshaw, Photographic Effects – Bob Broughton & Art Cruickshank, Special Effects Supervisor – John Richardson, Production Design – Elliott Scott. Production Company – Disney.
Cast
Lynn-Holly Johnson (Jan Curtis), Kyle Richards (Ellie Curtis), Benedict Taylor (Mike Heming), Bette Davis (Mrs Aylwood), Carroll Baker (Helen Curtis), Richard Pasco (Tom Colley), Ian Bannen (John Keller), David McCallum (Paul Curtis)
---
Plot
The Curtis family rent an estate in the English countryside. The owner, the aging and reclusive Mrs Aylwood who lives in in a cottage in the grounds, initially regards them as unwelcome but changes her mind when she meets the Curtis's teenage daughter Jan. Soon after moving in, Jan and her sister Ellie are plagued by strange incidents – visions and premonitions of strange patterns and the name Karen, attacks by energy beams. The puzzle leads them to realize that Mrs Aylwood's daughter, who mysteriously vanished during a child's game of blind man's bluff thirty years before, is trapped in another dimension and is trying to contact them so that she can be rescued during the coming solar eclipse.
---
The label of kiddie ghost story is always something that holds an unmistakable suspicion of compromise to any among its adult audience and this Disney undertaking is no exception.
The Watcher in the Woods was directed by John Hough who is certainly a worthy name to be attached to a ghost story like this – he emerged with Hammer's Twins of Evil (1971) and then the haunted house classic The Legend of Hell House (1973). Alas for Hough, he made the mistake of signing up with Disney with the likes of Escape to Witch Mountain (1975) and Return from Witch Mountain (1978) and thereafter seemed to lose it. Only a matter of years later, Hough's career had slid way down to the troughs of American Gothic (1987), Howling IV: The Original Nightmare (1988) and Bad Karma (2002).
Here John Hough is a long way from The Legend of Hell House or even Twins of Evil. He spends too much time prowling his camera around the woods and only produces a series of mediocre scares. Maybe it is simply that the Disney name prevents him from letting anything get too scary. The film rises to an occasional sinisterness towards the end – Ellie's possession, the urgency of Karen's plight. However, this dissipates in an ending that demands that proceedings conclude in accustomed Disney tradition where all the sinister elements are passed over and the villains of the piece are shown to be good guys at heart.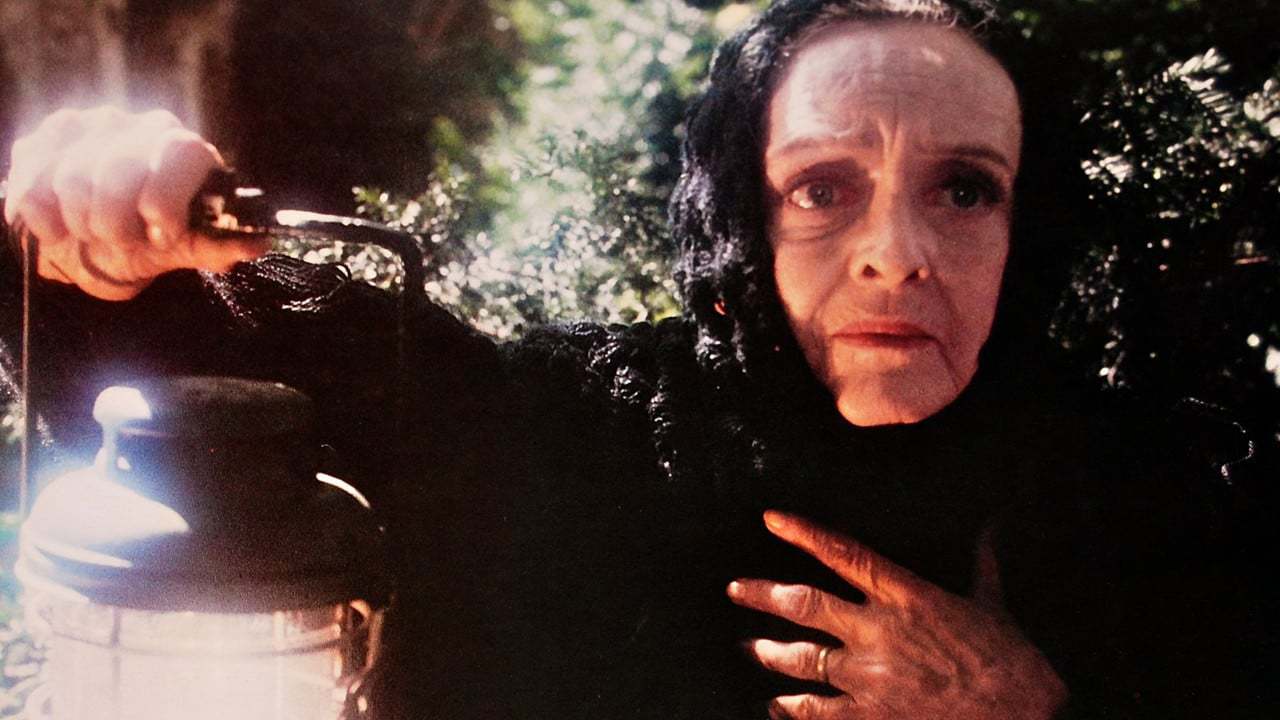 The Watcher in the Woods has an interesting premise – a ghost story that comes with a science-fictional rationalisation about other dimensions. While the idea is good in theory, most of the show is banally drawn out around a series of cryptic clues and mysterious happenings – names spelt backwards, triangle and ring shapes of light and so on.
Following a disastrous brief release in 1980, The Watcher in the Woods went back to the drawing board and had a new ending reshot at the cost of several million dollars worth of new effects, which is the version seen today. The original ending dealt more with the demonic possession of Karen (here this appears to have been watered down to make the scary elements more anodyne). There was a second ending shot that tried to make the film into something even more science-fictional and saw Lynn-Holly Johnson being carried off by an alien creature (the footage of which is available below) but this too was rejected as being unsatisfactory. The result we are left with seems like a bland compromise designed to avoid any scariness. Some of the original longer version is available on the 2002 dvd release of the film.
The Watcher in the Woods was co-scripted by British writer/producer Brian Clemens who worked as script editor on tv's The Avengers (1962-9), wrote a number of films during the English horror cycle and created series such as The New Avengers (1976-8) and The Professionals (1977-83).
---
Trailer here
---