---
UK/USA/Canada/Japan. 2006.
Crew
Director – Alfonso Cuaron, Screenplay – Alfonzo Cuaron & Timothy Sexton, Based on the Novel The Children of Men by P.D. James, Producers – Marc Abraham, Eric Newman, Hilary Shor, Iain Smith & Tony Smith, Photography – Emmanuel Lubezki, Visual Effects Supervisor – Frazer Churchill, Visual Effects – Double Negative & Framestore-CFC (Supervisor – Tim Webber), Special Effects Supervisor – Paul Corbould, Animatronics – Nick Dudman, Production Design – Jim Clay & Geoffrey Kirkland. Production Company – Strike Entertainment/Hit and Run Productions/Ingenious Film Partners 2 LLC/Toho-Towa.
Cast
Clive Owen (Theo Faron), Claire-Hope Ashitey (Kee), Pam Ferris (Miriam), Michael Caine (Jasper Palmer), Julianne Moore (Julian Taylor), Chiwetel Ejiofor (Luke), Peter Mullan (Sid), Oana Pellea (Marichka), Charlie Hunnam (Patric), Danny Huston (Nigel), Philippa Urquhart (Janice)
---
Plot
London, 2027. Britain has become a police state where brutal measures are employed to deport illegal immigrants. The world has been affected by an epidemic of infertility and it is 18 years since the last child has been born. There is mass mourning as the youngest person alive, who has become a worldwide celebrity, is murdered. Clerical worker Theo Faron is abducted by The Fishes, a terrorist group protesting the treatment of immigrants and refugees. This particular cell is led by Theo's former girlfriend Julian Taylor – the two were once political activists and conceived a child that died before it was born. Julian wants Theo to obtain travel papers from his influential cousin to help a young African illegal immigrant girl Kee to travel across the country. However, the plan goes wrong and Julian is shot. Kee reveals to Theo the urgency of her situation – that she is pregnant. Realising that the Fishes are planning to kill him, Theo flees with Kee and the midwife Miriam, hunted by both The Fishes and the police, as he tries to keep Kee alive and preserve her unborn child.
---
Children of Men is a strong and intelligent venture into the dystopian future theme, a mini-genre that has waned somewhat in recent years. Indeed, Children of Men could easily be a throwback to 1970s dystopian films set in infertile/breeding-restricted futures such as The Last Child (1971), THX 1138 (1971), Z.P.G. (Zero Population Growth) (1971) and Logan's Run (1976).
Children of Men comes from Mexican director Alfonso Cuaron. Since first appearing with the romantic comedy Love in the Time of Hysteria (1991), Cuaron moved into English language with the children's film A Little Princess (1995) and the modernised Great Expectations (1998). Cuaron returned to Mexico for the incisively charged teen sexuality film Y Tu Mama Tambien (2001), which proved an international arthouse hit, and was then selected as director of Harry Potter and the Prisoner of Azkaban (2004), which is generally regarded as the best of the Harry Potter films. Subsequent to this, he went on to make the huge hit of Gravity (2013) and the critically celebrated Roma (2018). In all of these films, Cuaron shows an effortless ease at being able to move between genres – be it children's fantasy, frothy or serious romantic comedy, big budget special effects fantasy, raw portraits of youth or (as here) bleak depictions of the future.
Children of Men is based on the novel The Children of Men (1992) by British crime writer P.D. James, best known as the creator of Inspector Dalgleish. Children of Men has a number of similarities to another dystopian film that came out the same year – V for Vendetta (2006). Both Children of Men and V for Vendetta are dystopias set in Britain under a totalitarian police state (rather than in America where most filmed dystopias are located). Both films follow a revolutionary movement in the process of happening. More importantly, both films are adapted from the print medium but subtly alter the source work to reflect contemporary political concerns. V for Vendetta turned Alan Moore's original graphic novels, which contrasted the differing ideals of totalitarianism and anarchy, into a polemic about contemporary US politics. Likewise, Children of Men turns much of P.D. James's novel towards modern political issues.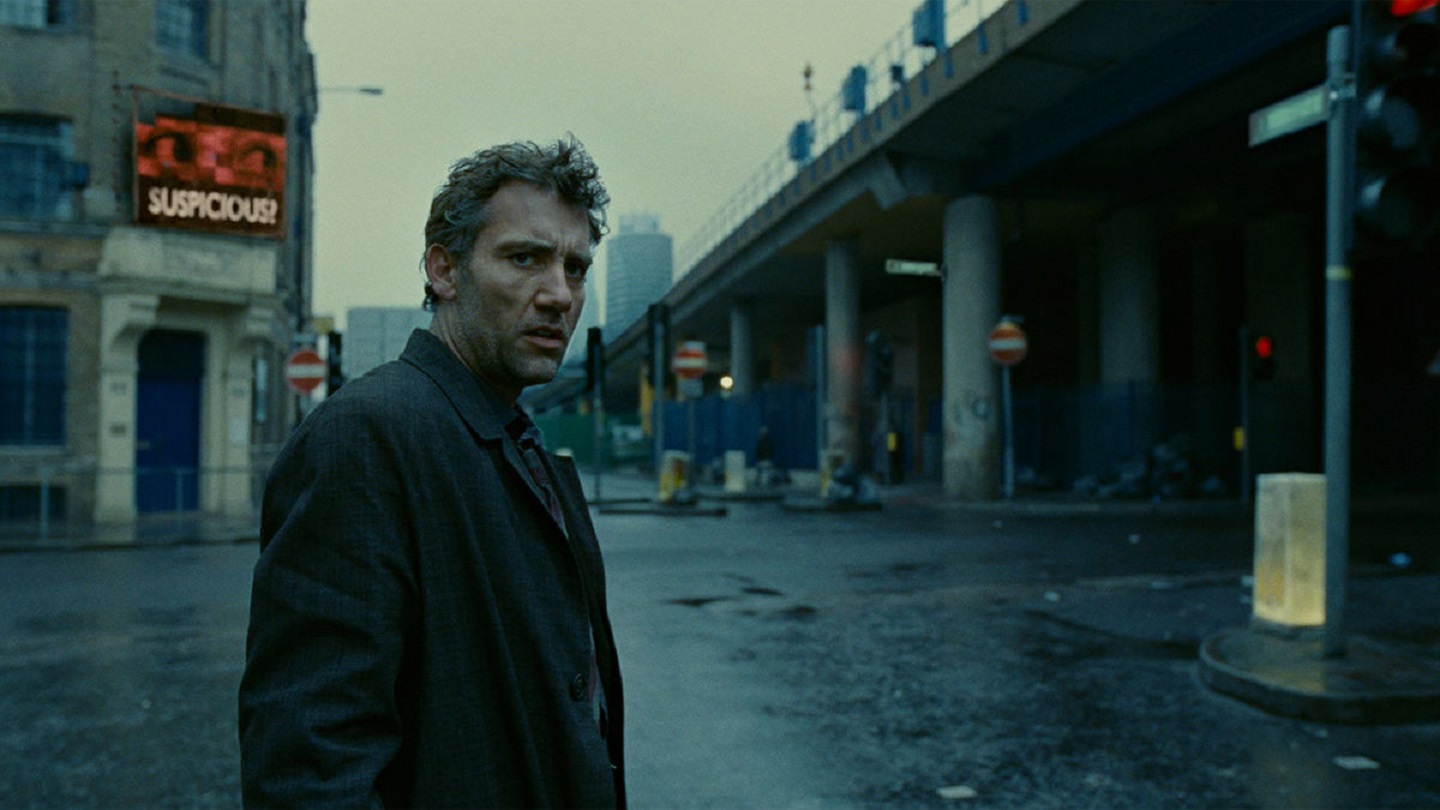 In the book, Clive Owen's Theo is an academic, not a bureaucrat. The film also invents an entire back relationship between him and Julian and their dead child. More importantly, P.D. James goes far more into the background of the future in the novel, detailing the rise to power of the dictator (who is Theo's cousin). On the other hand, the issue of illegal immigration plays a much bigger role in the film. In fact, in the book the totalitarian society encourages immigrants from other countries who are then used as slave labour in menial jobs and forced to live in camps outside the city. The concentration camp does feature in book (located on the Isle of Man rather than at Bexhill), although this was an area where all criminals were abandoned and left to fend for themselves – akin to Manhattan Island in Escape from New York (1981) – not just immigrants.
In effect, the film version makes the background to P.D. James's totalitarian future more vague, while emphasising issues of contemporary concern – the conservative (not just British but European-wide) dislike of an open door policy towards refugees and economic migrants, the ever-present threat of terrorism and the fear of a police state growing after various suspensions of civil liberties ostensibly in the name of terrorism that came in under Prime Minister Tony Blair.
In the opening scene, Alfonso Cuaron does a superb job of setting the scene, all without coming out and directly saying anything. He opens on a tv news bulletin on the "BCC" (about as near to the Britain's national broadcasting system the BBC he was able to get without infringing copyright) and talk of how the Homeland Security Act has just been passed in the UK, mention of the deportation of illegal immigrants, before we move back into a cafe with people gathered watching as a news item comes on about the stabbing and death of the youngest person alive (aged eighteen), which has resulted in a mourning that Cuaron has clearly modelled on the public grief after Princess Diana's death.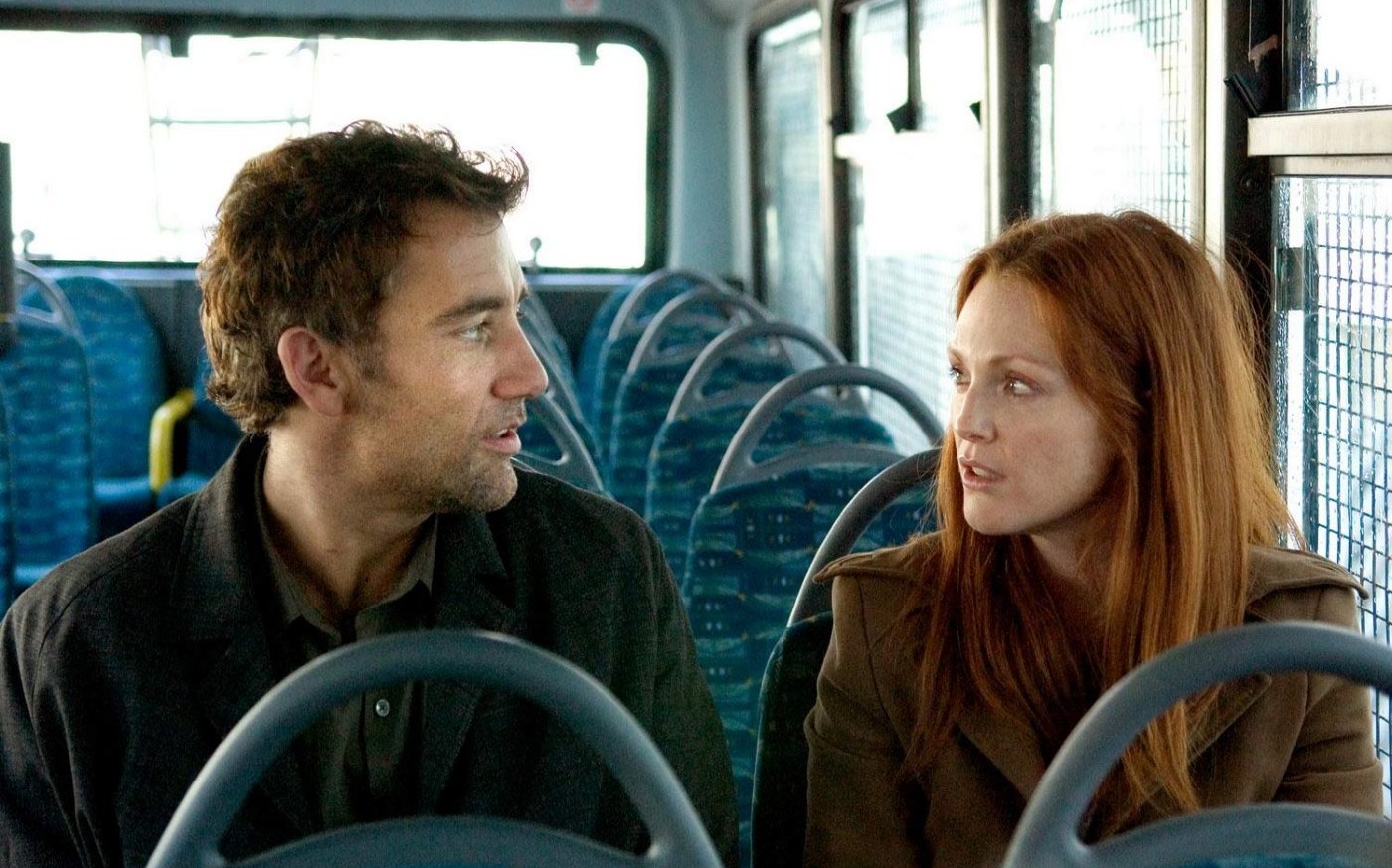 The unusualness of these casually littered details immediately catches our attention and signals that we are in a very different world to anything familiar. We then follow Clive Owen out of the cafe and into the street where we see further changes – the streets populated by rickshaws, video ads that fill whole walls or are projected along the sides of traditional Double Decker buses – before the scene is abruptly shattered by the explosion of a bomb in the cafe that Owen has just exited. It is a dazzling scene where Alfonso Cuaron does a superb job of dropping us into the midst of a drastically altered near future without coming out and lecturing about anything, merely allowing his background to speak all he needs to about this world.
This portrait continues a few scenes later where Clive Owen travels to meet Michael Caine in the countryside – where groups of people (it is never specified who these are) angrily throw rocks as Owen sits inside a train carriage and when he exits onto the platform we see dozen of peoples (possibly refugees but the film never specifies) being held in cages on the platform by armed guards, or during the journey through the countryside we see fields filled with the corpses of burnt horses.
It is an extraordinary richness of information that Alfonso Cuaron keeps throwing at us – a casual glide past Hyde Park shows people in burnooses walking camels amid the revellers. There are even sly jokes packed in amidst this – of seeing Michelangelo's David with a leg prosthesis or a life-size mock-up of the flying pigs over the Battersea Power Station from the cover on Pink Floyd's Animals (1977). Most of all, the film does an excellent job of transplanting us into a world that is noticeably different to our own but where those that live in it react to it in perfectly natural ways – there is something lovely to the scenes where Claire-Hope Ashitey sits wondering "It takes nine months? … I've never even seen a pregnant woman before" or of visiting a school that has simply been abandoned because there is no longer any use for it.
Both this vision and the casual violence that Alfonso Cuaron throws at us throughout hold an astonishing bleakness. (Children of Men reminds somewhat of Kathryn Bigelow's Strange Days (1995) and its despairingly nihilistic portrait of the millennium). Most of the photography throughout is shot raw and naturalistic. Cuaron does a fine job of generating suspense – especially during a sequence where Clive Owen tries to escape from the Fishes with Pam Ferris and Claire-Hope Ashitey in a car that won't start and he is forced to push-start it down a long driveway.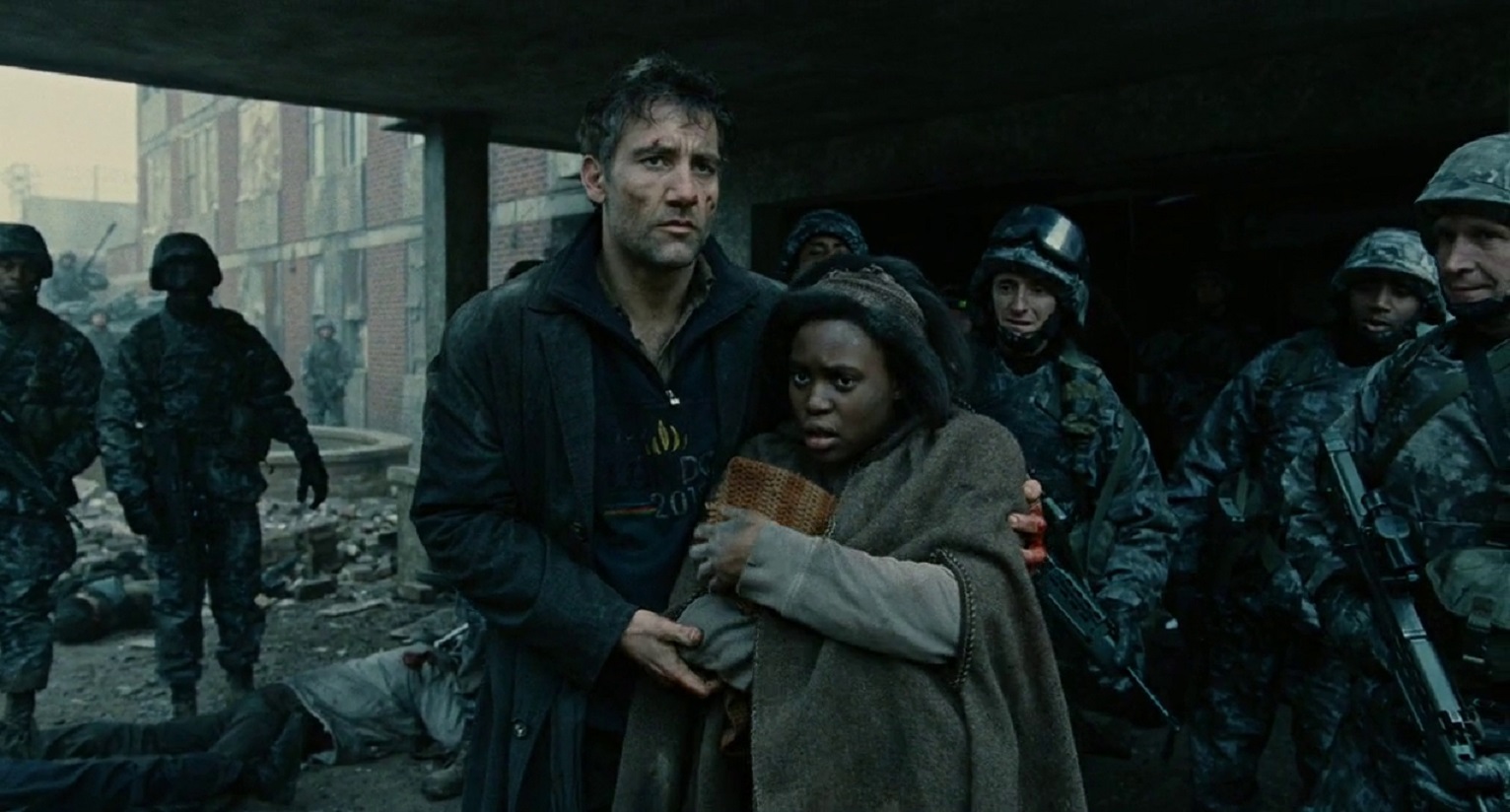 Curaon's tour-de-force is the last twenty minutes of the film where we enter the internment camp, which is portrayed as being somewhere between the desolation of the Warsaw ghettos of World War II and a modern Palestinian refugee camp. Cuaron's raw handheld camerawork and depiction of a war zone erupting around Clive Owen and Claire-Hope Ashitey as they try to avoid bullets and get to safety is superb, none the more so than the moment she gives birth and the camera follows her through the camp carrying the baby as freedom fighters, innocents bystanders and soldiers fall to their feet in wonder at the sight.
Clive Owen – who is, I think, one of the most underrated actors in the world at the moment – plays a part that offers a perfect balance of sympathy and world-weary resignation. There are other fine performances from Claire-Hope Ashitey, the also greatly underrated Pam Ferris who is fine as a hippie midwife, and from Julianne Moore who plays with an intelligent hard-headed capability.
Alfonso Cuaron next returned to the science-fiction genre with the space mission disaster film Gravity (2013). He has also created and produced the short-lived tv series Believe (2014) about a young girl with psychic powers on the run, as well as produced the true life psycho film The Assassination of Richard Nixon (2004), his son Jonas's film Desierto (2015) about a white vigilante hunting Mexican illegal immigrants through the desert and Robert Zemeckis's remake of The Witches (2020).
(Winner in this site's Top 10 Films of 2006 list. Nominee for Best Director (Alfonso Cuaron), Best Adapted Screenplay, Best Actor (Clive Owen) and Best Actress (Julianne Moore) at this site's Best of 2006 Awards).
---
---