---
Crew
Director/Screenplay – Sophie Barthes, Producers – Daniel Carey, Elizabeth Giamatti, Paul S. Mezey, Andrij Parekh & Jeremy Kipp Walker, Photography – Andrij Parekh, Music – Dickon Hinchcliffe, Music Supervisor – Tracy McKnight, Production Design – Beth Mickle. Production Company – Samuel Goldwyn Films/Two Lane Pictures/Winner Arts/Journeyman Pictures/Touchy Feely Films/Memento Films/Arte France Cinema.
Cast
Paul Giamatti (Himself), Dina Korzun (Nina), David Strathairn (Dr D. Flintstein), Emily Watson (Claire Giamatti), Sergey Kolesnikov (Dimitri), Katheryn Winnick (Sveta), Lauren Ambrose (Stephanie), Michael Tucker (Frank)
---
Plot
Actor Paul Giamatti feels depressed and weighed down by life while rehearsing for the lead in a stage version of 'Uncle Vanya'. A friend recommends him to The Soul Storage Company, a commercial operation that can remove and store the soul. He signs up to have the operation but is disappointed to find that his extracted soul only looks like a chickpea. Left with five percent residual of his soul, he feels untroubled or emotionally moved by anything. However, his wife finds him different, he has no desire to make love to her and makes unfeeling comments about others without realising it. He decides he needs his soul back but is persuaded to have a different soul implanted, one of the souls that the company buys on the cheap from Russia. He chooses a Russian poet's soul, unaware that the Russian blackmarket operation has substituted the soul of a poor woman factory worker. Meanwhile, Sveta, the wife of Dimitri, the head of the Russian operation, wants to be an actress and decides that she needs the soul of a famous American actor. Nina, the mule who transports the souls to New York, sneaks into the company's office and steals Paul's soul, the only actor they have on their books. When Paul finds what has happened, he travels to St Petersburg with Nina to retrieve his soul, only for Dimitri to refuse to give it back.
---
Cold Souls was a modest arthouse hit in 2009. It first appeared at that year's Sundance Film Festival and then played a lengthy list of international film festivals. Cold Souls was the feature-length directorial debut of newcomer writer-director Sophie Barthes who had previously only made three short films. In an interview, Barthes explained that the idea for the film came to her in a dream in which she was sitting alongside Woody Allen and had her soul removed, only for it to look like a chickpea. She then wrote her dream into a screenplay. After first having the idea of inveigling Woody Allen to play the central role but deciding she never could, she pushed the script into Paul Giamatti's hands at an awards event. The film received international funding and was chosen to be workshopped at Sundance Director's Lab.
Cold Souls has a solid science-fiction idea – the removal and transplant of souls – that makes it fall into a category of conceptual (as opposed to action and spectacle driven) science-fiction films. You could cite other similar examples such as Gattaca (1997) or Surrogates (2009), which are all 'What If?' idea-driven science-fiction films. Perhaps the film that Cold Souls comes the closest to is the little known Canadian science-fiction film Xchange (2000) about a future where swapping minds between bodies is commonplace only for the hero to be left trapped in different hosts as he tries to get his original body back. Although more so than all of these was the regular mind-swapping that went on in tv's Dollhouse (2009-10), which regularly dealt with the fascinating permutations and problems that such exchanges and transplants can create.
If Cold Souls were mounted as a more genre-identifying science-fiction film, it would almost certainly be played out as a thriller, probably filled with numerous action and suspense scenes with Paul Giamatti racing around St Petersburg and sneaking into facilities as he attempts to get his soul back – what comes to mind is something like Self/less (2015). The extraction process would come accompanied by special effects and awe-filled choruses as the soul is finally seen. The character of Sergey Kolesnikov's Dimitri would have been built up as the villain of the show and there would have been a big climactic confrontation between him and Paul Giamatti in a to-the-death fight for Giamatti's soul. David Strathairn and his company's activities would have been portrayed as increasingly more sinister and conspiratorial, while they would no doubt have corporate heavies mopping up damning evidence and a climactic scene where they were exposed to the public. Another approach might have been to play the idea as a horror film, perhaps something akin to The Mephisto Waltz (1971).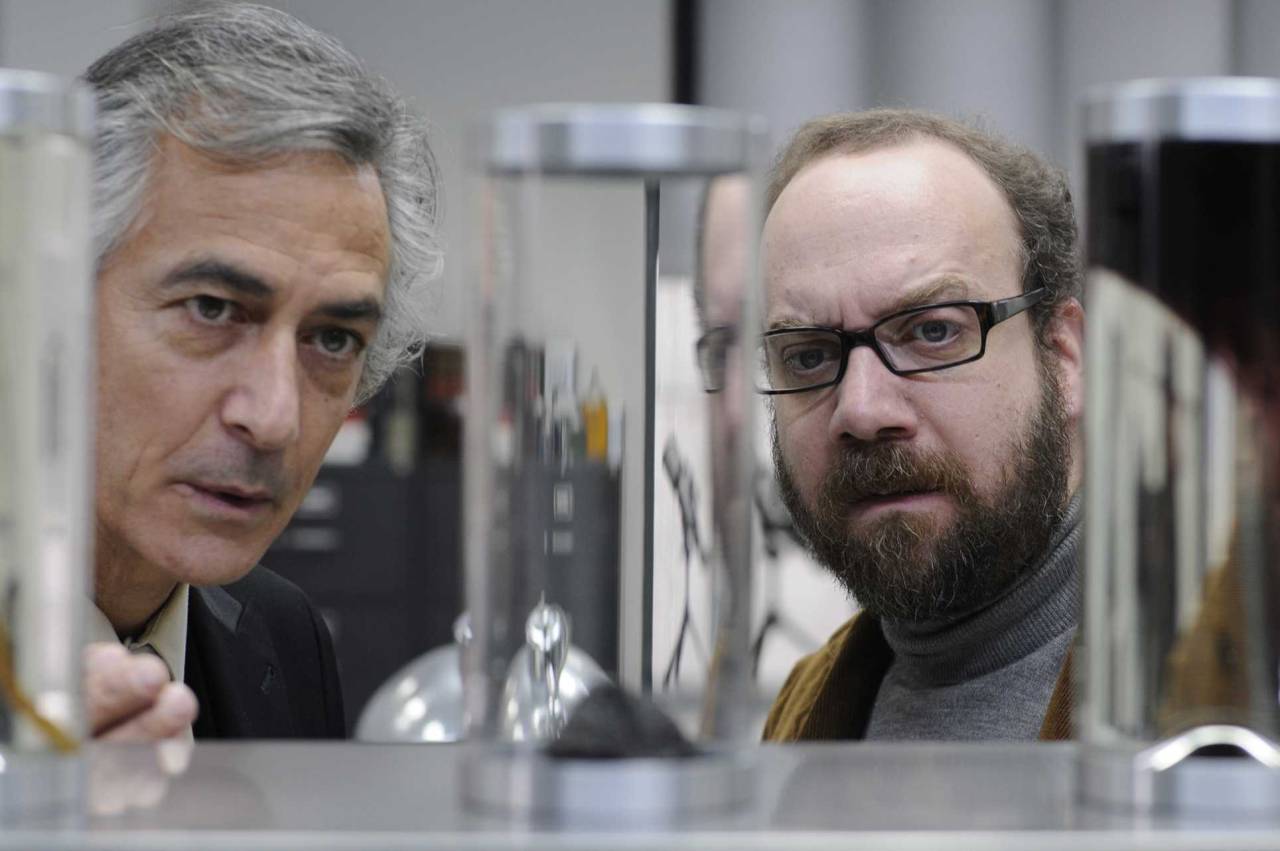 As opposed to any of these approaches, Sophie Barthes mounts Cold Souls as an indie film. Even more than a science-fiction film, you could imagine Cold Souls conducted as a minimalist off-Broadway production, possibly even something that would be played by Paul Giamatti as a one-man show. Indeed, it would not be too hard to imagine Cold Souls as a Woody Allen film with Allen in the Paul Giamatti role in characteristically neurotic angst-ridden mode. With Allen in the director's chair, the story would probably be played out as one of his films around the period of works like Stardust Memories (1980), September (1987), Another Woman (1988) and Alice (1990) where Allen seemed to sit in an unhappily soul-searching place and was uncertain as a director whether he was making serious introspective drama or comedy.
The film suffers from an uncertainty of tone. A good way in, I was still wondering what type of film it was trying to be. Part of this was being caught between wondering whether one was watching a conceptual science-fiction film or merely an indie film that was only using a science-fiction idea. The other part was, as with the abovementioned Woody Allen films, between whether the film was a drama or a comedy. You feel that there are places that you should be laughing, but the Sophie Barthes never seems to push the material in that direction. It is maybe akin to a Woody Allen film where someone has run a red pen through all the wry, characteristically self-deflating lines that Allen usually writes for himself and filmed what was left. The most overtly comic scene is a blackly funny one near the end where Paul Giamatti returns to the company after the creditors have moved in and encounters a suit who starts referring to souls in terms of commercial value and economics.
The one thing that Sophie Barthes seems to shy away from is a depiction of what Paul Giamatti's soulless state is like. There never seems to be a huge degree of difference between when Giamatti has a soul and is feeling gloomy and depressed, when he has no soul and feels nothing, and when he has the soul of a Russian factory worker and we are never told what he feels. There are a couple of scenes with Giamatti feeling inert in bed with wife Emily Watson and an effective scene where he responds unfeelingly to someone's tragedy during a dinner with friends. There is some amusement to the varying interpretations of Uncle Vanya he offers (although these are dependent on the audience having a familiarity with the original Anton Chekhov play in order to get the joke). But on a wider sense, the film seems to avoid tackling its metaphysical issues.
This is the sort of choice role that an actor usually loves to get so they can use as an opportunity to play different parts and demonstrate their versatility. I fully expected Sophie Barthes and Paul Giamatti to make the changes of personality into one of the central aspects of the film and the fact that Cold Souls plays out so mutedly in this regard is undeniably disappointing. To the film's credit, Sophie Barthes builds out some reasonable scenes during the last half, particularly once the story gets to Russia. During these scenes, the film starts to move with the twists and complicities that a good science-fiction story should.
The other disappointment is that the film brings together a quality cast, but allows some of the names to disappear in anonymous roles – the great Emily Watson is cast in an unexceptional role as Paul Giamatti's wife, while Lauren Ambrose, one of the joys of tv's Six Feet Under (2001-6), is barely more than an extra with a couple of lines as the clinic's receptionist/nurse. Some of the best performances in the film come from the Russians – in particular, Sergey Kolesnikov as the mob boss and Katheryn Winnick (actually a Canadian actress) as his self-absorbed wife.
Sophie Barthes next went onto make an adaptation of Madame Bovary (2014).
---
---