---
Crew
Director – Charles Jarrott, Screenplay – Glenn Caron, Mickey Rose & Marc Stirdivant, Suggested by the Novel The Game of X by Robert Sheckley, Producer – Jan Williams, Photography – Charles F. Wheeler, Music – Henry Mancini, Mechanical Effects – Colin Chilvers, Makeup – Robert J. Schiffer & Dan Striepike, Production Design – Albert Witherick. Production Company – Disney.
Cast
Michael Crawford (Woody Wilkins), Barbara Carrera (Natalia Dobova), Oliver Reed (Sergei Krokov), James Hampton (Harry Oslo), Jean-Pierre Kalfon (Morovich), Dana Elcar (Russ Devlin)
---
Plot
Woody Wilkins is a comic-book artist who has created the internationally famous superhero strip 'Condorman'. Woody does his CIA friend Harry Oslo a favour and acts as a courier to deliver some documents to beautiful KGB agent Natalia Dobova in Istanbul. He gives his code-name to her as Condorman. Natalia then decides to defect but insists she only will if Condorman will come and get her. Harry presses a reluctant Woody into service. Woody uses the opportunity to get the CIA to fund bringing some of the gadgets from his comic-books to life. All of these are employed in the hectic cross-European chase that ensues as Natalia's KGB masters try to stop them.
---
During the 1970s and early 80s, Disney was in a creative slump. Their animation output had trickled to a standstill and the studio was largely being kept going by reissues of their animation classics and live-action comedies – but even by the late 1970s these were showing signs of creative indifference. Condorman was one in a long line of sad mishaps that came out during this period.
Condorman was one of several films around the time that were trying to conduct a superhero spoof – see the likes of Hero at Large (1980), The Return of Captain Invincible (1983) and tv's The Greatest American Hero (1980-2). However, Condorman is not sure whether it is a spoof or is trying to play it straight, and ends up just shuffling around on screen in an awkward embarrassment.
Almost all resemblance to The Game of X (1965), the Robert Sheckley novel it is based on, which was written as a spoof of James Bond, has been thrown out – the book features a man mistaken for a secret agent who becomes caught in an international caper but no comic-book/superhero elements. What the film instead ends up like is one of the Roger Moore James Bond films, especially Moonraker (1979), where the Bond series was taken over by absurd cartoony stunts and gadget set-pieces.
The plot stumbles along in fits and starts – it is never more than a hitching post for the gags, stunts and European locations. Much of the film gives the impression of having been shot in a hurry. The stunt team performs enthusiastically but the photography and particularly the process work on the various cars and boats is poor.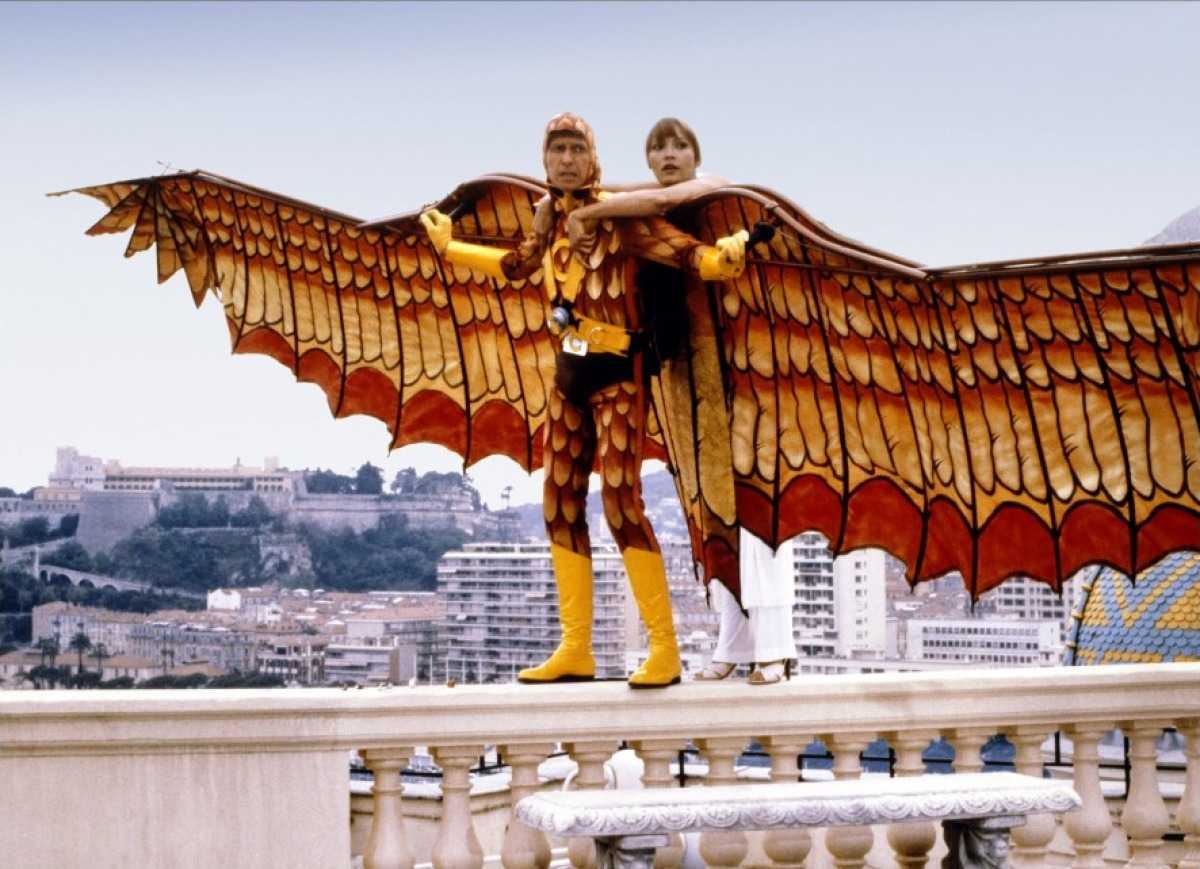 Condorman stars Michael Crawford who at the time was stuck in the decade-long career lull that came between his appearance as the nasally whiny Frank Spencer in the hit sitcom Some Mothers Do 'Ave 'Em (1973-6) and his unlikely rediscovery as a romantic hero on stage in the Andrew Lloyd Webber The Phantom of the Opera (1988). Phantom of the Opera fans tend to be surprised after seeing Condorman as Michael Crawford is still stuck in Frank Spencer mode here, playing with a whiny introverted effeminacy that more than gives the impression that either he or the character are in the closet. Certainly, as a hero, Michael Crawford is a complete wet blanket. On the plus side, the great and underappreciated Barbara Carrera adds her sizzling, sultry presence to the mix, while Oliver Reed glowers thuggishly as the villain.
Director Charles Jarrott emerged out of US television in the 1950s and had made historical films such as Anne of a Thousand Days (1969) and Mary, Queen of Scotts (1971), plus the drama The Other Side of Midnight (1977) and one further Disney film with The Last Flight of Noah's Ark (1979). In genre material, Jarrott had previously made the disastrous musical remake of Lost Horizon (1973). Co-writer Glenn Gordon Caron would later go onto create tv's Moonlighting (1985-9) and Medium (2005-11) and direct the appealing pyrokinesis fantasy Wilder Napalm (1993).
Other adaptations of Robert Sheckley's works include The Tenth Victim (1965) and The Prize of Peril (1983) both set in futures where human hunting has become regarded as a televised sport, and the future body-snatching/time-travel film Freejack (1992).
---
---