---
USA. 2005.
Crew
Director – Adam Shankman, Screenplay – Robert Ben Garant & Thomas Lennon, Producers – Gary Barber, Roger Birnbaum & Jonathan Glickman, Photography – Peter James, Music – John Debney, Visual Effects – Custom Film Effects (Supervisor – Mark Dornfeld) & Industrial Light and Magic (Supervisor – Scott Farrar), Special Effects Supervisor – Colin Chilvers, Production Design – Linda DeScenna. Production Company – Disney/Spyglass Entertainment.
Cast
Vin Diesel (Lieutenant Shane Wolfe), Brittany Snow (Zoe Plummer), Max Thieriot (Seth Plummer), Morgan York (Lulu Plummer), Kegan & Logan Hoover (Peter Plummer), Lauren Graham (Clare Fletcher), Faith Ford (Julie Plummer), Brad Garrett (Vice Principal Dwayne Murney), Carol Kane (Helga Popescu), Chris Potter (Captain Bill Fawcett), Mung-Ling Tsui (Mrs Chun), Dennis Akiyama (Mr Chun), Bo & Luke Vink (Tyler Plummer), Tate Donovan (Professor Howard Plummer)
---
Plot
Top Navy SEAL Shane Wolfe commands an operation to rescue scientist Howard Plummer who has been abducted by Serbian terrorists. However, Plummer is killed during the attempt. Two months later, Wolfe is assigned to guard Plummer's family while his widow travels to Zurich to open a safety deposit box that is thought to contain the plans for Ghost, a program that can neutralise enemy nuclear warheads. The ultra-hardline, military-minded Wolfe soon finds himself at odds with the five unruly Plummer children as he tries to whip them into line and instil in them an awareness of the dangers they face from enemy agents who are trying to break into the house.
---
Vin Diesel first caught world attention as the lethally contained serial killer in Pitch Black (2000) and then as the dangerously sexy gang leader in The Fast and the Furious (2001). Diesel soon seemed a major new star in the making. However, almost as soon as he hit the $20 million a movie salary benchmark, Vin Diesel's career started to suffer from some bad advice. The roles he has taken since then in the likes of Knockaround Guys (2001), A Man Apart (2003) and the dreadful xXx (2002), have almost entirely undermined the presence that Diesel once had. For a star who is so concerned with the image he projects that he will not even divulge his ethnicity, Diesel seems to have a complete inability to see whether the vehicles he appear in are shaping up to be turkeys or not. The Pacifier was a further nail in the coffin of Diesel's career.
The Pacifier is Vin Diesel's version of Arnold Schwarzenegger's Kindergarten Cop (1990). It is one of those films that every action star seems to feel an obligation to have to do to shake up audience's expectation of their image – Schwarzenegger did Kindergarten Cop and Twins (1988), Stallone did Rhinestone (1984) and Stop! Or My Mom Will Shoot (1992), Clint Eastwood did Every Which Way But Loose (1978) and Pink Cadillac (1989), Dwayne Johnson appeared in a pink tutu in Tooth Fairy (2010), while Hulk Hogan, Dwayne Johnson, Jackie Chan and Dave Bautista went through the same tough guy as babysitter plot in respectively Mr Nanny (1992), The Game Plan (2007), The Spy Next Door (2010) and My Spy (2020), while the less said about Chuck Norris's attempts to rediscover himself in children's movies the better. Most action stars are not exactly known for their acting abilities. They tend to inherit personas rather than absorb themselves in roles like a character actor might, so for them acting tends to be not so much taking on different parts as it is deflating or spoofing their tough guy image. The results can be grotesque to watch.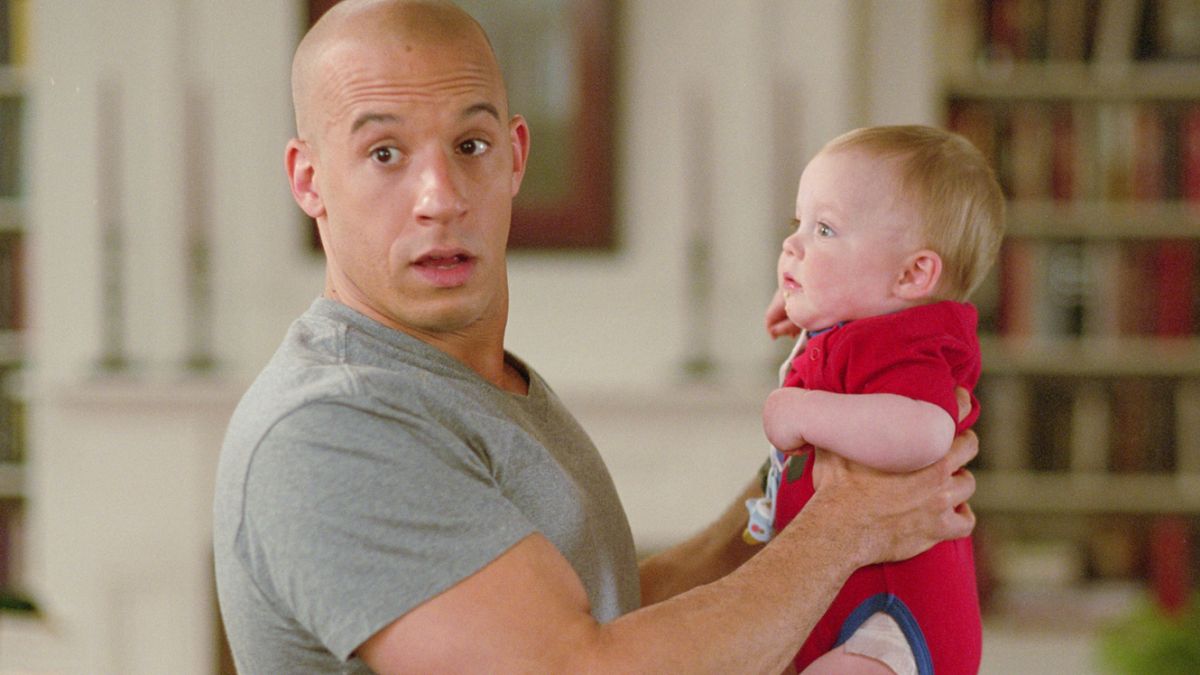 They certainly are here. You end up wondering if Vin Diesel's agent and the filmmakers decided they hated Diesel and wanted to put him through as many humiliations they could – whether it be being pooped on by babies or trying to find as many lame ways to do tough guy things with children's toys – fighting martial arts battles in a playroom using toys as weapons, riding into pursuit on a kid's bicycle, or parodies of action movie montages of readying for combat with Diesel putting baby bottles into his bandolier, diapers into his backpack and so on.
The film falls between either the lame and predictable or else a mawkish sentimentality. What makes the unfunny humour and one-gag set-up worse is Vin Diesel's playing with a smirk throughout, indicating that he is not taking the show seriously. When even the star fails to suspend his disbelief, you wonder why we the audience should either. It is hard to take the villains seriously either – they are either stock bad guys or are played lunatically over the top like Brad Garrett's bizarrely overwrought performance as the assistant principal. In fact, it is hard to believe the film's set-up at times – like why someone would construct such a bizarre booby trap as the one at the end just to protect a single computer chip.
More than anything, The Pacifier is interesting to read in terms of political subtext. It could be regarded as an unconscious x-ray of the national American state of mind post the 2004 Bush re-election. What the film seems to advocate is that the youth of today (and by extension the country) needs a mix of tough militaristic discipline and Family Values. While much of the film is engaged in sending up the idea of a Navy SEAL as a babysitter, it should be noted it does not exactly abhor the boot camp drill sergeant toughness that Vin Diesel's character is trying to instil. The ultimate message of the film seems to be that what this generation of slackers and aimless quitters needs is to be made to toughen up via an injection of good old harshly authoritarian discipline. It is only with these lessons of hard self-discipline that the American nuclear family here is capable of realising they love one another and more importantly of being able to stand down those who threaten or bully them.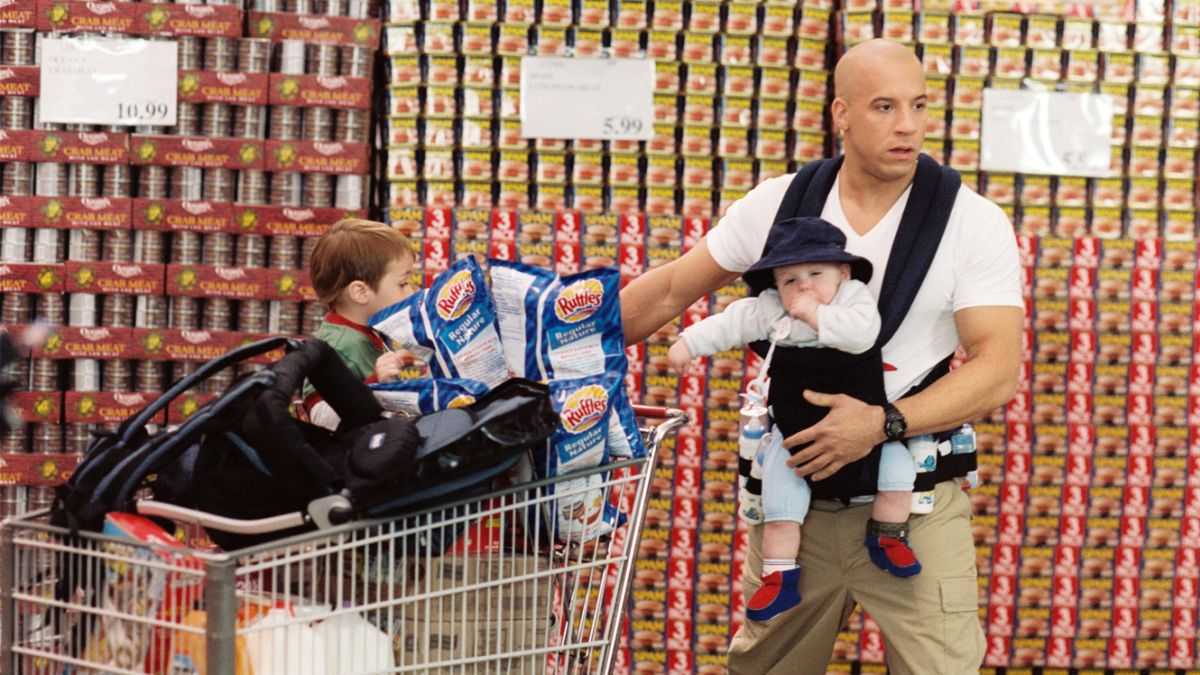 On the other hand, one might argue that rather than togetherness and self-esteem, this only leads to a self-righteous view of the world. The measure of this comes in one scene where we see a bunch of Girl Guides standing up to a group of bullying Boy Scouts, forcing them down onto the ground and humiliating them into making them eat cookies and then later tying them up. In the innocuous way it is presented, it gets a laugh but I found the scene repellent. The scene rings with resonances of Abu Ghraib and the humiliation of prisoners there, which was also notedly being conducted by military personnel. That this kind of view of the world – the belief in the winning out of brawn and muscle, the supremacy of harsh and unquestioning authority, and in the acceptability of humiliating those who oppose you – can sit alongside sentimentalised realisations of Family Togetherness seems repugnant.
Director Adam Shankman had previously made The Wedding Planner (2001) and A Walk to Remember (2001) and went onto the subsequent likes of Cheaper By the Dozen 2 (2005), Hairspray (2007) and Rock of Ages (2012). He returned to genre material with Bedtime Stories (2008) where Adam Sandler's bedtime stories start to come true; Status Update (2018) about a magical social media app; What Men Want (2019) where a woman gets the ability to read men's minds; and the Disney sequel Disenchanted (2022); while he also produced the clairvoyance film Premonition (2007), the ageswap fantasy 17 Again (2009) and Status Update (2018) about a magical social media app.
(Winner in this site's Worst Films of 2005 list).
---
---