---
USA. 1983.
Crew
Director – William Friedkin, Screenplay – Paul Brickman, Producer – Bud Yorkin, Photography – Richard H. Kline, Music – Arthur B. Rubinstein, Visual Effects – DreamQuest (Supervisors – Phil Kellison & Jim Villieux), Miniatures – Coast Special Effects, Special Effects – Joe Day & Chuck Gaspar, Production Design – Bill Malley. Production Company – Warner Brothers.
Cast
Chevy Chase (Eddie Muntz), Sigourney Weaver (Katherine DeVoto), Gregory Hines (Raymond Kasternak), Vince Edwards (Frank Stryker), Wallace Shawn (Harold DeVoto), Richard Libertini (Khayim Masaggi), William Marquez (General Arturo Cordosa), Eduardo Ricard (General Salgado), Charles Levin (Dr Rechtin)
---
Plot
In the small South American dictatorship of San Miguel, arms dealer Eddie Muntz meets Harold DeVoto, a salesman from a rival arms company. Harold then promptly commits suicide, unable to handle the stress of waiting for the call from the government that will confirm or cancel a $300 million deal. Immediately after he does so, the call comes and Eddie takes Harold's place and completes the deal to sell San Miguel the revolutionary new Peacemaker robot plane. However, this serves to turn Eddie into someone sought by every party that wants a piece of the deal.
---
William Friedkin's career path is a sad one. Friedkin is a fine director who has befallen bad luck and a reputation as being difficult to deal with. Friedkin's career peaked at the beginning with big hits like French Connection (1971) and The Exorcist (1973). Thereafter however, Friedkin's track record has been a long downhill slide through underrated but ignored efforts like Sorcerer (1977) and To Live and Die in L.A. (1986) to a seemingly never-ending string of flops like Deal of the Century, Cruising (1980), The Guardian (1990) and Jade (1996), before recovering with Killer Joe (2011).
One is not exactly sure what went wrong with Deal of the Century – maybe the presence of Chevy Chase, who I consider one of the irritating comedians of the era, killed it. The plot is unfocused, careering around a series of mismatched and strangely overblown comedic sequences. There is a goldmine of black humour in the film and Friedkin almost seems to touch upon it at times but never does – what humour there is seems shrill and clumsy. The most blackly funny moment is actually a clip with Ronald Reagan saying "We're not building missiles for war, we're building missiles for peace" – but it is sad when a film's funniest moment ends up coming direct from real life.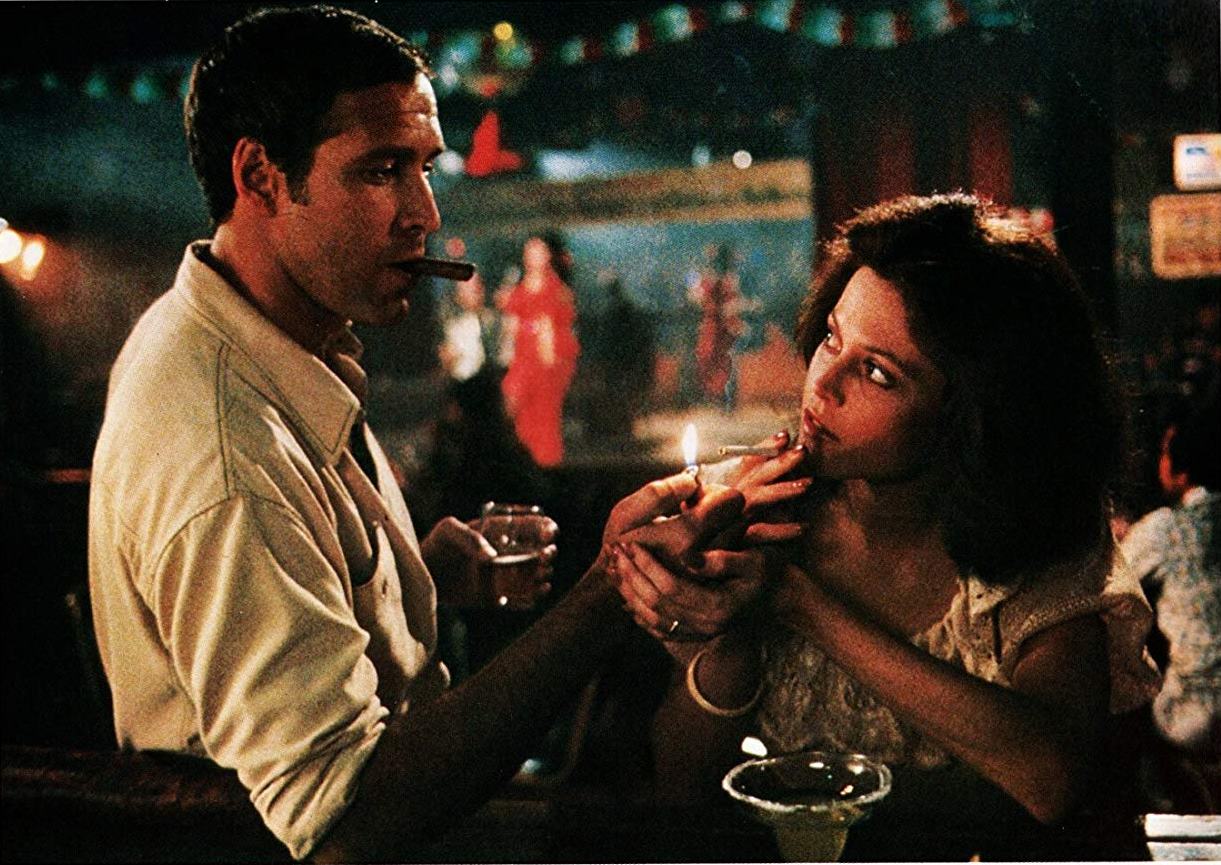 The Peacemaker when unveiled looks sleek and impressive but the scenes of it in flight and its inertia-free turns are undone by flat opticals. A far more sharp and biting black comedy about the arms trade was Lord of War (2005).
William Friedkin's other genre films are:– The Exorcist (1973), the classic tale of demonic possession; Cruising (1980), a psycho-thriller set in the world of gay leather bondage; Rampage (1987), a courtroom serial killer thriller that debated the Insanity Plea; The Guardian (1990) about a baby-snatching Druidic babysitter; The Hunted (2003) about a man hunting humans for sport; and the claustrophobic Bug (2006).
---
---