---
Crew
Director/Story/Producer – Nicholas Merriweather [Arch Hall Sr], Screenplay – Bob Wehling, Photography – Vilis Lapeneicks, Music – Henry Price. Production Company – Fairway International.
Cast
Arch Hall Jr (Tom Nelson), Marilyn Manning (Roxy Miller), Richard Kiel (Eegah), William Watters [Arch Hall Sr] (Robert Miller)
---
Plot
Roxy Miller heads off to meet her boyfriend Tom Nelson after he gets off work. While driving along the highway, she is startled and faints as a giant steps out in front of her car. Her father believes that this might be some type of prehistoric man living in the area of Deep Canyon. He flies out to investigate, only to be attacked and captured by the giant. When Mr Miller fails to return, Tom heads out in his hot rod with Roxy to investigate. However, Roxy is captured by the giant and made a prisoner alongside her father. There the giant Eegah takes a fancy to Roxy and tries to claim her as his woman.
---
Eegah has a classic status as one of the genuinely terrible Z movies. Eegah's fame rose after its inclusion as one of The Fifty Worst Movies of All Time (1977) by Randy Dreyfuss and Harry Medved whereupon it was subsequently revived and elevated to cult status during the 1980s as part of the cult of bad movies.
Eegah is really a 1950s teenage monster film. This was a brief fad that was created after the twin successes of I Was a Teenage Werewolf (1957) and I Was a Teenage Frankenstein (1957), which revisited classic monster themes but with the addition of a focus on teenagers. There were subsequently a host of teen titled monster movies – Teenage Caveman (1958), Teenagers from Outer Space (1958), Teenage Monster (1960), Teenage Zombies (1960) etc. By the early 1960s, the spate of teen monster movies had mutated into a series of teen rock'n'roll and teen surfer monster movies, which included the likes of The Horror of Party Beach (1964), Monster from the Surf (1965), Village of the Giants (1965) and The Ghost in the Invisible Bikini (1966). Eegah tried to graft the hoary old revived caveman story onto a teen rock'n'roll film. Thus we get all the customary rock'n'roll scenes with Arch Hall Jr crooning by the pool, a good deal of footage of his customised dune buggy running up and down dunes in the desert and the like.
Hiding behind the pseudonym of Nicholas Merriweather is producer Arch Hall Sr who funded Eegah with $15,000 of borrowed money. (Arch Hall Sr can also be seen playing the role of Roxy's father under his birth name William Watters). The great surprise for Arch Sr was how Eegah ended up becoming a modest success, making back its miniscule budget several times over. The only person from the film to go onto any subsequent fame was Richard Kiel, who plays the title caveman and went onto become the steel-toothed giant Jaws in the James Bond films The Spy Who Loved Me (1977) and Moonraker (1979), as well as minor parts in other films.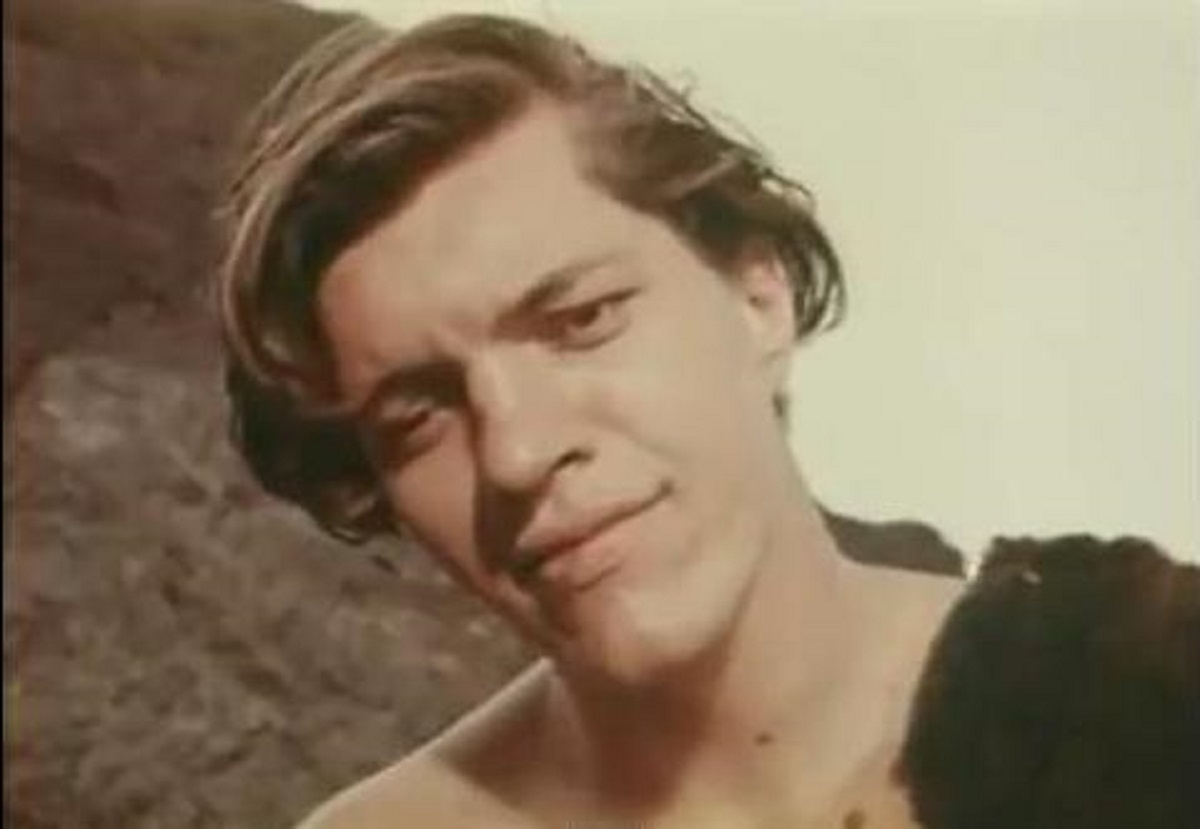 Hall Sr cast his own son Arch Hall Jr as the teen hero. Arch Hall Jr's lack of acting abilities has been the subject of wide ridicule in Psychotronic film circles. Arch Hall Jr has the brash, pouty looks of a 1950s youth hero, combined with unusually piercing blue eyes and a prominently coiffed cowlick. Almost certainly, Arch Hall Jr has not a whole lot of acting ability, although to his credit he at least stumbles his way through the part with a certain brash enthusiasm. Arch Jr went onto appear in a handful of other films, almost all for his father, and probably had his greatest role playing the equivalent of real life killer Charles Starkweather in The Sadist (1963), before retiring from acting and becoming an airline pilot.
To Arch Hall Sr's credit, the film displays a basic competence when it comes to cinematography and editing. The rock'n'roll songs are even surprisingly listenable. In fact, Eegah works quite passably as a B movie – at least up until about the sight of Richard Kiel's caveman walking along with a club over one shoulder and holding a bunch of flowers for Marilyn Manning in the other hand. It is from this point that Eegah collapses into unintentional laughter and never lets up. The 7'2″ tall Richard Kiel is well cast and certainly looks fearsomely giant-like when looming over Marilyn Manning or fighting Arch Hall Jr.
On the other hand, the parts of the film set in the cave keep slipping into the hysterically funny – the scenes with Marilyn Manning shaving Richard Kiel, after which he somehow automatically emerges not only clean-shaven but with his hair Brylcreamed back; his bringing her a "sulphur drink"; and of her trying to fend off his lustful advances during which he tears her dress off (at least as far as a 1960s teen movie was allowed).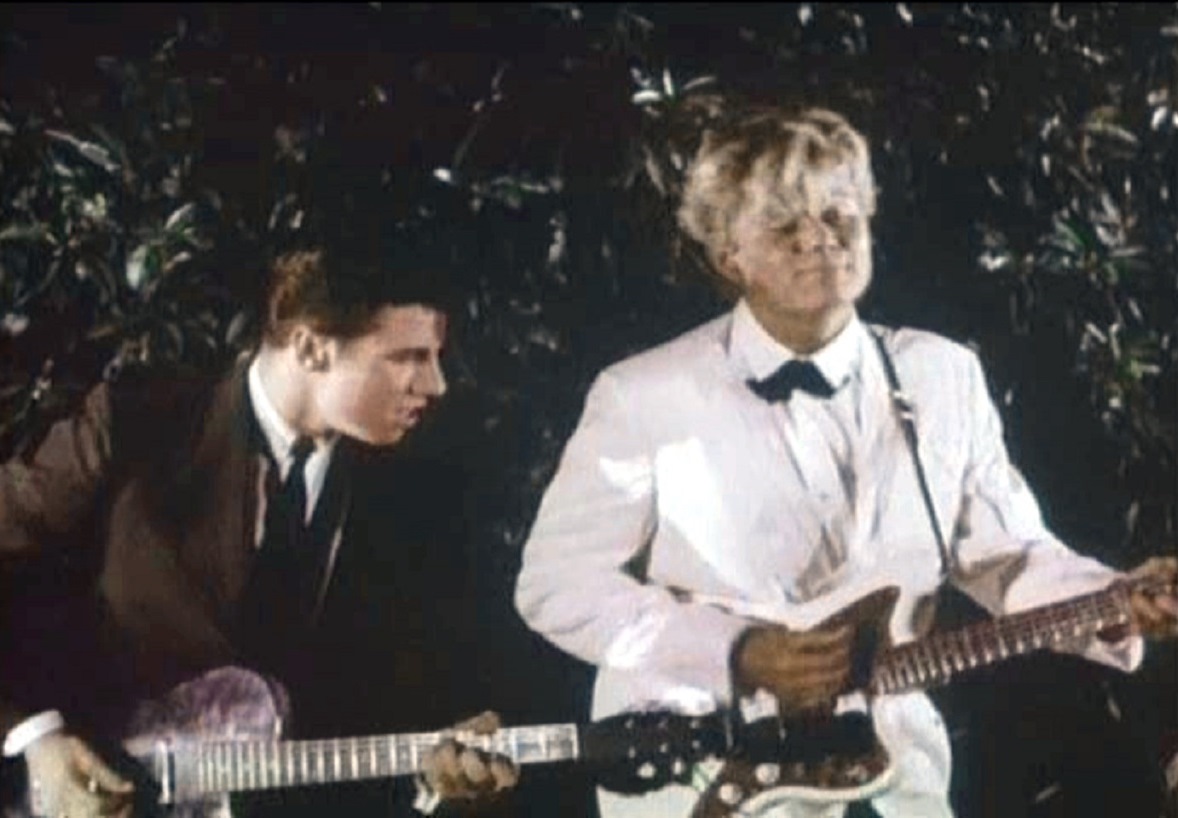 The film works up to a Z-budget rehash of the climax of King Kong (1933) – one where New York City has been scaled down to having the giant invade a Palm Springs restaurant and pool party, before Richard Kiel is shot and falls into the pool. The film goes out with Hall Sr noting "Yes, he was real. It says so in The Bible. There was giants in those days – Verse 4, Chapter 32," a verse that does not exist in actuality.
Arch Hall Sr later went onto produce a handful of films but never directed again. His other films included the Ray Dennis Steckler rock'n'roll film Wild Guitar (1962), the spy comedy The Nasty Rabbit (1965) and several nudies. Hall Sr also wrote the Ted V. Mikels sleaze classic The Corpse Grinders (1971).
---
Trailer here
Full film available online here:-
---