---
Canada. 1984.
Crew
Director – Fred Schepisi, Screenplay – John Drimmer & Chip Proser, Story – John Drimmer, Producers – Norman Jewison & Patrick Palmer, Photography – Ian Baker, Music – Bruce Smeaton, Special Effects – John Thomas, Makeup – Michelle Burke & Mike Westmore, Art Direction – Leon Ericksen & Josan Russo. Production Company – A Norman Jewison-Patrick Palmer Production
Cast
Timothy Hutton (Dr Stanley Shepherd), John Lone (Charlie), Lindsay Crouse (Dr Diane Brady), James Tolkan (Maynard), Josef Sommer (Whitman), Danny Glover (Loomis)
---
Plot
An Arctic drilling project finds the 40,000 year-old body of a Neanderthal man frozen in the ice. Back at the base, they thaw the body out so that anthropologists can examine it but are startled when it returns to life. They place Charlie, as they call the cavemen, in a biosphere compound. There one of the anthropologists Stanley Shepherd befriends and attempts to communicate with Charlie. Doing so brings Shepherd into conflict with the other scientists who wish to dissect Charlie to find the chemical that allowed him to be frozen and revived without cellular damage.
---
The 1980s saw a brief revival of the old caveman vs dinosaurs genre with the likes of Quest for Fire (1981) and Clan of the Cave Bear (1986). In these, creaky old films such as One Million B.C. (1940) and One Million Years B.C. (1966) were redressed with a much stricter regard to anthropological realism. Elsewhere Ken Russell's Altered States (1980) revisited the theme of the scientist reverting to his simian ancestry in modern neuro-chemical dress. Iceman logically follows on from the likes of these and updates the hackneyed revived caveman cliche of films like Dinosaurus! (1960) and Trog (1970) with a similar kind of scrupulous attention toward anthropological realism. (For a more detailed overview see Films About Cavemen).
In modern up-to-date anthropological/biochemical dress, Iceman turns the revived caveman story about to surprisingly become one of the more refreshingly intelligent films of its particular decade. Iceman is knowingly well informed on its anthropology and biochemistry and never resorts to cheap cliche or hackneyed elements. The film was certainly not an easy multiplex sell in an era where science-fiction was dominated by copies of Star Wars (1977). On the side of its naysayers, Iceman is a film that often lends itself to being merely a dry, scientific treatise. The scientist characters played by Timothy Hutton and Lindsay Crouse seem particularly uninvolving mouthpieces.
That is were it not for the superb performance from John Lone. The Chinese-born John Lone is one of the great underrated actors working in the US – see his exceptional work in the likes of The Year of the Dragon (1986), The Last Emperor (1987), M. Butterfly (1993) and The Shadow (1994). Here Lone gives a performance of painstaking mime work that fills and overshadows the entire film. It is he that invests the role of Charlie with enormous pathos – you can see the pained understanding on his part to try and understand the modern world and reach across the abyss to communicate with Timothy Hutton.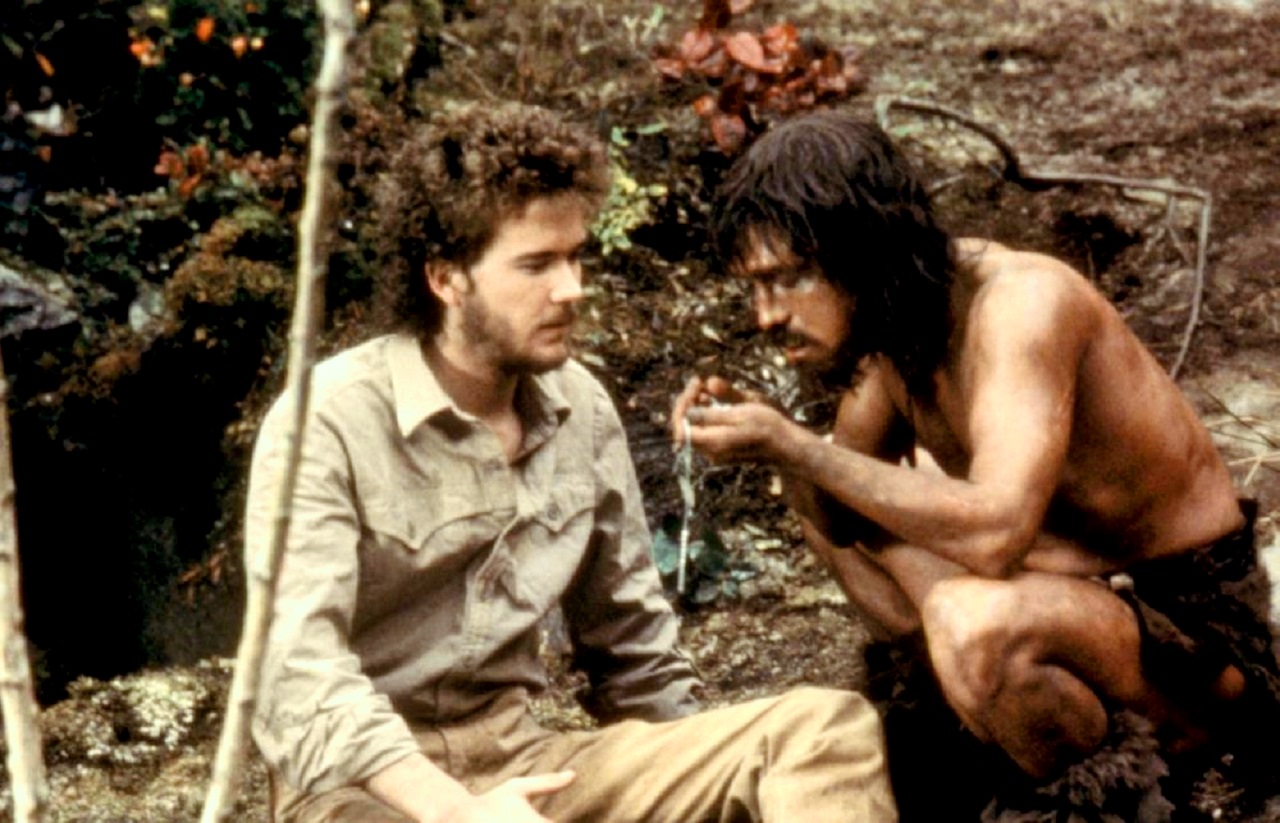 Iceman was a project that had dallied around for several years under director Norman Jewison, best known for Jesus Christ Superstar (1973), Rollerball (1975) and The Hurricane (1999). (Jewison is still attached as a producer). The film eventually emerged under Australian director Fred Schepisi, known in his own country for the celebrated Aboriginal drama The Chant of Jimmie Blacksmith (1978) and who would go onto make the generally thoughtful likes of Plenty (1985), Steve Martin's greatest moment Roxanne (1987), Evil Angels/A Cry in the Dark (1988) and Six Degrees of Separation (1993).
Iceman was criticised for being a slow-moving film at the time, which is not true – Fred Schepisi keeps dialogue moving and the operating room sequence is held together with a densely detailed kaleidoscope of dialogue and building mystery. The only sequence that goes on far too long is the music-making communication between modern and primitive man. Comparisons to The Thing from Another World (1951) should not lost either – both films are about scientists at an Arctic base uncovering a frozen humanoid and Schepisi even imitates Howard Hawks's style of volleying, overlapping technical dialogue to considerable effect.
There are impressive sets – the base looks lived-in and the biodome compound quite breathtaking. It is all beautifully photographed, with some hypnotic images over the opening credits of the helicopter flying over the icecap with the slab containing the body slowly turning beneath it. Bruce Smeaton's haunting flute score is also excellent. The film's attention to anthropological realism and John Lone's performance makes Iceman a surprisingly intelligent science-fiction film, one that works all the more so for its refusal to render matters as cheap popcorn appeal.
---
Trailer here
---