---
Crew
Director – Joseph Ruben, Screenplay – Gerald Di Pego, Producers – Bruce Cohen, Dan Jinks & Joe Roth, Photography – Anastas M. Nichos, Music – James Horner, Visual Effects Supervisor – Carey Villegas, Visual Effects – Sony Pictures Imageworks, Additional Visual Effects – Digital Backlot & The Orphanage, Miniature Effects – New Deal Studios Inc (Supervisor – Matthew Gratzner), Production Design – Bill Groom. Production Company – Revolution Studios/Jinks-Cohen Co.
Cast
Julianne Moore (Telly Paretta), Dominic West (Ash Correll), Gary Sinise (Dr Jack Muntz), Alfre Woodard (Detective Ann Pope), Linus Roache (A Friendly Man/Robert Shineer), Anthony Edwards (Jim Paretta), Robert Wisdom (Agent Carl Dayton), Lee Tergesen (Agent Al Petalis), Jessica Hecht (Eliot), Christopher Kovaleski (Sam Paretta), Kathryn Faughnan (Lauren Correll)
---
Plot
New York City book editor Telly Paretta is grieving over the death of her son Sam who was killed in a plane crash fourteen months earlier. She then discovers that Sam has vanished from all photos she has of him and that her family videotapes and photo albums are now blank. She accuses her husband Jim of doing this but he insists that they never ever had a son. Her psychologist Jack Muntz tries to convince her that these memories are a traumatic fantasy she created following a miscarriage. She goes to see Ash Correll, whose daughter Lauren also died in the plane crash, but he does not remember having a daughter either. However, Telly discovers that the drawings Lauren did on the apartment wall are still there but have been covered up. She is then dragged away by NSA agents. In saying his daughter's name, Ash starts to remember. He helps Telly escape and the two of them go on the run, hunted by police, NSA agents and a mysterious force with frightening powers that appears to be behind the memory erasures.
---
In retrospect, 2004 might be noted as a year filled with the theme of science-fiction films about memory erasure. The year earlier featured the brilliant Eternal Sunshine of the Spotless Mind (2004) about a man deciding to have memories of his ex erased and then changing his mind halfway through the process. There was also The Manchurian Candidate (2004) about people who find that the memories they have are artificial implants and The Final Cut (2004) set in a future where memory is recorded and edited.
The Forgotten starts out in similar directions to Eternal Sunshine of the Spotless Mind – a mother starts finding not so much that her but that everybody else's memory of her son's existence has been mysteriously erased. Of course, both The Forgotten and Eternal Sunshine of the Spotless Mind eventually end up travelling in very different directions. While Eternal Sunshine delighted in the conceptual contortions of its plot, The Forgotten opens up out into a darkly paranoid conspiratorial plot along the lines of tv's The X Files (1993-2002, 2016-8).
What one soon comes to realise is that The Forgotten is in all but name an M. Night Shyamalan movie. It is clearly a film construed to mimic the same game of unfolding revelations that turn everything we believe to be true on its head that Shyamalan has patented in films like Unbreakable (2000), Signs (2002), The Village (2004) and, in particular, The Sixth Sense (1999). Although, more than a Shyamalan film, what The Forgotten resembles in terms of games with memory erasure and the explanation of what is going on is the brilliantly underrated Dark City (1998).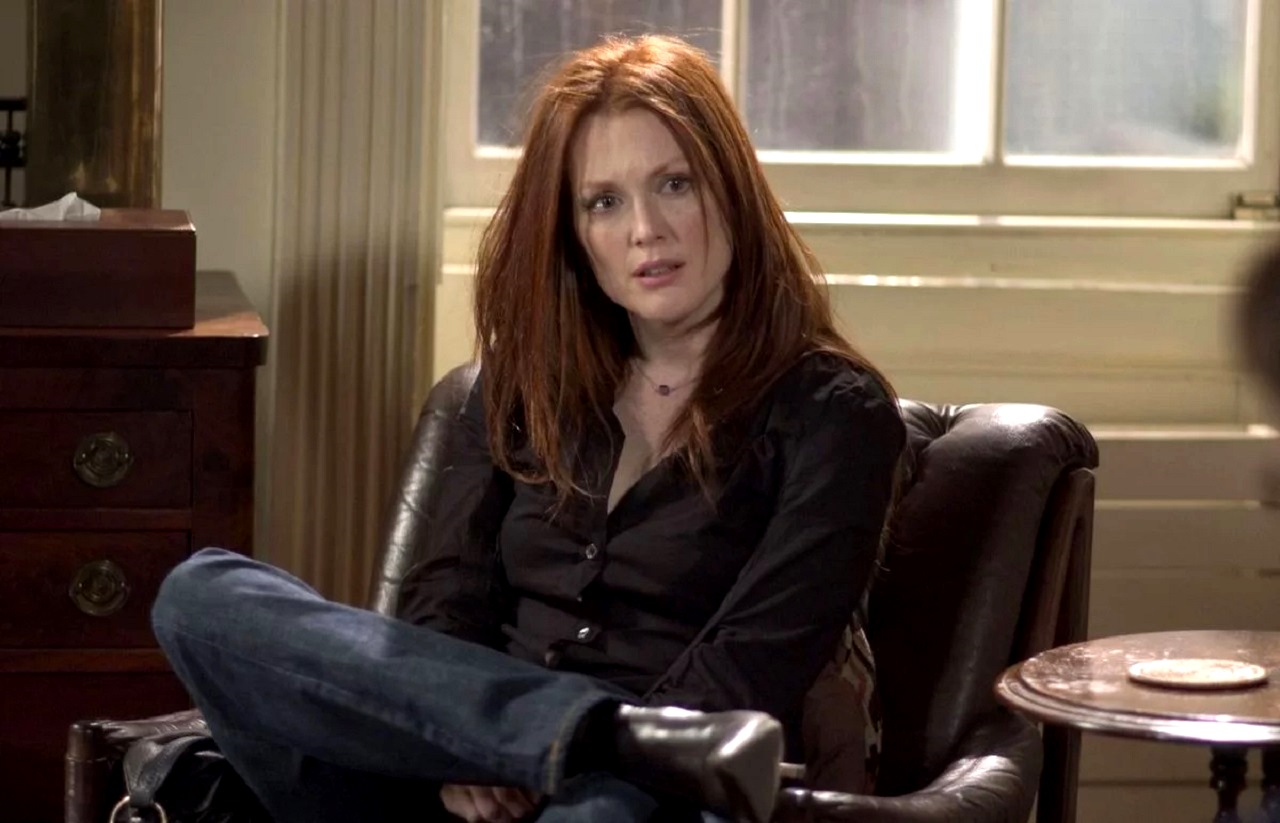 The Forgotten is directed by Joseph Ruben. Joseph Ruben first appeared on the genre landscape with Dreamscape (1984) about psychic dream therapists. The one Ruben film that drew attention and acclaim was the excellent The Stepfather (1987). The Stepfather and subsequent psycho-thrillers such as Sleeping With the Enemy (1991) and The Good Son (1993) pegged Ruben as a slick and suspenseful thriller director. Although, later films like Money Train (1995) and Return to Paradise (1998) seemed to allow such promise to slip away – Ruben seems very much a commercial director whose effectiveness is entirely at the whim of the quality of the script he has at hand.
In this case, the script for The Forgotten is written by Gerald Di Pego. Gerald Di Pego is an uneven talent. Most of his work has been conducted in tv movies, including no less than two Incredible Hulk tv movies, The Trial of the Incredible Hulk (1989) and The Death of the Incredible Hulk (1990). Di Pego has written other genre films including the science-fiction tv movie The Astronaut (1972), the psycho-thriller W (1974), the futuristic tv movie Generation (1985), the silly killer anthropologist film Instinct (1999) and the Hurricane Katrina ghost story Little Murders (2010), as well as other non-genre works like Message in a Bottle (1999) and Angel Eyes (2001). Di Pego's two most successful films have been the Burt Reynolds cop drama Sharky's Machine (1981) and the John Travolta vehicle Phenomenon (1996). Di Pego's work seems caught between throwaway commercial hackwork or else works like Phenomenon, Instinct and Angel Eyes that feel like he has attended a few too many New Age self-improvement seminars.
The opening scenes of the film and Joseph Ruben's soft focus photography seem a little soap opera-ish but as soon as the NSA agents enter the scene The Forgotten starts to enter a compulsive and fascinating area. Gerald Di Pego certainly sets up an absorbing mystery and Joseph Ruben quickly pulls us into the darkness. Joseph Ruben's skill is as a suspense director and there are times here that he leaves us with our collective jaws dropped to the floor – the moment Lee Tergesen whispers in Julianne Moore's ear "They're listening to us" and a second later the entire motel unit has been reduced to ruins, or the jolts that come in seeing people abruptly whipped up into the sky. These are scenes that come so startlingly and unexpectedly out of the blue that they leave the entire audience wondering what on Earth just happened.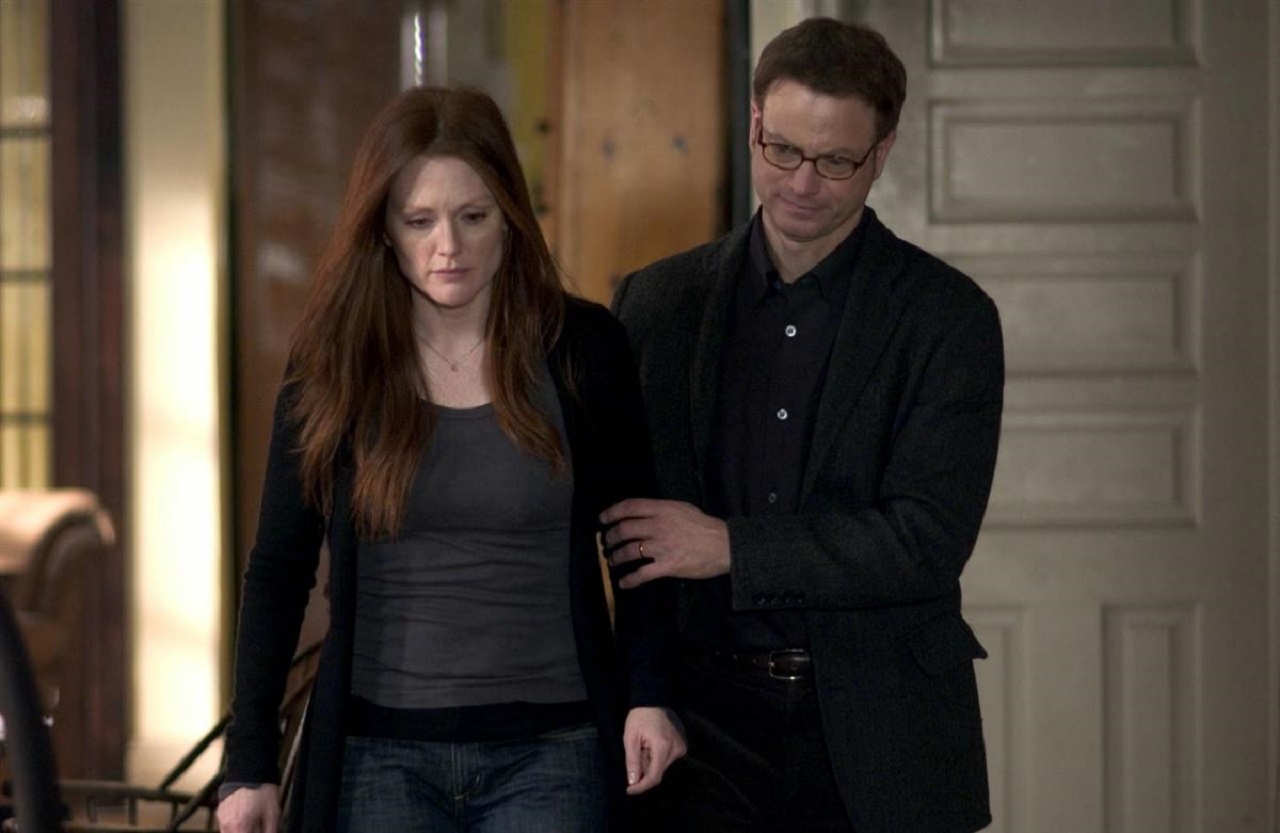 On the minus side, Joseph Ruben corrals a good cast, including Gary Sinise, Anthony Edwards, Dominic West and the greatly underrated Alfre Woodard, only to throw them into roles that waste their talents. The only one who expectedly comes to the fore is Julianne Moore who provides convincing emotional depth to the mother's anguish.
The major failing of The Forgotten is that Gerald Di Pego's plot is severely underdeveloped in terms of adequately explaining what is going on. [SPOILER ALERT]. There is no particular explanation of why the aliens (if indeed, they even are aliens) are conducting experiments in erasing parental memory, why the NSA and some individuals appear to be cooperating with them, how they manage to eliminate so many memories (does this mean, for example, that they have to also erase the memories of every single person who has seen Julianne Moore's son including her family, friends, co-workers and people they might have bumped into on the street?).
While not unenjoyable in its unfolding suspense and revelations, it is a plot that is contrived in that what has been given to us is only there for the purpose of propelling the story where we are not given one iota of information more than that. It feels frustrating. However, Joseph Ruben's bolt upright surprises certainly make the journey to a disappointing answer an undeniably interesting one.
(Nominee for Best Director (Joseph Ruben) at this site's Best of 2004 Awards).
---
---