---
Crew
Director – Bob Shaye, Screenplay – Toby Emmerich & Bruce Joel Rubin, Screen Story – James V. Hart & Carol Skilken, Based on the Short Story Mimsy Were the Borogoves by Lewis Padgett [Henry Kuttner & C.L. Moore], Producer – Michael Phillips, Photography – J. Michael Muro, Music – Howard Shore, Visual Effects Supervisor – Eric Durst, Visual Effects/Animation – The Orphanage Inc (Supervisor – Stu Maschwitz), Additional Visual Effects – Rising Sun Pictures (Supervisor – Tony Clark), Special Effects Supervisor – Alex Burdett, Alien Character Effects – MastersFX (Supervisor – Todd Masters), Production Design – Barry Chusid. Production Company – New Line Cinema.
Cast
Chris O'Neil (Noah Wilder), Rhiannon Leigh Wryn (Emma Wilder), Joely Richardson (Jo Wilder), Timothy Hutton (David Wilder), Rainn Wilson (Larry White), Kathryn Hahn (Naomi Schwartz), Michael Clarke Duncan (Nathaniel Boardman), Randi Lynne (Julie the Babysitter), Irene Snow (Teacher in Meadow), Tom Heaton (Future Scientist)
---
Plot
Young Noah Wilder and his sister Emma are at the family beach house when Noah finds a strange box in the surf. Inside the box they discover a number of objects, including several glowing rocks and a toy stuffed bunny. They take the items home where Emma claims the bunny talks to her and is called a Mimzy. She then demonstrates an ability to make the rocks levitate. Noah gains remarkable abilities – he no longer needs his glasses, is able to cause objects to teleport small distances and to talk to insects, even persuading spiders of a much more structurally sound way to build a web. They try to keep this a secret but their parents are startled when Emma starts levitating objects in front of them. When Noah combines two of the toys, this causes a power drain across the whole of Seattle. This attracts the attention of Homeland Security who take the family into custody. Emma tries to protest that the Mimzy has been sent from the future and that they need to send it back before the human species dies out altogether.
---
The Last Mimzy is a children's film based on the short story Mimsy Were the Borogoves (1943) by Lewis Padgett. Lewis Padgett was a pseudonym for the husband and wife writing team of Henry Kuttner and C.L. Moore. Henry Kuttner is probably best known for his hilarious Professor Gallegher stories, which would make for a great film adaptation some day, while C.L. Moore had a long career as a writer of space operas and fantasy books. Their Lewis Padgett pen name also produced another short story into film adaptation with Arch Oboler's The Twonky (1953) about a television set come to life, while another of their pseudonyms Lawrence O'Donnell also provided the story that became the basis of David Twohy's Timescape (1992). Kuttner's classic short story The Graveyard Rats (1936) was also adapted as episodes of Trilogy of Terror II (1996) and Guillermo Del Toro's Cabinet of Curiosities (2022- ). The two had both written for television in the 1950s with series like Tales of Frankenstein, Sugarfoot and 77 Sunset Strip, as well as had stories adapted for genre anthology shows like Tales of Tomorrow (1951-2) and The Twilight Zone (1959-63). Mimsy Were the Borogoves was also adapted for French television in 1970, although there is no known version of this version into English. [The title Mimsy Were the Borogoves incidentally comes from the Jabberwocky poem in Lewis Carroll's Through the Looking Glass (1871)].
The Last Mimzy has clearly been made as a personal production by the various heads of New Line Cinema – New Line founder and current CEO Robert Shaye directs the film, the first time he has since the 1950s high school nostalgia film The Book of Love (1990). The film is also written by current New Line head of production Toby Emmerich who previously ventured into genre cinema as screenwriter of the fine time travel film Frequency (2000). Shaye and Emmerich have also employed Bruce Joel Rubin, the author of Ghost (1990) and Jacob's Ladder (1990), as co-writer.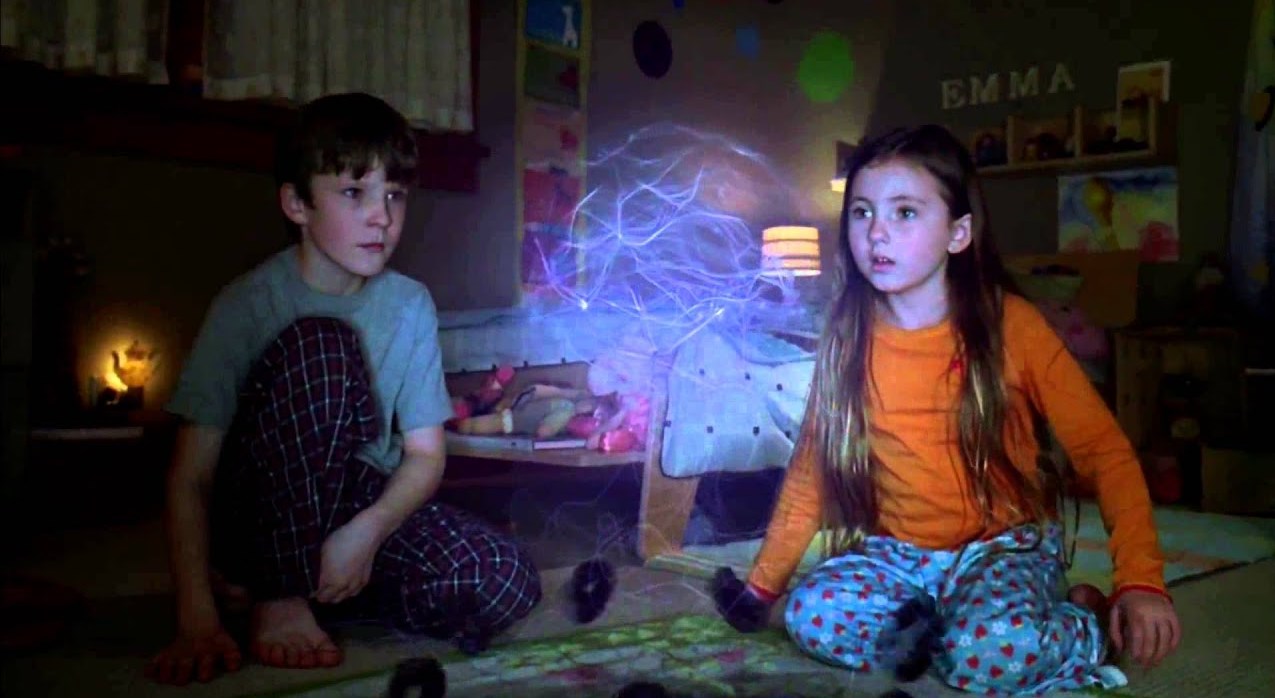 Shaye, Emmerich and Bruce Joel Rubin succeed in creating a delicate sense of wonder as we watch the kids slowly discovering their abilities to inspire spiders to create tubular webs, levitate stones in the air, teleport soda cans and golfballs, or Rhiannon Leigh Wryn levitating the contents of a bowl of sugar over onto an agog Timothy Hutton's plate at the breakfast table. Shaye does a fair job in directing these scenes in a way that creates a modest magic rather than banal light shows or optical effects. Certainly, The Last Mimzy is that rarity of a children's film that never descends to mawkish sentimentality or talks down to its intended audience.
The problem with The Last Mimzy is that New Line have turned the Kuttner/Moore story into a New Age children's film. Indeed, they have only kept the shell of the story about kids receiving toys from the future and written another entire story around it. In the original short story, there is no element about the Mimzy needing to be returned to save the future. In fact, there is no actual Mimzy in the story – at most a doll with strangely detailed internal anatomy. Also the toys function to teach the children forms of non-Euclidean logic and n-dimensional ways of looking at space and time rather than to provide psychic powers. The story sinisterly ends with the children vanishing through the Looking Glass.
Alas, Rubin and Emmerich have added a heap of New Age loopiness that was not there in the Kuttner/Moore story. One was cringing in their seat as Rainn Wilson started getting excited about Chris O'Neil drawing Buddhist mandalas in his school book. It gets worse as Wilson then starts going on about astrological symbols and Tibetan lamas and especially when Kathryn Hahn starts reading the kids' palms and discovering profundities there.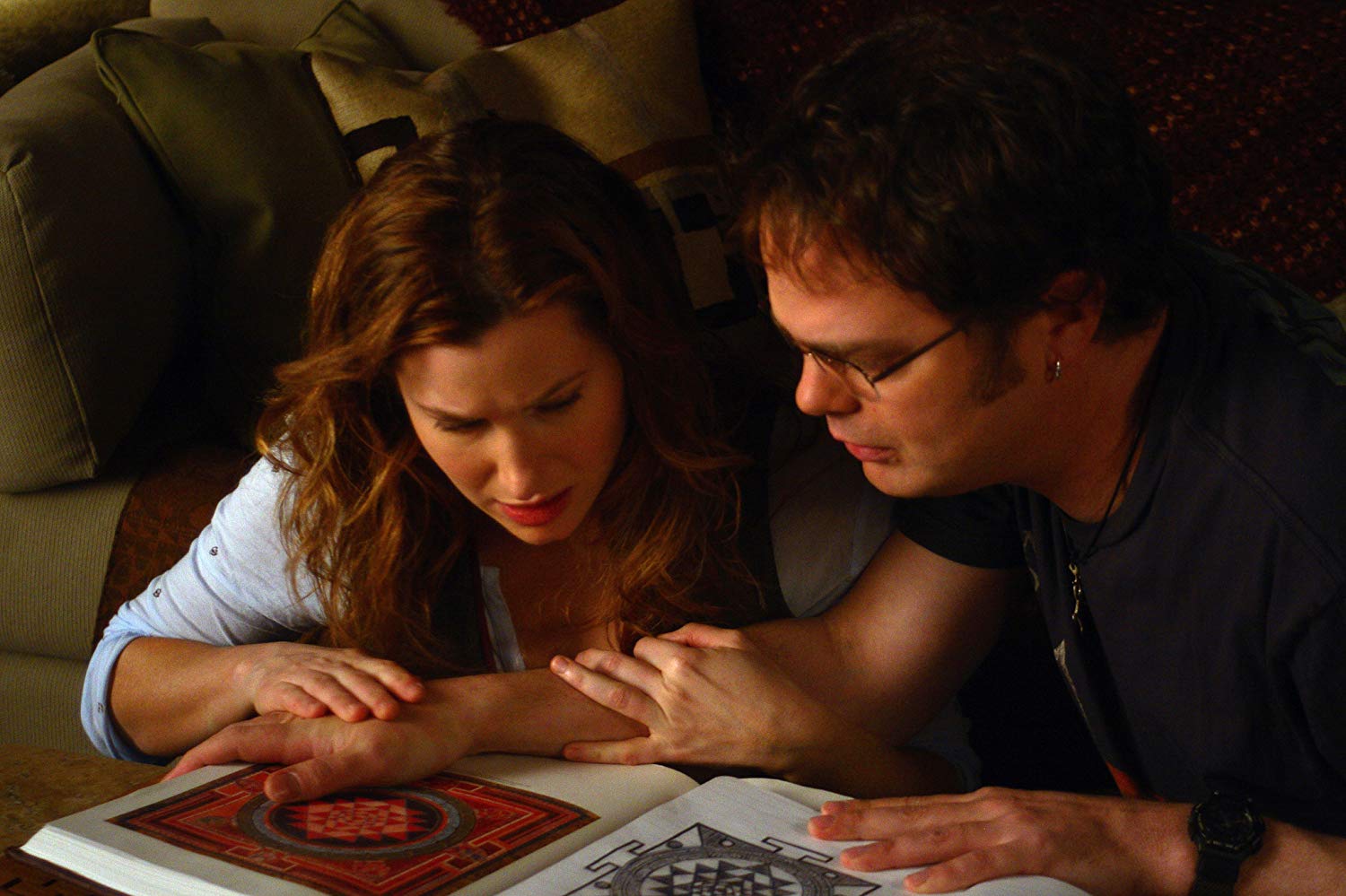 Despite an okay build-up, The Last Mimzy arrives at a disappointingly banal ending. We suddenly get a good deal of artificial drama pumped in at the last minute based around pretty digital light patterns with Chris O'Neil having to save Rhiannon Leigh Wryn from being trapped inside a forcefield. It is also a climax that is dreadfully nice – despite building Michael Clarke Duncan and Homeland Security as heavies throughout, Clarke just asks if they are okay and departs, seemingly now a nice guy despite arresting and imprisoning the entire family without due process.
There is an even more banal coda set in the future where the Mimzy returns and we learn that Rhiannon Leigh Wryn's tears somehow "gave us our precious humanity" back, although exactly how and what is being referred to as 'precious humanity' is not specified. We then cut to an absurdly utopian vision of a classroom of children sitting in a field of flowers and then all flying off, while in the last image we see that below them is a mandala of flowers, which then breaks up and dissolves.
With its talking fluffy bunny and messages from the future providing kids with unique abilities, it is not hard to make comparison between The Last Mimzy and Donnie Darko (2001). Had Donnie Darko not come out first, you could almost see it construed as the dark evil version of The Last Mimzy.
---
---