(Xiaoshi Dakan)
---
Taiwan. 2011.
Crew
Director – Hung-I Chen, Screenplay – Fu-Ching Lin, Hung-I Chen & Monica & Shabelle, Producer – Lin Fu-Jing, Photography – Fisher Yu, Music – Chang Wu-wu, Visual Effects – dotodot design studio, Production Design – Kang Chun-Wei. Production Company – Red Society Film.
Cast
Peggy Tseng (Vicky), Lin Po-sheng (Assassin), Zaizai Lin (Money/Cheesebaby), Chiu Sheng-yi (Cola), Nikki Hsieh (Playing), Lee Ta-chi (Dog)
---
Plot
In present-day Taipei, the radio dj Vicky reflects on things that are disappearing – buildings, people, former designs and technological innovations. She is mourning her boyfriend Dog who disappeared without explanation on New Year's Eve of 1999. Her search leads her to a community of youths at missing.com who try to create online memorials for disappeared people. Several of the teenagers from the online group, the mohawked Assassin, Cheesebaby known as Money in her real identity, and the shy Cola, meet up in the real world.
---
Honey Pupu was an unknown that turned up at the Vancouver International Film Festival accompanied by ecstatic reviews. It apparently won a host of awards at the Taipei Film Festival. The program guide for VIFF raves about it – "vibrant visual fantasia … one of the most imaginative movies that Taiwan's renascent film culture has yet produced." After watching Honey Pupu, I cannot help but wonder if the programmer and I were viewing the same film.
It is fairly easy to get what Honey Pupu is about, or at least the message that the filmmaker wants to make. It is about mourning things that have disappeared, which becomes a metaphor for the way that buildings are demolished, things become obsolete or styles that are forgotten, and the loss of emotional attachment that people feel as a result.
At the same time, director Hung-I Chen is hyperkinetically in love with new technology – Honey Pupu is a film where the characters live a substantial part of their lives inside the virtual sphere, connected via online chat, their cellphones or listening to iPods. Here Hung-I Chen seems to be catching up on the realisation some five years after the rest of the world has that today's youth is more naturally plugged in. Moreover, Hung-I Chen seems to find almost nothing to say about such a world other than it is perpetually alive and abuzz with visual effect. Hung-I Chen comes from a background directing commercials and music videos and Honey Pupu overflows with more excess stylistic effect than a marathon of Tony Scott movies.
Honey Pupu exists solely in terms of this vaguely sketched messages, most of which could be summed up in one of the title cards that appear infrequently throughout. The rest of the film seems to happen entirely at random. It feels exactly like a series of arbitrary improv scene between the various actors that have been staged without any script and fairly much edited together in any order. Characters frequently use words in ways that seem almost as though they are speaking another language. It could be bad subtitle translation but I don't think this is the case. It is as though Hung-I Chen is trying to say that modern youth is something different to what we are used to – to the extent that they have even repurposed language into something of their own. This is something interesting – the only other film to have attempted to portray a future youth argot was A Clockwork Orange (1971) – but the effect here is more confusing and pretentious than it is interesting.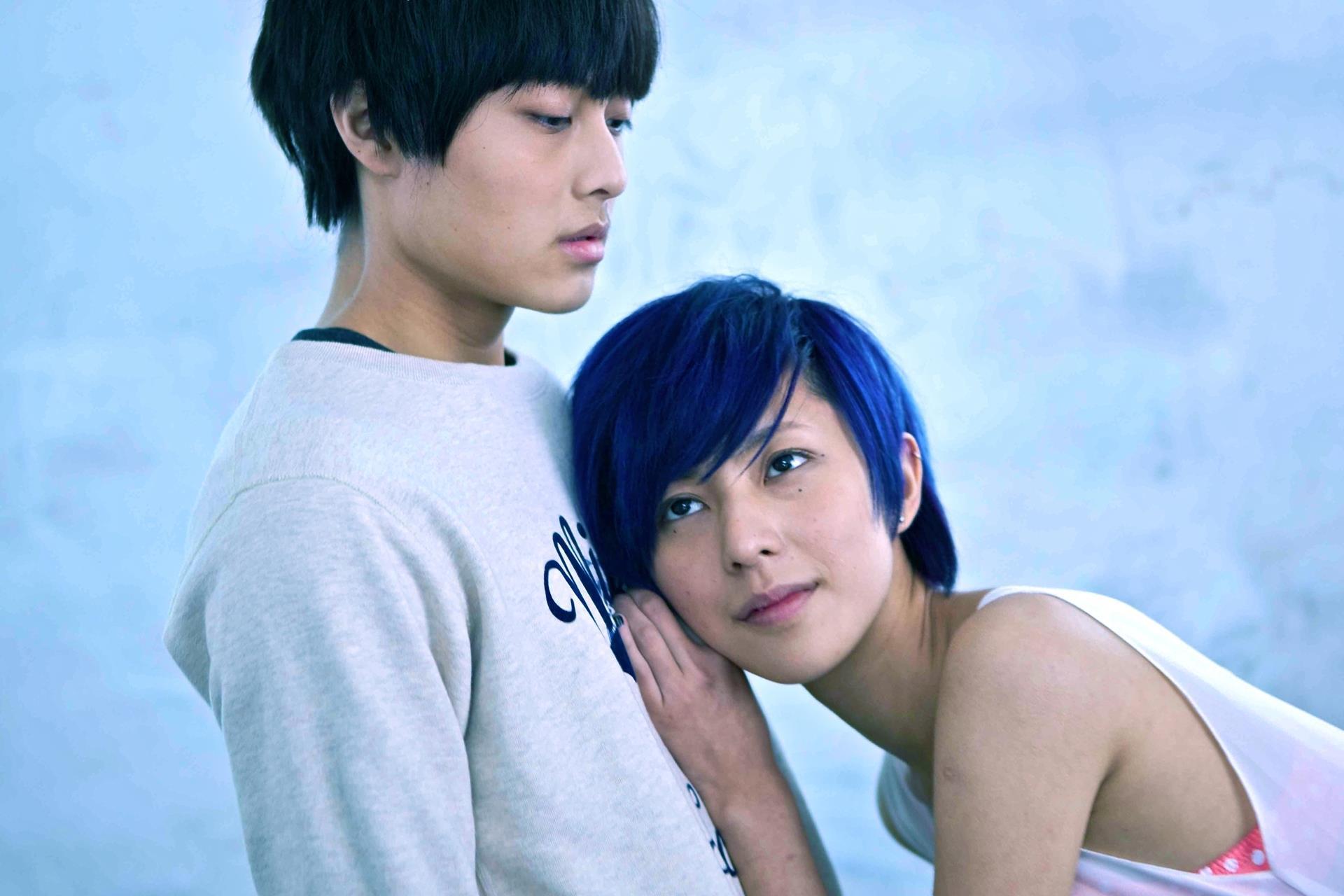 Occasionally when Hung-I Chen stops his hyperactive visuals and lets his cast settle down, a handful of good improv scenes emerge – a sexual variation on the game of Paper-Rock-Scissors between two lovers, or a love scene between two characters in a concrete pipe with their faces lit by cellphone lights. However, for the most part, Honey Pupu is a film that takes place without anything resembling a plot. Case in point being the scenes where Peggy Tseng encounters her missing boyfriend Dog again where he claims not know her and would appear to either have amnesia or be Dog's brother. Symptomatic of the film's indifference to plotting, we are never given any clues as to which of these is the case or indeed what caused Dog to disappear in the first place.
It is only near the very end that Honey Pupu consolidates as a science-fiction film. For four-fifths of the running time at least, I was unsure whether Honey Pupu was a film I was going to review here. Eventually, we find that the disappearance of people being referred to is literal, not metaphorical as seemed the case for a long time. Here the film briefly crosses over into an alternate world – one not unakin to the world of the Pang Brothers' Re-Cycle (2006), which we see is filled with missing and forgotten people, objects and buildings.
It is in these scenes that Honey Pupu can be said to be a science-fiction film (to which I must add the codicil 'of sorts'). The idea of people disappearing into an alternate dimension seems to be a catastrophe that nobody cares about – except maybe Vicky (Peggy Tseng) who appears to have never moved on from mourning her missing boyfriend for over a decade. Contrast Honey Pupu to other treatments of people disappearing in films such as The Quiet Earth (1985), The End of the Animal (2010) and Vanishing on 7th Street (2010) and you see what a difference there is – these others are end of the world films about the isolation and fear of survivors trying to work out what is happening, none of them seem to be improv dramas about the colourful, somewhat aimless and rootless lives of teens who spend too much time in cyberspace and feel melancholy about things that used to be. There is no traditional sense that you would get in a science-fiction film of trying to find the agency responsible for the disappearances or a means to prevent them, rather the characters here just seem to shrug and accept that as being the way things are.
---
---