---
Crew
Director – Sam Liu, Screenplay – Alan Burnett, Story – Alan Burnett & Bruce Timm, Music – Frederik Wiedmann, Animation – Moi Animation (Directors – Kijune Kim, Seil Oh & Seung Hoon Yu). Production Company – Warner Bros. Animation.
Voices
Benjamin Bratt (Superman/Hernan Guerra), Michael C. Hall (Batman/Kirk Langstrom), Tamara Taylor (Wonder Woman/Bekka), C. Thomas Howell (Dr Will Magnus), Jason Isaacs (Lex Luthor), Paget Brewster (Lois Lane), Tahmoh Penikett (Steve Trevor), Grey Griffin (Tina/Platinum), Josh Keaton (Orion), Dee Bradley Baker (Ray Palmer/Tin), Richard Chamberlain (Highfather), Penny Johnson Jerald (President Amanda Waller), Carl Lumbly (Silas Stone), Bruce Thomas (General Zod), Jim Meskimen (Victor Fries), Yuri Lowenthal (Jor-el), Lauren Tom (Lara), Taylor Parks (Walter Stone)
---
Plot
On Krypton in an alternate timeline, General Zod bursts in on Jor-el and Lara just before they are due to launch a capsule cotaining their genetic material into space and inserts his own genetics to fertilise the egg. The ship lands on Earth and the infant is found and raised by two Mexican illegal immigrants. In the present-day, the child is Superman, although a much harsher and more judgemental version. He has formed the Justice League, along with Batman and Wonder Woman. Batman is Kirk Langstrom, a scientist who sought a cure for his cancer using a nanotech serum. This instead transformed him into a vampire and left him with a taste for the blood of the criminals he apprehends. Wonder Woman is Bekka, the daughter of Highfather of New Genesis. She was to marry Orion, the son of Darkseid of Apokolips, to seal a peace treaty but fled to Earth after being betrayed by her own side. The Justice League are tolerated and feared by the US government. They now face something that is using the Boom Tubes of New Genesis to send an army of robots to kill scientists. Unsure of who or what is behind this, they find that the government is blaming them after finding evidence of their involvement in the murders.
---
Justice League: Gods and Monsters was the 23rd of the DC Universe Original Animated Films. Others so far include Superman: Doomsday (2007), Batman: Gotham Knight (2008), Justice League: The New Frontier (2008), Green Lantern: First Flight (2009), Superman/Batman: Public Enemies (2009), Wonder Woman (2009), Batman: Under the Red Hood (2010), Justice League: Crisis on Two Earths (2010), Superman & Batman: Apocalypse (2010), All-Star Superman (2011), Batman: Year One (2011), Green Lantern: Emerald Knights (2011), Batman: The Dark Knight Returns Part I (2012), Justice League: Doom (2012), Superman vs. The Elite (2012), Batman: The Dark Knight Returns Part II (2013), Justice League: The Flashpoint Paradox (2013), Superman Unbound (2013), Batman: Assault on Arkham (2014), Justice League: War (2014), Son of Batman (2014), Batman vs. Robin (2015), Justice League: Throne of Atlantis (2015), Batman: Bad Blood (2016), Batman: The Killing Joke (2016), Justice League vs Teen Titans (2016), Batman and Harley Quinn (2017), Justice League Dark (2017), Teen Titans: The Judas Contract (2017), Batman: Gotham By Gaslight (2018), The Death of Superman (2018), Suicide Squad: Hell to Pay (2018), Batman: Hush (2019), Justice League vs The Fatal Five (2019), Reign of the Supermen (2019), Wonder Woman: Bloodlines (2019), Justice League Dark: Apokolips War (2020), Superman: Man of Tomorrow (2020), Superman: Red Son (2020), Batman: Soul of the Dragon (2021), Batman: The Long Halloween Part One (2021), Batman: The Long Halloween Part Two (2021), Injustice (2021), Justice Society: World War II (2021), Batman and Superman: Battle of the Super Sons (2022), Catwoman: Hunted (2022), Green Lantern: Beware My Power (2022), Batman: The Doom That Came to Gotham (2023), Justice League: Warworld (2023) and Legion of Super-Heroes (2023).
Gods and Monsters offers a different spin on the other Justice League films, namely that it is an alternate world take on the Justice League. It is akin to DC's Elseworlds comic-book imprint, a series of usually one-off issues that stand outside regular DC continuity and allow writers and artists to conduct 'What If' experiments where familiar characters are placed into different settings just to see what might happen – such as being rewritten in other historical eras, in futuristic or fantasy settings, crossovers with other fictional characters. The DC Universe Animated Original Films had previously experimented with alternate world versions of the Justice League line-up in Justice League: Crisis on Two Earths, set on a world where the superheroes were villains and the regular super-villains had become superheroes, and Justice League: The Flashpoint Paradox where a small change had fundamentally altered the various superheroes and their relationship to the world. One of the Elseworlds stories where Superman grows up in the Soviet Union was subsequently adapted into a DC Universe Original Animated Film with Superman: Red Son.
I liked what Bruce Timm and co was doing here as they clearly had intentions of spinning their take on the characters out into something more – at the same time as this film was released, they also created the Justice League: Gods and Monsters Chronicles (2015) web series, offering up three episodes of six minutes apiece, each featuring the principal characters, as well as a three-issue comic-book prequel series exploring the origins of the characters.
It is undeniably interesting watching Justice League: Gods and Monsters to see what the film does to turn the regular characters on their heads. Here Superman is not the son of Jor-el and Lara but the son of General Zod and is found and raised on Earth by Mexican illegal immigrants. This leads to a much harsher, more judgemental Superman (and one whose face is drawn in far more angular, bony lines than usual). Batman is now played by Kirk Langstrom who traditionally becomes the Batman villain Man-Bat and here physically turns into a bat creature that drinks the blood of the criminals he apprehends. Lex Luthor is now a good guy.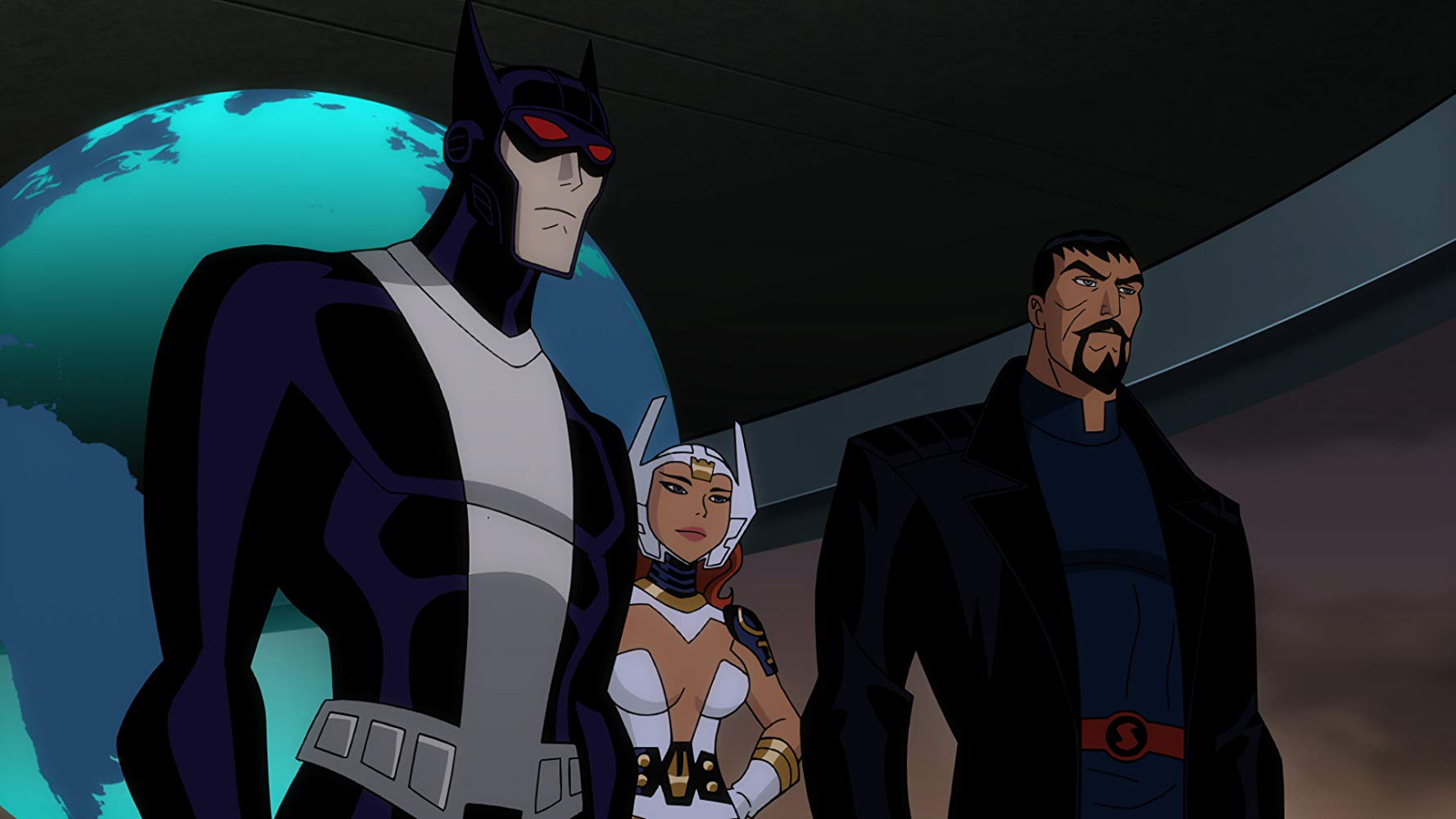 The most radical change is Wonder Woman who is now replaced by Bekka from New Genesis. Bekka is not that high-profile a DC character but is part of the pantheon of the New Gods in Jack Kirby's Fourth World saga. First appearing in the 1970, this consists of a series of linked characters and titles set around the backdrop of two planets, New Genesis and Apokolips, that have been racked by ongoing war and of the fight to stop the villainous Darkseid obtaining the Anti-Life Equation. Darkseid and the New Apokolips storyline has appeared in one or two other DC works, most notably the animated Batman/Superman: Apocalypse, while fragments were used by Zack Snyder in Batman V Superman: Dawn of Justice (2016), Justice League (2017) and most substantially the extended cut of Zack Snyder's Justice League (2021).
Unfortunately, this is where I had the biggest problem with Gods and Monsters. It drastically craps all over New Gods continuity, having Bekka be the daughter of Highfather, the ruler of New Genesis, when she is in fact the daughter of Himon, the creator of Mother Box. We also have Orion openly as the son of Darkseid where the whole story arc of the Fourth World saga Orion of the New Gods was that Orion and Scott Free (aka Mister Miracle) were the children of Darkseid and Highfather respectively who had been swapped while they were infants as part of a peace accord and grew up unaware of their parentage. The worst part of the New Gods aspect though is seeing Highfather, who is always a man of wisdom and peace, wantonly luring Darkesid and associates into a trap to slaughter them.
There are a great many piece of tie-in to DC continuity throughout the film. In the opening few scenes, we see a bunch of scientists being killed, which are respectively the ones who become Mr Freeze, The Atom and Cyborg in the regular timeline. The film is notedly brutal when it comes to depicting the slaughter of characters from regular continuity. The surprise about the film is [PLOT SPOILERS] the revelation that the real villain is Will Magnus. Magnus and the Metal Men, a team of five robots he created, each based on the elements, have made sporadic appearances in various DC Comics since 1962. It is a surprise seeing them as villains given that they are usually portrayed as comic lightweights.
I felt disappointed with Gods and Monsters, as I have been with the last handful of Justice League animated films. The film holds interest with its alternate spin on the Justice League for a time. I would certainly be interested to see other stories or comic-books set in this alternate timeline. Sam Liu does nothing standout in the superheroics department, only bringing the action together for an okay climactic battle. And ultimately Gods and Monsters does nothing remarkable with the material.
---
---