---
USA. 2015.
Crew
Director – Ethan Spaulding, Screenplay – Heath Corson, Based on the Graphic Novel by Geoff Johns, Paul Pelletier & Ivan Reis, Music – Frederik Wiedmann, Animation – Moi Animation Studios (Directors – Sangjin Kim, Jungkil Lee, Seil Oh & Seunghoon Yoo). Production Company – Warner Bros. Animation.
Voices
Matt Lanter (Aquaman/Arthur Curry), Shemar Moore (Cyborg), Jerry O'Connell (Superman), Rosario Dawson (Wonder Woman), Jason O'Mara (Batman), Nathan Fillion (Green Lantern), Christopher Gorham (The Flash), Sean Astin (Shazam), Sumalee Montano (Mera), Sam Witwer (Orm), Sirena Irwin (Queen Atlanna), Harry Lennix (Back Manta), Juliet Landau (Lois Lane), George Newbern (Steve Trevor), Melique Berger (Sarah Charles), Matthew Yang King (Dr Shin), Larry Cedar (Thomas Curry)
---
Plot
After the submarine USS California is attacked by mysterious forces in the depths of the Marianas Trench, Cyborg is sent to the ocean floor to investigate. After being attacked, Cyborg brings back together the team of superheroes that came together to battle Darkseid, although some of them require persuasion to do so. As they examine the threat they are dealing with, Wonder Woman realises that it is coming from Atlantis, a race of merpeople that lives hidden at the bottom of the Trench. In Maine, Arthur Curry is mourning the death of his father when he is abducted by soldiers from Atlantis. He learns that he is half-human, half merman and the son of Atlantis's ruler Queen Atlanna. Her full-blooded son Orm wants to declare war against the surface but Atlanna believes that Arthur is capable of bridging peace between both worlds. Orm then fabricates an attack from the surface and murders his mother, claiming the throne. The Justice League travel down to Atlantis to investigate just as Orm takes Atlanna's trident, which grants him great powers, and launches a war against the surface world.
---
Justice League: Throne of Atlantis was the twenty-first in the DC Universe Original Animated Films. It follows Superman: Doomsday (2007), Batman: Gotham Knight (2008), Justice League: The New Frontier (2008), Green Lantern: First Flight (2009), Superman/Batman: Public Enemies (2009), Wonder Woman (2009), Batman: Under the Red Hood (2010), Justice League: Crisis on Two Earths (2010), Superman & Batman: Apocalypse (2010), All-Star Superman (2011), Batman: Year One (2011), Green Lantern: Emerald Knights (2011), Batman: The Dark Knight Returns Part I (2012), Justice League: Doom (2012), Superman vs. The Elite (2012), Batman: The Dark Knight Returns Part II (2013), Justice League: The Flashpoint Paradox (2013), Superman Unbound (2013), Batman: Assault on Arkham (2014), Justice League: War (2014), Son of Batman (2014), Batman vs. Robin (2015), Justice League: Gods and Monsters (2015), Batman: Bad Blood (2016), Batman: The Killing Joke (2016), Justice League vs Teen Titans (2016), Batman and Harley Quinn (2017), Justice League Dark (2017), Teen Titans: The Judas Contract (2017), Batman: Gotham By Gaslight (2018), The Death of Superman (2018), Suicide Squad: Hell to Pay (2018), Batman: Hush (2019), Justice League vs The Fatal Five (2019), Reign of the Supermen (2019), Wonder Woman: Bloodlines (2019), Justice League Dark: Apokolips War (2020), Superman: Man of Tomorrow (2020), Superman: Red Son (2020), Batman: Soul of the Dragon (2021), Batman: The Long Halloween Part One (2021), Batman: The Long Halloween Part Two (2021), Injustice (2021), Justice Society: World War II (2021), Batman and Superman: Battle of the Super Sons (2022), Catwoman: Hunted (2022), Green Lantern: Beware My Power (2022), Batman: The Doom That Came to Gotham (2023), Justice League: Warworld (2023) and Legion of Super-Heroes (2023).
As the tentative attempts to conduct standalone films based on Green Lantern and Wonder Woman have shown, these tend not to be top-sellers for the DC Universe Original Animated Films as much as the tried and true regulars of Batman, Superman and Justice League do. (Although you would think that the popularity of live-action shows such as Arrow (2012-20), The Flash (2014-2) and Supergirl (2015-21) in the last couple of years would make these ripe properties for standalone films). In much the same way that director Ethan Spaulding's previous outing Batman: Arkham Asylum was more a Suicide Squad film than a Batman film, Throne of Atlantis feels like a stealth attempt to conduct an Aquaman film that is sold as ostensibly being a Justice League film.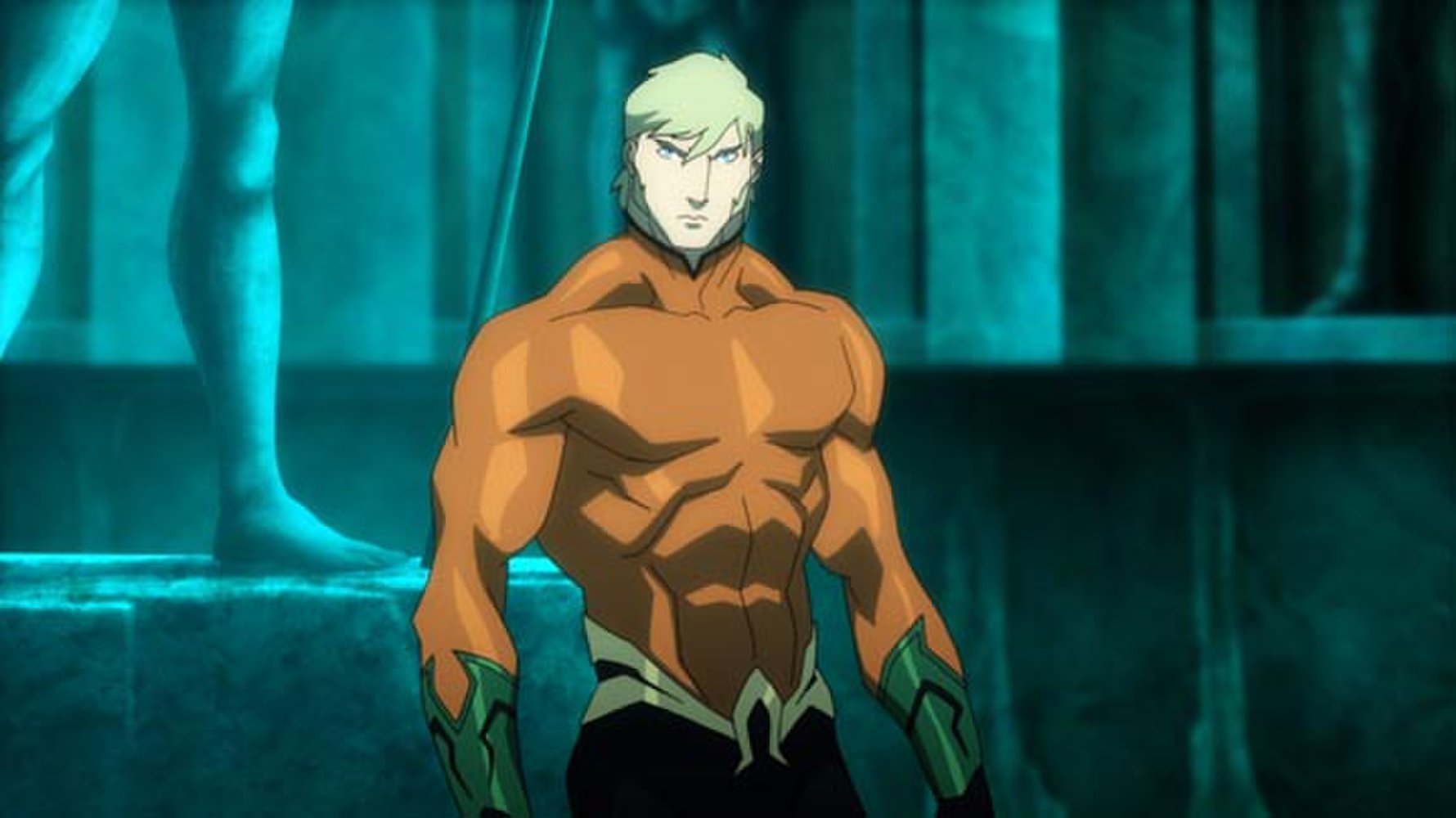 Aquaman has been a regular DC fixture since his first appearance back in 1941 – he was even a founding member of the Justice League in 1961. His story has generally remained that of the blonde-haired Arthur Curry born of a union between human Thomas Curry and Atlantean queen Atlanna who grows up with the ability to breathe underwater and communicate with sea life who becomes the king of Atlantis alongside his queen Mera. Other aspects have been added over the years, including the introduction of secondary characters like Aqualad, Aquagirl and an octopus sidekick Topo, as well as Aquaman's earlier adventures as Aquaboy. Some of the incarnations from the mid-1980s onwards have messed around with the origin story but this was restored in DC's The New 52 continuity reboot in 2011. Aquaman has for right or wrong become a joke DC superhero for the wimpiness of his powers with snide jokes being made most notably in tv's Entourage (2004-11).
Aquaman had previously appeared on screen in various episodes of Justice League/Justice League Unlimited (2001-6) – although was notedly not a core member of the League in that incarnation. He made his first live-action appearance in an episode of Smallville (2001-11) played by Alan Ritchson. There was Aquaman (2006), a one-hour tv pilot produced by Warner Brothers starring Justin Hartley, although this failed to go to series. He was incarnated by Jason Momoa in Batman V Superman: Dawn of Justice (2016) and Justice League (2017) before getting a standalone film with Aquaman (2018), which surprisingly enough rehashes much of the storyline of Justice League: Throne of Atlantis but without the Justice League being present. Certainly, Throne of Atlantis, while not a particularly great DC Universe film, gives us a fair to okay Aquaman origin story and incarnates the character with suitably heroic dignity.
Throne of Atlantis is notedly also a Justice League film that falls into DC's The New 52 reboot and is a direct follow-on from the previous Justice League film Justice League: War where we saw the formation of the Justice League along the lines of The New 52 continuity. This is continued here as we see Cyborg trying to reunite the group that came together to fight Darkseid in Justice League: War and the group eventually choosing of name Justice League.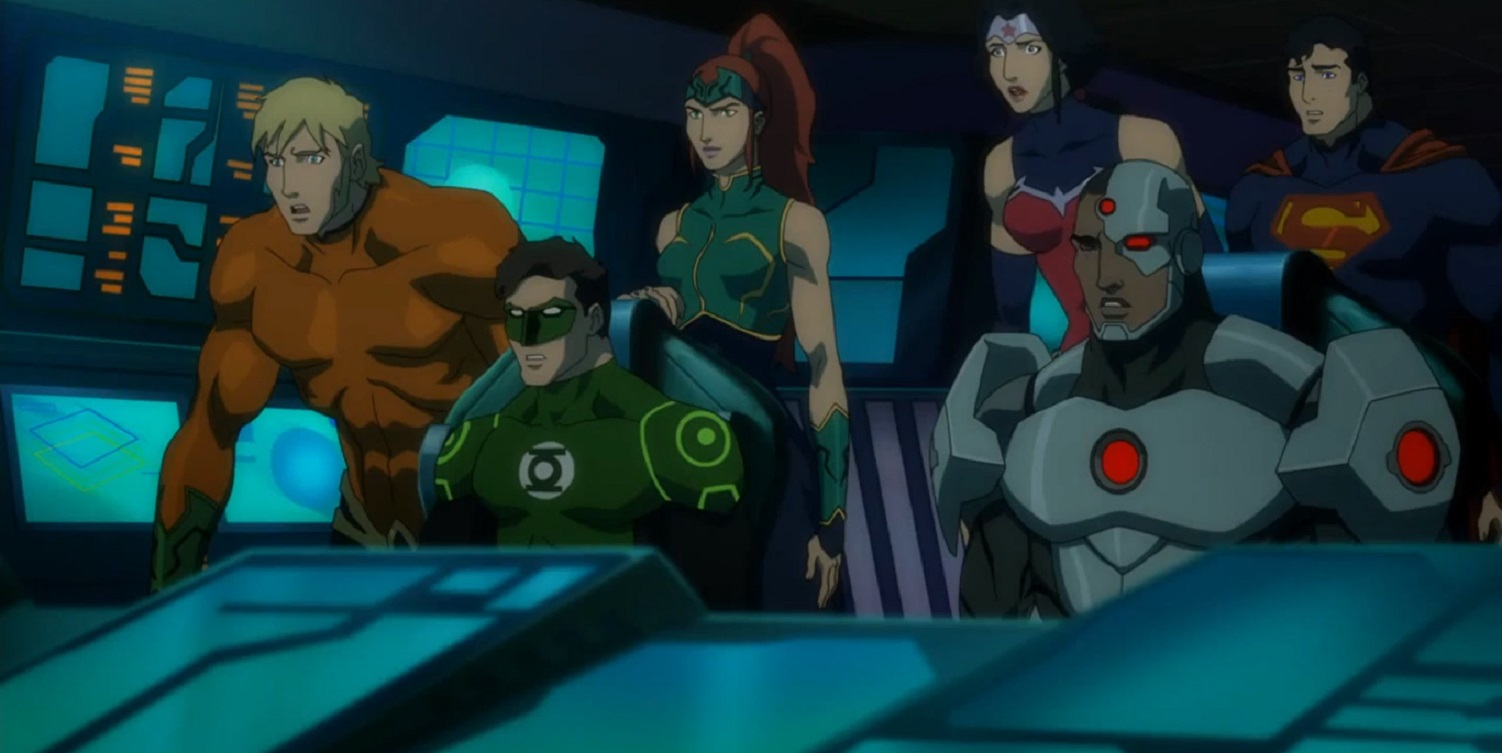 I am not a big fan of The New 52 and its often pointless rewriting of standard DC continuity, including a scene here where Lois Lane comes across Superman as Clark Kent out on a date with Wonder Woman where he is trying to introduce her to the idea of maintaining a secret identity. We also get a minor background cameo from John Henry Irons who of course goes onto become Steel.
Justice League: Throne of Atlantis is a fairly routine DC Universe Original Animated Film. One of the better aspects of Justice League: War was the snappy banter between the various superheroes as they came together and the various conflicts of personality. There seems to be some of that here – notably an amusing scene where Green Lantern gatecrashes Batman's attempts to arrest The Scarecrow's gang – but this is quickly sidelined. Once we get into action, the superheroic battles seem average for the genre, nothing standout. I also quibble with just how powerful the story ends up making the trident, which even has the power to throw around and cause Superman to bleed.
---
---