---
Crew
Director – Ron Satlof, Screenplay – Robert Janes, Producers – Robert Janes & Ron Satlof, Photography – Jack Whitman, Music – Stu Phillips, Special Effects – Don Courtney, Art Direction – Bill McAllister. Production Company – Charles Fries Productions/Dan Goodman Productions Inc.
Cast
Nicholas Hammond (Peter Parker/Spider-Man), JoAnna Cameron (Gale Hoffman), Robert F. Simon (J. Jonah Jameson), Robert Alda (Mr White), Michael Pataki (Captain Barbera), Chip Fields (Rita Conway), Randy Powell (Craig), Lawrence Casey (Angel), Anne Bloom (Carla Wilson), Steven Anderson (Ted), Sid Clute (Inspector DeCarlo)
---
Plot
Gale Hoffman, a journalist from the Weekly Reporter in Florida, is sent to New York to get an interview with Spider-Man. Rivalry ensues after J. Jonah Jameson pairs her up with Peter Parker. Meanwhile, in class, Peter stands up to criticise Dr Baylor's procurement of plutonium samples for research purposes, warning that it could be misused. To demonstrate a point, three fellow students break into the lab, steal the plutonium and build it into an atomic bomb in their apartment. Spider-Man is believed responsible for the theft by police. The bomb is then stolen by the villainous Mr White and his goons. Pursuing White's trail takes Peter, Gale and Jameson to Los Angeles where Peter realises that White is intending to detonate the bomb at a rally being held by The President.
---
Spider-Man Strikes Back was the second of three films that were re-edited from episodes of the tv series The Amazing Spider-Man (1977-9) and released theatrically to international audiences. The others included Spider-Man (1977), which consisted of the pilot episode, and Spiderman and the Dragon's Challenge (1980), edited from the two-part episode The Chinese Web (1979). Spider-Man Strikes Back was edited from the two-parter The Deadly Dust (1978).
The Amazing Spider-Man tv series was a miserable attempt at conducting live-action superheroics. Nicholas Hammond proved a gormless Peter Parker and all of the superheroics from the comic-book we ever saw consisted of a few wall-climbing exploits and fight scenes every episodes. Crucially, as was the case with almost any televised superhero work of this era, the colourful super-villains and world-destroying menaces of the comic-book were reduced to nothing more than routine crime and spy drama plots.
Of these re-edited Spider-Man films, Spider-Man Strikes Back is the best of a thoroughly tatty bunch. The reason for this comes solely down to its having an interesting plot – one in which a group of students decide to build an atomic bomb in their apartment with stolen plutonium, something that has almost a could-have-been-taken-from-the-headlines fascination to it. What helps is that the scriptwriter has clearly gone out to research how an atomic bomb is constructed, which gives the scenes a sense of verisimilitude. (Although what you cannot help but wonder is how the students could not possibly entertain the thought that they would be expelled, let alone arrested or regarded as threats by the FBI, for conducting such an exploit).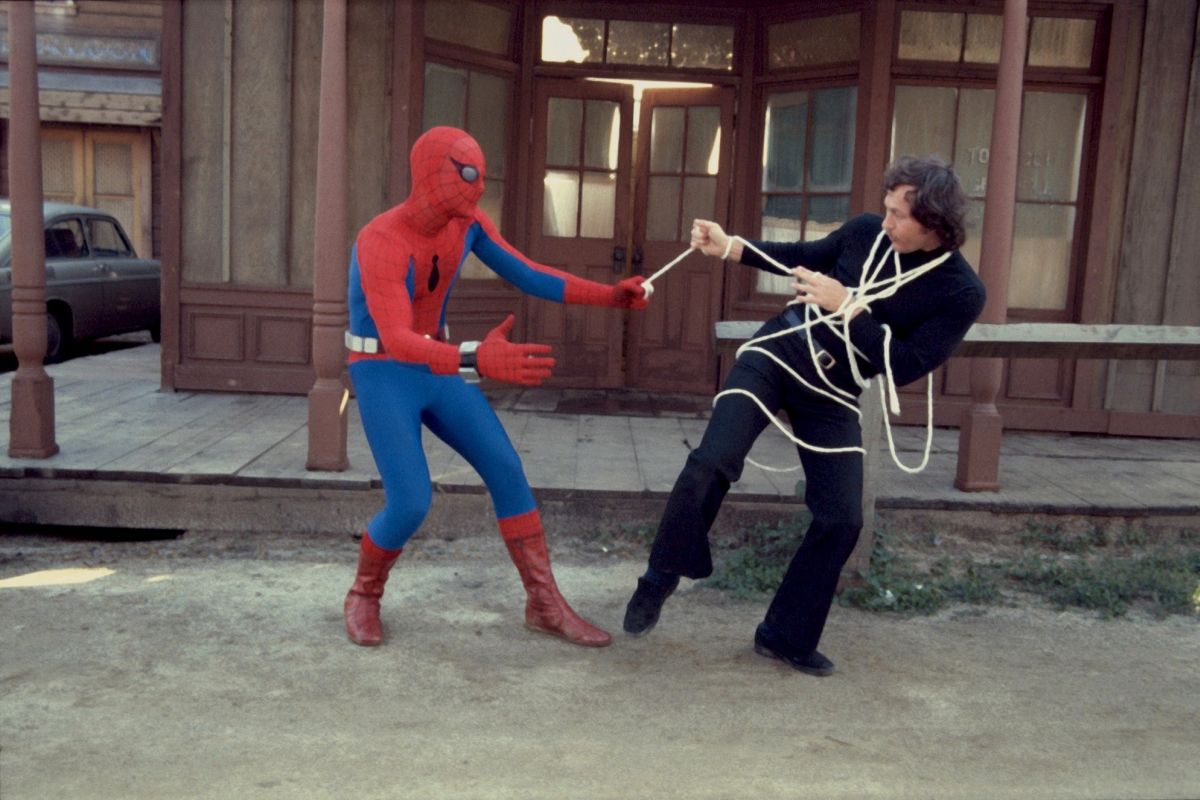 The other worthwhile addition to the show is JoAnna Cameron who adds an undeniable sex appeal as a rival reporter. The relationship between her and Peter remains a chaste and unfulfilled one but Cameron gives the part an undeniable flirtatiousness and the perky inquisitiveness you usually associate with the characterisation of a Lois Lane. The minor downside is that the plot requires her seeing Peter Parker and Spider-Man in the same vicinity or Peter constantly inventing excuses to nip out the window too many times to not wonder what is going on for credibility's sake.
All of this ultimately suffers from the drearily prosaic plotting of the typical 1970s crime show. The villain of the show is an arms dealer masquerading as a music producer, where Robert Alda (the father of Alan), dressed all in white and surrounded by an entourage of girls in white bikinis, resembles something you could imagine as a James Bond villain, which is about the nearest we ever got to a comic-book super-villain in a show like this.
The exciting nuclear terrorism plot of the first half diverts off in the second to a sojourn to L.A. and a series of dreary action scenes running around the streets on motorcycles, a chase through a music studio and around a backlot set of a Western town and finally hanging off a helicopter in the skies. There is an okay opening scene with Spider-Man crawling down the side of a building to rescue a woman who is about to jump, which works for the simple reason that it looks like it is real stunt people engaged in the action. On the other hand, the film also ends up featuring some of the worst action scenes to appear in the entire 1970s Spider-Man, namely the scenes chasing villains on motorcycles, which sees the need to throw in the ridiculous image of J. Jonah Jameson riding on a miniature three-wheeler for comic effect.
Spider-Man was later recreated in a series highly successful big-budget, big-screen adaptations Spider-Man (2002), Spider-Man 2 (2004) and Spider-Man 3 (2007) starring Tobey Maguire, The Amazing Spider-Man (2012) and The Amazing Spider-Man 2 (2014) with Andrew Garfield, and Spider-Man: Homecoming (2017), Spider-Man: Far from Home (2019) and Spider-Man: No Way Home (2021), featuring Tom Holland, as well as the animated Spider-Man: Into the Spider-Verse (2018), while Spider-Man played by Tom Holland appears in Captain America: Civil War (2016), Avengers: Infinity War (2018) and Avengers: Endgame (2019).
---
Trailer here
Full film available online here:-
---