---
Crew
Director – Tim Cox, Screenplay – David Goodin, Kevin Moore, J. Paul V. Robert & T.M. Van Ostrand, Story/Producers – Ken Badish & Boaz Davidson, Photography – Stephen Lighthill, Music – John Dickson, Visual Effects – Worldwide FX (Supervisor – Simon Asenov), Special Effects Supervisor – Josh Hakian, Creature Designer – Tony Gardner, Production Design – Carlos Osorio. Production Company – Nu Image/Equity Pictures Medienfonds GmbH & Co. KG/Active Entertainment.
Cast
Vincent Ventresca (Dr Eli Rudkus), David Selby (Fletcher Odermatt), Rachel Hunter (Haley Anderson), William Forsythe (Jacob Long), Robert Miano (Sheriff Lester), Sean Kisner (Milo Turner), Holly McWilliams (Madeline Oderfmatt), Nicholas Coleman (Patrick Whistler), Sarah Ann Schultz (Barbara Whistler), David Ornston (Dr Cummings)
---
Plot
Eli Rudkus takes a new job as a veterinarian in the small rural town of Host, Missouri. Most of the town's industry is centred around the Tender Meats processing plant. In his first case, Eli examines one of the cows of farmer Jacob Long and finds strange larvae in the animal's stool. The larvae are being created as a result of the special feed being sold to the local farmers by Tender Meats CEO Fletcher Odermatt, which has been genetically engineered to increase the taste of the meat. Eli tries to call a town meeting to warn of the problem but is shut down by Tender Meats lawyer Haley Anderson. He and Haley are then forced together as the larvae start growing in size and become large bat-like creature that attack and devour every living thing.
---
Nu Image is a company mostly known for their action films and in more recent years hits like The Expendables (2010). They also produced a bunch of works like The Wicker Man (2006), Day of the Dead (2008), It's Alive (2008), Rambo (2008), The Bad Lieutenant – Port of Call: New Orleans (2009), Conan the Barbarian (2011), The Mechanic (2011), Texas Chainsaw (2013), Leatherface (2017) and Hellboy (2019), all based on resurrecting previous properties. In the earlier days, they made a good many cheap monster movies and killer shark films with the likes of Shark Attack (1999), Crocodile (2000), Octopus (2000). Spiders (2000), Rats (2003), Shark Zone (2003), Mansquito (2005), Raging Sharks (2005), Kraken: Tentacles of the Deep (2006), Attack of the Gryphon (2007), Mega Snake (2007), Flu Bird Horror (2008) and Shark in Venice (2008).
Larva was another of these Nu Image monster films. Even a half-dozen or so of the films in, they had established a predictable formula. One that was based around hiring some C-list celebrity and the provision of various creature effects. The plot arc of Vincent Ventresca's central character is essentially lifted from Arachnophobia (1990) – the new vet to town tries to warn of a menace but is disbelieved by authorities for reasons – added to a standard corporate conspiracy plot with a vague genetic engineering explanation slung on top of that.
Courtesy of Tony Gardner, who had performed makeup effects duties on films like The Blob (1988), Amy of Darkness (1992), Batman & Robin (1997) and a host of others, the larvae look like giant bats and make for a reasonably mobile and effective menace, We even get climactic scenes with them hunting the survivors into the sewers.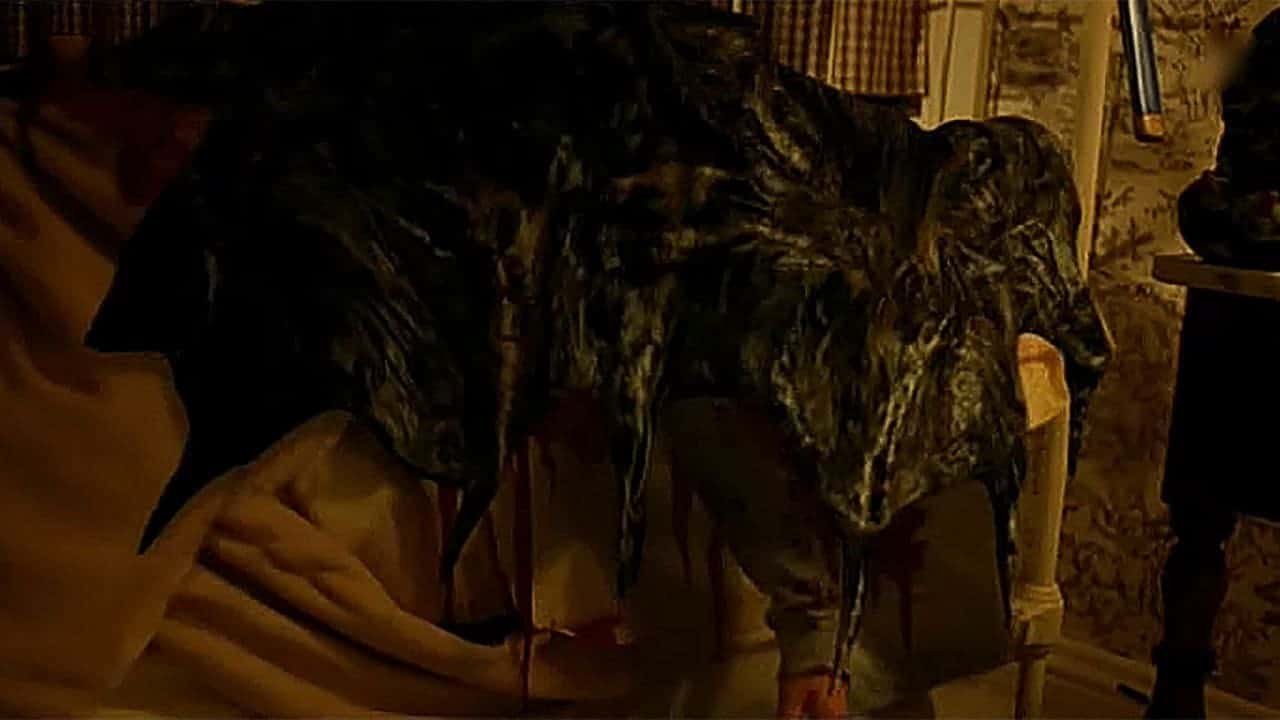 The main C-list name the film has is former model Rachel Hunter who, as she entered her thirties and forties, managed to eke out a parallel career as an actress where she has appeared in some fairly crappy movies – Two Shades of Blues (1999), Tripfall (2000) and especially Piranhaconda (2012). In that the film casts Hunter as a sharp corporate lawyer, we can see we are not exactly in high-credibility stakes – moreover, after doing so, the film gives her precisely nothing to do except run around as the token woman of the show.
At least, Vincent Ventresca, not exactly a high-profile actor, being mostly known as the title role in tv's The Invisible Man (2000-2), has a solid charisma in the lead. From behind a very unconvincing wig, William Forsythe plays the crazy redneck who ends up saving the day with his stockpile of weapons.
Tim Cox was director and occasionally writer who has made a handful of other low-budget monster movies with Alien Lockdown (2005) and Mammoth (2005), as well as wrote the script for other Nu Image monster movies such as Kraken: Tentacles of the Deep (2006) and Attack of the Gryphon (2007).
---
---